When backpacking you need a lightweight tent that can stand up to the weather, pack down small, but still offer plenty of interior space when pitched.
With so many great options available, it can be tricky to try and decide which is the best lightweight backpacking tent to buy. Fortunately, we've handpicked five of our favourites from the 2021 range to help give you a head start.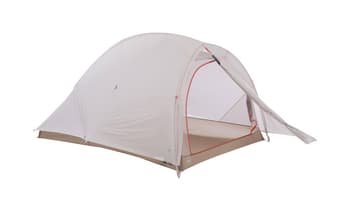 BIG AGNES FLY CREEK HV UL2
Weight: 1.05kg/0.88kg(min)
Pack Size: 48 x 10cm
Capacity: 2 Person
The Fly Creek HV UL 2 is an ultralight backpacking tent, perfect for summer adventures off-the-beaten-track. The freestanding tent is easy to pitch and maximises comfort and access with minimal weight addition thanks to clever construction.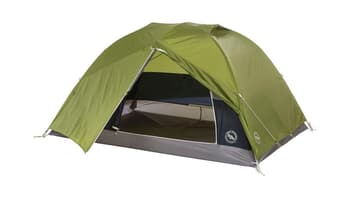 BIG AGNES BLACKTAIL 2
Weight: 2.24kg/2.04kg(min)
Pack Size: 53 x 18cm
Capacity: 2 Person

The Big Agnes Blacktail 2 is the backpacker's dream tent. Thanks to a freestanding design, it can be pitched on a range of terrain and offers plenty of headspace thanks to pre-bent poles across a symmetrical structure. Dual vestibules keep access easy and ensure that there is plenty of room to store your kit.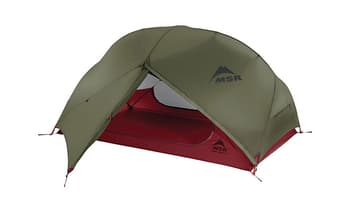 MSR HUBBA HUBBA NX
Weight: 1.72kg/1.54kg(min)
Pack Size: 46 x 15cm
Capacity: 2 Person
The MSR Hubba Hubba NX is one of the most popular backpacking tents available. It's an ultralight, three-season backpacking tent that packs down small, but offers plenty of comfort. Thanks to a unique pole configuration, head and elbow room is maximised. The freestanding design makes it easy to pitch, with a low flysheet and StayDry doors further helping weather protection and ease of use.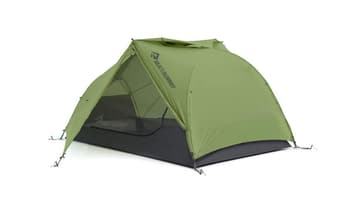 SEA TO SUMMIT TELOS TR2
Weight: 1.66kg/1.48kg(min)
Pack Size: 48 x 13cm
Capacity: 2 Person
The Sea To Summit Telos TR 2 is an ultralight three-season tent with one of the best-in-class useable interior spaces. The Tension Ridge Architecture allows for a high ceiling, oversized doors, and two large vestibules offering plenty of space for gear storage.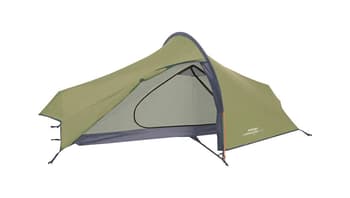 VANGO CARINGORM 200
Weight: 2.2kg/1.99kg(min)
Pack Size: 47 x 15cm
Capacity: 2 Person
The Cairngorm 200 is a great choice for two-person backpacking trips. It offers a good balance of durability, functionality and weather protection. It's quick and easy to pitch, and thanks to a hybrid tunnel tent design, maximises inner space for improved comfort and minimal weight.
Check out these family tents you should try for summer here