With summer approaching fast, many of us are trying to plan small getaways for the warmer months.
We've gathered 5 of our favourite family tents to help you choose the perfect campsite companion for your adventures this summer.
Family tents offer plenty of room for bigger groups and families to enjoy a camping trip together. Whether you're looking for a more compact solution with sleeping room only or something bigger with a bit of living and storage space, one of these five tents will have everything you need for an unforgettable UK summer staycation.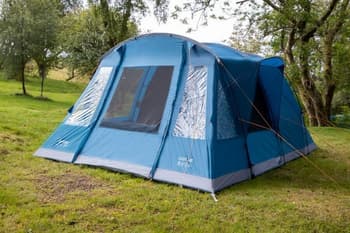 OSIRIS 500
Capacity: 5 person
Weight: 15.30 kg
Pack size: 73 x 34 cm
Price: £349.99
This spacious Osiris 500 tent from Vango delivers a comfortable camping experience for up to five people. It's a top choice for the eco-conscious camper thanks to its Sentinel Eco flysheet made from recycled single-use plastics. The flysheet is also fully waterproof and UV-resistant, making it long-lasting and ideal for UK summers.
The living room mesh doors help with ventilation without letting any bugs in. It also has a canopy that keeps the inside dry on a rainy day when you're walking in and out of the tent. Hassle-free and quick to pitch, ensuring you've got more time to enjoy your camping holiday.
HABITUDE 6
Capacity: 6 person
Weight: 6.35 kg
Pack size: 58 x 25 cm
Price: £609.99
Offering a more packable and lightweight family camping option, the MSR Habitude 6 is the ideal portable home for your family. Built to withstand foul weather conditions, this tent won't let you down regardless of whether you try primitive camping in the wild or stick to the comforts of campsites.
High ceiling, vertical sidewalls, and spacious porch deliver maximum comfort without sacrificing small pack size and lightweight design. This tent combines MSR's industry-leading camping expertise and durable design with the fun of family camping.

JORO AIR 600XL
Capacity: 6 person
Weight: 25.50 kg
Pack size: 80 x 46 cm
Price: £749.99
Joro Air 600XL tent is quick and easy to pitch thanks to Vango's AirBeam technology. Similarly to the Osiris 500, it also utilises a Sentinel Eco Flysheet that provides long-lasting waterproof and UV-resistant performance. The built-in awning offers additional space and storage as well as shelter if the weather turns sour.
If you've ever been frustrated by the early morning light waking you up while camping, this tent has nightfall bedrooms to combat this problem. It also has mesh doors that increase ventilation, keep the bugs out, and reduce unwanted drafts.

ASGARD 12.6
Capacity: 6 person
Weight: 16 kg
Pack size: 114 x 37 cm
Price: £799.99
If you're looking for an atmospheric and stylish camping experience, the Nordisk Asgard is the ideal tent for your group. The name 12.6 refers to the amount of inner space in square meters. Thanks to the tent's classic bell shape and single-pole construction, it's easy to pitch and spacious. You can even split the tent into sections with an inner cabin (sold separately).
The technical cotton fabric and mesh windows keep the interior temperature cool and comfortable. The large doors with middle and bottom zips allow for effortless entry and exit.

ZONDA 8EP BUNDLE
Capacity: 8 person
Weight: 46.5 kg
Pack size: 100 x 80 x 60 cm
Price: £1664.00
Wild Country's Zonda 8EP is the ultimate campsite tent for families and groups. Separate sleeping areas, large living space and extended porch deliver unrivalled camping comfort for up to 8 people. It's impressive internal height of 210 cm in living areas and 195 cm in bedrooms ensure that this tent truly feels like a home away from home. However, despite its large size, it is still straightforward to pitch.
Removable partitions in the darkened bedrooms offer flexibility for sleeping arrangements and privacy for changing. This tent also has multiple lantern hanging points as well as twin electrical hook up access on both sides.
There's no need to worry about finding the right groundsheet and carpet for this tent, as the Zonda 8EP bundle includes both of them.