As the evenings draw in and the damp sharpness of the morning air announce autumn, rucksack contents for a day's hiking need a rethink.

Hats and sun cream are swapped for gloves and hard-shell jackets and, as we begin the steady march towards the shorter days of the winter solstice, a headtorch features near the top of the kit checklist.

Autumnal splendour brings with it the enticing promise of deep, rich colours, falling leaves and damp, earthy smells, the ingredients for a magical dish served up for the senses. To make the most of these outdoor sensorial experiences, a little advance planning will make sure you absorb the best that the outdoors has to offer.
Embrace the seasons
On a recent day hike to the Brecon Beacons Horseshoe, my sixth in as many weeks, the light and vegetation looked and felt completely different. The grassy slopes, which had turned pale blonde at the height of a dry summer and the bracken, which had towered overhead by the end of August after a cloud burst, were already harbouring the first mud and brackish waters, evidence of an almost imperceptible shift into autumn.
Light up my world
I will put my hand up and confess that last autumn, a gentle, if long, hill walk in the countryside took longer than planned. As twilight gave way to a velvet blue night sky we zig-zagged our way along a country lane for the final few miles, doing our best to stay visible to road traffic in both directions. My friend had wisely brought her headtorch – and thank goodness for that, but I felt like (and was) a liability, not having brought my own. As the saying goes, it's OK to make a mistake, but make sure you learn from it!
Feeling alive
Suitably kitted out and prepared these days, I no longer shy away from the elements, or curse the hurly-burly wind, whilst huddling from boisterous rain under an out-of-control umbrella. We are born with up to five senses; no wonder modern life drives a wedge between us and our physical and mental well-being. Just a few weeks previously I had staggered up Fan Y Big for the final big pull to the summit on the Horseshoe circuit, 'sweating cobs' in baking heat and feeling my airways give up moisture to the dry wind. Later we revived ourselves at the nearby excellent Old Barn Tea Rooms, with the creature comforts of Italian ice-cream (still a family-owned make) and pots of thirst-quenching tea, served in proper bone china cups and saucers.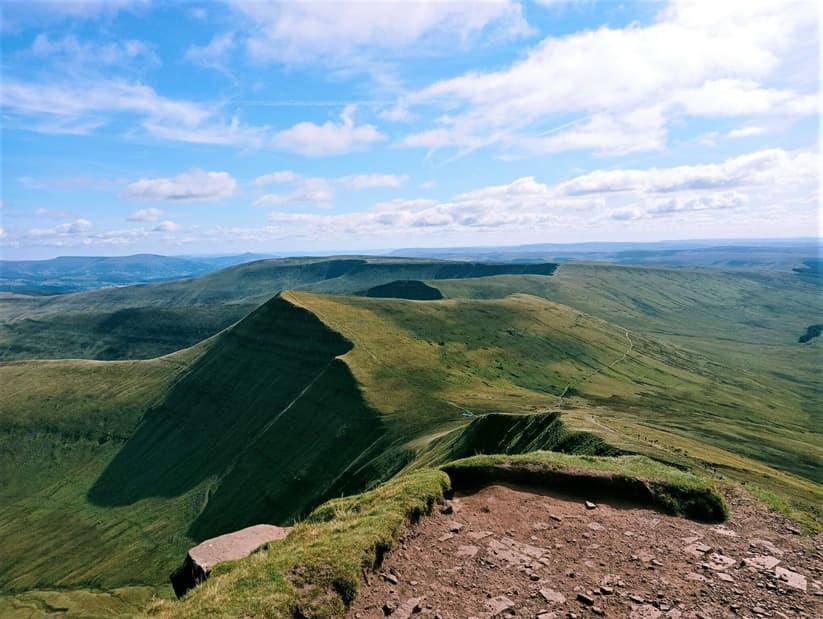 I ❤ autumn
For the first time in my life, this summer I experienced horsefly bites and the seemingly never healing bite wounds. The arrival of early autumn brings with it respite from these blighters and a mantle of calm softly descends over the countryside, presenting a delightful window of benevolent weather, perfect for walking, before the hard winter mountain weather conditions arrive, to thwart the plans of the hardiest walker.
The winds of change
Fast forward a few weeks from the heat of high summer and what a difference the seasonal changes make to hiking conditions. In truth, it's still a hard slog to get around the Beacons Horseshoe, even without the brow beating sun. This time I started from the Lower Neuadd Reservoir car park, which allows for a twenty-minute warm up walk at an easy pace, along a track and then along a good stone path, to a well-maintained footbridge over a stream. The path eventually ascends steadily to a ridge taking you along a clear path to Corn D, where early autumn cross-winds can be bone-chilling and buffeting. At the foot of Corn Du you steadily make your way to the summit, from there dip down to cross the 'saddle' to the Pen Y Fan summit. From there Jacob's Ladder take you on a long, gradual descent towards the next climb up Cribyn and then finally on to Fan Y Big. It's a steady thirty-minute stomp after Fan Y Big back down to the straight-as-a-die Roman Road back to the Lower Neuadd Reservoir car park.
The weather is still 'jackets on, jackets off' at this time of the year. The sun feels warm when it creeps out from behind low cloud, or when the wind suddenly drops. But beware, the body temperature can plummet in a minute as the wind chill cools sweat instantly. The sun can suddenly duck behind clouds or be engulfed by mist and the wind can suddenly gather strength. Even a brief pit stop can result in frozen fingers and a frantic delve into the rucksack for a warm hat and gloves.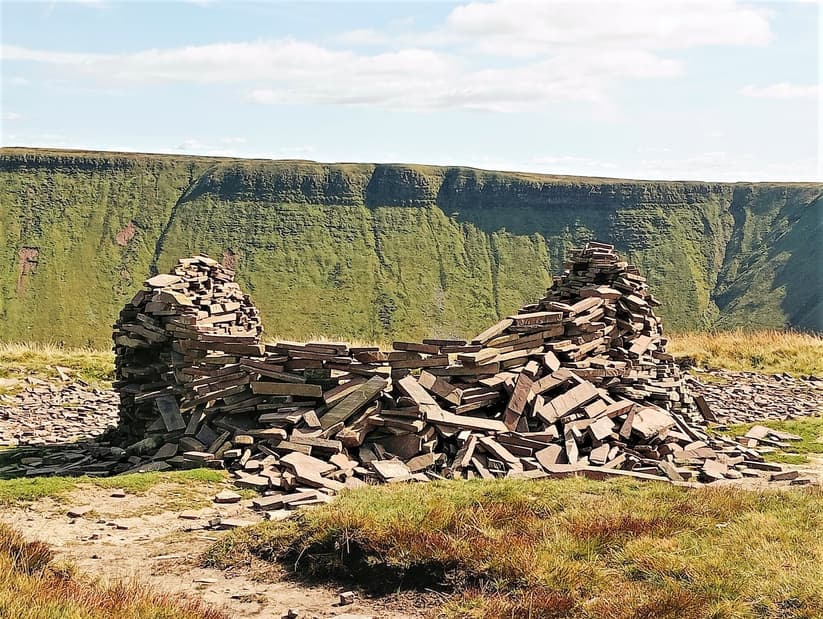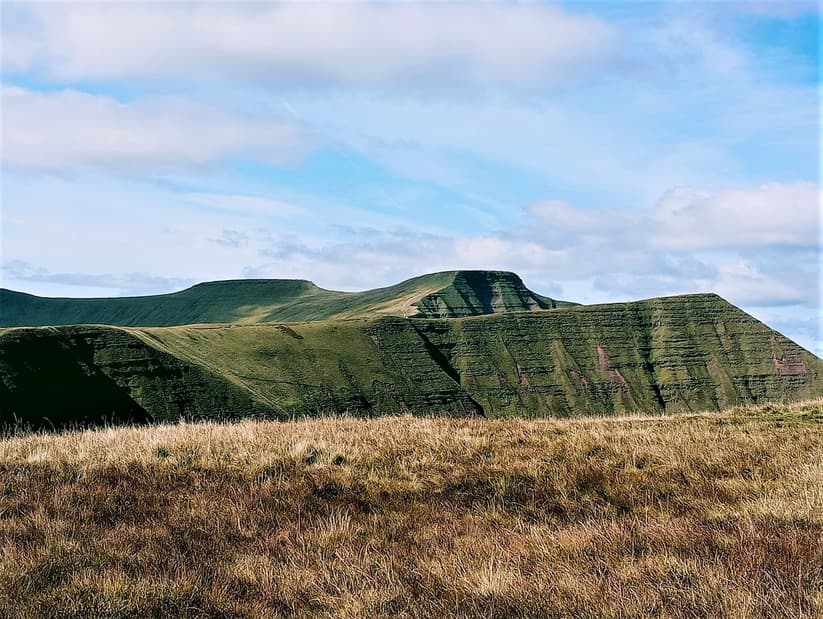 What's in my rucksack?
Hiking support kit
Carbon hiking poles (just in case, useful support for exposed heights, or end-of-walk tired legs!)
Water bladder – 1.5 litres
Waterproof kit sack – for keeping kit and extra clothing dry
Emergency essentials
OS map of the area & Silva compass
Small First Aid kit
Head torch & spare head torch (test at home to make sure they work)
Emergency whistle, attached to the ruck sack shoulder strap, within easy reach
Survival bag (I will carry one from October onwards – compact and cheap at £3.50)
Snacks – enough for lunch and rest stops
Flask (I use whitener with my coffee, as milk cools the liquid when making up the flask)
Rolls/sandwiches
Snack bars and protein bars
Savoury snacks
Extra clothing
Hard shell jacket (waterproof and windproof)
Waterproof over-trousers (with zip on the lower legs, so that they slip on over walking boots)
Insulated headband or hat
Outdoor gloves
Spare moisture wicking mid-layer (large size, to fit anybody in an emergency)
Small items in my cross-body bag, for quick access:
Fully charged mobile phone (NB cold temperatures eat up battery power)
Lip salve
Tissues
Car keys
Debit card
A 30 litre capacity rucksack, packed and ready, weighs in at 5kg.
Final note: always check the mountain weather forecast if venturing into the hills