Some of us do it for weight loss, others are on a path to bigger mountain goals, whilst some just want to improve their general mental and physical well being. Often it's a little bit of several reasons.

Crystal clear views
So it was, on this year's chilly Remembrance Sunday, a diverse group of folk, from all walks of life, gathered in the Brecon Beacons, about half a mile beyond Heol Senni, to walk with two experienced Mountain Leaders, Phill Warren and Janine Lewis of Mountain Medicine. The catalyst for the day's walk was the memorial crash site for a Vulcan bomber aircraft, where we would be paying our respects. The aircraft crew had met their untimely demise on a remote and wild hillside in 1966, because of a navigational error in poor nighttime visibility on a low flying exercise. Such a calamity was not difficult to imagine, even on this unusually temperate and sunny November day.  Our group was privileged to enjoy a blue, cloudless sky that glowed with a soft, unearthly light. We revelled in crystal clear views all day - although the brisk, buffeting wind reminded us that this was November, not May!
Glimpsing magnificence
During the drive to Heol Senni earlier that morning, as I came through Clyro and drove onwards to Glasbury-on-Wye, the clouds had slowly evaporated to reveal a faintly warm, rising sun which shed a sharp, golden light across the tops of the Black Mountains. The road eventually took me past the turn off to Brecon town centre and onwards to the Beacons where I caught my first jaw-dropping glimpse of the sharp, magnificent outline of Pen-Y-Fan, which dominates the horizon impressively. I never cease to be overawed by the magnitude and shape of that mountain from this perspective.
Let mountains be thy medicine
The first objective of the day was a small parking layby just the other side of Heol Senni. The layby is reached via a winding, undulating road towards Defynnog. This would be the first time for me to join in with a Mountain Medicine group walk. The walks are led by the qualified and insured Mountain Leader team, Phill Warren and Janine lewis. There is no stopping these two, who lead walks all over England and Wales and arrange mountain trekking trips as far as Morocco. They started the walking group on Facebook back in 2021 and have met a huge demand for beginner level walks ever since. Their likeability and inclusive approach has spread through word of mouth, whilst recommendation has done the rest. I was a little anxious attending this walk as it was my first time with the group, but It never ceases to amaze me how much camaraderie there is at such gatherings. I'm a firm believer that the ethos of a warm welcome and friendliness emanates from walk leaders, so any trepidation I had harboured was soon forgotten as I was enthusiastically welcomed into the group.
Step back in time
There were 35 hikers gathering at the starting point for the 5-mile hiking route to this particular crash site (there are over 30 crash sites in the Beacons recorded). The route would take us along an old tram road to the left of the Waterworks house. If you keep going uphill along this track you will eventually pass the remains of a mine, where miners used to dig for limestone. It's a fantastic spot for photos with the extensive open landscape vistas to your left and the unmistakable outline of Corn Du and Pen Y Fan at '11 'clock'.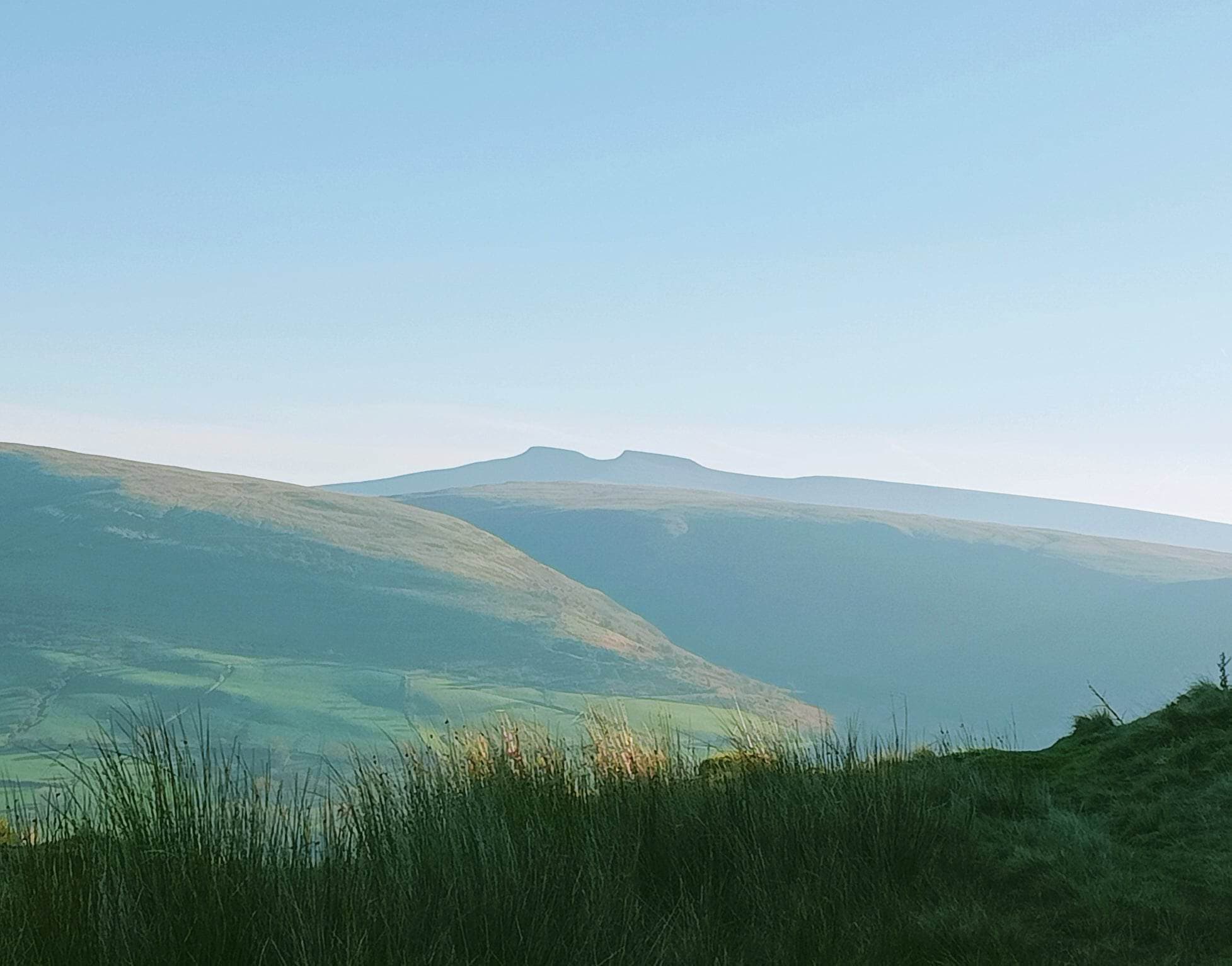 Nobody gets left behind
Eventually we reached the memorial of the crash site. Some were faster walkers than others, but Phill had been clear from the start that we would walk as a group and the regular stops along the way ensured we regrouped and remained together. As we gathered around the memorial site in time for a two-minute silence, we first listened to some beautiful readings and then a recording of The Last Post. Timelines vanished at this juncture, and it could've been yesterday that those young men perished there. It puts one's own life into perspective. You are thankful for the day and all those around you. Suddenly your own wows pale into insignificance in the context of such young lives wasted. So not only did we remember them, but they helped us recalibrate and quietly give thanks for our own blessings. We breathed a little deeper (even if it was often the result of uphill walking!), with a bracing breeze against our faces. Life affirming indeed.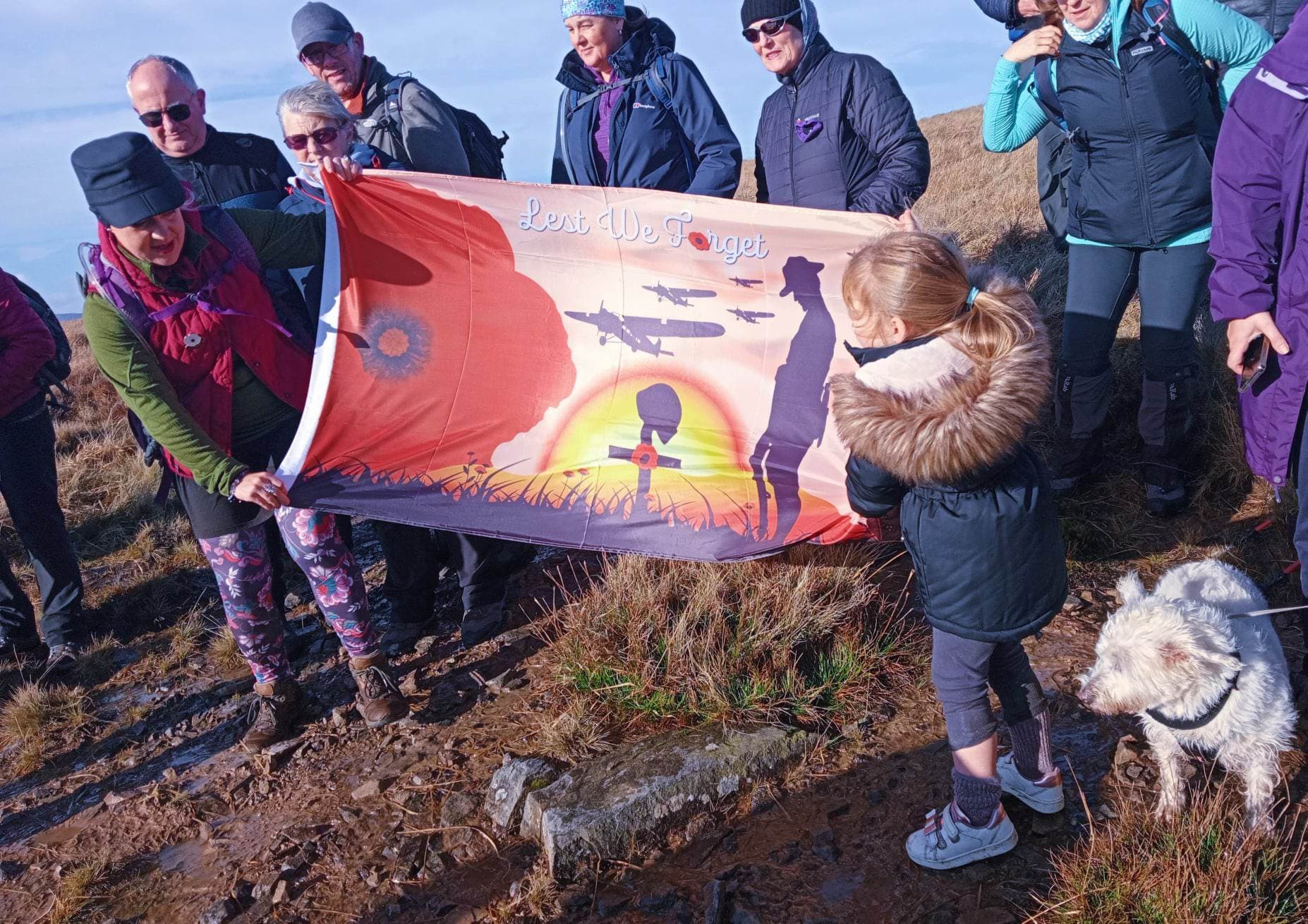 The best things in life are free
Mountain medicine is an apt name for a walking group! On walks like this you get a rare opportunity to slow down mentally and renew your connection with the natural world. The relief is great, you are free and don't end up feeling drained. Instead, you feel invigorated, appreciative of the company and the rich sights and sounds (and sometimes mud!) of the glorious hills.
This circular walk took in the trig point of Fan Bwlch Chwyth, a perfect spot for some more photos. Then it was a gentle 45-minute walk back down to where the cars were parked.
On the drive home from Brecon towards Clyro the setting sun created a deep hued rainbow against a grey sky. I was rewarded with honey and toffee-coloured leaves on the trees, and a few that were still completely mid-summer green. They had somehow been forgotten by Mother Nature who had not let them know that we were, by then, in the depths of autumn. It had been an uplifting day, in the company of others who wanted to visit this special place, that left a warm glow in the heart. 
FIVE essentials for a guided winter walk:
Walking boots and warm socks
Warm layers
Hat and gloves
Waterproofs (even if the forecast is sunny – you never know in the mountains!)
Flask of warm drink and some snacks.