A feast for the eyes, food for the soul, take a breather in this golden treasure on the Herefordshire borderland. The views from the top of Garway Hill towards the Black Mountains and beyond are second to none.
The Golden Valley, Herefordshire
Time has stood still in the Golden Valley, Herefordshire, on the border between England and Wales. It's not a huge leap of the imagination to see 'dragons' in the shape of scudding, wispy clouds race across the Black Mountains from Wales into England. With its trig point and the curious remains of a WW2 radio station (with seating against the walls from which to soak up the views), Garway Hill has a vantage point that reveals a grand panorama stretching from Ross-on-Wye, to Skirrid Fawr and Sugarloaf Mountain. On a clear, frost-bitten winter's afternoon, you can see as far as the snow-capped Aran Fawddwy mountain range in the north-west.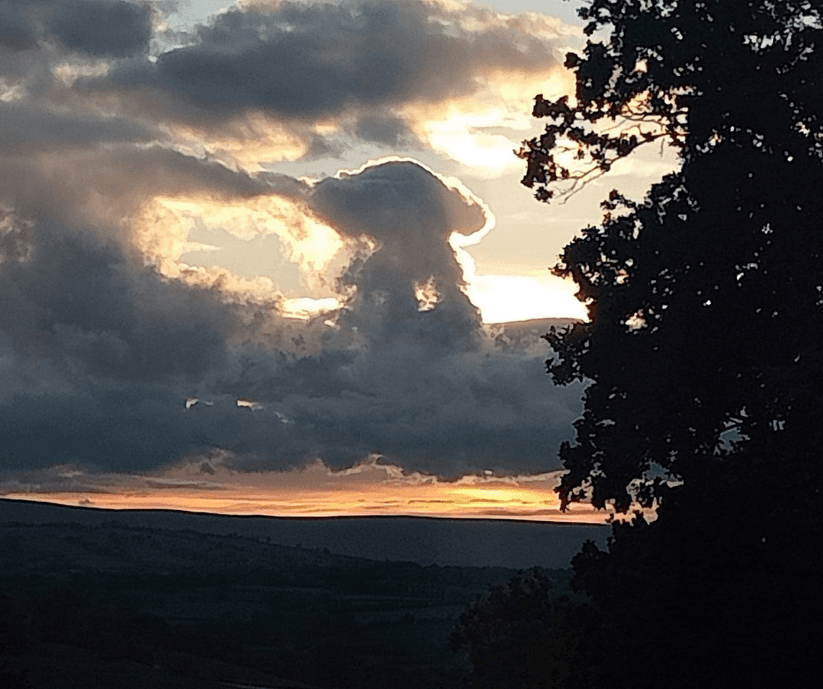 The outdoors beckons
So it was, one early autumn Sunday afternoon, when melancholy had descended, that I felt a nagging need to head for the outdoors, to a world where I could escape my thoughts. The afternoon was still wide-open, inviting endless opportunities for introspection, in which I would seek answers to difficult issues. The weather had cleared up during the day and there were several hours of daylight stretching out before me like the blank pages of a journal, waiting to be filled with soul-searching.
Falling leaves
But I am no longer a 'wallower' since I took up walking as a way of dealing with bereavement. If I had a pound for every time I had heard, "But I'd be scared to go out on my own for walk because I'd have to face my own thoughts", I may not be wealthy enough to retire, but I'd certainly be able to treat myself to a posh dinner. The truth is, when you are out in nature you don't have much time, or inclination, for introspection. Apart from needing to gear yourself up, physically and mentally, for the next hill, your attention is drawn to the colour of the falling leaves, the ripe blackberries next to the path, extraordinary cloud formations, rain showers sweeping through the next valley, the farms and patchwork quilts of fields. In short, you are too occupied for rumination!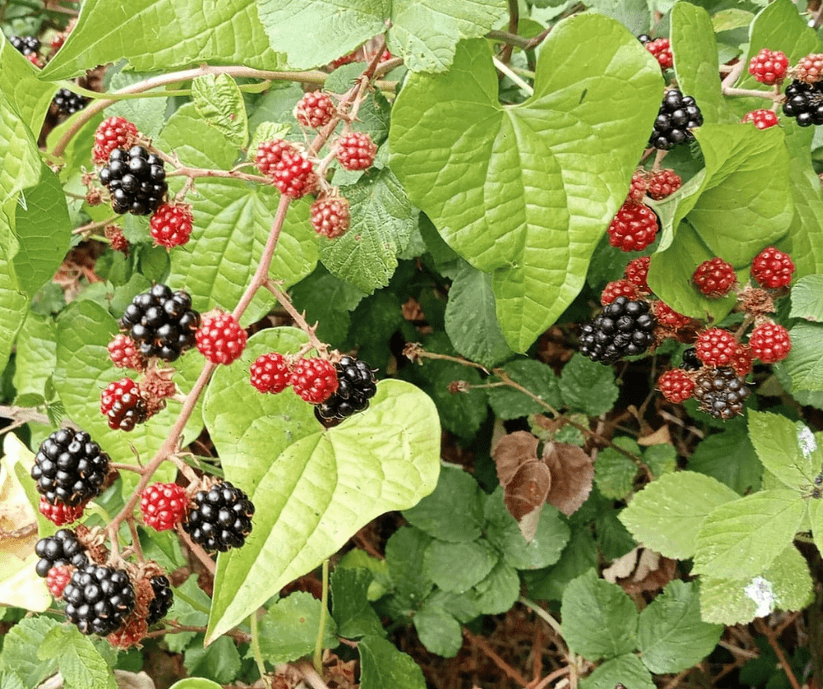 Nature does not judge
Ultimately, the marvellous thing is, you do not need vast mountains or dramatic coastlines to distract yourself. At the top of Garway Hill, you can breathe in the wonder of the vista below you and revel in the sheer irrelevance of your anxieties. The hills do not judge us, the distant horizons rest the eyes and grant us (albeit briefly) respite from our wows. The hills will always be there, for the next visit and the visit after that. Every few weeks the landscape characteristics alter. Seasonal vegetation comes and goes, colours and perspectives evolve depending on the weather and time of day.
Self-belief, simple actions
Such views will remain unchanged for generations, how reassuring is that! Seasons will emerge and recede, the ebb and flow of rivers will continue unabated by human foibles, fads and fashions. Through the centuries it is no mistake that poets sought inspiration from such surroundings. Far from being unsettling, the outdoors is a comforting relief, a 'permission to self' to sign off from the world for a while. You will discover self-belief from simple actions, such as drawing in a deep lungful of air, unscrewing your flask, sipping a draught of hot liquid - because you can. You will begin to see just how miraculous your body is and relish the fact that you can move freely in this peaceful environment, feel the elements on your face and perhaps a little rain or drizzle on your skin. How life affirming is that.
When you finally return home, with roses in your cheeks and the sense that you have earned that large glass of red wine and a Netflix film, the darkness of evening will softly embrace you.
The bottom line is, don't give it too much thought.
Pull out a waterproof jacket from the cupboard
Fill a flask with of hot drink
Pop a snack in a backpack
Put on some walking shoes or trainers
Head outside.
Car park on the eastern side of Garway Hill (Lower Castre, track from Sun Farm)
Nature will accept you. Just as you are. Every time.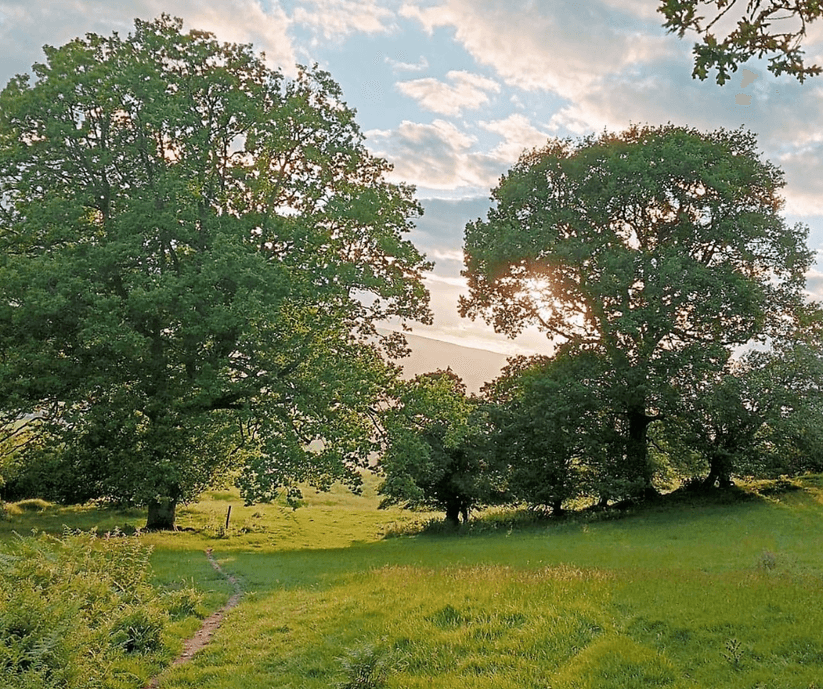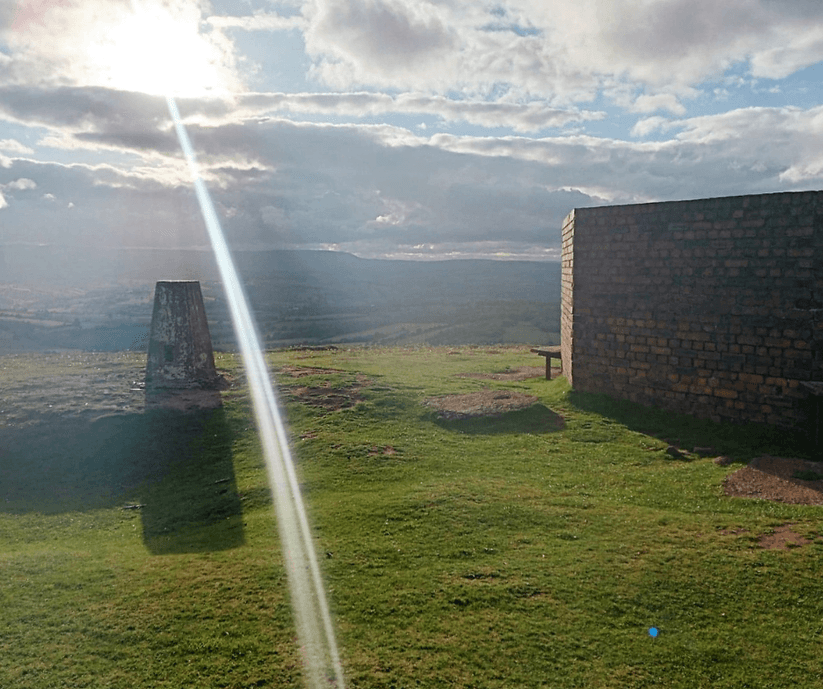 ---
This article was kindly contributed by Andrea Harris.
"I am a keen hiker (erstwhile London girl) who moved to Herefordshire ten years ago. I can regularly be found in the mountains of the Brecon Beacons, Snowdonia and the Lake District. I will also dip in a waterfall, river or lake, given half the chance - in all weathers . I was a novice hill walker a couple of years ago, and vividly recall the feeling of being intimated by the Beacons. So, I joined various walking groups, got skilled up on OS map reading (Silver NNAS & Mountain Skills), started investing in decent walking kit and the mountains are now my sanctuary!"