A good pair of walking boots are one of the most important pieces of gear you can invest in.
If you are carrying heavy loads, spending long days on your feet and travelling on uneven terrain, you will benefit from a stiffer and more supportive boot. For shorter and faster travel, a lightweight and more flexible boot will usually be the perfect choice.
We've put together this list of our top picks for walking boots from the 2021 range. It includes a selection of our favourites from stiff and supportive, to light and fast.
For some useful information on making sure that you choose the right boot for you, check out our walking footwear buying guide and our hiking footwear finder.
SALOMON QUEST 4D 4 GTX
Weight: 655g (single boot size UK 8.5)
Price: £179.99
The Salomon Quest 4D 4 is an excellent choice for backpacking and hiking where you need plenty of support. With an updated ADV-C 4D chassis, the boot wraps around the foot providing additional support without restricting your stride. Durable nubuck and GORE-TEX ensure that your feet stay protected from the elements.
If you're looking for a supportive, sturdy all-rounder, then Quest 4D is the boot to go for.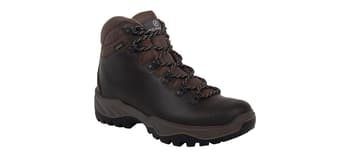 SCARPA TERRA GTX
Weight: 612g (single boot size UK 8)
Price: £159.99
The Scarpa Terra is a favourite with hikers for a good reason - it offers the perfect balance between comfort and performance. With durable full-grain leather uppers, the boot offers plenty of protection, support, and lasting comfort. The inclusion of GORE-TEX Performance Comfort ensures that the boot is fully waterproof and breathable in all conditions.
The Terra is an industry benchmark for a good reason, it's a traditional boot that is packed full of the latest technology to provide both comfort and performance.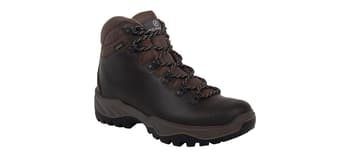 MEINDL GRADO GTX
Weight: 430g (single boot size UK 8)
Price: £189.99
The Meindl Grado offers reliable comfort and solid performance. With a mid-cut style, the Grado uses Meindl's comfort fit last to offer more room in the forefoot. This makes the Grado an excellent choice for those with wider feet. GORE-TEX ensures that the boot is waterproof and breathable, with an EVA shock absorber adding to comfort when walking on hard-packed trails.
The Grado is a fantastic choice for hikers looking for a solid boot that provides plenty of comfort for wider feet.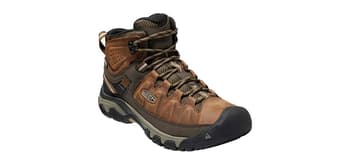 KEEN TARGHEE III MID WP
Weight: 490g (single boot size UK 8)
Price: £119.99
The Targhee III Mid walking boot has been a firm favourite with hikers thanks to its combination of reliable technology and performance materials. The boot offers comfort, stability and durability, along with its waterproof design making it an ideal option for UK hiking.
The Targhee III is a great choice for UK hikers looking for a comfortable and durable boot at a great price point.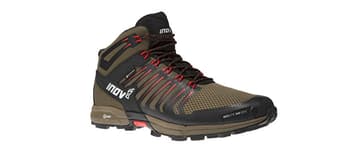 INOV-8 ROCLITE G 345 GTX
Weight: 345g (single boot size 8)
Price: £154.99
The Inov-8 Roclite G 345 Mid is a lightweight boot designed to help you move quickly and confidently over mixed terrain. With increased ankle support but no compromise on flexibility, the boot allows you to react and grip in ever-changing environments. G-Grip graphene-enhanced rubber in the sole offers an optimal balance between traction and durability.
The Roclite G 345 is the go-to choice for a lightweight boot that allows you to travel quickly across mixed terrain.
meindl vs scarpa
scarpa vs meindl
scarpa terra gtx mens walking boots
Ellis Brigham
Established in 1933 and still family owned today Ellis Brigham Mountain Sports is the UKs favourite outdoor retailer.
We aim to make your next adventure the best whether its hiking in the National Parks, skiing or snowboarding in the Alps, or simply exploring some of the worlds most vibrant cities, we guarantee you won't find a better place to start your journey than at ellis-brigham.com or in one of our 24 stores nationwide, where you will find lots of advice and inspiration!
We live and breathe the outdoors and our passion and enthusiasm for getting outdoors is second only to finding you the right gear to support your outdoor adventures.