The basics of cold weather SUP
Finding the right choice of clothing is really important. In this article we hope to cover the basics of cold weather SUP kit.
Cold water kills and an inadvertent swim poses far higher risks than in the summer. Rivers run higher and often have more flow. Even canals can have wet slippery entry and exit points. Always on a board be prepared for immersion.
Planning plays a huge part in keeping safe and you should always try to paddle with others. In winter conditions, cold can creep up on you and having buddies makes sure there is help at hand. Weather apps can help to provide great information,  in particular look at the wind, wind chill is a significant contributor to exposure and hypothermia. It also kicks up wave and can create headwinds making excursions harder and longer than you initially planned.
I often change to canals or my local SUP club at Chelmarsh www.chelmarshsailing.org.uk for my regular paddling in winter. Easy access and egress with no long inaccessible stretches, predictable flow (or lack of) and in the case of the club warm showers and a bar afterwards!
The worst thing is to start off cold, so prepare and dress before paddling or make sure you have good general winter clothing on before arriving. Don't drive with the heater on full blast! I get winter layers and allow myself to acclimatise en route, at least that way you anticipate any winter chill and are ready for it. Jumping out of a hot car in a T shirt to pump up the board is never a good plan in a sleet shower. Good footwear on wet banks, and stuff that can get muddy is a must.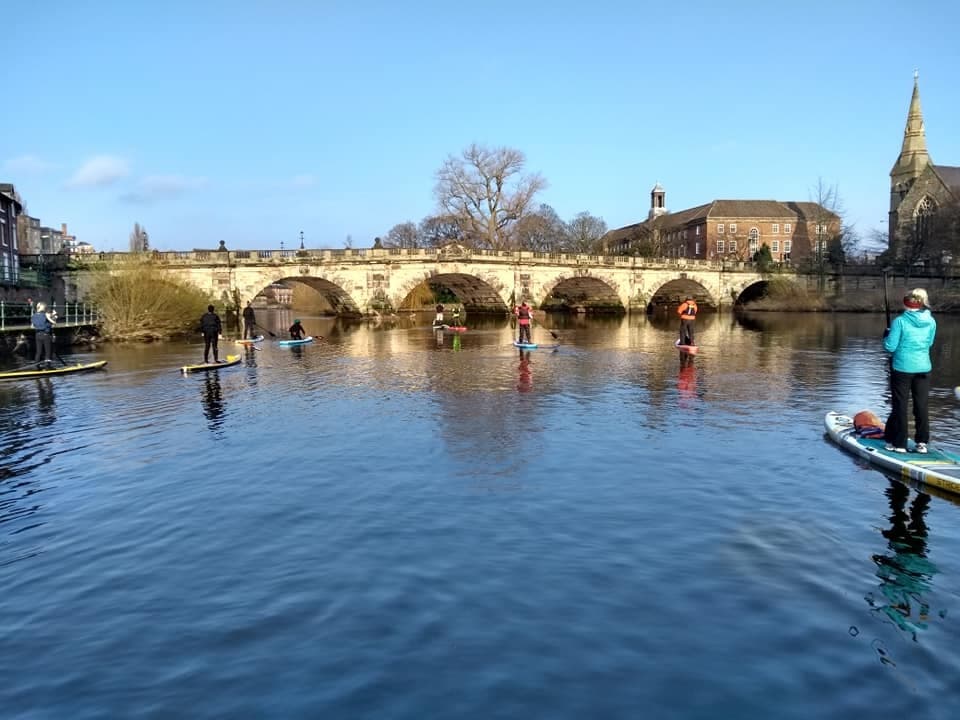 What to wear?
The first question is around planning, is this a long casual paddle with chats and breaks for pictures and food stops or is it a workout? Are we going to be generating heat (and thus sweat and wetness) or are we going to be taking in the views of frozen spider webs, crystallised bulrushes and tinkly icicles hanging from the trees?. If you are sociable wear more!
If you plan on pushing then first and foremost you need good wicking layers on the skin, nothing is worse than cooling down (literally) in a wet damp suit. Layers are key you can add layers when you slow down or stop then lose them as you paddle faster. Remember you need to be safe so check what its like wearing your summer long johns on a cold day after falling in. Wind chill is critical so having windproof outer layers in your dry bag to quickly layer up after an unintentional dip is really helpful.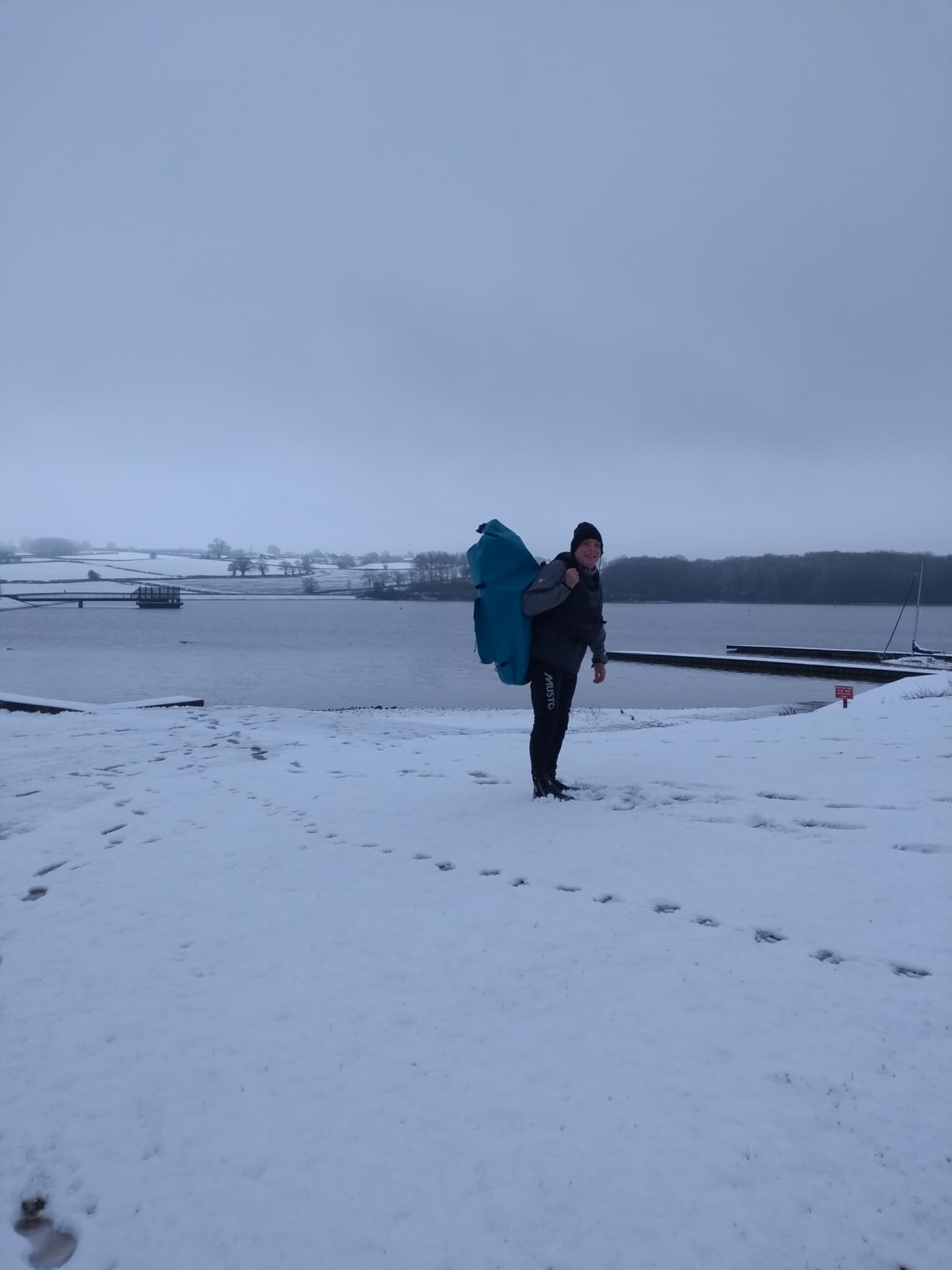 Dry or Wet suit?
A dry suit is literally that; it is a bag you step into and it is waterproof so theoretically the layers inside keep dry. Of course if the suit is impermeable sweat builds up as soon as you get exercising, so the best suits are breathable. The technology is by necessity quite thick and heavy and makes movement a little uncomfortable. There are also seals at feet hands and neck. Look at the different makes and do try them on. Its either for you or not. Inside the suit you can wear wicking layers or a warm woolly "onsie". The temperature control is based on the underlayers and its tricky taking the suit on and off to change layers so experiment with what you wear. Paddling companies make one piece or separate suits. Again personal preference but changing layers is easier if you have separate bottoms and tops. This also makes toilet breaks easier! Look at Palm or Prolimit for guides.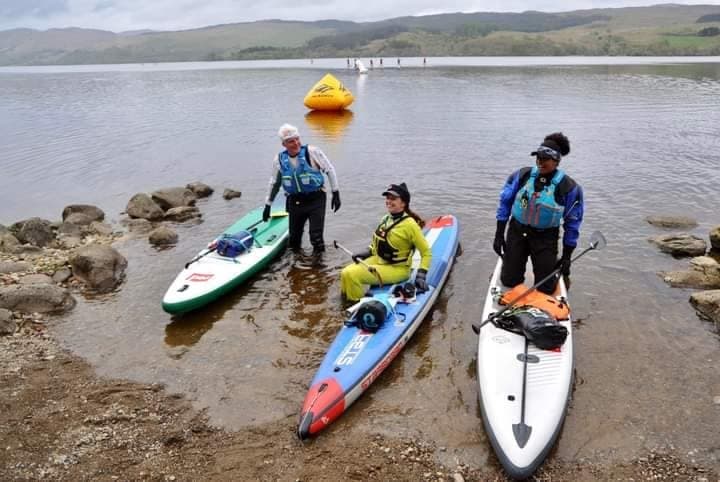 The importance of Wetsuits and layers
Wetsuit choices are huge. Traditional summer wetsuits are 1-4mm thickness. You can have separates or one piece suits, long johns or full suits. Many winter suits on the market are designed for surfers. They have slightly different requirements such as built in hoods which can be a bit fussy and awkward on a SUP.

Avoiding overheating is key. Again there is a large element of personal choice but if you go into the water having the body core well covered is going to be more protective against cold shock so good torso coverage is important, even though this can feel a bit restrictive. Certain winter sporting events demand latex over the body.
Layers upon layers. With wetsuits you can build an onion skin around yourself so think about layers. I use paddling leggings under "hikers" so I get a latex layer for wicking then neoprene provides warmth and protection. If there is wind chill then windproof outer layers such as an Aqua fleece are brilliant. Using neoprene allows you to layer up and down more easily, keep extra layers in a dry bag. Various Hot Tops and other thin light but very warm options add to the wardrobe and stuff easily into the dry bag. 
So its down to choice; a good drysuit can be brilliant but its a significant investment and you need to be sure, look around and check advice. Building on your wetsuit layers is less expensive but you end up with tons of stuff!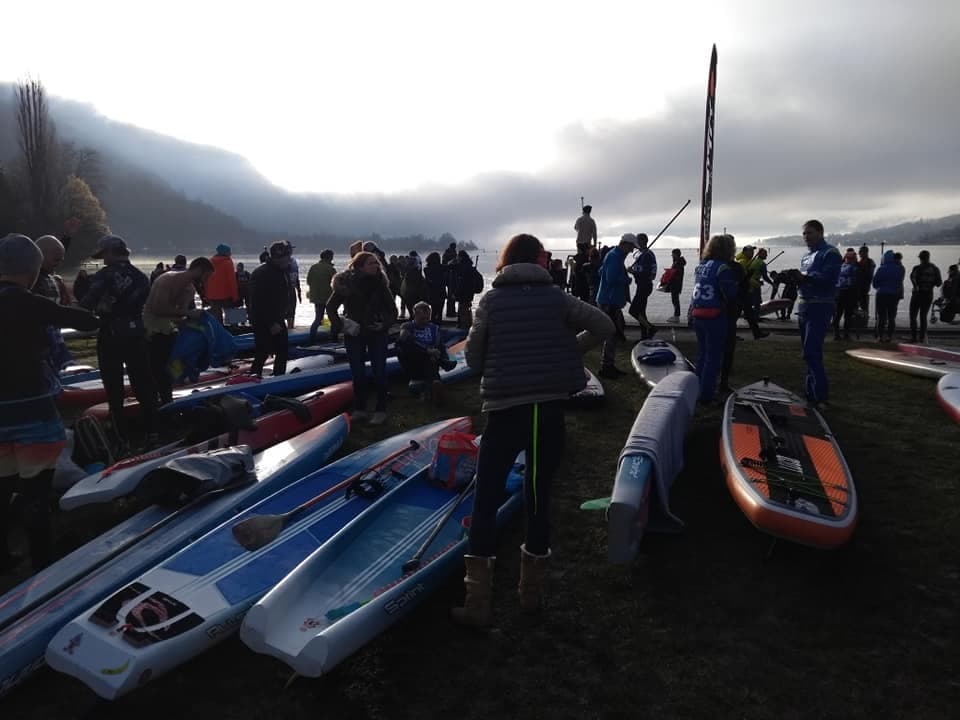 Hands and Feet
The pain in winter paddling is often hands and feet. Start as you mean to go on so keep your hands and feet warm before you paddle. Standing blowing a board up can freeze your feet so start with good warm socks and good rugged shoes its muddy or slushy out there!
Once you change again you can layer up. Some dry suits have fixed feet so you can use wool underneath the waterproof outer, but this gets damp as you paddle so wicking walking socks are better. Neoprene boots come in various thickness. You can find "hot socks" to add to the layers. Your feet will get wet and usually cold so invest in good socks.
Hands get cold but you need to feel the paddle. Cycling gloves are great. Hats are really important 15% of your body heat is lost through your head.

If you get injured or lost or left on a bank waiting for rescue you need to be able to keep warm. I always carry a survival bag, phone and emergency rations.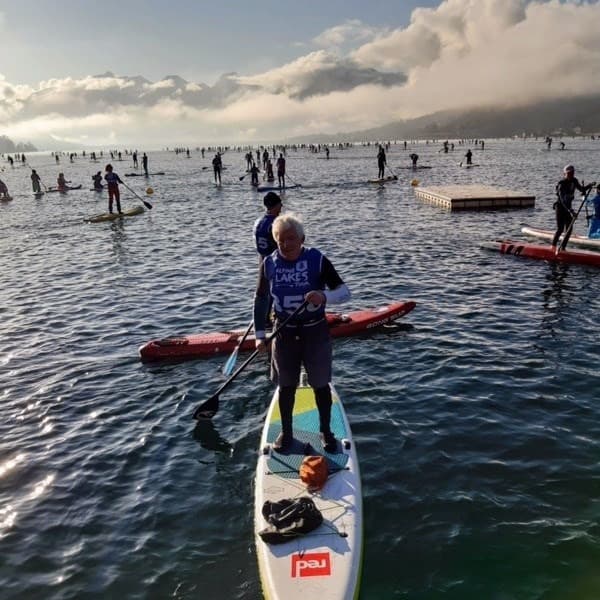 Davids personal kit:
Palm Gradient Boots, Sealskinz, Zhik Myuno leggings, Hikers (Rooster or Lomo) Top layers wicking layers with a variety of hot tops etc from Rooster topped off with Aquafleece. If its really cold a 2 or 4mm wetsuit under the hikers even one with full arms! Gloves and overmitts and a good buff round the neck or on the head with a bobble hat. Dry bag with dry additional layers.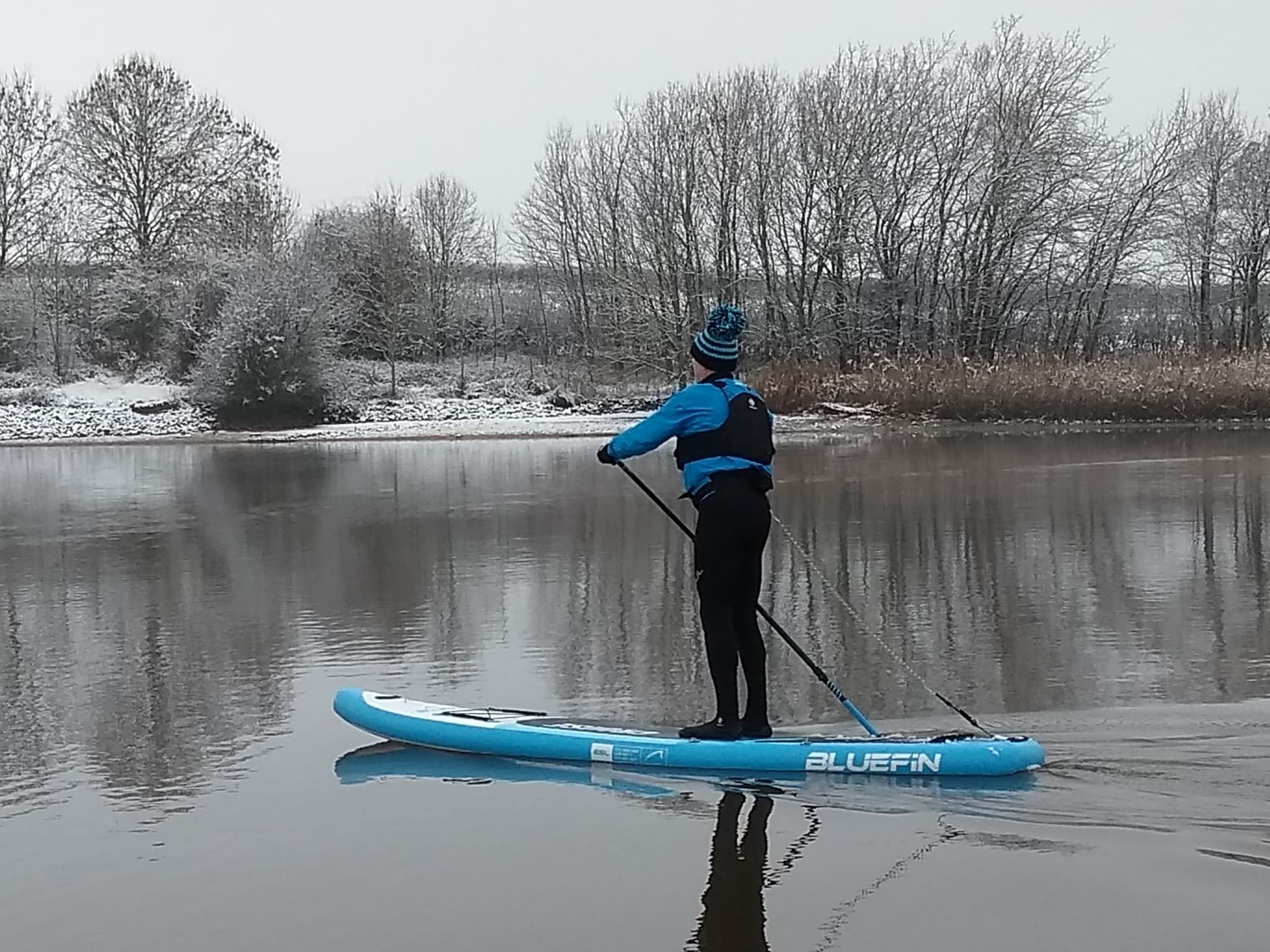 Maybe see you at the Nautic www.nauticpaddle.com or Gla Gla (French for Brr Brr!) www.glaglarace.com.