Nautic Paddle 2022
The Nautic Paddle https://www.nauticpaddle.com is a bucket list paddle: cross the centre of Paris, see the Eiffel Tower and Notre Dame, paddle under all the spectacular bridges. Join 1000 paddlers, spectators hooting air horns on all the bridges, paddle alongside the top world paddlers competing in the APP world tour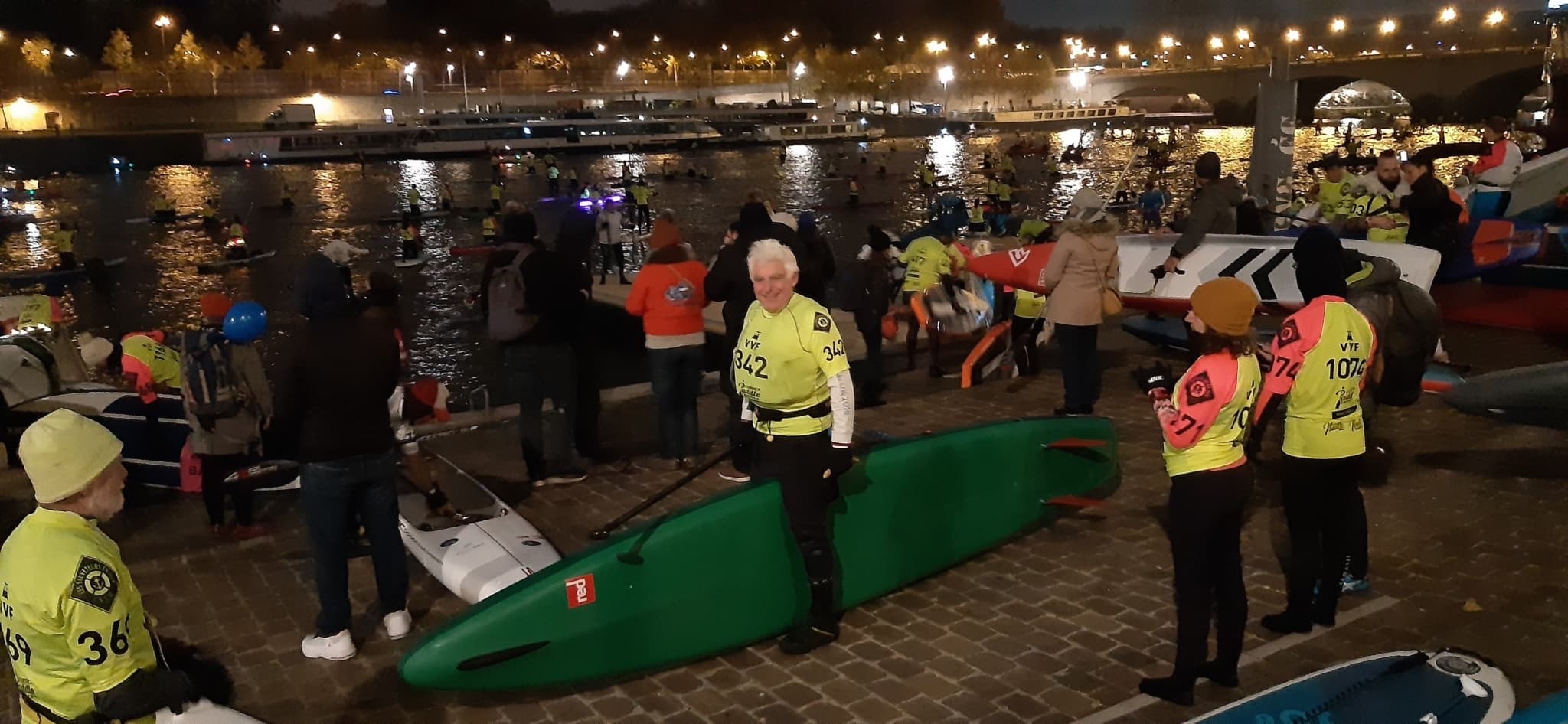 I joined around 50 UK paddlers competing in the "leisure" category following an 11 km descent of the Seine. Pro and APP competitors take an extra loop around the islands around Notre Dame to make up 14 km. . Will Keetly represented the UK in the APP tour finishing 20th. Alison Rennie in the Pro category came in an impressive 13th woman. Chris MacDonald was 27th and Sean Rayner 34th male. https://my.raceresult.com/225275/results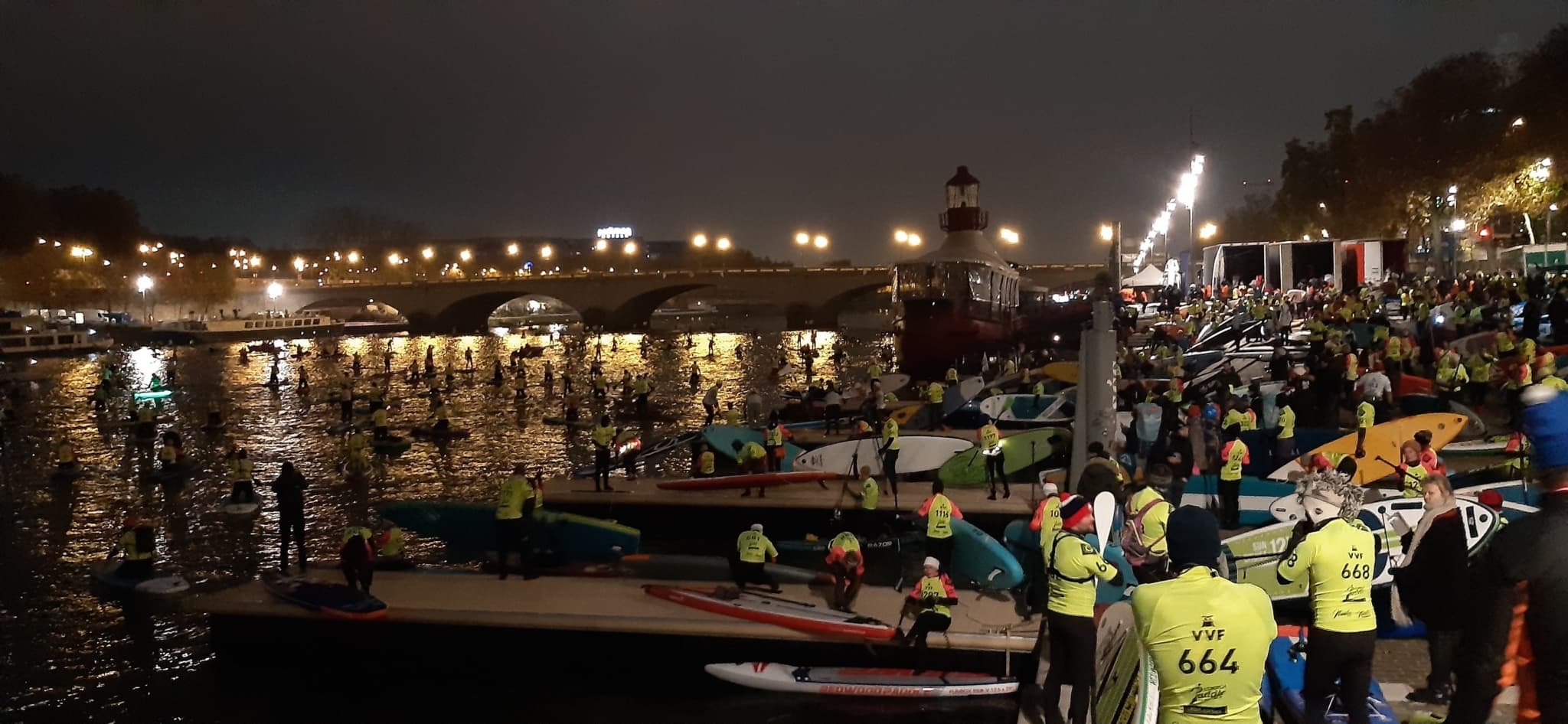 The organisation is phenomenal, 1000 paddlers meet the day before the race at the Paris Nautic Boatshow and register getting bibs tracker and stickers for kit. You then drop off your board which gets loaded onto trucks and delivered to the start, then picked up at the end.
Before 6 am on a Sunday morning you return to the exhibition hall, get changed and then load onto busses which take you to the start line at the Bibliotheque National de France .Here you locate your board in the pile of 1000 and head onto the water.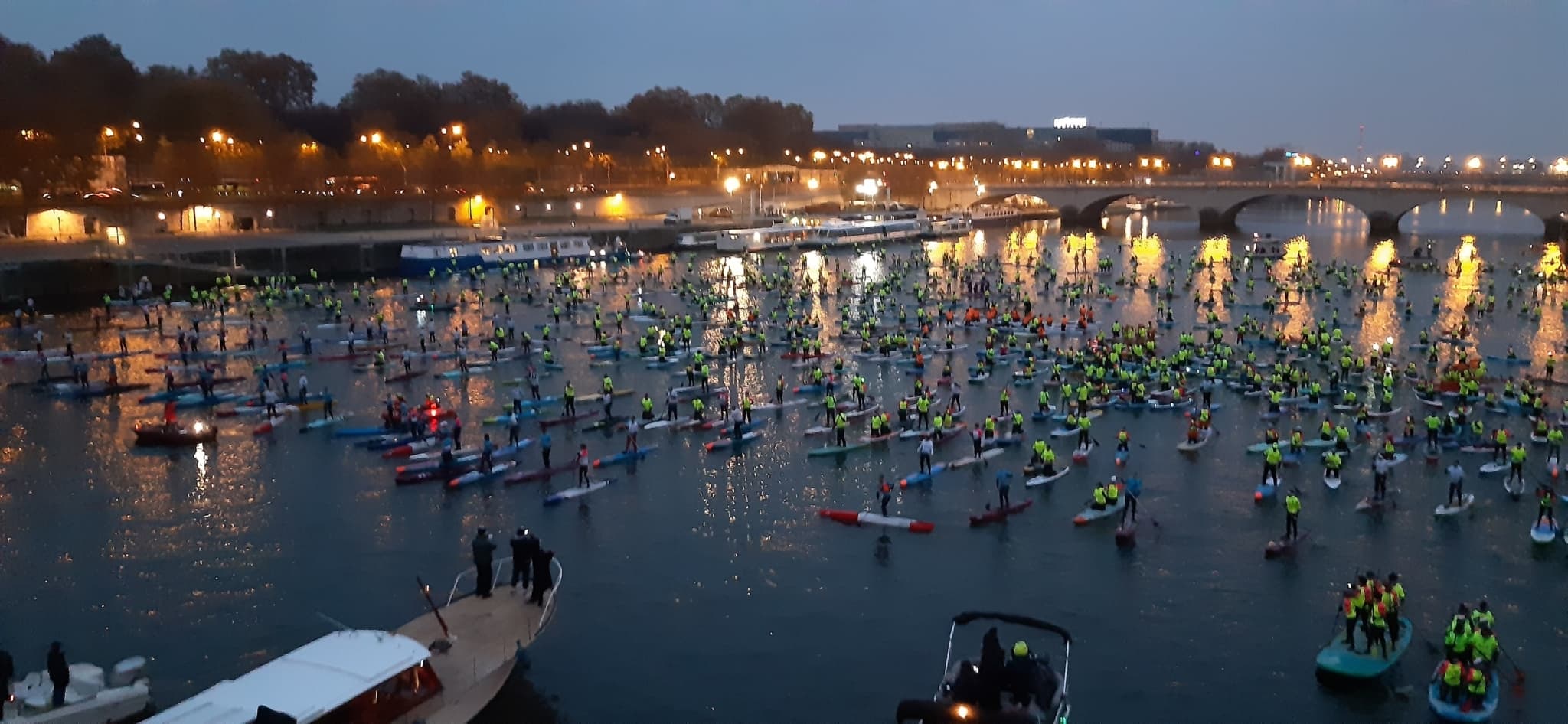 Pro and APP paddlers line up at the front, you slot in mentally preparing for the washing machine you know is coming as everyone starts together.
The paddle is magical, starting at first light with illuminated bridges and landmarks. Not for the feint hearted because all those paddlers churn the water up and each bridge concentrates the wakes and eddies of paddlers in front of you so a few fall in.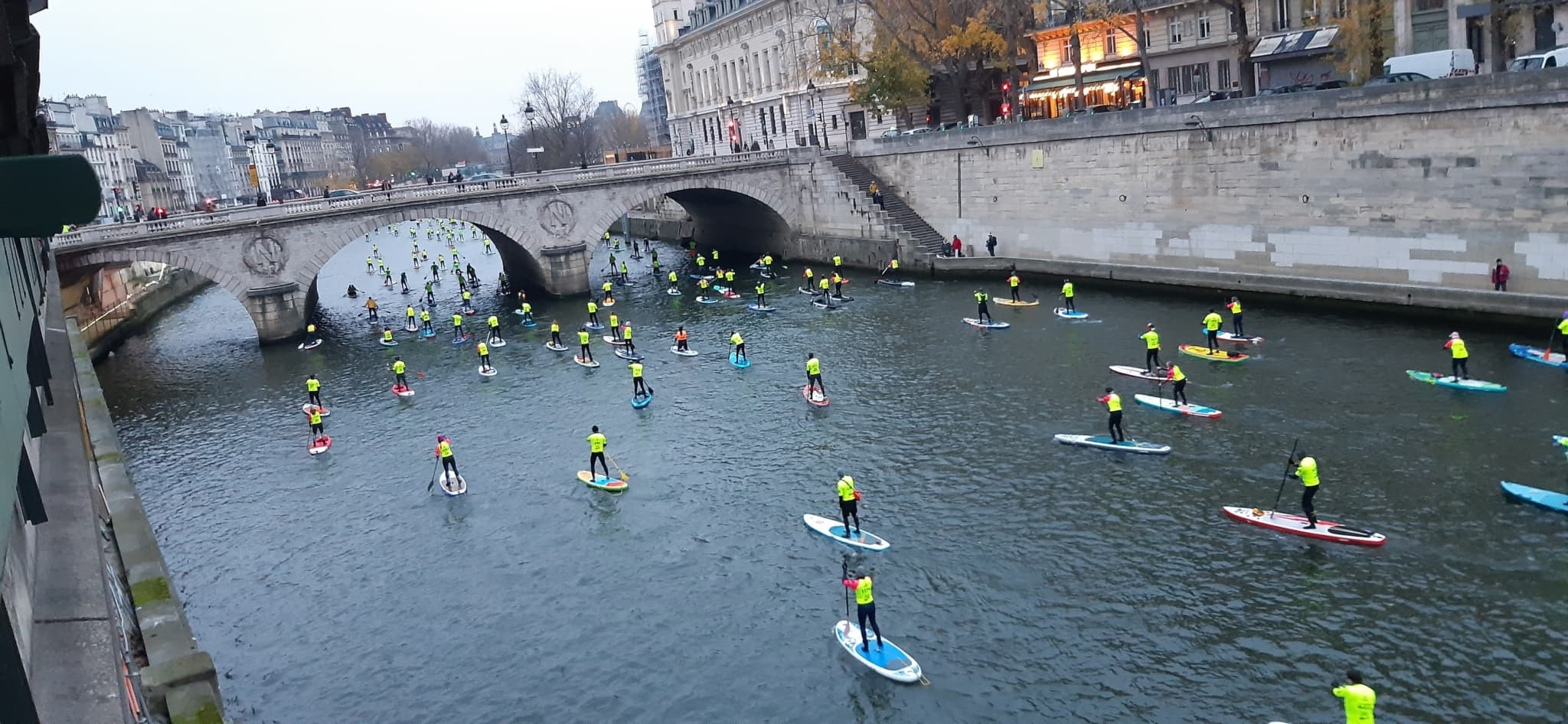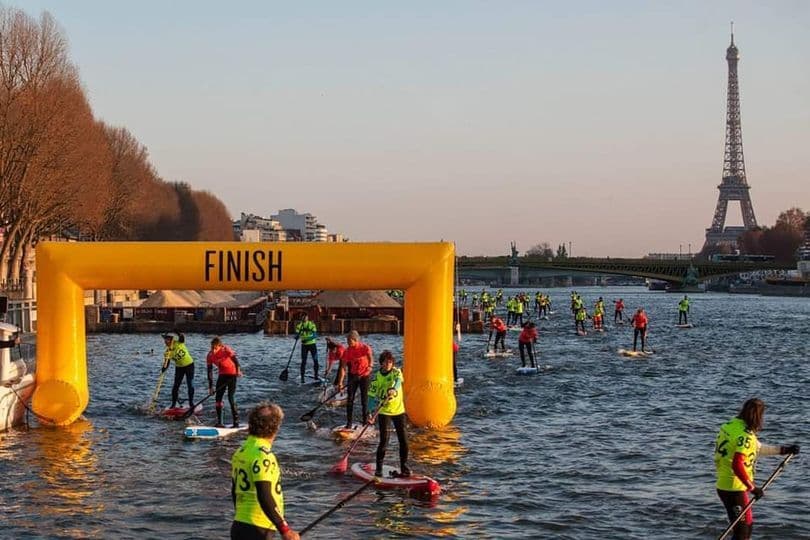 https://www.youtube.com/watch?v=nO4_yP_X3YE
So How do you find out about events?
Join a SUP club and follow social media. At Chelmarsh http://chelmarshsailing.org.uk/ we have active members pages where people discuss social paddles, training opportunities and also possible events. There are excellent publications and UK based magazines which list events, but best of all go to one event and meet other paddlers. In Paris it was great to have that camaraderie and support UK paddlers seem to take with them to every event, it really is one big happy family!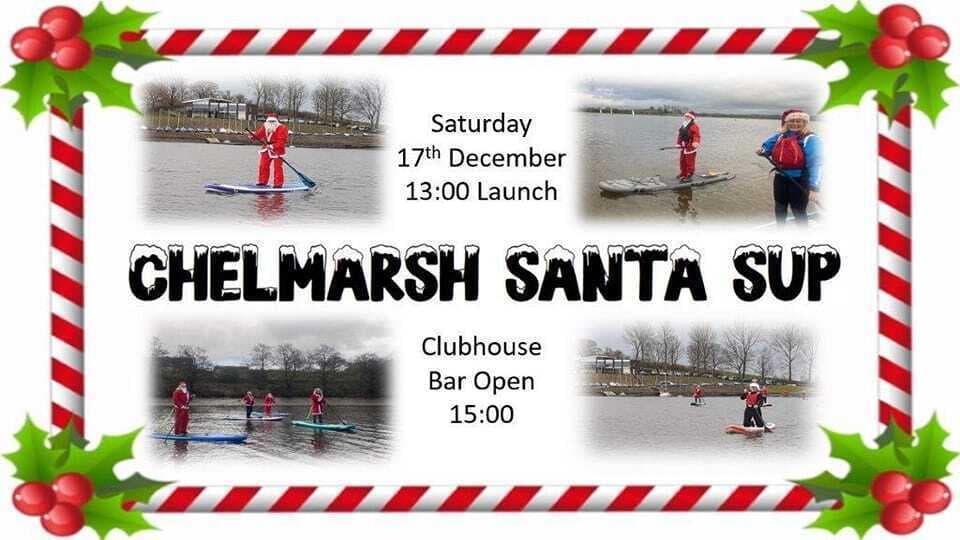 Keeping SUP fit in the winter is straightforward and there are plenty of opportunities for festive paddles and frosty explorations. Many clubs host seasonal paddles and have ongoing training. There is no such thing as bad weather just inappropriate kit.
Events offer assistance in joining teams and finding like minded paddlers, virtual training groups also spring up with people posting strava records to allow team mates to train together.
So whats in the diary for 2023?
There are a host of challenges, our club entered 4 teams for the Trent100 last year, some of the paddlers were new to the sport and developed their skills in 12 months. There were faster and slower groups to match ability. https://www.trent100.com/
Race events may suit others, or white water events. Maybe a guided Great Glen Challenge or the Great Glen SUP Race. https://sailingfast.co.uk/paddlefast/the-great-glen-challenge/
At club level just joining a regular Saturday social paddle or Friday "Sundowner" in the summer opens up conversations about river trips, canals, multiday camping adventures.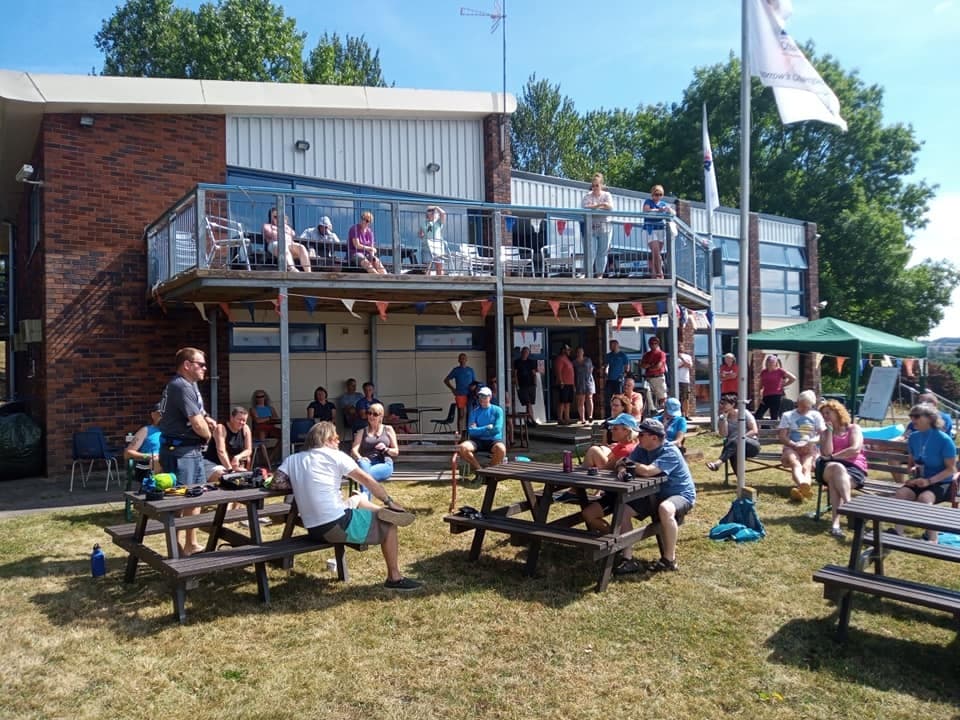 Chelmarsh holds a SUPFest annually with paddling talks from leading paddlers, coaching clinics and here you learn from people about events they attend.
The fantastic thing about SUP is that there are opportunities for all levels of paddlers and a fantastic community to support you. Learn at a recognised SUP school or centre, always follow a few basic safety guidelines and keep in touch with your Trainers and coaches and fellow paddlers.

Personally I am entering a couple of long distance events; the 11cities in Holland and a chance encounter with the organiser of the Dordogne Integrale in Paris left me pondering my ability to do that. 
So check out your local SUP Club and see what paddles are coming up. Share the water and start to plan for 2023. For many at our club they ended up in great challenges just a year after starting paddling. Winter is time to prepare and dream but get your winter kit and get out there!