This 9KM by 9AM walk features the villages of Little Chart and Barnfield and the country lanes and footpaths around Pluckley – Britain's most haunted village!
Pluckley - Guinness Book of Records
Pluckley had an entry in the 1989 Guinness Book of Records for being "the most haunted village in Britain", with 12 different ghosts reported. Pluckley is the location of many supernatural television programmes, such as Most Haunted and Ghostly Legends. It still attracts amateur ghost hunters today. Among the most famous reported hauntings is that of the Red Lady or Lady Dering (who died in the 12th century), sighted in the churchyard of St Nicholas. Other reputed hauntings include a ghostly monk, a phantom highwayman and a gypsy woman, called Susan Richardson, who died in mysterious circumstances. Three of these are all within a few feet at the road junction ghost hunters have dubbed Fright Corner. Dering or "Screaming" wood is also said to be a strong focus of paranormal activity.
Please note, I did not see any ghosts on the walk!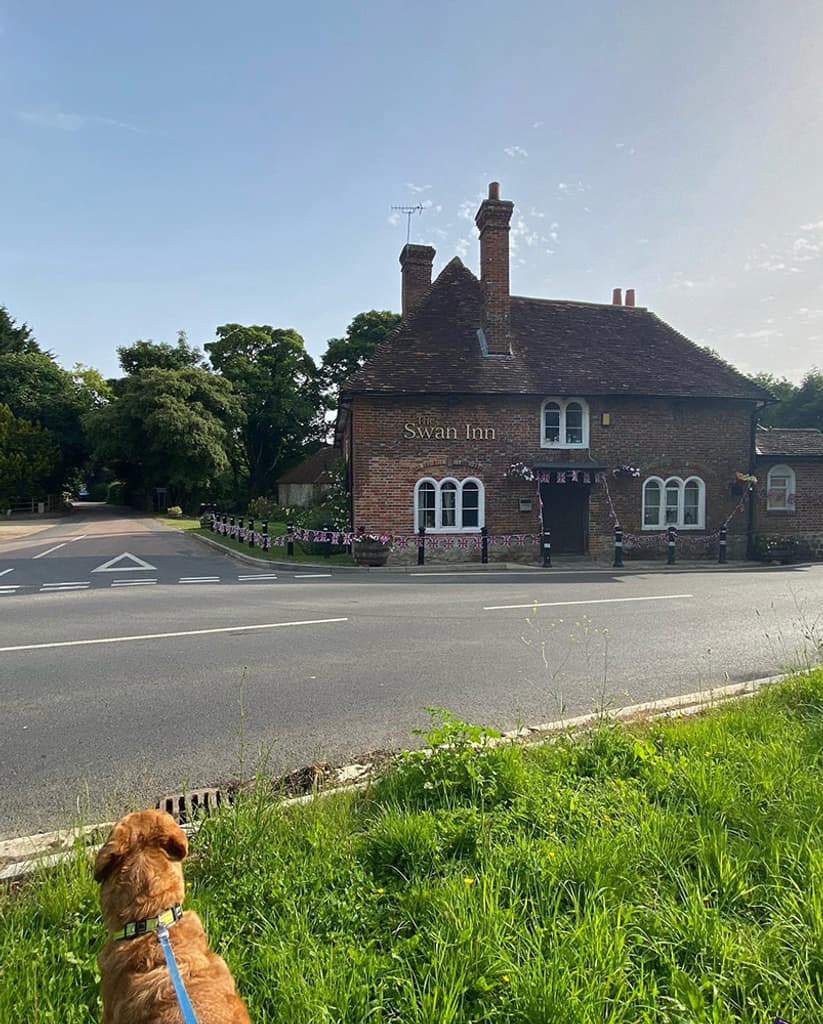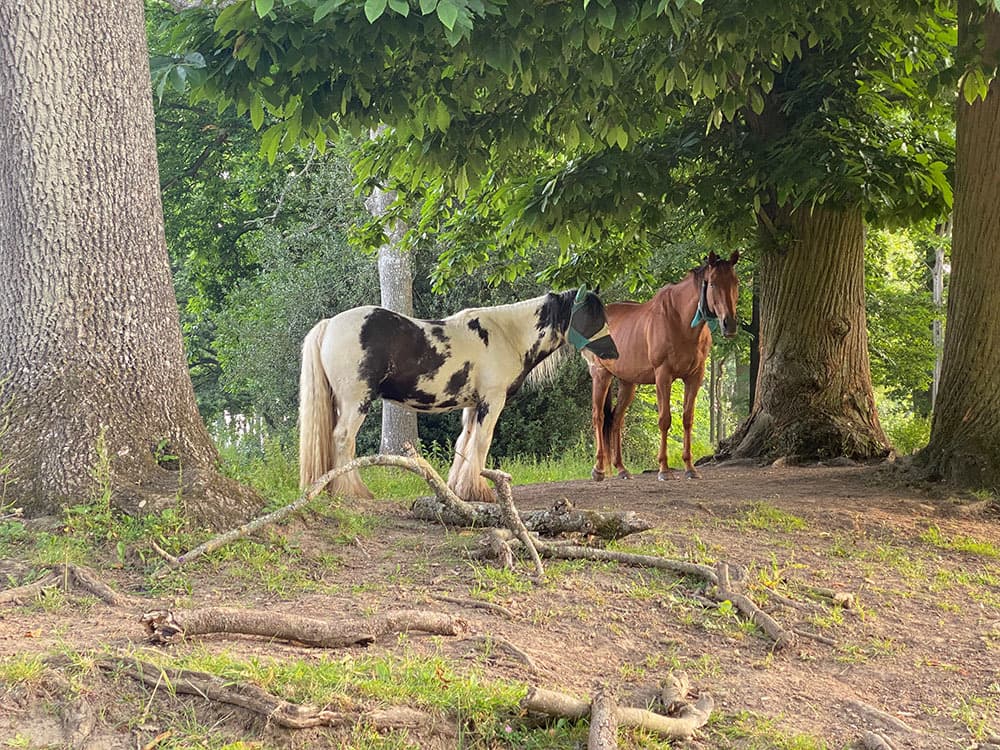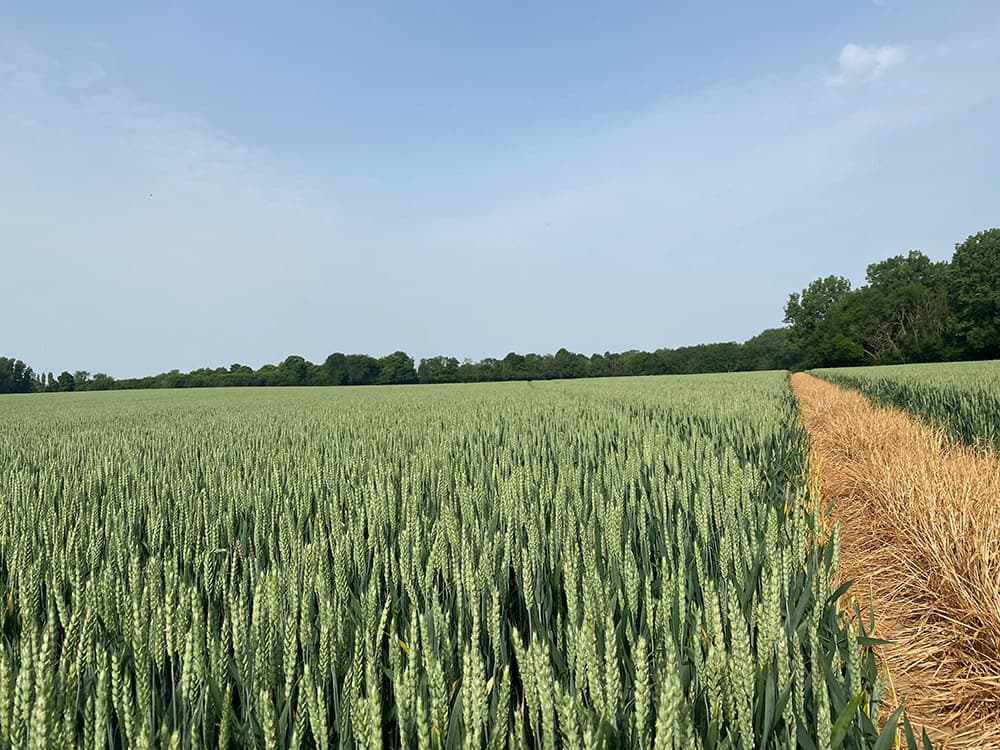 The Walk

The walk starts in Little Chart, a village, situated 4 miles (6.4 km) north-west of Ashford, in Kent. I took the country path next to the Swan pub and walked towards Barnfield a tiny hamlet about 4km away. The path is well kept and clearly sign posted as the Stour Valley Walk.
This was one of the most beautiful walks I have been on in Kent.
Part of the path that links Little Chart to Barnfield is called Nettlepole Lane a very peaceful and picturesque pathway, well worth a visit.
Along the way I saw horses, cows, sheep and plenty of Kent's rolling countryside.
The walk includes pathways along the bank of the River Stour - which is pretty much a stream.
I returned to Little Chart via the fields around Pluckley.
Distance & Duration
Time - 2 hours 35 minutes
Distance - 9.46km and elevation of 67 metres with a mixture of roads and country paths.

Parking
I parked in the Car Park at The Swan Public House
What 3 Words -///hurtles.crab.consented
Map of route
Below you'll find a mapmyride image of the route including elevation.
---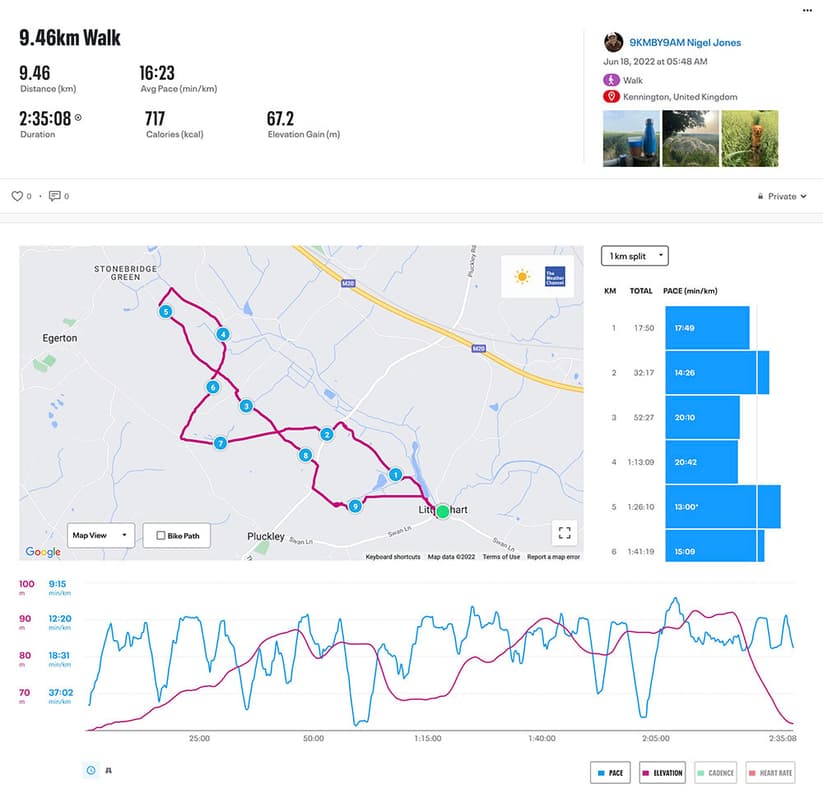 About Nigel Jones
This walking route was provided by our contributor Nigel Jones. 
Nigel is a self-development and motivation coach and the author "WALKING BACK TO HAPPINESS - THE SECRET TO ALCOHOL-FREE LIVING & WELL-BEING", to be published next month (July 2022).
He is the founder of 9KM BY 9AM and walks 9KM before 9 o'clock every day!
9KM BY 9AM is a health & wellness channel featuring the 9KM BY 9AM CHALLENGE and is available on Facebook, Instagram, TikTok and YouTube.
The channel features daily walks and thoughts and is open to anyone who wants to challenge themselves.
Over the first 12 months Nigel walked 3,420kms before breakfast! That's the equivalent of 81 marathons!
Nigel says, 'The walks are a great time to think, plan your day and also meditate. It's not just about walking it's about the ideas, the thoughts, the creativity time. Out walking early in the morning is a great time to learn new things through listening to podcasts and audio books and reflect.'
https://www.facebook.com/9KMBY9AM