Getting tired of those lift lines? Or maybe that latest ski flick has channelled your inner powder hound, here's how to get into the backcountry and enjoy mountains in their purest form.
It's mid-winter and the alarm is going off at an hour I didn't even know existed. The excitement of pouring over maps and routes whilst packing a bag the night before has quickly worn off as I lift my head up to see 3 am on the clock. Time to roll out of bed, throw some clothes on and give myself a much needed pep talk….
Fast forward an hour (and a few shots of coffee) later and the morning mountain chorus of groans coming from people lifting heavy bags onto backs can be heard. It's always surprising how quickly a bag fills up once avalanche gear, spare base layers, snacks, water, a camera and the mandatory hip flask of whiskey are thrown in.
The goal is to reach the peak at sunrise, it's not a hard tour and moods are high now that lungs are full to the brim of fresh mountain air.
Meandering through the treeline with friends is a favourite pastime. Much like Frodo and Samwise, there's a bond that's forged on a skin track free from judgement and pressures of the world. It's like a springboard for creativity and goofiness where no topic is off-limits. More often than not it's all sleep deprived nonsense, but even that can be good for the soul. Not all backcountry touring is the 'type two' suffer fest you see in films. It doesn't have to be about the highest peaks and the gnarliest terrain, some of the best tours are mini missions in search of some fluffy white gold with good people.
Breaking through the darkness of the trees and into an ever-brightening sky of the pre-dawn alpine is a refreshing feeling. As a zig zag route is etched in the fresh snow, the flickering lights of the valley below come to life as people get ready for their day. The summit is reached just as the sun starts to appear from behind distant mountains, the perfect time to wash down a croissant with a glug of whiskey and some mandatory sunrise photographs.
After the essential snow safety checks are complete, the fun begins. All tiredness is quickly forgotten and met with the buzz of surfing down an open slope knowing that this has been well earned.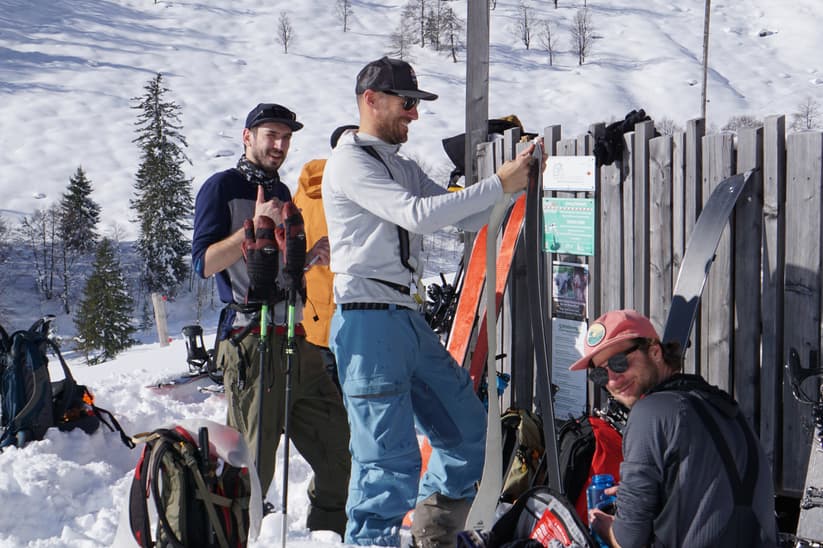 Now to the nitty gritty….how to get started on a backcountry adventure.
Ski touring and splitboarding have seen a boom in recent times, mainly due to COVID closing down chairlifts and ever resourceful mountain folk looked to using their own steam to get a snow fix. But a common question asked is where to start.
There's no short answer, it takes financial and educational commitment not to mention years of practising this new found knowledge by navigating through mountains. In a day and age where 'instant' is the buzz word, it's refreshing to embark on something that will take years to learn, knowing full well that you will never actually 'complete it'….but it will be a hell of a ride along the way.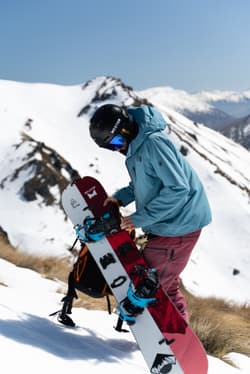 Equipment
Chances are you're a keen skier already, so that's the ability taken care of. Get down to your local ski shop and pick up an avalanche transceiver, shovel and probe. These are the three basic items that are non negotiable, they are a literal lifeline and need to be in every competent skier's bag. Grab a good backpack too, around 35 litres is a good starting reference to fit all your gear in for a mission.
Next up, learn how to use said safety equipment. Just having them in your backpack won't mean a thing in an emergency so sign up for an avalanche safety course where you will learn about snow science, navigating safely through mountains, how to perform snow safety tests and what to do if the worst was to happen.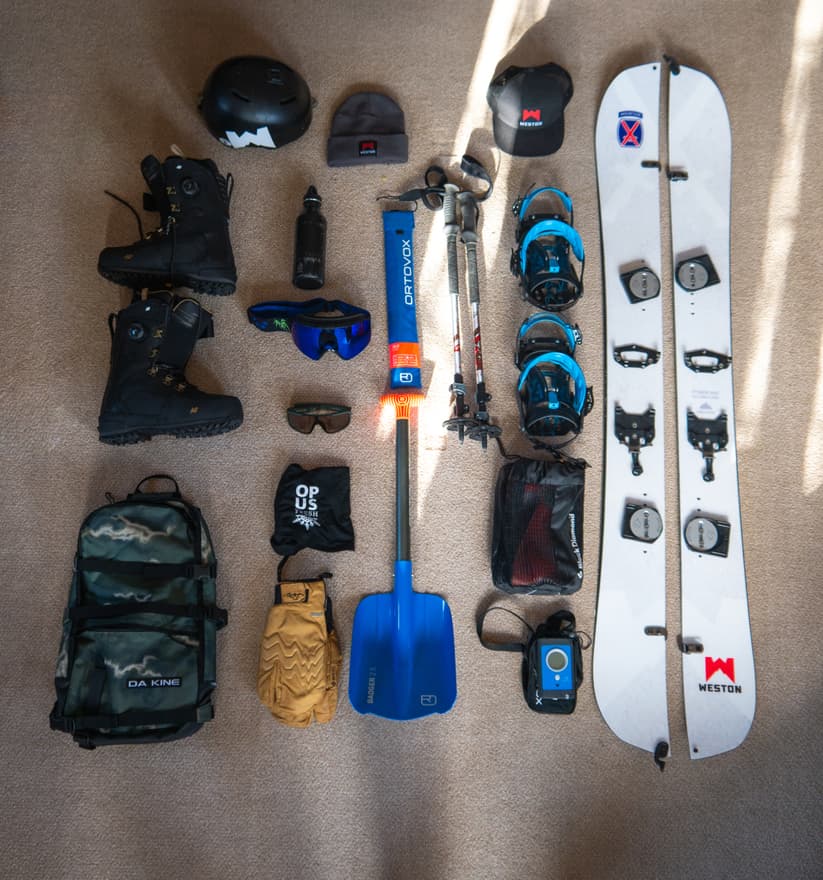 There are many courses but for those in the UK, the Snowsafe website is a where to start. The internet has some great communities and resources too, 'Know Before You Go' is a fantastic computer based course that builds a foundation in the theoretical side if things.
https://www.snowsafe.co.uk/avalanche-safety-courses/
Only once these are done, should you even think about going off piste. With the growing number of people venturing out of bounds now, having this safety gear is mandatory. Ride with it as much as possible to get comfortable with it, you never know when those impromptu powder day side county laps might happen.
Keep in mind that being too fixated on reaching a summit can sometimes lead to bad decisions. Going backcountry needs dedication, but it also requires flexibility and the balls to say no, otherwise it can be a quick ego crusher.
Now for the fun part, choosing your tools. There is an endless amount of gear you can buy that covers all price ranges but as with anything in life, buy the best you can afford. There's nothing worse than being backcountry and having something break due to poor design, so do some research and chat with your local ski shop. Alternatively, get yourself to a mountain cafe (backcountry folk love a flat white and some nuts) and strike up a conversation, you'll find people are always happy to chat about gear and provide tips.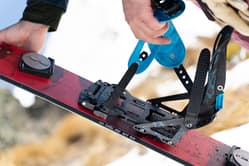 Splitboarding
There's a lot to invest in when entering the split board world, starting with the board itself.
Long gone are the days of chopping your favourite deck in half and drilling some holes, factory made splitboards are constructed to perform both as a board, and as skis for the uphill (#ionlyskiuphill) and come with a vast array of tech. Get learning the lingo, knowing your weighted tails and early rocker noses will have you accepted into the community in no time at all.
The board length is a personal preference, but it's not a bad idea to go a little longer than the daily driver to account for the extra weight of backcountry gear…..the extra surface area is needed to float in the powder.
Bindings are the fundamental part of locking the board together and has a drastic effect on the way you ride. Two brands lead the way here, Spark R&D and Karakoram. Prepare to dust off the credit card, but your body will thank you for it.
Ski Touring
Ski touring has a slight advantage over split boarding as you can use your everyday set up as a backcountry ski too. Surface area still applies, so if you can then go slightly wider, a happy medium is around 105 underfoot…..this will still perform in resort and provide plenty of float in the soft stuff. As with snowboards, the best profile to go for is camber under binding and rocketed nose to give you that extra float.
The main difference is in binding choice. Innovation has reached a point where manufacturers are making a binding that is just as at home going uphill as it is down, it's the Optimus Prime of the ski world. Boot compatibility is important, so if you really want the best then get a boot that works with pin bindings as these perform the best when touring. Salomon revolutionised the ski world with their Shift binding which has the DIN release of a regular downhill binding, but with the push of a lever, it switches into an uphill, pin-binding beast. You sacrifice a little in the weight department, but for most people this is the dream set up. Your one ski quiver killer.
Boots are hard thing to advise. The only way is to visit a local ski shop, get your feet professionally measured and get the boot that fits your foot, not the one your favourite skier is wearing.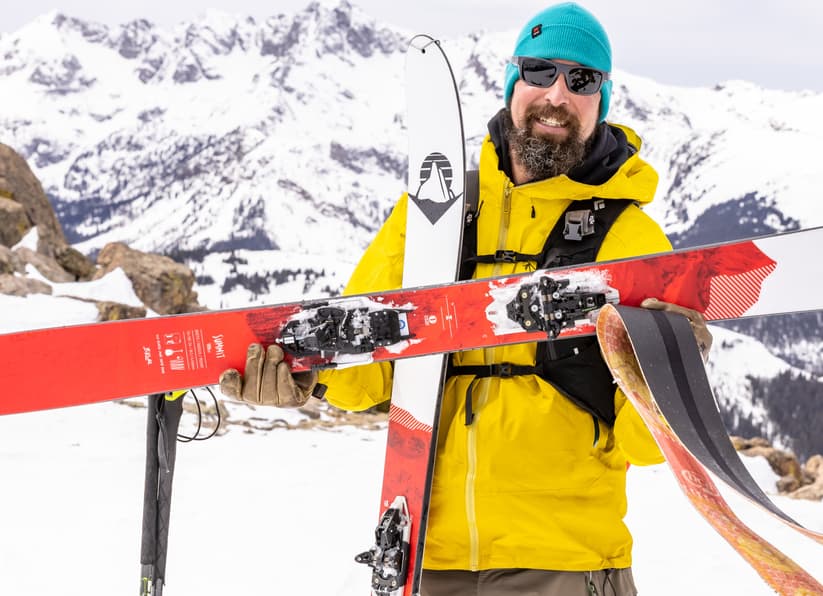 The last bit of kit is skins. Dating back over 4000 years from the Altai Mountains in China, these strips of furry material are what make walking up hill possible. Thankfully, things have moved on from nailing horse hair to a plank of wood, modern day skins are comprised of nylon and mohair blends that provide grip and efficient gliding. The hairs are laid in a way that allows the ski to glide in one direction but not the other……meaning you don't slip backwards. There's a few brands around and will mostly all do the same job, just make sure you look after them as the glue that holds them to your ski base is a little fragile. One top tip is to store them in a freezer over the summer months.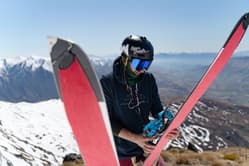 The best way to get into the sport is to find people to get out exploring with. The backcountry community is an open one, there's countless Facebook groups to meet like minded people, or head to the local ski shop and get the low down on who to talk to. Just be sure everyone has the skills required before venturing out of the resort.
Most importantly, just get out there and fall in love with moving through the mountains ripping powder runs with your friends.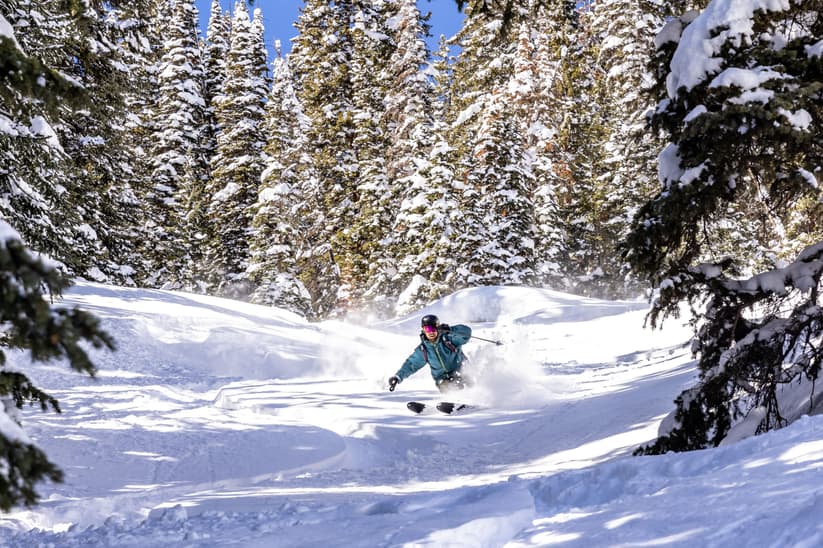 If you still need more convincing, then this stunning edit from DPS will have you scrambling to the nearest mountain hut
---