The winter calendar is chocka with events, races and festivals, but with spring around the corner there are a handful that really stand out. With the days getting longer and warmer, there's more time for fun activities and good vibes, we feel these events will go a long way to ending your winter on a high.

Whether it's watching a live stream or heading away to experience one of these up close, it's a guaranteed good time.
Freeride World Tour final in Verbier
---
The big dog of the Freeride World tour calendar, Verbier is where it all began many years ago as a snowboard-only event where anyone could test themselves against the imposing Bec Des Rosses face. Times have evolved into a winter-long competition showcasing the world's best freeriders, culminating in Verbier. Expect to see athletes at their absolute peak, with a steep face littered with survival skiing rocks and mandatory huge cliffs. What makes this event so special is that it can be watched live from the top lift station, expect to see many BBQ's and beers on display whilst the worlds best test their metal against the mountain. The party carries on into the Freeride village in Verbier with its endless apres ski.
---
The Nines has changed its name over the years and has grown into the rider's highlight of the year. It's a unique competition in the fact it's not really a competition. The world's very best athletes showcase their talents on one of the most creatively built park setups on earth. The idea is for athletes to push themselves free from the sometimes damaging pressures of the regular competition format, couple that with the world's top photographers and videographers and you have the perfect recipe for the spectacular. The venue changes biannually between Crans Montana and the dramatic Piz Gloria area of Switzerland.
---
Music and skiing go together like cheese and crackers, so what better way to make the most of both (skiing and music, not cheese and crackers) then heading away to some of the best resorts in the world when they are transform into music festivals on a different scale. Snowboxx in Avoriaz and Snowbombing in Mayrhofen are the two biggest venues with gigs happening all over the mountain. Mayrhofen in particular has some interesting venues, a DJ set in a tiny butches shop being one of them. Both festivals are set in spring, so perfect time to enjoy slushy laps, long sunny days and a festival vibe in the mountains. Snowbombing also incorporates a comedy festival, so if the rowdiness isn't your thing then book yourself into some laughs after ad ay on snow.
---
Natural selection is a new competition format from the brain of legendary snowboarder Travis Rice. Naturally enhanced backcountry terrain that encourages a rider's creativity and style starts off in a head to head 'Duel' platform across the globe where two riders pit their skills against each other in a venue of their own choosing. The winning run is chosen by a panel of judges, with the victor progressing to the next stop in Revelstoke and Alaska where the competition is live. The focus of Natural selection is on fun, so expect to see video part style lines and maximums good time vibes. 
---
Set across New Zealands southern Alps, the Winter Games signals the start of the competition season and is a major part for competitors hoping to reach the Olympics. Pretty much every kind of snow based sport is on show here, including the first 4 star Freeride World Tour Qualifier event of the season. Wanaka and Queenstown are flooded with competitors and teams creating an incredible atmosphere around the towns and resorts. The Winter Games team do a great job of making the competitors accessible to everyone, so if you're lucky enough to be in the Southern Hemisphere, then make sure you stop by.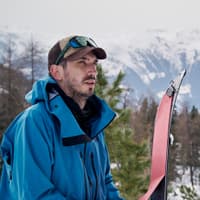 I'm a photographer, creative copywriter and brand ambassador with over 14 years experience in action sports and adventure, in particular in snow sports where I cut my teeth as a competitive athlete. These valuable years taught me lessons in communication, self promotion, hard work and dedication, all of which I now apply to my creative work. It's through these experiences I have leant that even the best plans can change, so being flexible and able to think on the fly in stressful situations are skills I pride myself on.