Autumn is a lovely time to camp, campsites are often less busy and you can see some truly beautiful sights. As the temperature drops however, there are some useful tips to bear in mind when camping.
Top tips to enjoy autumn camping
Pitch your tent early
If you can, set off early and pitch your tent well before dark to ensure you don't trip over any tree roots or put your tent on an unsuitable place. Lots of torches and lanterns will be useful if you have to pitch when it is starting to get dark. Headlamps are invaluable.

Let there be light
Whilst on the subject of lighting, fairy lights are pretty and help make your experience more cosy. Any lighting you can bring will be helpful, especially when going to the toilet.
Layer up
You will need to be prepared for the cold. Pack lots of layers, warm clothing and waterproofs for the changeable weather. Always bring extras! A sudden storm can mean your shoes and socks are very wet, and you will be thankful for an extra pair to change into. Ensure you have a hat and pack extra blankets to go underneath your sleeping bag for more insulation. Hot water bottles are ideal for warming your sleeping bag up before bed.

Prepare to get wet
If you get some rain, it can be lovely sitting in your tent with a cuppa listening to the rain outside. It doesn't mean you still can't go exploring – just ensure you have wet weather gear and if possible try to leave muddy/wet boots in the car rather than getting all your stuff wet/dirty in your tent. Ensure you dry your kit out properly before packing it away, or dry it out when you get home. Mornings might be very damp or dewy so easy to slip on shoes or wellies are helpful.
Snap Away
Make the most of the lovely season by taking your camera to snap the beautiful autumn sights. Dogs will love a family walk in the woods, sniffing all the different smells. Encourage your children to jump in huge piles of leaves, build some dens and do some nature activities. If you are camping near trees, a lovely idea is to take along a hammock so you can sit and enjoy the peace with a good book. If you have to be inside the tent due to the weather, you can still enjoy fun card or board games with the family.
Warm up in the evenings with a roaring campfire and some blankets. Toast marshmallows and have sparklers for some fun memories.
These top tips are provided by Contributing Editor, Natasha Sones 
Natasha has an outside family adventure travel blog. With three children, three dogs and a husband she enjoys days out, holidays, camping, walking, paddleboarding, kayaking, stargazing and much more! Follow her blog or her Instagram account: @natashastarseeker if you love family lifestyle content.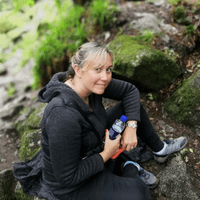 I have an outdoor adventures blog. Having three children, I am particularly interested in getting outside with my family. I aim to make every day an adventure, especially with my children, husband, dogs and friends. From exploring new cities to being in our campervan with the dogs, we like an adventure. We live near the sea and forest and explore every day.