This 9KM by 9AM walk features a 9.37 km circular walk from Pluckley to Egerton along the Greensand Way offering spectacular views over the Weald of Kent. Contributed by Nigel Jones @9kmby9am.

9KM BY 9AM "GONE WALKING™" Score: 8.5 / 10.0 - 05:36 - 08:15 on August 6th, 2022
The walk starts at the free public car park behind the Black Horse pub in Pluckley. I headed along the Greensand Way towards Egerton.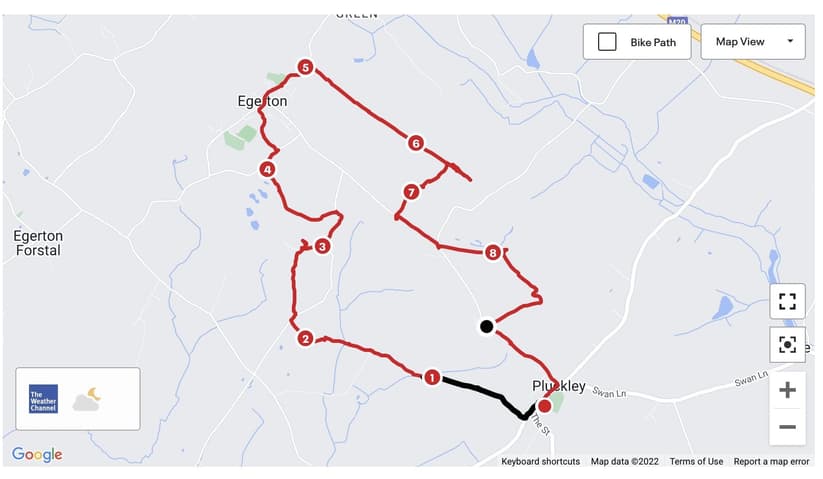 This is one of the most beautiful walks in Kent, with fantastic long distance views over the Weald towards Tunbridge Wells.
It included Orchards, rolling fields and the idyllic villages of Pluckley and Egerton.


The Greensand Way runs 108 miles (174 km) in southeast England, from Haslemere in Surrey to Hamstreet in Kent. The route is mostly rural, passing through woods and alongside fruit orchards and hop farms in Kent and links with the Stour Valley Walk near Pluckley. The trail was opened in 1980 and is jointly managed by Surrey and Kent Councils who fully updated it in 2012 (route, waymarking, online guide).
Total elevation of the walk is 95 metres.
2 hours 38 minutes – Distance 9.37KM
Map My Ride Map attached showing route and elevation
There is free parking at Pluckley.