Are you longing to escape? Do you need to dust off your tent? Head off to Somerset to discover some absolutely beautiful walks.
Sharing the beauty of Somerset

It's fair to say day to day life often runs away with us and we forget to get out and about as much as we can, discovering the beautiful sceneries that surround us. I want to share with you the beauty of waking up and deciding that it is time for an adventure! This time we headed off to Somerset visiting Cheddar Gorge, Glastonbury & Wells… (for 24 hours)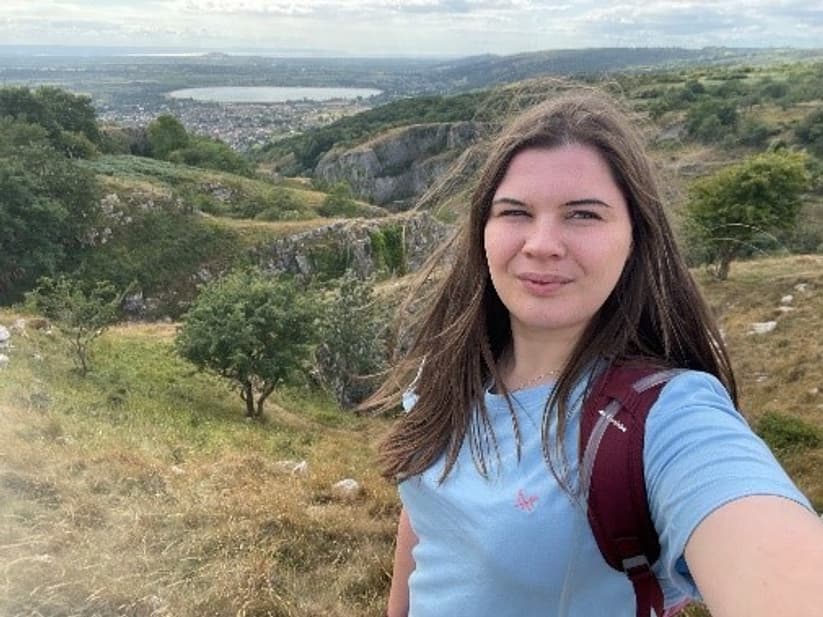 Setting off for Somerset 
I have been itching to get out and about as much as I can now that I have finished work for the summer. I am incredibly lucky that I have the opportunity to spend so much time in the outdoors- not to mention Wilbur has rather high expectations!
This trip was very last minute. I decided the day before that I wanted to visit Cheddar Gorge but as the weather was so gorgeous I thought I would make a night of it! It's been a few months since I have done a solo camp so felt it was time. I had a look around at various campsites on pitchup.com but I was really after a site where by you feel like you're camping in a meadow. Not only does it encourage wildlife to nest but it's also great for privacy! Something which I personally feel is really important when you're solo camping.
I stayed at 'Holiday Cottage Glastonbury' on one of their camping pitches.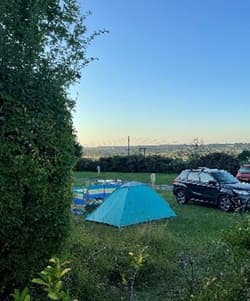 Landing on the perfect location

Wow! What can I say? They were huge! They were the most generous pitches I have ever stayed on. What made them even more fantastic was how they were divided up by bushes giving you that extra bit of privacy.
There wasn't far to walk to the toilet either, with the path taking you alongside pitch number 1 and around the caravan pitches. The block was split into two sides- housing male cubicles and female cubicles with the washing up area based in the middle.
I often find sites are very basic but I was pleased to discover that the owners had gone above and beyond by providing a microwaves, fridge/freezer and kettle! Perfect for those evening brews. The camping pitches were all non-electric so it was great to be able to store food in the communal fridge for my hike the next day. Once I was set up I went to explore Cheddar Gorge. Arriving about 2pm, it was fairly busy but I was able to find a parking spot close to the centre. It was £5 for the whole day- which seems to be fairly standard.
If anyone knows me, one of the most important aspects of doing any sort of solo activity is ensuring that you keep yourself safe. When I'm hiking I will also use AllTrials (Premium Subscription) to track my movements and follow public routes. The best thing about the app is being able to track how far you've walked and how far you've got left to go. A perfect way to plan that mid-walk picnic!
The route itself was roughly 5 miles but incredibly uneven under foot- you definitely need good quality hiking boots and socks! My scarpa boots have never let me down.
On the way back the route took me down what the locals call, 'Jacobs Ladder' giving me fantastic views of the village.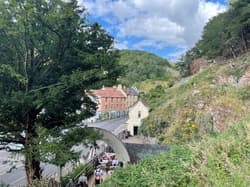 I then head back to the campsite which was about 10 miles from the village. There is plenty of amnesties in Glastonbury so if you've forgotten the milk or beer- you have lots of opportunities to restock! That evening I set off with Wilbur up the road to Glastonbury Tour- it didn't take me long, only about 10 minutes to reach the entrance.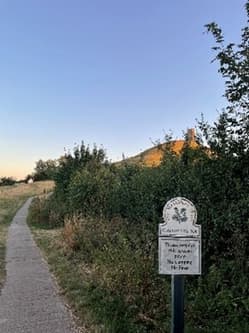 I was blown away with the beauty that surrounded me. Whichever direction you looked there abundance of colour which stemmed from the sun setting below. At the top there were many others watching it go down, with some playing acoustic music. It was a beautiful evening… warm, atmospheric and calm.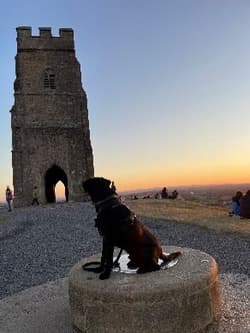 The next day we woke nice and early and packed up our stuff to head off to the city of Wells. If you're not familiar, it houses the most spectacular cathedral and quirky cobbled streets. There are a range of cafes and restaurants to get your coffee fix!
About the Contributor - Eloise Chapple
Passionate about getting people walking Eloise has her own walking community group - Gloucestershire Circular Walking Group. If you'd like to join here group on Facebook or follow her journey on Instagram you can do so on the links below or read the latest articles from Eloise below.

Facebook: Gloucestershire Circular Walking Group
Instagram: unearthingthestrength
See other walking articles from Eloise here: