Want inspiration for your next weekend walk? Here's three stunning walks around Keswick, Devon and the Peak District.
Weekend Walk Destinations
We are lucky to live in a beautiful country with lots of areas of outstanding natural beauty, many national parks and beautiful walking routes in every county across the country. But if you're looking for something to inspire you for a walk this weekend, our contributor Eloise (see her recent article about walking for wellbeing here) takes us through three of her top hikes around the country.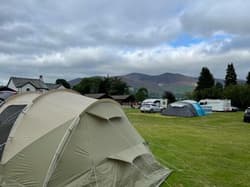 Braithwaite, Keswick
The Lake District is a very special place to me. It was the location of the first solo trip I did back in October 2020. I decided that it was a must visit during my two-month solo trip last year as there were so many places I wanted to visit and discover.

On my bucket list of things to see was The Old Man of Coniston. It was a challenging hike but very much doable solo with my dog walking by me for company. We drove up to the Walna Scar Carpark (LA21 8HD) and headed along the main path before ascending along a more remote route. I had previously tried to accomplish this route back in 2020 but due to the difficult weather at the time it wasn't achieved, so I was delighted to be treated to a clear and sunny hike! Check the forecast before you explore hiking routes such as this.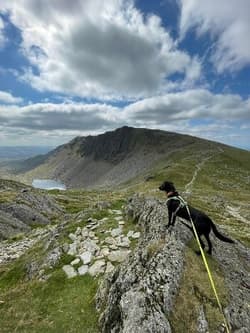 I wanted to utilise the membership I had with the Caravan and Camping Club, so I decided to stay at the 'Braithwaite Village' site near Keswick (link below). It was the perfect location for me to be based as many of the best walking sites were within easy reach of the campsite.
On the drive home I stopped off at the dog friendly Herdwicks Café in Coniston. Wilbur loved his visit and was happily fussed by other visitors. He was happy with the attention, I was happy with the delicious coffee!
Campsite - Braithwaite Village Camping and Caravanning Club Site, Braithwaite, Cumbria, CA12 5TF
Refreshments- Herdwicks Café, Yewdale Road, Coniston, LA21 8DU
Walk- The Old Man of Coniston, 6.5 miles.
Walk Holsworthy, Devon
Devon is one place I haven't explored as much, and knowing from friends recommendations, the beaches are some of the best the UK has to offer, so felt this was the perfect opportunity explore close to the sea!
It certainly didn't disappoint. Unfortunately, we found ourselves having to leave later than slightly planned due to Storm Eunice heading in, but Jan from Lane End Camping provided regular communication to let me know when everything was back up and running. This is a huge gold star in my eyes, being reassured that we'll be able to continue the journey! It pays to know someone that has local knowledge when planning trips like these.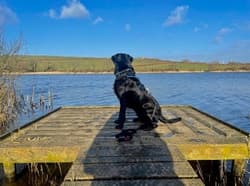 Normally when I go away, I like the basics of camping but this time I decided to treat myself with a bit of glamping. The campsite I stayed at was more remote than I would usually prefer but as walkers know, this provides lots of opportunity for fantastic hikes and many routes around the coast! One of our favourites was 'Tamar Lakes'. It was a circular trail route and roughly three miles long and a gentle walk with not too many hills. There's also a parkrun there on Saturday's if you're interested in your running (check out the course here). It was a great walk to do after a long drive from Gloucestershire.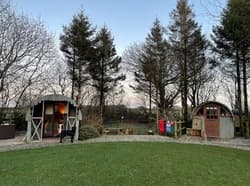 That evening I drove the short distance into Woolfardisworthy, a small pretty Devonshire village just down the road. There wasn't much there aside from the most amazing fish and chips and lovely looking pub next door! They were probably some of the best fish and chips I have ever tasted and would highly recommend a visit. We then drove back to our cabin and watched the sun set across the campsite.
Campsite - Lane End Camping, Lane End Farm, Holsworthy, EX22 7XL.
Refreshments - Woolsery Fish and Chips, Woolfardisworthy, Bideford, EX39 5QS.
Walk - Tamar Lakes, Kilkhampton, Bude, Cornwall, EX23 9SB
Glossop, Peak District National Park
The Peak District is exactly what it says on the tin… mountainous! At points I was being guided by only GPS, however, it is one trail that should be on the bucket list of any hiker.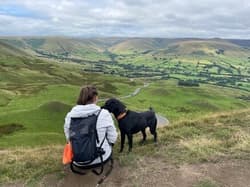 I stayed near Glossop which was the perfect location for exploring Buxton, Castleton and more importantly Mam Tor! In terms of milage, Mam Tor was a mere 3.5 mile circular route but I decided this was the perfect opportunity to venture off track and do a bit of scrambling. There is a main path that most people decide to follow to the top of Mam Tor but sometimes there is a simplicity and pleasure in creating your own more challenging route.
It took me about an hour and a half and after descending back down the mountain, I ventured into the picturesque village of Castleton, where there were lots of pubs and shops to explore. As I drove back to camp, I came across a lovely looking café in Tideswell, Buxton. It was called 'Nellys Café'. Unfortunately, it wasn't dog friendly but this was certainly made up by the delicious coffee and full English breakfast, just what you need before a long hike or after you explore the local trails.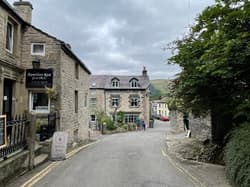 Campsite - Crowden Camping and Caravanning Site, Woodhead Road, Crowden, Glossop, SK13 1HZ. 

Refreshments - Nellys Café, 2 Bank Square, Tideswell, Buxton, SK17 8LA.
Walk - Castleton Visitor Centre, Buxton Road, Castleton, S33 8WN. 
The best part about these walks? They can all be completed in a weekend of walking with your friends.
What's your favourite walking route in the UK?
Is it across the South Downs? Over the Brecon Beacons? Maybe it's one of our famous National Parks? Whatever your favourite hiking route, let us know, tag us on Instagram @beoutsidebeactive.
About the Author Eloise
Eloise has her own waling group community - Gloucestershire Circular Walking Group. If you'd like to join here group on Facebook or follow her journey on Instagram you can do so on the links below.
Facebook: Gloucestershire Circular Walking Group
Instagram: unearthingthestrength