With it being the start of the summer holidays, you might be wondering how to keep cool when camping. Read on for top tips.
How to keep cool when camping
With the unprecedented amount of heat we're experiencing across the UK right now, it's going to be a hot summer. With it being the start of the summer holidays, you might be wondering how to keep cool when camping. If you want to know more about camping in the heat, keeping cool inside your tent and make the most out of your camping trip, read on for our top tips for summer camping.
Here's our top tips to keeping cool under canvas
1. How to keep your tent cool
If you can, set up your tent in the shade of a tree or hedge. This will help keep the inside of your tent cooler and keep you cool while camping. If you don't have any choice but to pitch in direct sunlight, try and use a lighter coloured flysheet as this will reflect some of the heat on your tent.
2. Use a tarp
You can buy special camping tarps which are great for providing shade and can be used in a variety of ways to keep your campsite cooler. For example, you could use it to create an awning or sun shelter away from your tent (perfect for wild camping) if you want some additional shade on your campsite.
3. Use a fan inside your tent
If you have access to an electric hook up, using a fan is a great way of circulating air and keeping your tent cool and feels great if you position your camping chair in front of the fan. If you don't have access to mains power, there are now battery operated fans available which will do the job just as well.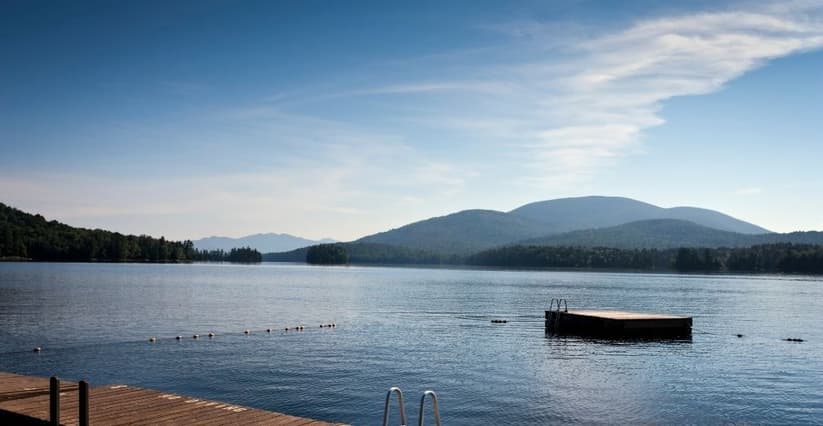 4. Taking a dip
If you're camping near a river, lake or the sea, make the most of it and take a cooling dip whenever you can in cool water. Not only will this help cool you down, but it's also great fun! Obviously please do check for water conditions and whether or not it is safe to swim or dip in the water near you!
5. Stay hydrated
Drink lots of water. It's important to stay hydrated when camping in hot weather, even if you're not thirsty. Drinking lots of water will help keep your body temperature down and prevent you from getting dehydrated. Avoid sugary drinks as these can actually make you feel more thirsty and leave you more dehydrated.
6. Don't cooking inside your tent
Cooking inside your tent is a fire hazard anyway and should never be done, but it's also going to make the inside of your tent very hot and sticky even if you're just boiling your morning coffee!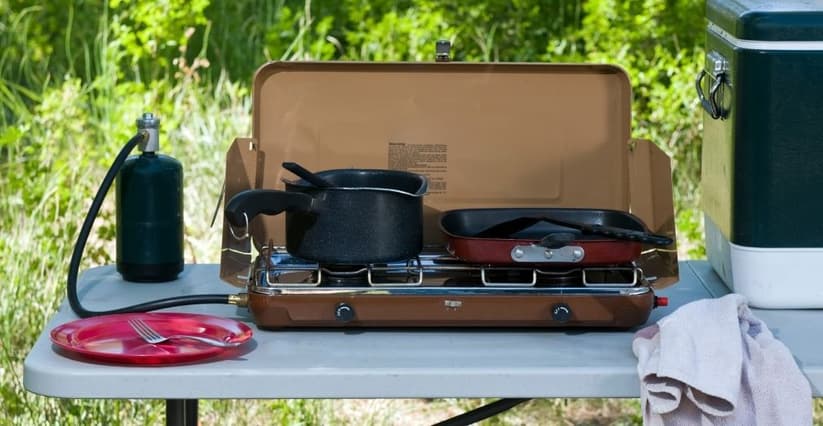 7. Don't use your BBQ
If you look around you, most of our grass and ground is incredibly dry meaning the odd random spark from a flying ember on your bbq could turn your campsite into a real hazard, especially when it's this hot. It doesn't take much for a field of hay to set a lite - so consider using gas stoves, or even better, use cold salads and foods to keep you cool.
8. Use cool compresses
If you have a cool box or an Utoka camper cooler (read our review here), pop some wet flannels or towels in there to keep them cool. Whenever you need to cool down, apply the compress to your pulse points (wrists, temples, back of the neck) for a quick and refreshing way to lower your body temperature.
9. Make some ice lollies
Another great way to use your cool box is to make some ice lollies! Made with 100% fruit juice, these are a healthier alternative to shop-bought ones and will help keep you hydrated as well as cool.
10. Wear light and loose clothing
It might seem obvious, but wearing light coloured and loose fitting clothing will help you stay cooler than if you're wearing dark colours or tight fitting clothes. Natural fabrics such as cotton are also better at keeping you cool than man-made ones.
11. Use a spray bottle
Fill a spray bottle with water and keep it in the fridge overnight. When you need to cool down, give yourself a quick spritz - it's very refreshing!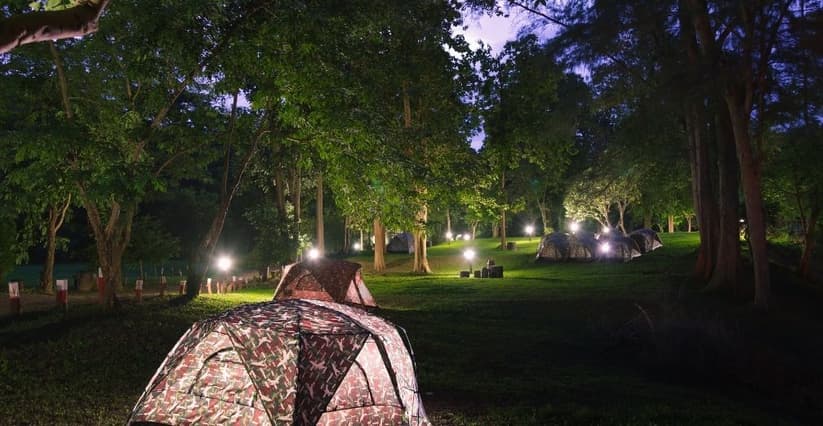 12 Block out the light
If you can, block out the light inside your tent by hanging a towel over the entrance. This will help to keep the inside of your tent darker and therefore cooler. Better yet, set up campsite under a shaded area.
13. Freeze your water bottles
Before you go to bed, fill up some bottles with water and pop them in the freezer to wake up to some refreshing frozen water. Take them out with you during the day and use them as ice packs to keep your food and drinks cool and then enjoy a cool refreshing drink mid activity.
14. Use a solar shower
Solar showers are great for camping as they don't require any electricity or gas to heat up the water. Simply leave the shower bag in the sun for a few hours to heat up and then enjoy a lovely warm shower or rinse down before bedding down under canvas! A cold shower on your campsite is also a big win as the sun sets and you get ready for sleep.
15. Eat cooling foods
Eating lighter meals and snacks that are high in water content will help you to stay cool. Foods like watermelon, cucumber, salad and fruit are perfect for this. Avoid hot, heavy meals as these can make you feel even hotter.
16. Your sleeping bag
One of the vital bits of kit for sleeping in your tent is your sleeping bag. In hot weather, you want to make sure you have a light weight sleeping bag that is made from a cooling fabric. To get the best nights sleep, keep your tent's vents open to let air circulate and try to keep the temperature down. If you're in a campsite with tree's, find out if you can raise a hammock and sleep outside in the wild for the night!
We hope these 16 tips for keeping cool whilst camping this summer! If you have any other great tips, please do share them with us over on Instagram @beoutsidebeactive
Have a great summer!