We made use of the Utoka Cooler 45 litre on our recent camping staycation. It's size didn't disappoint, keeping our food fresh for three days and doubling up as a prep station and extra seat for our trip!
Utoka Cooler Review
Before setting off, we packed two large ice boxes in the bottom of the cooler and layered up our three days of food with the cold stuff layered bottom up. Normally, we'd expect by day two to have our soya milk start to curdle and everything else basically needed to be eaten that morning – not normally a problem for my family, but a bit of a waste of food.
With the heavy duty straps, creating a solid seal on the cooler, my boy was pleasantly surprised that his milk for porridge in the morning was still cold!
But the great secret about the Utoka was that it's not just a cooler.
Inside, a chopping board separates the massive cooling space so we could put split the cold from the "stay fresh." The handy cup holder is a nice addition, but so is the basket that sits above the cool section to help keep our veg fresh, but not frozen.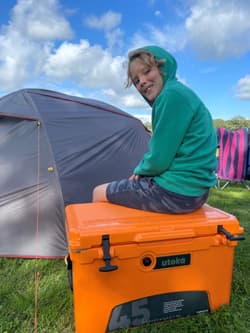 We were striving for a minimal amount of gear on our camping trip, and, once campsite set up, chairs at the ready, we realized we hadn't actually thought about space for food prep (aside from a chopping board in the long wet grass. Not a problem normally, but the heavy duty top of the Utoka meant we had a solid table between us for food prep and eating as well as a super handy games board for the multiple games of "slam" we played through the evening.
Once the boy went to bed and the campfire embers were still glowing, with our old Mexican rug over my feet, the Utoka Cooler which was a perfect foot stool for me to watch the moon rise and the stars begin to shine.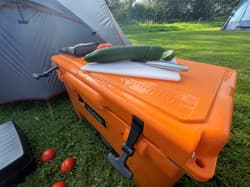 It's not just for camping
The Utoka range is not just made for camping – of course they could be great for keeping drinks cool in a backyard BBQ or to hold your catch of the day and keep it fresh for when you get home but we actually used it for a trip to the beach with a group of friends. Filled with drinks to keep us, well, hydrated for one of those few hot and sunny afternoons the British summer offered we were incredibly impressed with the capacity and how much ice was still left at the end of the day. Happy beach goers all round.
In summary
We loved the Utoka Coolers. The Utoka was perfect for me and the boy on our three-day camping trip. It kept our food and drinks fresh, was a solid extra seat for when the other campsite kids came over to play and will be a staple necessity of future camping trips.
We loved it and can't wait to take it on future family adventures.
Want to get yours?
Available in a range of sizes and colours, to suit every outdoor scenario, utoka are built #foralladventures Head over to www.utoka.co.uk to check out the full range.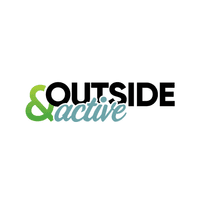 Outside & Active is the home for those who love the outdoors. Our mission is to inspire, inform and educate people about being active outdoors in a fun, safe and sustainable way. We provide inspiration, kit, tech and advice on adventure, camping, climbing, cycling, hiking, running water and winter.