This 9KM by 9AM walk features a walk up and down the Llanberis Path to the summit of Mount Snowdon.
9km by 9am so far
I set out by myself on a 7.5km walk from Llanberis (Snowdon Mountain Railway Station) to the summit of Snowdon, the highest point in the British Isles, outside Scotland, at 1085 metres or 3,560 feet above sea level. I was both excited and apprehensive as I really did not know what to expect.
For the past 15 months I have been walking 9km every day before 9am (aka 9KM BY 9AM) and have started to evolve this by challenging myself further by climbing the odd mountain here and there.
Back in January my son and I climbed Pen Y Fan, in the Brecon Beacons National Park, which comes in at 886 metres or 2,907 feet and is the highest peak in South Wales. So I felt I had a bit of experience to take on Snowdon, but this time with no walking companion.
I gleaned a lot of wisdom from the internet and the stories of others who had been 'up Snowdon'. But there is nothing like first-hand experience to truly understand what this mountain has to offer.
This was much much more than a six-hour walk up and down a mountain it was a truly life changing experience.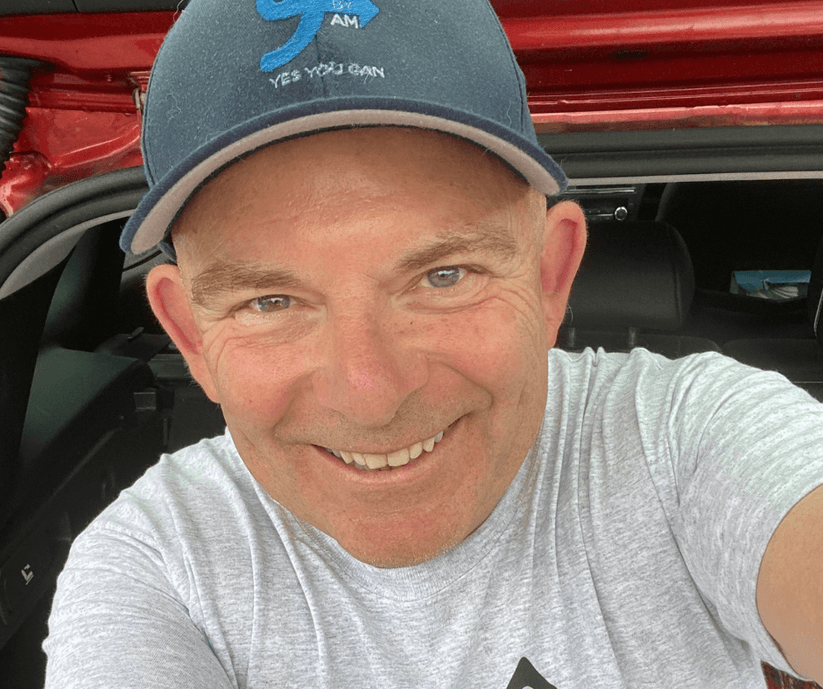 Setting off for Snowdon
out at 0637, I was alone with waterproofs and a back pack containing – two bananas, two apples, two cereal bars, a 250ml flask of tea and 500ml of water. Plus first aid kit, a torch, a knee strap and a copy of my book "Walking Back To Happiness - The Secret To Alcohol-free living & Well-being". I packed the book to do some publicity photographs at the summit!
The weather was dreadful in that visibility was down to around 25-50 metres at best. This was both a good and bad thing. Bad in that one of the main reasons for going up Snowdon is the beautiful views of Wales and beyond from up above. Good in that not being able to see the summit meant it was not as daunting a task. All I could see was a few metres in front of me, so I was just taking each step one at a time. This is very much my philosophy on goal setting – I knew if I could do the 'small' steps, which are relatively easy, I would complete the 'big' goal of reaching the summit.
On the way up I was unsure of what to expect, I had limited and no real life knowledge of this task. As it was early in the day, and there were no other walkers in sight, there was no-one to ask. However, I knew a few people had started their climb before me as there were a few cars in the car park.
I saw the first of these people descending when I was 5km up the mountain – still with 2.5km to go. At this stage I was starting to get tired. The first things I said to the man on his way down were – How far is it to go? What is the visibility like at the top? Is it steeper than it is now? How long do you think it will take me from here? I listened and soaked up every word that was shared with me. I was the student. The man descending was the master. He had been where I was going.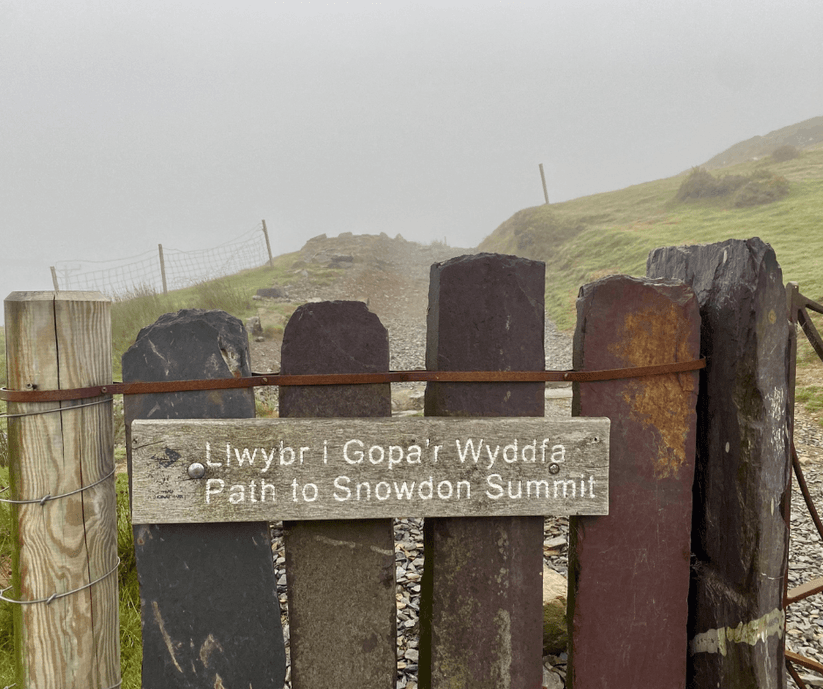 Reaching the summit
I did not realise it as this point but I was turning into a master through the life experience of climbing the mountain. Another 1km further on I bumped into descender number two. Same questions from me. More knowledge to build my confidence. Then around 1km from the top I crossed the path of another climber who had come up the mountain from another route. It was his third time so he knew what to expect. This was truly comforting walking the last few hundred metres with someone who knew the ropes. I felt safe.
On reaching the summit I had a feeling of elation. It is really hard to describe but it is like I became one with the mountain. Time sort of stopped. Everything went quiet it was just me looking out above the clouds and the sunlight from above. This was the top of Wales. There I was standing at a point above everyone else in the whole of England and Wales.
I spent around 45 minutes there. I would have stayed longer but I knew I had a three-hour trek back down!
---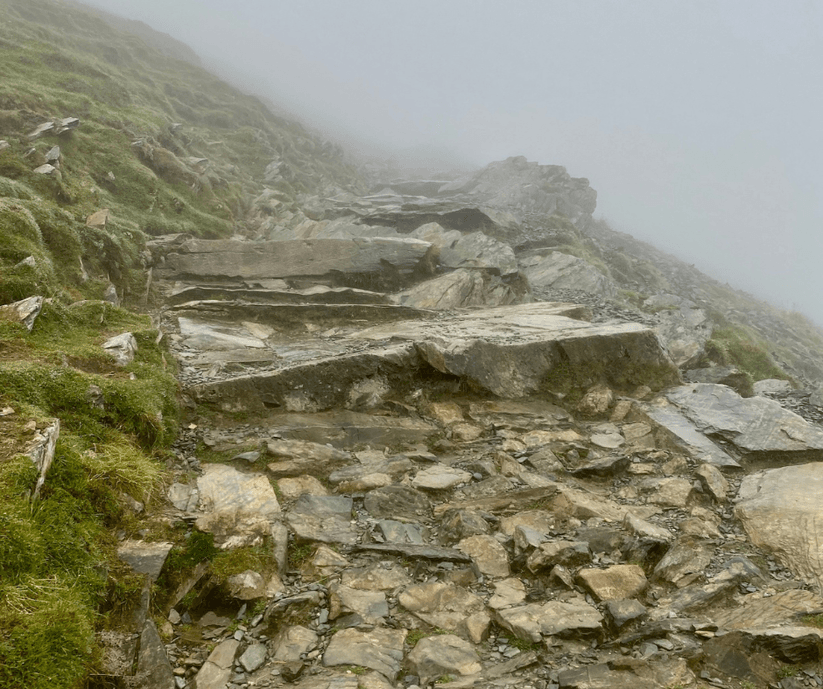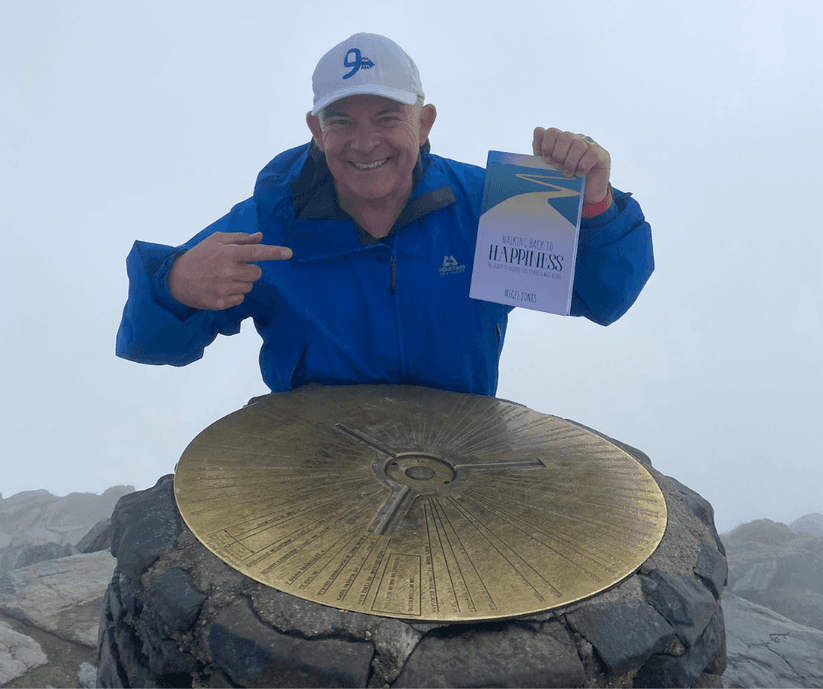 'Student' becomes the 'master'
On the way down I felt different. Very different. Something had changed. I was no longer the student. I had been to the summit.
It was now around 1030 and there were climbers almost every 100 metres coming up the mountain. Almost every one of them was in the position I was in a couple of hours ago and they had the same questions I had. But now I had the answers. This was a complete role reversal in the space of a few minutes. I had gone from 'student' to 'master'. They all desperately wanted the information I now held.
The further I went down the mountain the more desperate the questions became. Those with only one or two kilometres to go were not as fazed as those with five or six left. This was a powerful position to be in. Some were hanging on my every word. My answers could alter their destiny. I am always positive and so gave answers with a positive shine. This made people smile and made their task easier.
My take out from the whole experience is… Life is full of mountains, some you are going up, some you are going down. On the way up you are learning and absorbing knowledge, you are the coachee. On the way down you are sharing your wisdom, your knowledge. You are helping others flourish. You are the coach.
Total elevation of the walk is 948.9 metres.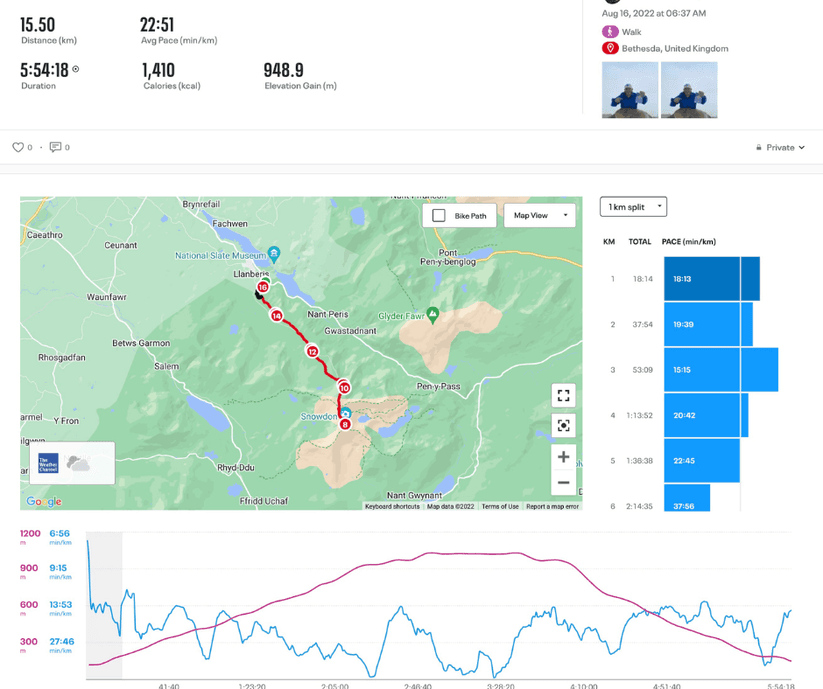 ---
Nigel Jones @9kmby9am

9KM BY 9AM is the alcohol-free living, health & wellness channel founded by author and self-development & habit change coach Nigel Jones.
Our mission is to help people change their story, change their life, flourish and find the happiness they seek.
Nigel is the author "WALKING BACK TO HAPPINESS - THE SECRET TO ALCOHOL-FREE LIVING & WELL-BEING", available on Amazon https://www.amazon.co.uk/Nigel-Jones/e/B0B7RP6LH6/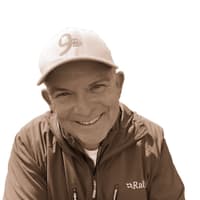 Founder of the health and wellness channel 9KM BY 9AM.
Author of Walking Back To Happiness" The Secret To Alcohol-free Living & Well-being.

Certified Positive Psychology & NLP Coach - with the internationally recognised, double accredited, International Coaching Federation and Association for Coaching, AreteWay Coaching Course.
Founder of REROOT YOURSELF™ - a detailed look at the science behind nature and wellness. Helping busy people with limited time tap into the art of forest bathing and the healing power of nature. A group masterclass / workshop – designed for organisations and businesses to help improve the mental health and wealth of employees.

Nigel holds a Diploma (Distinction) in Shinrin Yoku (Forest Bathing). Is trained in the Power Of Awareness, University of California, Berkeley's Greater Good Science Center and the Awareness Training Institute.
Nigel shares with us is Lived Experience of over 700 walks in nature - walking 9 kilometres before 9 o'clock every day since May 2021. Highlights include:

The power of being present at every sunrise for the past 21 months
Insights into his meditation processes and techniques
What he saw and learned on over 6,000 kilometres (equivalent of 150 marathons) of walks in the forest, mountains and coastal areas of the UK
How you can benefit from these insights
Subscribe to our Newsletter: https://www.9kmby9am.com/lates...