ALL animals are terrifying in the dark, but only for a minute. This is an honest account of contributor Jenny-Anne's first-time wild camping.
My first time wild camping
By regular contributor Jenny-Anne Dexter

I love animals. I have animals. I work with animals. Animals are great.
But… there's a time and place for everything.
I tried wild camping once before, in a field near my house when, during lockdown, my four-bedroom walls got too familiar to bear. In retrospect, utilising only a yoga mat, two bottles of beer and a rolled-up overcoat for a pillow meant I probably wasn't giving it my best shot.
But the thing that really made it difficult to get any sleep at all (I had none. None!) was that Sussex is apparently the Serengeti of England. Deer barking, territorial owls, young badgers at play and a host of small rodents all played their part in what I still regard as one of the most uncomfortable nights of my life.
So, I'm off to a remote woodland location to give it a second try. Properly. It can't be any worse this time around, can it?
Go with a group wild camping
This time I'm (sensibly) not alone. I'm part of a small group of outdoor enthusiasts who wild camp regularly and respectfully, make little noise and leave no trace. They've picked a stunning spot atop a ridge with a glorious view of the Surrey Hills, though I won't get to enjoy it until the sun rises the next morning because I'm late to arrive.

My adventure doesn't start well at all. A delayed departure means my buddies have already made their way to the remote site without me and I'll have to find them well after dark, nearly 2 miles into eerie woodland. But I've driven for an hour to get here and I'm not turning around now.
Luckily, I have navigation experience and I'd remembered to charge both headtorch and hand torch to make sure I wasn't plunged into darkness during the 45 minutes it took to find my W3W (What3Words) location. A friend kept me company on WhatsApp – quite a sensible idea if you're stomping about alone, miles from home.
Tired and weary as I am, I hear voices and my heart flutters. I'm here! A voice welcomes me through the darkness, followed by several others and I can feel what I desperately hope is a dog at my feet.
There are seventeen of us in all, though I can't see any faces through the darkness, and I couldn't have picked a single one from a line-up. I can hear a host of chatty exchanges and I'm welcomed warmly with home-baked snacks and a bottle of cider. I'm advised to find a location to lay my bed and of course, all the best spots are taken: Well-hidden corners, sheltered ditches and fallen tree trunks seem to be the locations of choice for the more experienced among us.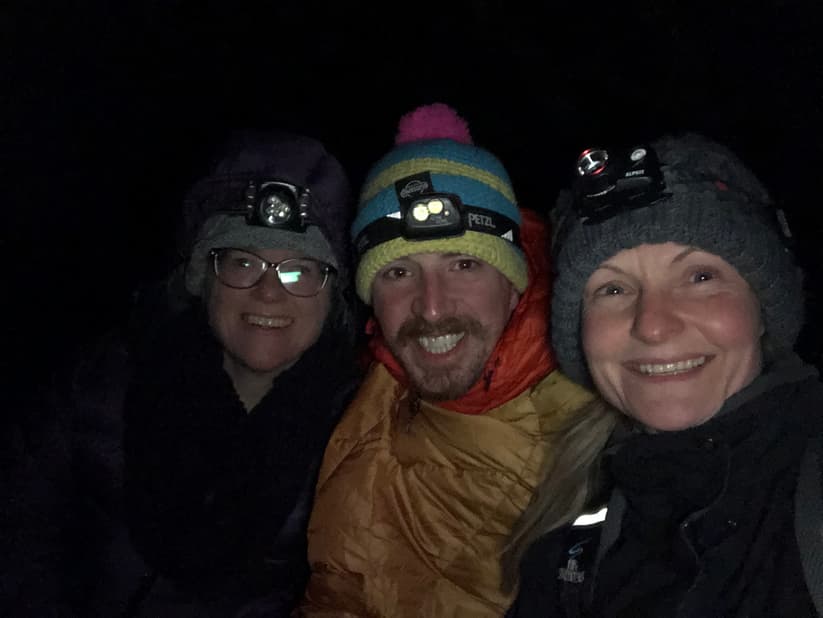 Finding the right wild camping pitch
I reluctantly wander further and further away until I finally spy a tiny ditch, not more than 10ft by 4ft. Now, I'm not 10ft long, nor am I 4ft wide so it's perfect for my purposes. And It's dry! I'm home. I lay my basic kit and head back to the group to get to know them a bit better before bed. We enjoy a couple of hours of hearty, random chat before we slide off to our respective nests.
The March weather has been unseasonably glorious for several days, but this particular night is due to be far colder than either those before or after it. Drat. The lack of clouds means the temperature will drop to close to freezing in the gloaming but there's little that can be done about that now.
I climb into my bag with coat, hat and gloves donned. There doesn't seem to be any reason to prolong the inevitable, so off goes the light and I'm finally in the darkness, alone. Except for Spike and Jim who I know are within screaming distance if needed.
Here's the miracle. I'm not cold. I'm not warm either, but my toes aren't stiff, and I can't feel a draught anywhere. Soon there's a slight but definite rustle from very close by, maybe five metres? Two? And I remember Andy telling us all that he'd encountered a fair few frogs when setting up camp. I'm lying in at least a foot of leaves. I'm probably lying on a whole colony of amphibians. Fair enough, if one decides to go for a hop. I'm so securely tied up in my bag that I can't find its way in anyway.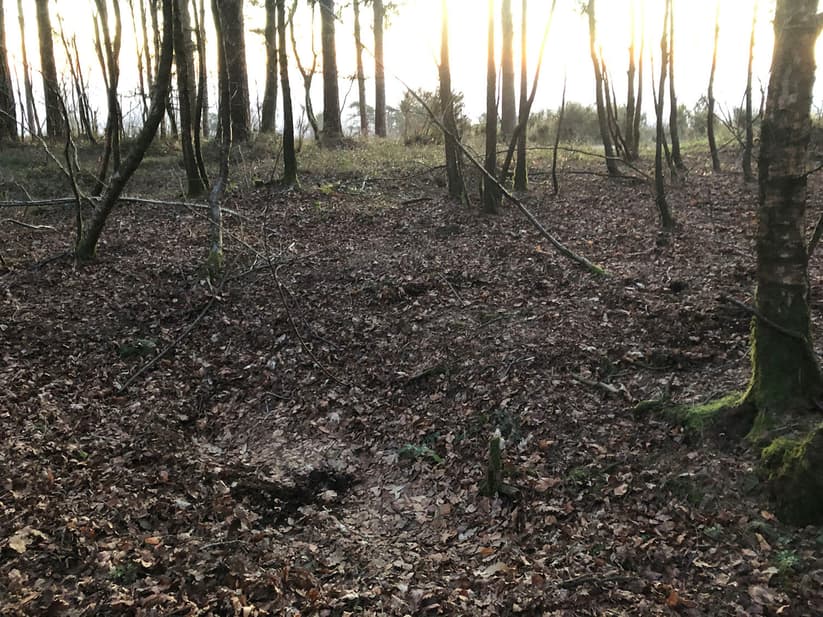 Lying awake in the wild
Much later I'm lying awake, contemplating my seemingly erratic life decisions and I can hear something approaching. It's light-footed; Too light for human steps, so I assume it's a fox. It crunches right up close to my pillow and suddenly I'm more awake than I've been all night. My heart's beating through my chest and we both freeze, assessing whether this is a fight or flight moment. But as the seconds pass, my muscles relax and I'm breathing deeply again. It's an untroubled silence and I can tell we're both at ease. And after either thirty seconds or thirty years, the fox continues on past, occasionally pausing to sniff my scent lingering in the air.
I take in the simplicity of the moment, knowing I won't be going back to sleep again. After a few minutes of watching and listening to the trees above me, making rowdy shapes across the twilight sky, I reach for my phone, hidden deep inside my hiking boot. Halleluiah. 4.56am. A short, light snooze and it'll be time to greet the sun.
And a glorious morning it soon becomes. I lightly tread toward the viewpoint where we gather to contemplate a perfect sunrise over the rolling wooded hills to the east. We bond once again, over coffee, each brewed in a different and completely unusual device but all equally vitalising. Everyone describes a peaceful night, not without its waking moments but never cold nor uncomfortable. We've each had our own individual experience but it's been made all the better for being able to share it with the group around me.
I'm pleased to have company on the long walk back to the car. En route we notice that the puddles have turned to ice. It must've been even colder than we anticipated, and I can't help feeling all the more powerful for having withstood the bitter night wind. It's almost sad to say goodbye to my new camping buddies, but I have a feeling we'll meet again, in some remote location, for more mini adventures. Such is life.
So, what have I learned about wild camping?
I've learned you should always check out your planned location thoroughly in advance and tell at least two people where you are, arranging to check in when you arrive and when you're due to leave, just in case.
I've learned it's not scary in the woods in the darkness, especially when you have friendly strangers for company. Their presence made it possible for me to believe it's not only possible but almost normal to get out into the unknown and make it your home for a short while.

And I've learned that if I were invited to do the same again, I might actually say yes. And I know I won't hate it.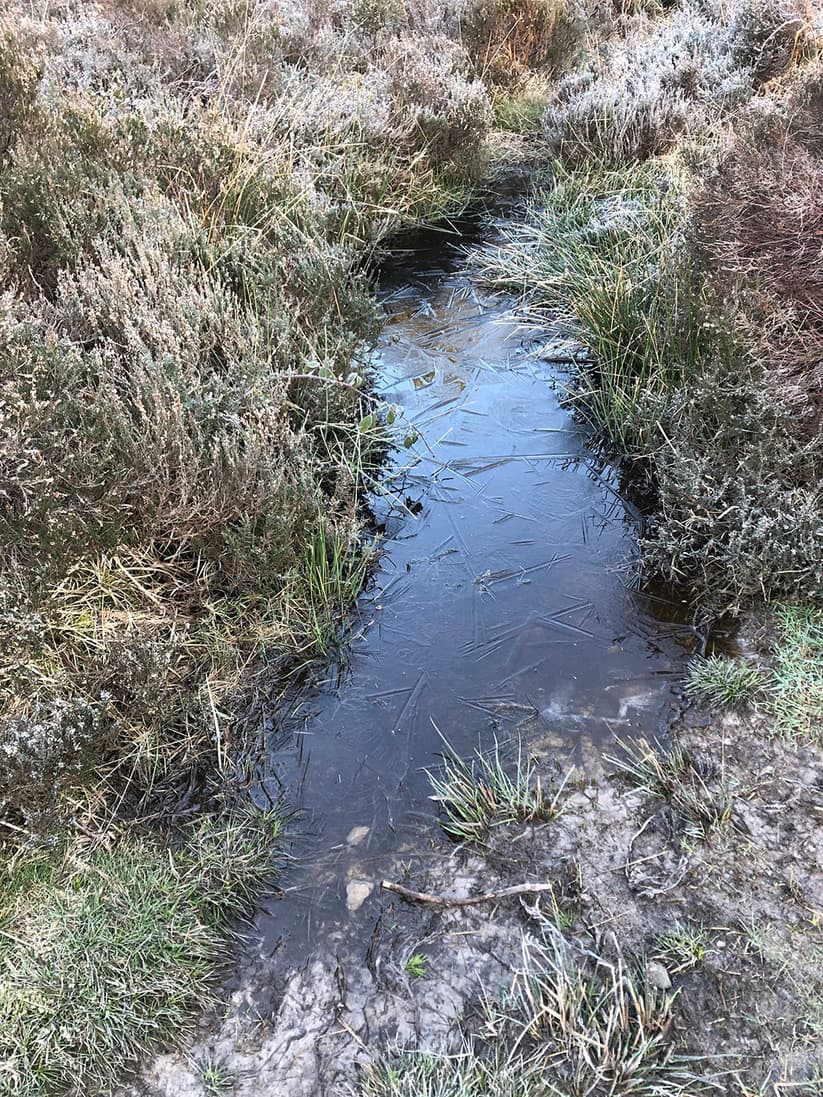 About the Author
Jenny-Anne Dexter is a full-time life enthusiast, who likes to say yes to the abstract, the sublime and the ridiculous. A bog snorkeller, trail runner, year-round dipper and sometime cage fighter, she's currently deciding on which will be her next challenge...