Want to know more about barefooting? We've been playing ourselves and after we met the team at the National Running Show, we wanted to find out more...
Barefooting
You can watch the interview with the Barefoot Crew 5k from the National Running Show or dive into their top tips below. 
We then asked the team to give us their top tips for barefoot running.
The Barefoot Crew 5k was founded 6 months ago when like-minded people came together to encourage and promote barefooting. Each week we virtually come together worldwide to barefoot.
You can follow them on Instagram @barefootcrew5k

---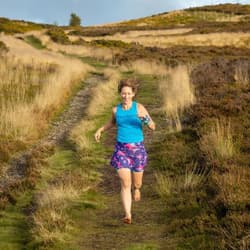 Vic Izzy Owens - aka The Happy Runner, barefoot ultra runner
Many may like the IDEA of feeling the ground under your barefeet BUT are really worried of things like stones, thorns or anything that could give your feet a nasty surprise.
The best thing anyone who is wanting to get involved, but is holding back, can do is gain CONFIDENCE. So, take those feet to your garden and go run. Relax in a controlled environment, in your own space, on your terms, gain that confidence and build trust in your body's natural ability.
Put aside societies expectations, put aside your own expectations and allow yourself to be within the moment. Barefoot without any expectation of yourself and enjoy the experience that is natural movement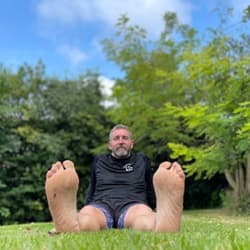 Ben Weeks - Founder of the BarefootCrew5k
Approaching barefoot running, you've got to really approach it like you were a child again.
Take it slowly and tentatively. Enjoy the sensations. Walk before you run, and as my colleagues have shared, aim for grass initially. If you're nervous of what people think (most won't care/ won't see/ will likely be more impressed than shocked) then stand in the garden or walk around the house barefoot (no socks or slippers).
Your feet do get cold initially, but close your eyes, breathe deeply, and let your body/ feet get used to it - it will, I assure you warm itself.
When you decide to head out the door, you will find that you'll have your head down, constantly, worrying what you tread in or on; this is only natural, but if you let yourself do what comes naturally then you'll adapt - _naturally_.
There is a lot to be said about mindset. Going barefoot is as much about the sensations of the feet but also the endorphins you get. The quantity of nerve endings in your feet will translate to your mental well-being also, the feeling I get after a barefoot jaunt, makes me very aware of how awesome the human body is, and it's capabilities.
Finally, when you do head out, set aside some time, you could be out 5 minutes, but you could get caught up in the process/ feelings and stick with it for 30 mins or more. Go out during the day also. Night barefoot running, I can personally say I have never tried, not for fear, but more time, though I anticipate that it could be discombobulating and if you're mindful of the terrain during the day it'd be heightened at night/ could cause more injuries.
Ultimately, have fun with it. Do not go barefoot just because. Go out to accept and engage with the ground and convening with Mother Nature.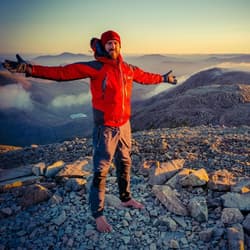 Kase Lewis - FKP to barefoot the traditional approach of National 3 Peaks
1. Change the outcome
If you're going for speed, you're running barefoot for the wrong reasons
2. Slow it down, the reduction in speed will reduce the friction
3. Make it light and smooth and the speed will come - anyone who has read Born to run will understand this - tread lightly, imagine you are running on nettles. this will help you pull your feet up, rather than pulling the ground backwards.
4. Take the distance expectation out (actually take all the expectation out). You want an increase in frequency and rest. let your feet heal.
5. Limit man made surfaces as much as possible in the beginning. This includes tarmac, trails and gravelled paths. find some grass that has less friction to start and find form.
6. Remember you are in process and there isn't really an end goal... practice makes progress.
Go out and enjoy the run. Why not join the community of barefoot runners every Thursday working up to a barefoot 5k. @barefootcrew5k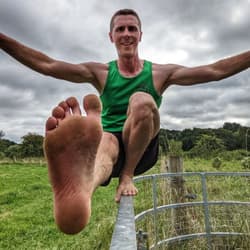 Damian Kennedy - known within the crew as Barefoot Pistol Squat Champion
*Learn*
Be prepared to relearn how to run. Take some video of yourself running and go away and compare it to a barefoot running style like the pose method. Pick one thing at a time to improve. Take regular videos to track your progress.
*Don't ignore strength and mobility*
Foot strength is an obvious requirement and your feet will ache from just being barefoot more often.
Feet aren't the only body part you need to strengthen. Your calves, knees and hips will all have to adjust to a new movement pattern.
*Walk before you run*
Walking is a great way to condition the feet to new sensations and build confidence over different terrain.
*Barefoot shoes*
It's not always possible to be barefoot but switching to barefoot shoes means you can build foot strength anytime you are on your feet. Look for thin flat and wide soles that don't have a heal. (Recommended brands?)
*Lose the gadgets*
Leave the running watch and headphones at home. Barefoot running gives you a lot of new stimulus to process. Run by feel instead of time and try and become more aware of how your body is moving through different stances