For a couple of years, contributor Patrick has been promising himself a kayak but for one reason or another kept putting it off. Now, he's finally done it and can happily say, it was a fantastic decision
Where I live, there is access to miles of canal, the Grand Union Canal, Leicester line, to be precise and there are plenty of access points. My nearest spot is just over a mile away, so only a few minutes by car, it takes longer to load and unload the kayak than it does to get to the water.
I'm basing this article on my third attempt at paddling. The first attempt was thwarted by ice. I still managed to paddle 1.5 miles but up and down about a 50 metre stretch of unfrozen canal before hitting ice. The second was a mile with no ice but a wife wanting to have a go.
I decided to get out early that Sunday and I was on the water just after 8am, dawn had only just broken, 2 degrees, no people around, bliss. I had decided that I would initially head west, towards Saddington Tunnel, which would be about 1.5 miles then head back. The tunnel itself is 880 yards long and it's forbidden for unpowered craft to use it, though I have seen people do it, and I have to say it's very, very tempting.
But, this article is about the journey, not what we should or shouldn't be doing. And what a journey! There were very few people around and any sounds of nearby traffic was low and infrequent. No narrow boats were sailing, a few had their log burners going and the smell of a real wood fire only enhances the experience, and there were no other paddlers either just me, some mallard ducks and a solitary swan.
Dazzling Beauty
Heading back towards where I had left my car was heading back into the sun which, although dazzling, was presenting the land and the waterway in a very different light – quite literally. Even though I'd not long passed through this same landscape, it somehow appeared to be very different. It was still beautiful and calming but much brighter and it was paddling into the sun that made you realise just how cold it was when hitting a shady spot.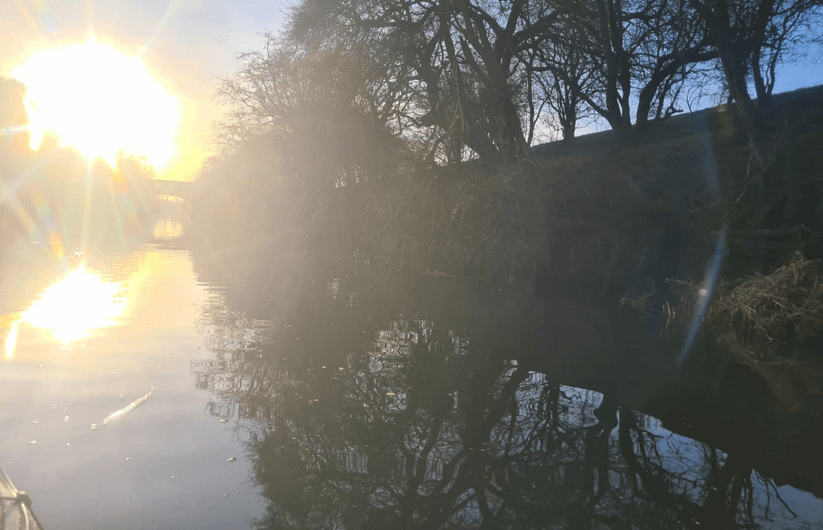 What about nature? 
Well, there were birds and lots of them. Mostly mallards, coot, moorhen, and that one swan. The swan and I passed each other slowly and silently and exchanged glances of interest.
I guess the swan was wondering what I was doing in its habitat, and I was thinking "this is fantastic! Also, it had better not attack.". There were lots of other birds around – a pair of robins, a rookery full of cawing rooks, and others that flitted in and out of the trees too quickly for me to see what they were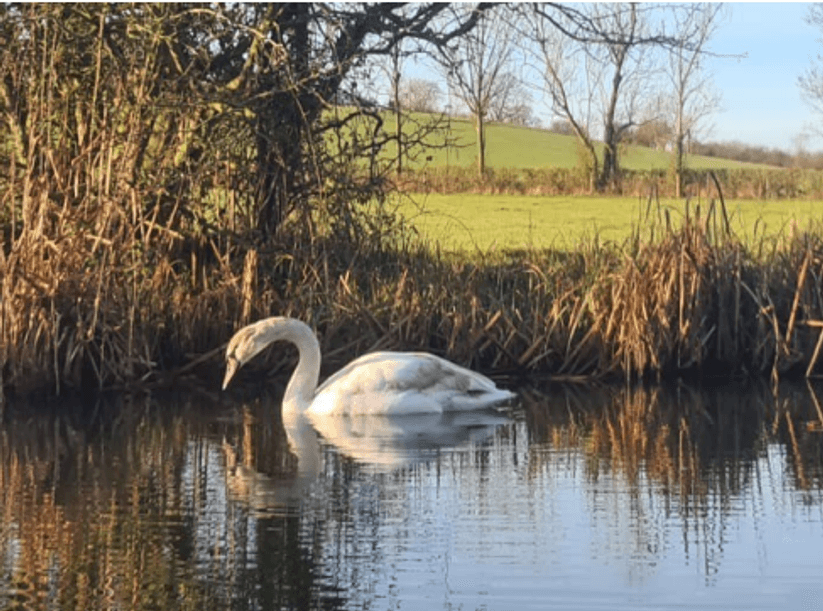 I met a narrow boat owner on that stretch of canal, on my first, ice-thwarted visit, who told me that he'd seen an otter around there. That's not the first time I'd heard reports of otters in the area, so it's exciting to think there's a chance to catch a glimpse of those at some point. And, in the summer, maybe a swimming grass snake and perhaps one of those released terrapins that have settled so easily.
Oh, and there was a giant Christmas tree someone had planted some time ago. They should at least come back and put lights on it in December!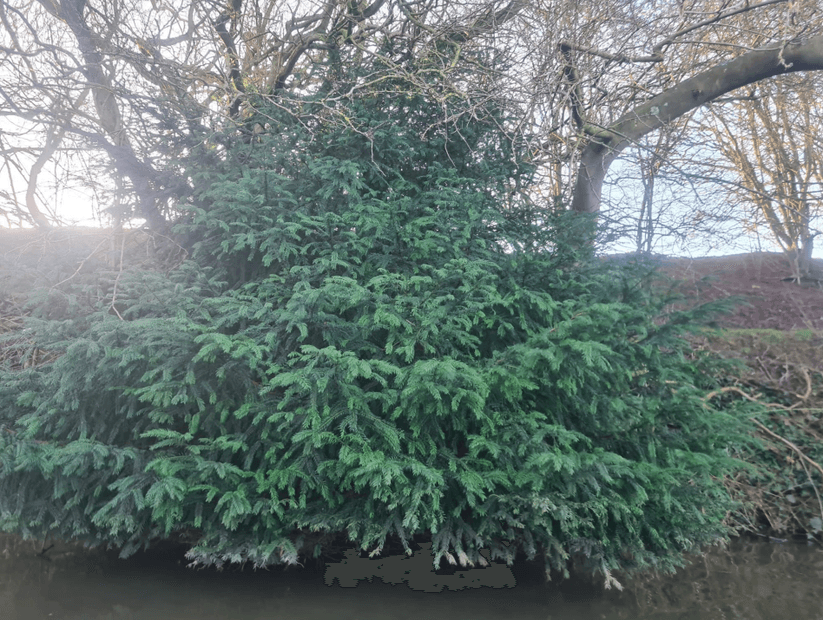 And History
I'm not a canal historian, or any historian, just interested. There would be too much to write about them here but we all know why they're there and sometimes it's just nice to float calmly on something hard working people built a long time ago.

There were others with a date of 1911 but I believe this section of the canal (Leicester to Market Harborough), previously known as the Leicester and Northampton Union, was completed in 1809 and incorporated into the Grand Union in 1810.
Not wanting to get off the water
I'm not a writer so it's difficult for me to put into words just how enjoyable this sedate paddling experience really was. It was so calming, peaceful, quiet, relaxing, tranquil, beautiful, absorbing, and something I worry can't be experienced with the same intensity again. But, needless to say, I was in
the most mindful state I've ever been in!
I paddled past the start point three times, each time meaning to get out and get on with my day but each time giving myself just a few more minutes to enjoy this new found escape. The general feeling I had was one of total serenity. Just stopping paddling every now and then to listen to the birds, and the water passing the kayak and just absorbing the beautiful south Leicestershire countryside, Nirvana!
Realistically, I could have stayed there all day! What I'm really trying to say is that if, like me, you're not inclined, fit enough, or brave enough, to get out on white water courses for an adrenaline fuelled day, get on a canal, it's more than worth it. 
I'm not knocking the white water stuff, I may try it myself some day, I'm just saying there's a lot to be gained from taking it very, very slowly and enjoying the tootle.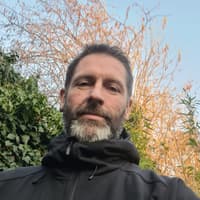 I work in software development, for a certain company that uses meerkats for advertising. I've been there for 8 years and still really enjoy it. When I'm not working, I can be found at home playing board games (geek), going to gigs and music festivals, exercising, or being outdoors!
I very much enjoy the outdoors – camping, running, kayaking, hill and mountain walking, swimming, and have I've fastpacked once and hope to do more of that this year.
I have a love of Wales, especially North Wales, and like to visit whenever I can. Love running and hill and mountain walking in Snowdonia with a dip in one of the crystal clear rivers or lakes afterwards, maybe brunch at the Siabod Cafe. Recently, I've enjoyed visiting the Dee Valley and the Clwydian Hills, what a fantastic area that is – I can't recommend it highly enough!
I run, sort of, I'm not that good at it but I really do like it more than I thought I would. I got into running by doing the couch to 5k with a my local running club. I had attempted the C25K programme a number of times before but had no incentive to get out and run after completing it. So, when my local running club advertised they were facilitating the programme, I signed up with the intention of joining the club afterwards, which I did. Then after only 2 parkruns and a handful of club nights, Covid came along and all of that was put on hold. As we were allowed out for exercise once per day, I made sure I got out and ran or walked, and that was a real boost to my fitness
I'm luck to live in a mostly rural area of South Leicestershire, with access to lots of public footpaths across fields, and the Grand Union canal is very close to home. It's fantastic for off-road running except for the cows, they seem to be everywhere! That's why I'm mostly off road during the winter when it's either hard frosty ground or a total mud bath – both lovely.
Currently, I'm running a few times a week, and kayaking on the GU canal when I can, but I need to get (one of) the tents out again soon and get some nights under canvass, well, ripstop nylon.