Spring is the best time of all to take a closer look around and discover our natural treasures, whether you're taking a hike, exploring your local woods, enjoying a Sunday cycle or paddling our vibrant waterways.
Countryside Walks
In open countryside it pays to be vigilant on the ground. Rabbit holes are large enough to turn an ankle but badger sett entrances can swallow you up! You'll be very lucky to see a badger outside during daylight hours (five points and special distinction if you do), but that's no reason not to find out more about these charming creatures.
Amongst the growing grasses, an eagle eye can catch sight of many a small rodent, such as a mink, stoat or pine marten. They're pretty quick so you don't have much time to get a good look but here's a handy guide to help you identify them.
Into the Woods
It's sometimes hard to spot much in thick woodland, but you're usually much closer to a herd of deer than you may think. Tread quietly and keep alert. They will see you before you see them. It's two points for a spot.
In quiet moments it's reasonably likely you could make out the hollow sound of a woodpecker hard at work. Did you know there were 3 types of woodpecker in the UK? A point for identifying the knocking and two more if you can locate the tell-tale green and red feathers.
Plant Life
At this time of year you're never far away from a blanket of bluebells from now until early May. Any smartphone is capable of catching a stunning picture, especially on a sunny morning as warm rays cut through the canopy before the trees are fully decked out in their summer foliage. Check out some of the best bluebell woods courtesy of Woodland Trust.
If you're into foraging but not sure where to start, follow your nose. Wild garlic is prolific in wooded areas, and it's easily spied. A handful in a bowl of pasta gets you four tasty points.
Water Journeys
Along any riverbank there's an abundance of colour bursting out in April and May, as wildflowers welcome the warmer weather. How many of these can you spot? A point for each.
If you're tracking a riverbank in certain parts of the country, you may also come across an otter or beaver, the latter being slowly reintroduced our waterways. A lucky four points for each, as their populations are sadly under threat in many areas.
Water Birds
Near any reasonably-sized pond, or stretch of canal you're likely to come across a heron fishing for its fill, especially early in the morning. In the air, they're long and graceful, gliding high, searching for the perfect spot. Three points for a heron, five if it's airborne.
Ducks and swans float freely throughout the UK, but keep looking for their tiny cousins. Coots have the white bill, moorhens the orange and both are very good at keeping a low profile. A point for either, with an extra one if they have a brood in tow.
Two Wheels Good
If you're taking to two wheels off road, you can cover far more distance and more points are for the taking, if you keep your eyes trained. Most raptors tend to circle undulating areas, where the air currents enable them to soar far and wide. Any good countryside trail should take you through prime hunting territory. Read up on the UK's graceful birds of prey. Every species spot gets a point.
Wherever you're heading to get outside and active, our countryside is blossoming this spring. Come on – boots on – venture forth and celebrate our natural treasures.
We'd love to see your spots, so tag your posts to share them with us @beoutsidebeactive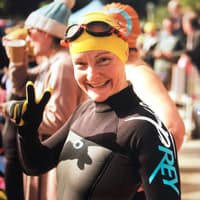 Jenny-Anne Dexter is a full-time life enthusiast, who likes to say yes to the abstract, the sublime and the ridiculous. A bog snorkeller, trail runner, year-round dipper and sometime cage fighter, she's open to suggestions as to her next challenge...