On October 30th 2022 I will travelling to Greenland to take part in "The Coolest Half Marathon on Earth". It is a huge undertaking and completely out of my comfort zone, I have been dreaming about it for 4 years, planning for over a year and my relentless training has already started. I am not a natural runner so it all feels like hard work at the moment (In the really full on weeks I expect to have a few nanna naps!) 
Money raised will be divided between two charities Safe in Sussex and Chestnut Tree House.

Here is a little summary! This list is only appearing here, as it's too daunting a prospect to spread it about where I could catch a glimpse of it and scare myself half to death! Take a look...
Greenland Mission:
Half Marathon: 13. 3 miles in the ice and snow

Location Greenland - 67°00′31″N 50°41′21″W - remote and furthest North I've ever been.

Course Type: Difficult - we all need to run in spikes - Arctic Tundra, Greenland Glacier and the occasional crevasse! We will be watching out for Polar bears.
Average Temperature: minus 16 degrees. MINUS 16 DEGREES!!! - with windchill it will be even colder.
Shift 14 lbs. I'm a stone too heavy and need to look after my dodgy knees.
Race must be completed in 4 hours so I really need to work on my pace. If any runners are still out on the course after this time they scoop you up on a snowmobile.
Official Training started: July 6th. A 16 weeks training programme is in full swing. I am on week 11 - only 5 weeks to go and the nerves are kicking in.

Training programme includes: 70 training sessions which include 265 miles in training runs, plus 16 sessions in the gym. Plus lots of sleep and lots of food! This was me at The University of Brighton doing my lactate threshold test, so I can work out my optimal running pace! My aim is slow and steady.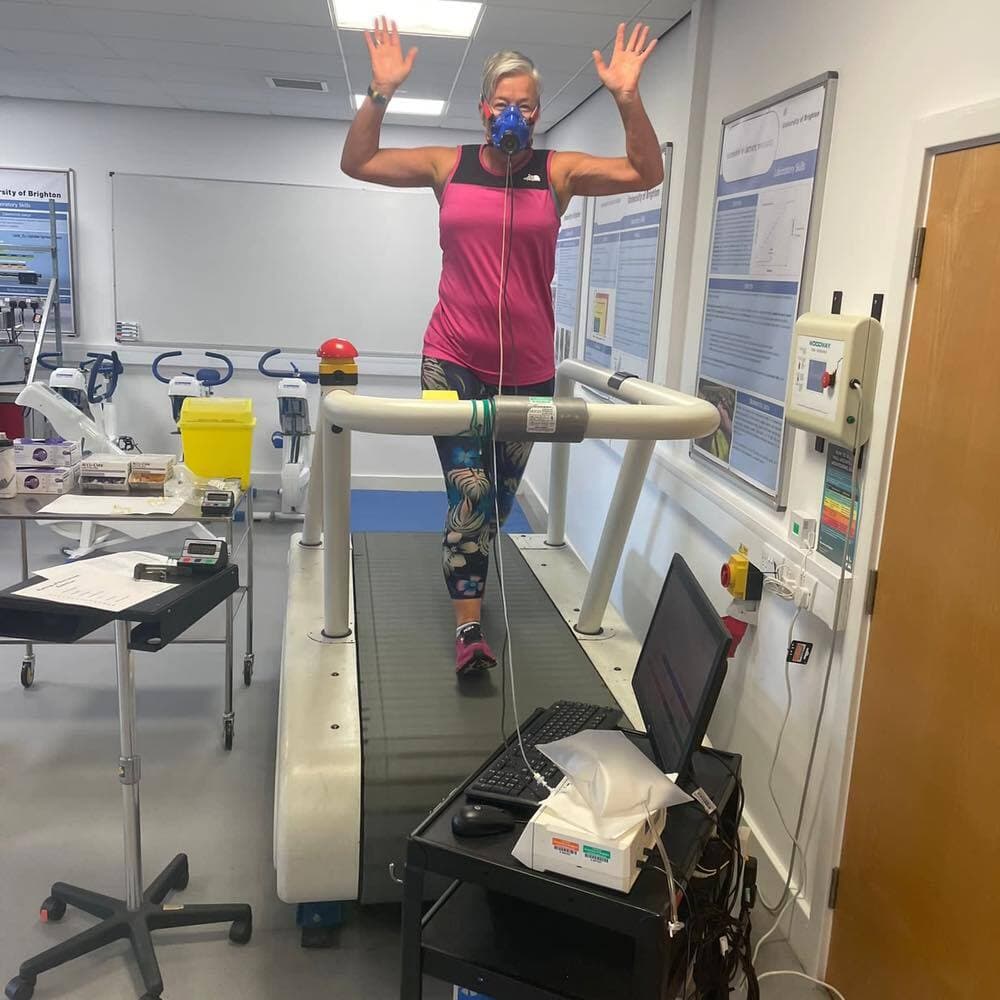 It looks brutal but I know I will be crossing the finish line, a weeping mess or whooping with joy - only time will tell!
This is one almighty mission and I am super excited and super terrified in equal measures.

I will give you an update just before I go and let you know how my training goes next week in the Environmental Chamber at the University of Brighton - think massive fridge at minus 20 and me running as fast as I can on a treadmill to keep warm!
Over and Out 
Lots of Love #PinkNicky