Get kitted out for your year round outdoor pursuits with the Seashell range of products.
Who are Seashell and what is their aim?
Seashell are an outdoor clothing company based in the UK created by founder Calum Crawley back in early 2021. His aim? To create an outdoor clothing brand that offers quality clothing that is not only fit for purpose, but stylish and long lasting and created with minimal negative impact on the world's ecosystem.
Calum also wanted to create a Community within Seashell which encourages people to spend more time outdoors, enjoying their natural habitats through regular social meet ups and free organised activities and events.
The Products
Back in early 2021 the Seashell Sand changing robe was born with its unique earthy colour, stylish look and ultra cool logo. The Sand robe has excellent thermal efficiency coupled with a lightweight feel and is a real stand out robe in the vastly growing changing robe market. The Seashell changing robe is made from 100% recycled materials and also supplied in 100% recycled packaging. The range of colours available are Sand, Black and the newly launched Ocean robe.
Several products have followed since then, which range from the Organic Cotton towelling robe with its super soft feel, along with the durable 25L dry bag, breathable beanie, flask and hoodie. There are more products in the Seashell pipeline as they look to expand their range in 2023 and beyond.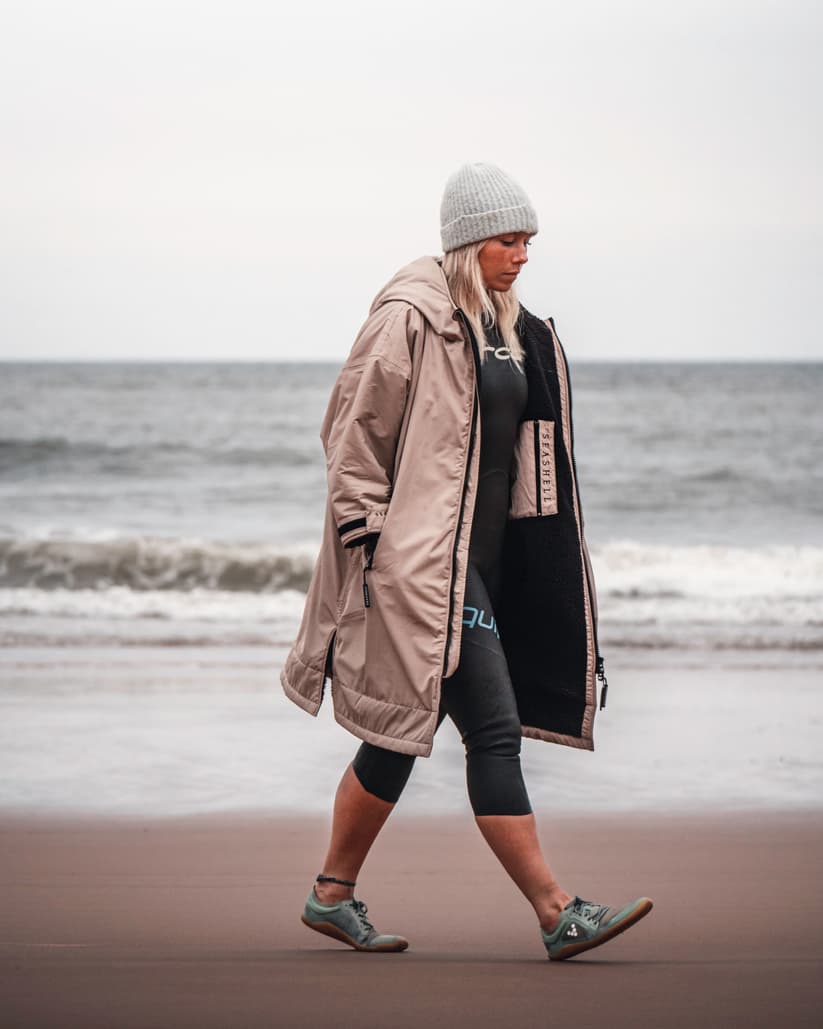 So who is using these products and how would I use them?
So what would i use a changing or towelling robe for you may ask yourself? Well that is becoming a very expansive question, as predominantly at the time of their creation back a number of years ago, changing robes were mostly used by water sports enthusiasts for the purposes of changing out of a wetsuit or swim wear and keeping warm after taking part in either swimming, surfing or kiteboarding.
Fast forward to the present day and the evolution of the changing robe has really gathered pace due to the fact that the robes are a very warm, waterproof and conventional jacket. Changing robes are now regularly worn across across the sporting spectrum as endurance athletes have latched onto there inherent qualities for pre or post activity purposes, but its not only people involved in sporting activities that are now wearing them as everyone from dog walkers to supermarket shoppers are popping on their adored robes so in a nutshell, there are no hard and fast rules to who can wear and enjoy the benefits of wearing a changing robe.
Anyone who is new to either open water swimming or dipping and wondering what clothing / accessories they would need to have, then Seashell always recommend to take off any wet garments likes wetsuits or swimsuits immediately after coming out of the water, then pull on a towelling robe which is oversized and has absorbent quality so it will dry your body quickly. You can also easily take off any wet gear inside the towelling robe, then once all wet clothing has been taken off and your body is dry, then you can put on your dry warm changing robe which will lock in essential body heat and is designed to be oversized, so you can pull it on over any dry clothing that you have put on after coming out of the water.
Seashell also recommended too bring a hot drink when open water swimming or dipping and the Seashell 520ml flask is ideal for this, keeping liquids hot for up to 12 hours. The Seashell 25L dry bag is also an essential piece of kit as it will easily accommodate your wet gear which would include your wetsuit or swimsuit and towelling robe. The bag is designed as a rucksack, really easy to use, easy to clean and has a wide opening and handy multiple function clipping set up, great for when those hands get cold and numb and are not functioning too well!!!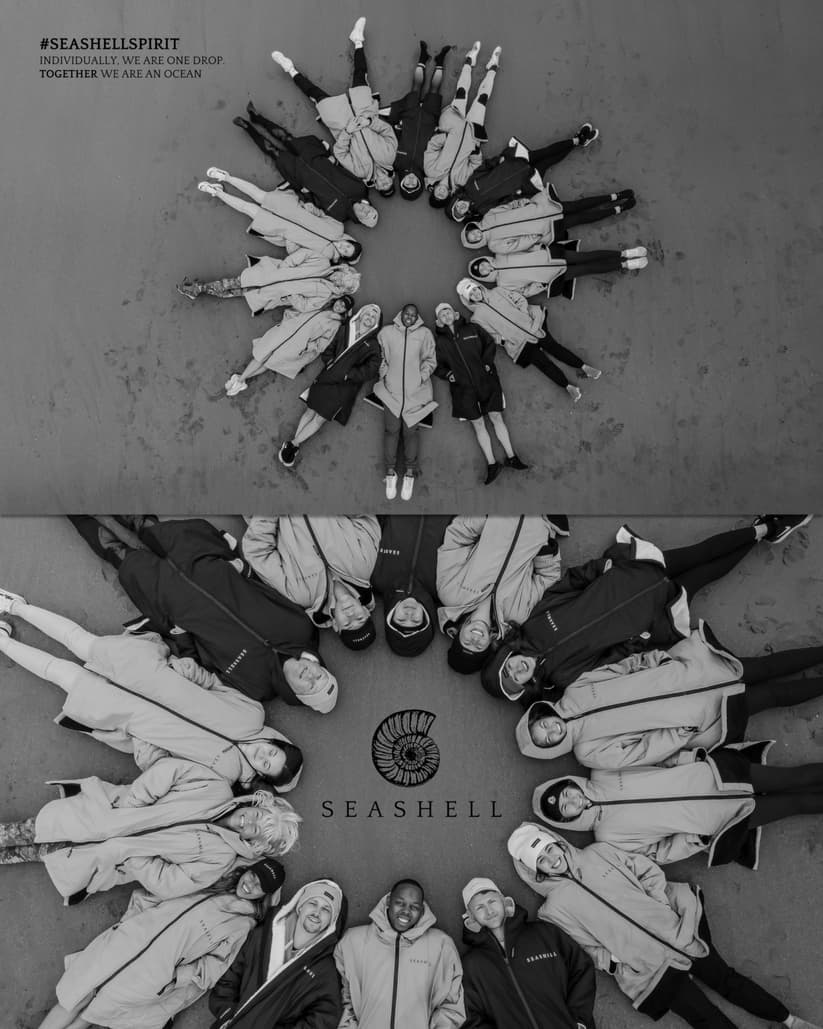 Stay warm, stay dry, stay Seashell.
Seashell changing robes come with the following features and benefits;
• Waterproof and windproof outer shell fabric
• Super-warm synthetic sherpa fleece lining made from 100% recycled materials.
• Tailored, fitted sleeves with hook and loop fasteners at the wristTreated
• Full length premium 2-way reversible YKK® zip
• Minimal sealed seam construction
• Deep, fleece-lined external zip pockets
• Large A4 internal, soft-lined pocket
• Internal waterproof zip entry pocket - ideal for phone/wallet or keys.
• At only approx 1.3kg it can be packed down small into a travel bag, rucksack or dry bag
The Seashell Community
In synergy with the clothing and accessory side of the business, Seashell has also created a thriving community that encourages people to meet up and take part in outdoor activities, enhancing their physical and mental wellbeing. Through this community, Seashell is making a positive impact on people's lives through the regular community meet ups, so whether it's the weekly cold water dips that Seashell arrange in some of the most picturesque locations in the U.K, or the paddle boarding and snorkelling days that are arranged or even the beach cleans that are regularly undertaken to make people see and experience first hand the problem of plastics clogging up our waterways, the emphasis is always on encouraging people to get out into the great outdoors, with the aim of creating an environment where each individual feels comfortable meeting new people and enjoying their surroundings and activities.
Day by day, week by week the Seashell community is growing and its fast becoming a real movement for positivity and change in people's lives and if you are unable to attend any of the Seashell meet ups in person, then there are numerous Seashell social media avenues to discover along with the recently launched Seashell You Tube channel, which is stacked with all kinds of interesting and diverse content. All the media channels are friendly, informative and really give you an insight into the people that are engaging with Seashell and their collective life stories.