Open water sea pools are becoming more and more popular all over Europe, as people are looking for new and exciting ways to stay fit and enjoy the outdoors with the safety of not being in complete open water. Here's our top five.
Open Water Sea Baths & Pools in Europe 
We found five of our favourite open water sea pools (or baths) in Europe, each with their own unique charm and appeal. 
It is clear that there are many great options to choose from when it comes to open water pools. Each pool has its own unique charm and appeal, making it a great choice for anyone looking for a new and exciting way to stay fit and enjoy the outdoors.
Top tips for cold water swimming
These pools aren't heated... so it is best to acclimitise to cold water swimming before taking your first dip. Follow these top tips to help you enjoy the most out of cold water swimming. Read the article here. 
Plage de Bon Secours, Saint-Malo, France
The Plage de Bon Secours in Saint-Malo, France is a beautiful open water sea pool that offers stunning views of the surrounding coastline. It's a great place to take a dip in close proximity to the ocean and enjoy the refreshing waters of the ocean, while also being able to take in the incredible scenery of the historic walled city in Brittany, France.
Built in 1937
If you're looking for an incredible open water sea pool with amazing views, the Plage de Bon Secours in Saint-Malo, France is the perfect spot for you.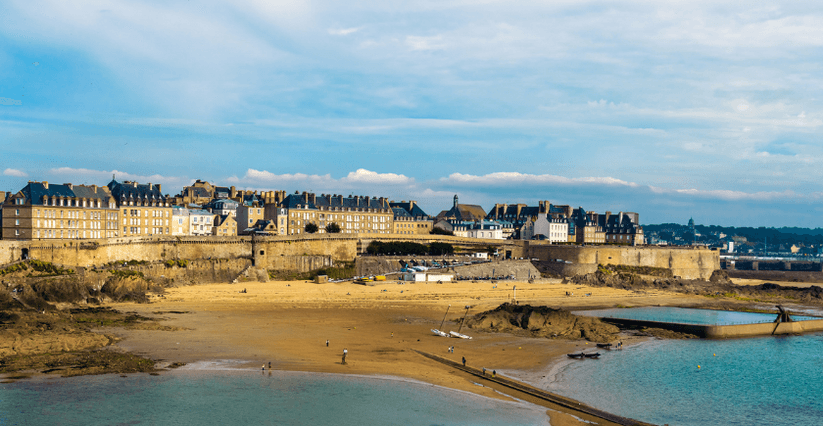 Kastrup Søbad Sea Bath lido, Copenhagen, Denmark
The Karstup Sobad sea bath features a large , sea bath that is perfect for laps or just floating around and enjoying the incredible views of Saltholm Island. The sea bath is both breathing by day but also by night as it is well lit for evening swims (until 8pm) and the shape protects you for your morning coffee post swim. Its beautiful location is a great place to relax after a day of exploring on tired legs and the circular shape creates a concentrated interior, warming up in the summer sun and provides shelter from the winds. The shape opens towards the landside to connect to the beach and to invites you in as you get close. This sea bath is also accessible to those with additional access requirements.
This seawater lido is a must-see for anyone visiting the city.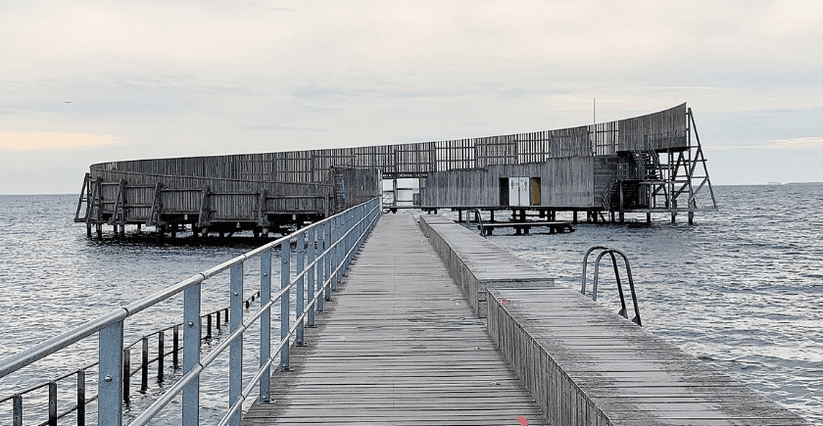 Grotta della Poesia, Roca Vecchia, Italia
Also known as the poetry cave, The Grotta della Poesia, located in Roca Vecchia, Italy, is a stunning natural open water sea pool that offers breath-taking views of the surrounding coastline. From the moment you arrive at the top of the cliff, you are met with a stunning panorama of the Adriatic Sea. The azure waters are so clear that you can see the bottom, even when standing at the edge of the pool.
The Grotta della Poesia is truly a unique and special place. It is said that the cave was once used by Roman soldiers as a place to escape the heat of the summer sun. Today, it is a popular spot for locals and tourists alike who come to enjoy the refreshing waters and stunning views. If you are looking for a truly magical and unforgettable experience, then be sure to add the Grotta della Poesia to your list of must-see places in Italy.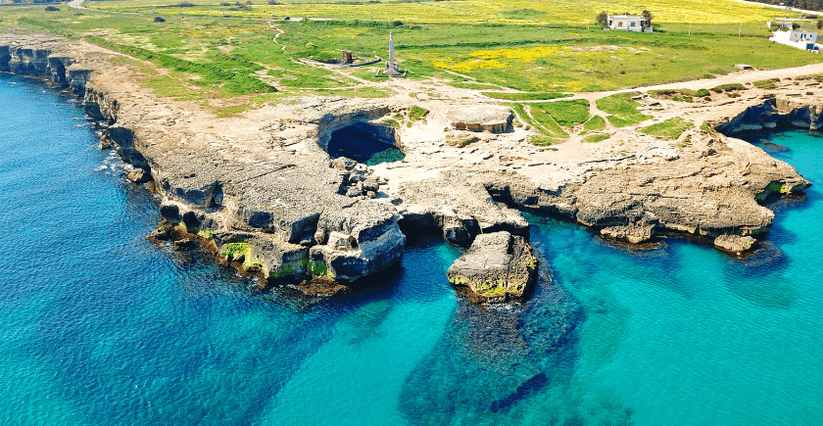 Seawater pool Azenhas do Mar, Sintra, Portugal
The seawater pool at Azenhas do Mar is a perfect place to cool off on a hot day. With its stunning location overlooking the ocean, it's easy to relax and enjoy the refreshing water and is safer for children to swim in than the often powerful ocean here.
Azenhas do Mar is a small town located in the western part of Portugal, close to Lisbon. The name "Azenhas do Mar" means "the women's pools" and it is said that the town got its name from ancient times when women used to come here to wash their clothes in the seawater.
The seawater pool is located at the bottom of a cliff, right next to the ocean. It is a man-made pool, but it uses seawater that is pumped in from the ocean. The water is very clean and clear, and there are often fish swimming around in it which is great fun to spot with kids.
The pool is surrounded by a concrete deck where people can sunbathe or relax in the shade. There are also several restaurants and cafes nearby, making it the perfect spot to spend a day by the sea.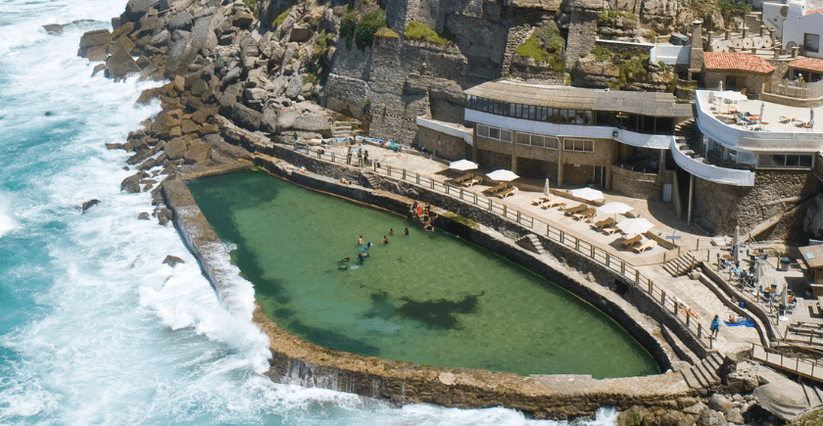 Bude sea pool, England
The Bude sea pool is a natural swimming pool located in Bude, England. The pool is situated at the bottom of the cliffs above the sandy beach and is fed by the incoming tide. The pool is popular with both locals and tourists alike and being free to use you will spot people taking a refreshing dip year round. We've used it a few times when sea swimming or playing in the surf becomes dangerous of the rip currents or the surf is just a bit too big for our kids to play safely in the sea. 
Bude sea pool is one of the most popular natural swimming pools in England and as you could imagine, requires some maintenance to keep it clean, safe and enjoyable for all to use. Definitely donate to the Friends of Bude SeaPool (or buy one of their local souvenirs when you visit) to help maintain this magnificent sea pool.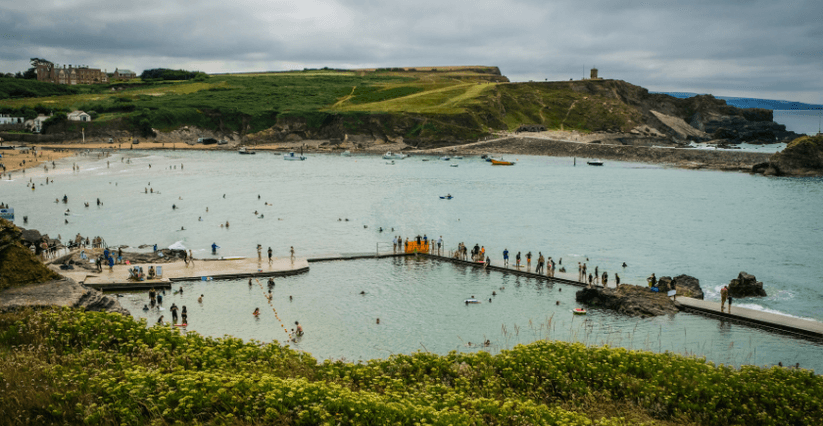 What's your favourite sea pool or open water lido?
Sea pools and lidos are a great way to cool off during the summer as well as a great way to stay safe when exercising or building up your swimming distance. They can also be a great opportunity to build confidence in sea water, before adventuring to the real open water.
What do you think? Do you have a top a favourite open water lido or sea pool that you'd like to share? Please let us know by tagging us in Instagram @beoutsidebeactive