Now that we are in December, the countdown to Christmas has begun in earnest. But many people will be facing the festive season with a mix of emotions.
There is the usual pressure of buying the right presents and preparing the big meal itself. Then there is the prospect of having to make small talk with distant relations you may not be quite so keen on seeing. And on top of all that, just to make things even more difficult this year, the increase in the cost of living means that you may well feel anything but merry. But somehow despite this, anyone young at heart will still be starting to feel the excitement of Christmas beginning to grow.

There are plenty of things you can do to channel all of that festive energy. Luckily, one of the best ways to keep that holiday spirit high will reduce your stress levels and also happens to be free. There is no better way to build yuletide cheer than going for a run to see the dazzling colours and twinkling illuminations of outdoor Christmas displays.
Now before you stop reading, please stay a moment and hear me out. I am not in the least bit trying to underestimate the hardship that many families are already facing this winter, nor suggesting that going for a run will solve everything like some kind of Christmas miracle. If only it was that simple then we would have the entire UK pounding the streets. Even so, the evidence clearly shows that doing exercise positively affects your physical and mental health. Surely that can only help you deal with everything else on your plate.
But I also accept that some people may find all of the glaring, tacky displays of blinking Santas and waving snowmen nothing more than commercialised Christmas tat. Why would I want to endorse that? That's not what Christmas is about! Especially when there are already enough cases of neighbours trying to outdo each other in such luminous grandiosity that you would think that there wasn't an energy crisis going on. I hear you. So if this really isn't for you, that's fine. But to be honest, you might as well jog on. Because whether you like it or not, these garish, flickering lights still mean that Christmas with all of its tinselly glitter is coming our way. So why not just embrace all of the festive madness on a run?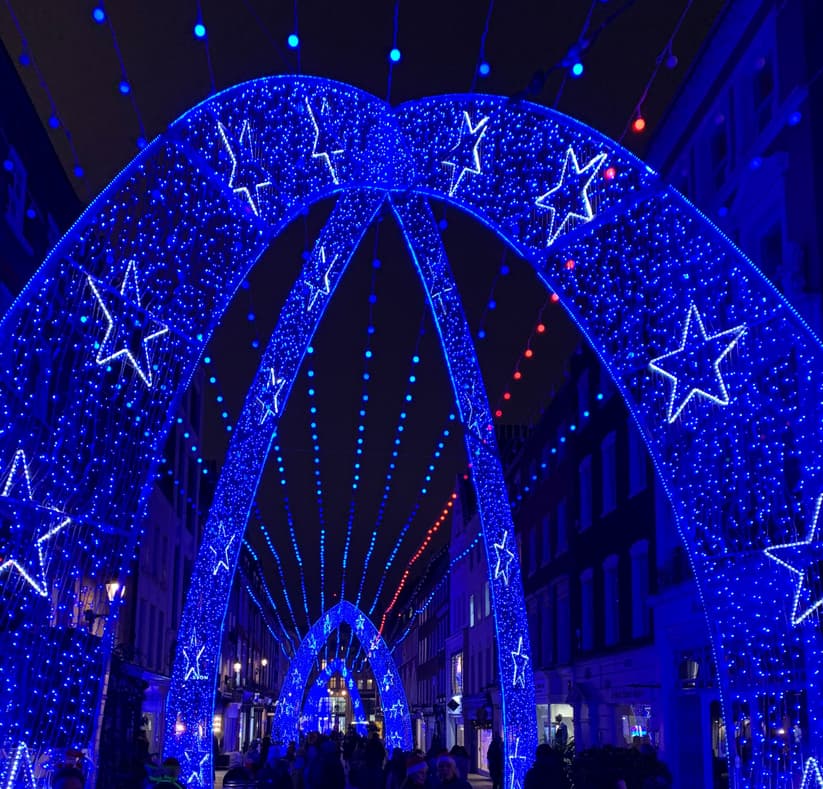 When it comes down to the practicalities of where to run, a little planning is required in advance because you need to know where you'll see the most glittering displays. Therefore, a bit of reconnaissance work beforehand in your local neighbourhood area is necessary. Once you identify the streets with the most spectacular Christmas bling then it's time to map out a running route to maximise the number of displays you will pass. To get the most out of the Christmas lights, plan your run on a day when you know you will have sufficient time to venture out after sunset and only once it is really dark outside.
Since there's safety in numbers when you are running at night, why not spread the holiday spirit further by inviting your friends to join you? In terms of running kit, now is your chance to wear something Christmassy. Even a Santa hat will do. Just remember to pair it with something reflective and carry a light or headtorch to keep yourself safe from drivers and cyclists. Do not underestimate how little you can see or be seen by others.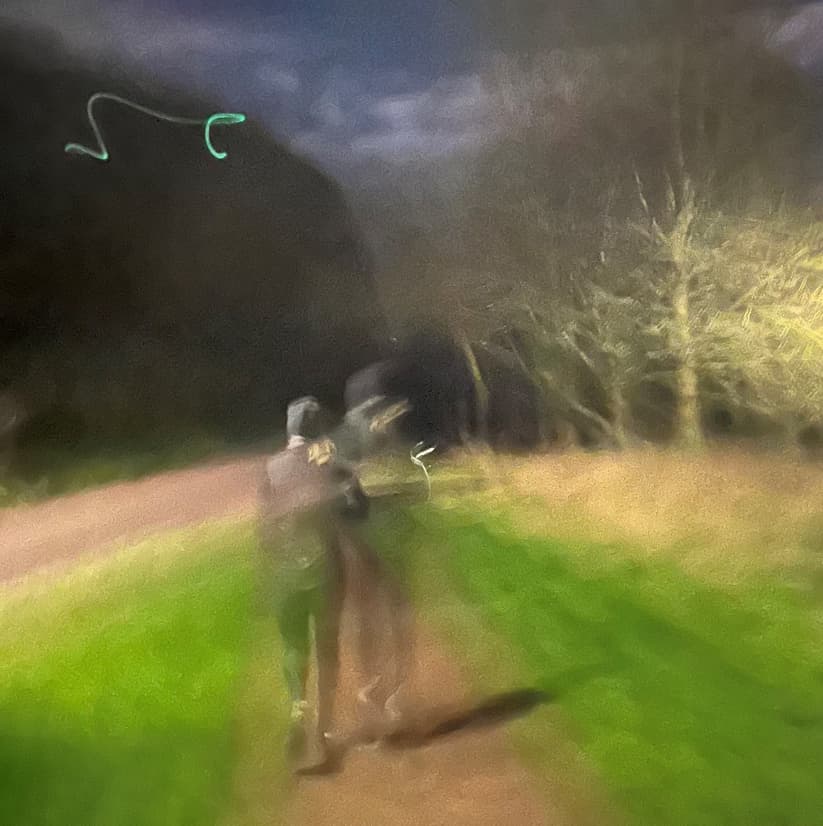 Remember to dress for the colder evening temperatures by wearing an extra layer or two even if you normally warm up quite quickly. You will be thankful for the extra warmth because you will need to run at a slower pace as it's far more difficult to see the ground out in front of you. I cannot stress enough how rapidly you can cool down to freezing as you slow down to navigate the route and stop to take photos of the more spectacular displays. It is always far easier to remove a layer of clothes if you get too hot than try to tolerate the arctic temperatures if you wear too little. And since running in colder temperatures means you will also be using up more energy just trying to stay warm, it's always sensible to pack an emergency snack.
Once you have gone on your first running tour of Christmas lights you will be hooked and want to do even more. After all, if you can temporarily leave the stress of the holidays behind you and replace it with some Christmas spirit on a run, why wouldn't you?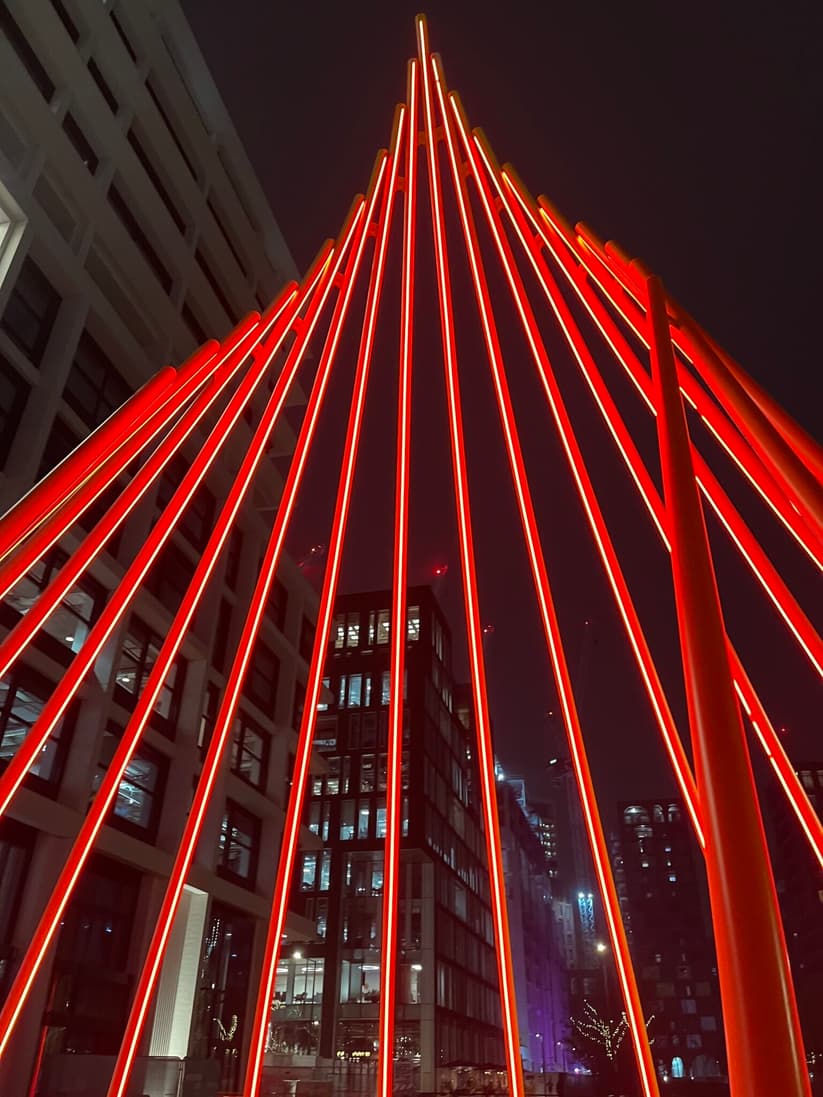 You could plan a running tour of Christmas lights with friends and take turns to check out the displays in each of their neighbourhoods. Or you could go one further and give yourself an early Christmas gift by leaving the planning to the professionals. It may not be free but Secret London Runs https://www.secretlondonruns.com/ offers some great themed running events including a Christmas Lights Tour aka Yule Jog. I recently took part in the 10km event and saw some truly amazing Christmas displays while running with a group of like-minded runners wearing Santa hats, antlers and sequins. Sure it was a little crowded dodging among the late night shoppers and holiday revellers but as we ran and sang to a festive soundtrack, it felt more like being a part of a moving Christmas party.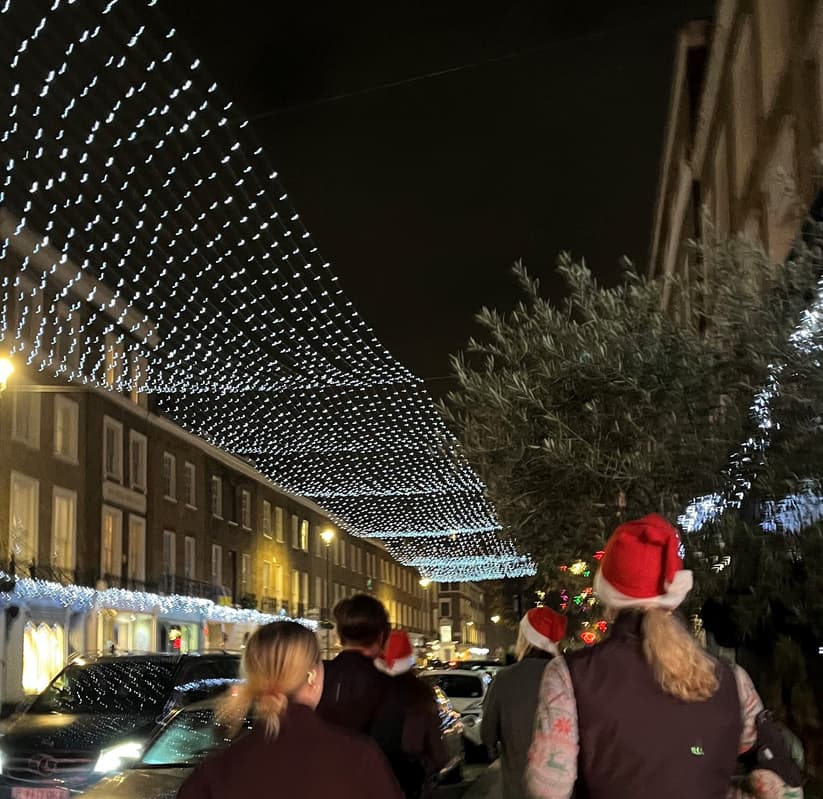 Whether you decide to stick to a nighttime run in your neighbourhood or somewhere further afield, one thing you'll be needing at the end of it is a snack. One of the most renowned recovery snacks and the choice of many runners after a workout is a glass of chocolate milk. It doesn't just taste great but it contains the right combination of carbohydrates and protein to aid recovery. However, given the winter temps and icy winds, I think a recipe for a quick Christmas hot chocolate is more in order. Serving it in a snowman mug is, of course, optional.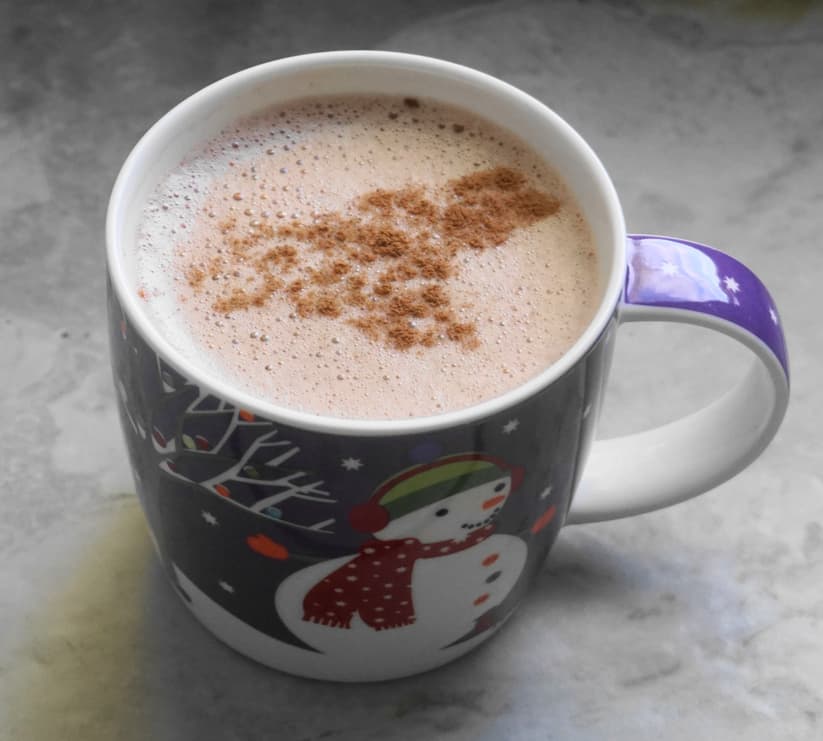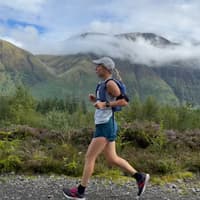 I am originally from Canada but I settled in the UK after studying at university. Sports have always been a part of my life and I have participated and competed in several throughout my childhood. But today I would describe myself as mostly a runner, a mother of 3 grown-ups and a keen cook. As a teenager I was a sprinter and a slightly reluctant cross-country runner but while my children grew up I started to run further and further distances. I never thought that I could ever run anything longer than a half marathon but when my runner husband decided to do a marathon for his 50th in 2019 I found that I had a serious case of FOMO. My children encouraged me to sign up for my first marathon and I ran it just to see if I could finish. Somehow my time was good enough to qualify for the Boston 2020 Marathon. However, due to Covid it was postponed several times.
Like many other runners, I spent much of my time in the Covid lockdown keeping up my fitness by participating in virtual races while waiting for the real events to start up again. As time went on I found myself becoming fully immersed in the world of endurance running and ran the Threshold Trail Series ultra, Race to the Stones. Unfortunately, by the time the Boston Marathon was finally held in late 2021, I could not go because US travel restrictions were still in place. Although I missed my chance to run it and will now have to requalify again at least my time spent keeping in good shape wasn't wasted. These days I participate in everything from half marathons up to ultras and have also run the Great Glen Way and West Highland Way in the Scottish Highlands.
I also work as a Registered Nutritionist with children and families and founded the consultancy Just add water® in 2019. I write a blog at https://justaddwaterblog.com/ to give free information and advice about nutrition and running whilst also sharing some of my favourite healthy recipes. The website is mainly aimed at busy families who want to make easy to prepare meals that are both healthy and really tasty, and for active families who want to know what they should be eating before, during and after playing sport.
I have always enjoyed cooking and previously cooked as a profession and I like to share my passion for good food. I have been involved in teaching cookery in schools, children's centres and for the NHS. I also enjoy entering the odd competition to push myself out of my comfort zone. I was awarded Highly Commended at the Teflon™ Diamond Standard Awards 2020 national culinary competition in the category of Keen Home Cook and was a National Finalist in 2022 & 2019. I have also had my recipes published in The Guardian's supplement, Cook; and featured in the 2012 Waitrose LOVE life calendar (July); and selected for inclusion in the 2020 #AnyWhichWayaBix Weetabix recipe book.