This article has been submitted by https://snorkelexperiences.co....
Would you imagine a bright yellow canary coloured mask, tube and fins to match, or maybe think that snorkelling was just for a junior generation under 10 whilst overseas on holiday.
An opportunity to re-kindle with my snorkel here the past year in the UK has, literally, made me look at it in a whole new light - and I'm more in love with it than I ever was with my scuba kit. Yes, you read that completely right! Bye bye scuba kit …. Hello Snorkel!
It's not just the extra heavy equipment, lugging it around and often dropping it on mine or someone else's toe I miss, nor the maintenance and cost, it's the fact I've finally realised that you can experience the UK's (and in fact the world's) most incredible ocean creatures face-to-face with just your snorkel kit. How amazing is that? It's smaller, lighter and you can literally go anywhere - as long as the tides and weather conditions are safe of course.
Snorkelling equipment has evolved over the years to become super sleek, clever and colourful with capabilities to offer dry snorkels which completely keep water out to ones which fold up, or even come equipped with whistles on them for extra safety. 
So what do you need if you want to experience UK Snorkelling? Apart from investing in your own mask, fins and snorkel, the only other equipment you'll need, apart from a tow float or marker buoy so people can see you in the water, is a wetsuit. But you will need a thicker one to keep you warm, even in our warmer summer months, as we unbelievably lose body heat up to 25 times faster than air. Wetsuits made for divers are the best as they provide extra insulation for our core.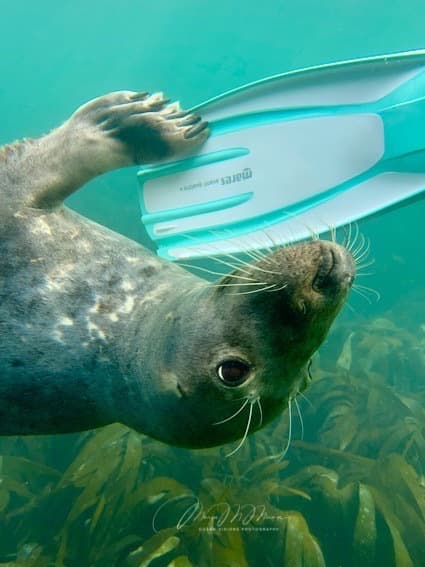 A 5 mm suit would be recommended for our summer months and a 7/8 mm one would be ideal for winter. If you feel the cold, a waterproof underlay is ideal to not only keep snug but to provide protection from the cold wind too. And is there really much to see around the UK? Absolutely 200% yes!
From swimming with Sea Parrots aka puffins off the breathtakingly beautiful rugged coast of Pembrokeshire and camping under a plethora of stars the night before near Skomer Island to upclose encounters with inquisitive blue sharks off Devon and Cornwall, our coastline delivers some of the most incredible wildlife encounters anywhere in the world.
Basking Sharks are the second largest fish in the world as well as being the second largest shark and can be found yearly off the coasts of Oban in Scotland, Ireland and Cornwall. Despite being so incredibly huge, they feed on some of the world's smallest creatures, so if you come face-toface with it in the water feeding, just remember that enormous mouth is just interested in tiny things. 
I'll never forget one approaching me with it's mouth agape and I felt completely humbled to be in the close presence of such a rarely seen creature whom little is still known about it's whereabouts after leaving it's feeding grounds here in early summer.
A visit to see the cheeky seals off the coasts of Lundy Island in Devon or at the Farnes Islands in Northumberland are an absolute must which have been described as "The Best Seal Encounters in the World." Did you know we have over 120,000 grey seals around our coastline? That's an astonishing 40% of the world's population right here on our doorstep.
They really are the cutest sea puppies, always curious, coming right up to you when you least expect it, twisting and twirling, playing with kelp and grabbing a chance nibble with your fins. My only regret is that I hadn't come to play with them sooner.
There's so much to see here with a vast 31,000 kms of coastline to explore peppered with jawdropping coves and stretches of incredible beaches filled with countless majestic underwater scenes.
For me snorkelling again hasn't just been about exploring, it's been a journey of healing after being injured on the Covid Frontline and the best part has been able to help encourage so many others of all ages to take their first fin steps into our blue ocean paradise. It's without a doubt been the complete icing on my life cake.
Did you know that our seas are warmest during September and October so why don't you seize your snorkel too and go out and explore? I'd love to hear all about your adventures