If you're planning a day hike, you'll need to pack a rucksack with all the essentials. Here's a quick guide on what to include in your rucksack, as well as some tips on how to pack it efficiently.
Hiking Rucksack Essentials
Where do you start

It all starts with the weather forecast.
First, check the weather forecast and plan accordingly. Make sure you have enough clothing to keep you warm and dry, as well as sun protection if necessary. This will also determine what sort of snacks or drinks you bring too - a thermos with your favourite soup won't go amiss on those chilly hikes! 
Clothing Layers
Always pack clothing in layers. This way you can easily take off or add layers as the temperature changes and remember, should you be hiking one of the UK's highest peaks like Snowdon in Wales, the temperature at the top will be much colder than at the bottom, so you'll need some extra warm layers even if it's hot at the bottom of the hill.
Clothing you should think about packing:
an extra pair of underwear, yep, what happens if you get sweaty and need to change for the hike back down? You'll be thankful for that extra layer of comfort on your way home.
socks – remember, you'll be doing a lot of walking so comfortable socks are essential and if you're going over wet terrain, a fresh pair to change into is a must.
layers - start with a base layer, e.g. a t-shirt or vest; a mid-layer such as a fleece; and an outer layer which is usually a waterproof jacket and over trousers should the heavens open on your hike.
a hat - weather it's a sun hat or your favourite beanie, both are great or you could also add in a couple of wrist rags or buffs which are versatile enough to be worn as headwear or neckwear to keep out the drafts if the wind picks up
Base Layer
The base layer should be made of a material that wicks away sweat, such as Merino wool. These tops are great as they help to regulate body temperature, which is essential when you're hiking.
Mid Layer
The mid layer is there to insulate you and keep you warm. A fleece is a good option as it's lightweight and can be easily packed away if you get too warm.
Outer Layer
Your outer layer should be waterproof and breathable to protect you from the elements. A good quality Gore-Tex jacket is a worthwhile investment as it will last for years and is ideal for all types of outdoor activities, not just hiking.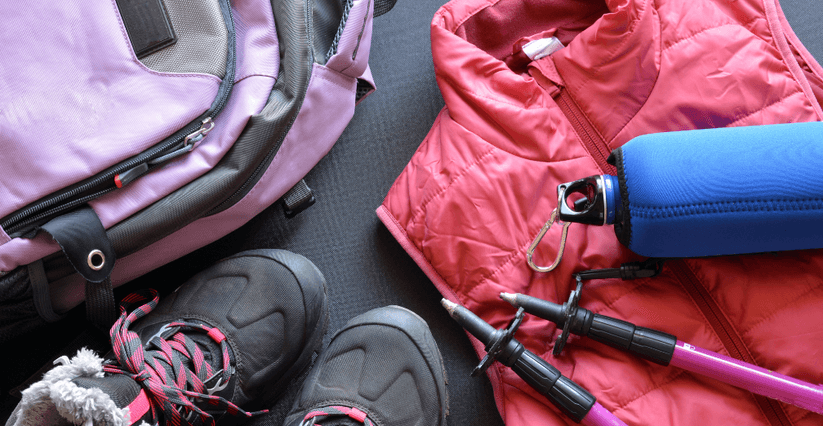 Food & Snacks
Next up, think about your food and water. Depending on the length of your hike and the weather conditions, you'll need to pack enough food and water to keep you going throughout. Don't just pack for your picnic at the mid point of your hike. What if your hike is taking a lot longer than planned - lots of people on the trail, getting slightly lost, hillier than you expected.... packing extra energy snacks for the return route like nuts, seeds and fruit bars is always a good idea.
Drinks
As for water, the general rule is to take 1 litre of water per person, per hour of walking in moderate conditions. If it's hot or you're exerting yourself more, you'll need to take even more. You could also think about rehydrate sachets or powder which you can add to your water bottle to help you stay hydrated.
Other Essentials
Finally, here are a few other items you should consider packing in your rucksack:
Sunscreen - even on cloudy days, the sun's UV rays can be harmful, so it's important to pack sunscreen
A compass - if you're planning on doing any off-trail hiking, a compass is essential to help you find your way back
Your map - a lot of quality maps can be downloaded to your phone, but what if you run out of battery? A "paper" map
First-aid kit - it's always better to be safe than sorry so make sure you have a basic first-aid kit including items like plasters, painkillers and bandages
Torch - should your hike take longer than planned and you end up walking in the dark, a torch will come in handy
Walking poles - if you're hiking in hilly terrain, walking poles can help take the strain off your legs and offer you support should you need it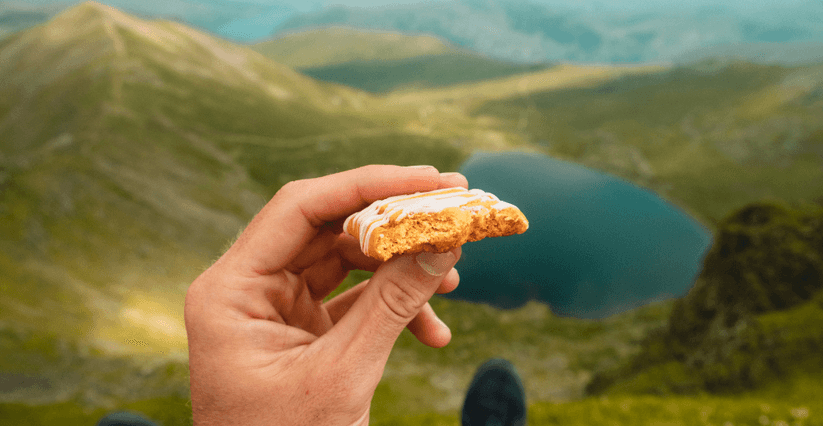 Selecting the right Hiking Rucksack
The most essential piece of kit as without it, your pockets are going to be pretty full!
When it comes to rucksacks, the size you need will depend on the length of your hike and what you need to take with you.
For day hikes, a rucksack that's around 20 litres in capacity should be plenty. If you're planning an overnight hike or are carrying additional equipment like a Tent and Sleeping bag, you'll need a larger rucksack, around at least 35-40 litres.
If you're unsure about what size rucksack to go for, most outdoor equipment stores will have staff on hand who are experienced hikers and can help advise you on the best rucksack for your needs.
How to get the right hiking rucksack fit
To get the right hiking rucksack fit, you 'll need to adjust the straps until the rucksack is sitting snugly on your back without being too tight.
The rucksack should sit comfortably on your hips and you shouldn't feel like it's pulling you backwards.
You may need to experiment with different rucksacks and sizes to find one that fits well and is comfortable to wear for long periods of time.
Look for a rucksack with plenty of easy access pockets too. You don't want to have to stop and search through your bag every time you want a snack or a quick drink of water.
In Summary
Packing the right gear for your hike is essential to having a enjoyable and safe time.
Make sure you have the right rucksack to fit all your gear, as well as being comfortable to wear.
And finally, especially with the glorious weather we're having at the minute, don't forget the sunscreen!