As more and more people start to re-evaluate their lifestyle due to changes through the pandemic, whether that's work/ life balance or choosing to relocate to a better location for their family to enjoy a better quality of life, FoamLife, a new flip flop brand launched pandemic year, caught our eye and has been making serious waves in the footwear industry.
With a bold style and a focus on sustainability, they are fast becoming summer essentials and the 'must have' item for that après surf chic look wherever you are. Perfect to slip on after your long day outside and active.
We caught up with FoamLife Co-Founder, Daniel Macaulay to find out about the brand 'Living Less Ordinary'.
'Live Less Ordinary' – Where does that come from and what does it mean to you?
Live Less Ordinary is really a simple reflection of our own collective approach to life. Less about following the traditional choices, career path, 9-5 slog, and more about taking the road less travelled and defining your own path. It's not always the easiest route but oftentimes, if you stick with it, it can be the more rewarding one.
"For us, Live Less Ordinary is a positive anti-conformist state of mind. We all have different metrics of what success is. It's about thinking independently, following your passions, and doing what's important for you. Not what's important for everyone else".
FoamLife Co-Founders, Timo, Karl, and I all grew up on the coast, surfing, and living a 'beach lifestyle'. Beyond the obvious physical benefits of that, there is a lot to be said for the mental wellbeing side as well. The ocean isn't a static environment - it's exciting and beautiful but it can also be unpredictable and dangerous. Being in and around the ocean always helps me press reset and I think it helps broadening horizons and perspective on life.
The Life Less Ordinary mindset has manifested itself in different ways for each of us. For Timo, it's meant juggling his professional career alongside riding some of the biggest waves in the world. For Karl, it's meant becoming a leading Design & Creative Director and an award-winning street artist. For me, it's meant becoming a musician and entrepreneur.
Sports, music, and art are inherently different superficially, but I think they all often act as a catalyst for positive change on many levels. With FoamLife, we have been lucky to work with some incredibly talented and inspirational athletes, musicians, and artists. They most definitely Live Less Ordinary and help us to personify our brand mantra.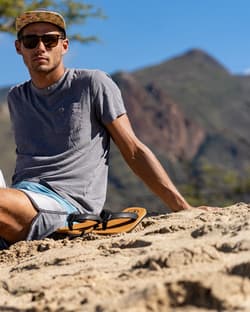 Through the pandemic, a lot of people have taken the time to rethink their own work/life balance – are you hoping that this mantra of "live less ordinary" becomes something more meaningful to people to selecting their own path?
I think 'Live Less Ordinary' is something that is meaningful and personal to us but it's also very much open to individual interpretation in the nuances and broadly accessible to everyone. It's a call to action but it's also something that we can all aspire to.
"For me, kicking my shoes off and slipping my flip flops on generally kickstarts an instant change in mindset. I think the same can be said for a lot of people".
The Covid pandemic has changed the way the vast majority of us live. Working from home and hours spent on Zoom hasn't been everyone's cup of tea but it has meant that most people now realise that they don't necessarily need to spend three hours a day sat in traffic commuting back and forth to an office.
People are dressing in what they want to wear not what they have to wear. It is a massive cultural shift and it's happening on a global level. I think both employers and employees are reevaluating what work/ life balance means and that will hopefully be one of the big positive legacies of the pandemic.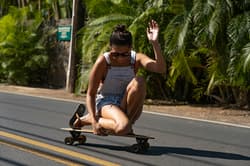 If someone has been home for the last 18 months and they may be starting to put their collared shirt back on or doing up their tie, but they're eyes are wandering out of the train window as they slowly drift back into the routine of 9-5 – what would you say to them, to help encourage them to "live less ordinary"?
I think, there's nothing wrong with donning a shirt and tie and commuting on a train if that means you're doing something that you're passionate about and that's what you want to do.
"The barriers that are prevent us from following our passions are often-times more imagined than real. You don't have to change everything at once. Every journey begins in the mind".
I think life's too short to feel unfulfilled by what you do. There is never going to be a perfect time to leave a safe secure job especially if you have a mortgage to pay and a family to support. Sometimes what seems like a negative can eventually turn out to be a big positive.
That was certainly the case for us and FoamLife. Covid and lockdown was exactly the positive catalyst of change that we needed to try something new and exciting. I'd be lying if I said that it's been easy but it has been an incredible journey so far. Now that the brand has launched and the sun is finally shining, I'm super excited about what the future holds.
Flip flops in the boardroom often has negative connotations of too relaxed, too, well, non boardroomy and I once overheard a conversation of a managing director saying "if one more person comes through the doors with flip flops on, they're fired". You have a plethora of styles to suit beach to boardroom - are you trying to bring a bit more of culture and personal identity back to people's everyday lives with your different styles?
'Fired for flip flops'… that certainly wouldn't happen at FoamLife. I agree, things are changing; people want to be comfortable and look good and there's nothing wrong with that. We've put in a huge amount of work to ensure our flip flops are as comfortable as possible. Aside from the physical, I feel there's a mental element to that as well.
"I think people can have a real personal connection with different items of clothing. Personally, I associate flip flops with surf trips, beach parties, and good times with my friends and family… we say; a life lived in flip flops is a life better lived and I really stand behind that".
For this season, we've tried to create a FoamLife flip flop for everyone. The Men's collection has 5 unique styles with a total of 12 colourways and the Women's collection has 5 styles and 13 colourways. By using different colours, prints, materials and finishes, it gives the collection great variety and versatility across the range from beach to boardroom as you say.
Back to the sandals themselves, you guys have clearly spent a lot of time in this industry and are well researched on the trends for our feet, but what about sustainability? How green are your feet?
Personally, I view sustainability as a journey rather than a destination or endpoint. There are always things that we can work on and improve.
For this season, most of our Men's & Women's collection uses a recycled 'soft to step' EVA foam on the footbed and outsole. Our more premium priced flip flops are made from a brushed recyclable TPE foam, the toe post is made from recycled plastic bottles, and the padded upper-strap is made from a 100% hemp canvas that is lined with organic cotton for comfort. The whole range is vegan friendly and PVC free.
"Packaging is an area we have strived to be plastic free, not only from a consumer facing point of view but also from behind the scenes. The product is shipped in cardboard cartons using adhesive paper tape rather than traditional plastic packing tape from the factory to our warehouse".
Individual styles are packed into biodegradable bags made from cornstarch with a non-toxic, natural clay anti-moisture sachet. We use recycled card for hangers and swing tags, which are attached with recycled paper string. I think these are all small but meaningful steps towards our longer-term sustainability goals and definitely a positive step in the right direction.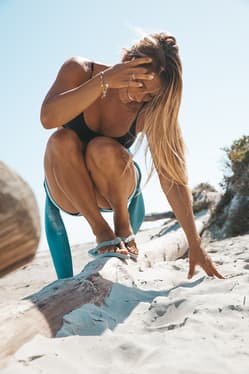 You have a partnership with Surfers not Street Children, can you tell me a bit more about the initiative and how FoamLife is involved?
FoamLife are really proud to partner with Surfers Not Street Children. The charity was founded in 1988 by Tom Hewitt MBE, who has been working with street children for 28 years. Surfers Not Street Children is essentially a program for homeless street children and children at risk of street-involvement in Durban, South Africa as well as Tofo, Mozambique. It fuses surfing with mentorship.
"When choosing a FoamLife charity partner, we were keen to find an organisation that mirrors our own belief in 'Blue Health' and the transformative power of surfing as a catalyst for positive change physically, mentally, and within society as a whole".
Surfers Not Street Children is a pioneering organisation and a front runner in the new movement in surfing that recognises the power of surfing and the surfing community to be part of positive humanitarian and environmental change.
We support the charity financially as a Silver partner. Longer term, we are also aiming to help raise awareness of Surfers Not Street Children, the issues they are facing, and the great work they are doing in South Africa.
For more info on FoamLife, check out: www.thefoamlife.com, follow them on LinkedIn, FaceBook or Instagram.
Photo Credit: Adam Simms and Amanda Beenan