We have compiled a list of the Top 20 Adventure Christmas presents that will definitely add some WOW to your Christmas morning. We guarantee there are a few surprises on the list!
The holiday season is the perfect time to surprise your loved ones with gifts that reflect their adventurous spirit. Whether they're into adventures, travel or new experiences.
This list included keepsakes that capture the memories of past travels, adventure days that promise adrenaline-pumping experiences, personalised gifts and presents that last all year.
These gifts are sure to earn you some serious brownie points!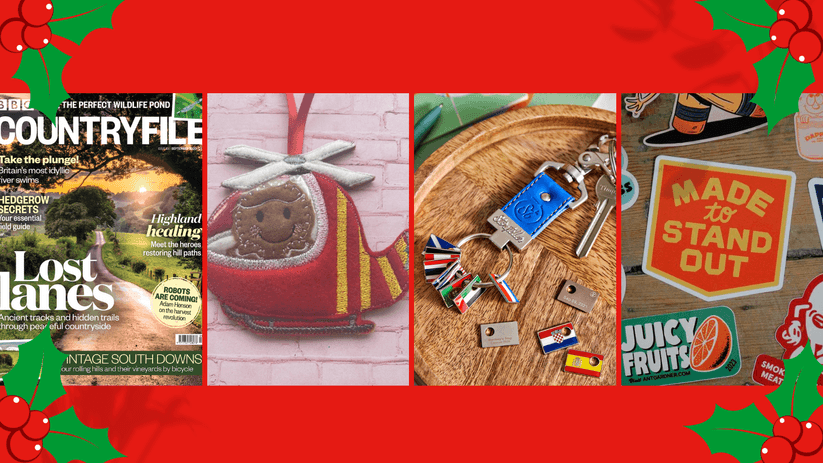 BBC Country File Magazine Subscription:
****THE GIFT THAT KEEPS ON GIVING****                                             
Explore the best of the British countryside and it's wildlife. Each issue is brimming with fresh and interesting ideas for exploring the UK's beautiful landscape and heritage, watching wildlife and enjoying great local food.
Gingerbread Hub                                   
 ****HIGHLY RECOMMENDED**** 
Design your own Mascot. You can use the gingerbread people as a patch to sew onto your rucksack, take with you on adventures as good luck charm or use them as your travel mascot. Contact the Gingerbread Hub and ask them for your activity and forward your name/logo/message that you would like embroidered onto your Gingerbread person. These are fun, thoughtful and bespoke.
This is a totally unique service that we can personally recommend. The team have their very own Gingerbread Lady Adventurer, Swimmer and Skier.
Collectable Country Flags Keyring        
****PERSONALISED MESSAGE AVAILABLE****       
Hand-painted flags from countries around the world. Collect a flag from each place you've visited and add them to your FlagMate keyring to see all your travels in one place.
Custom Shaped Stickers                         
*****CHEAP AND THOUGTFUL****    
10 custom made stickers: find your favourite photos or travel quotes and get creative. Perfect stocking filler.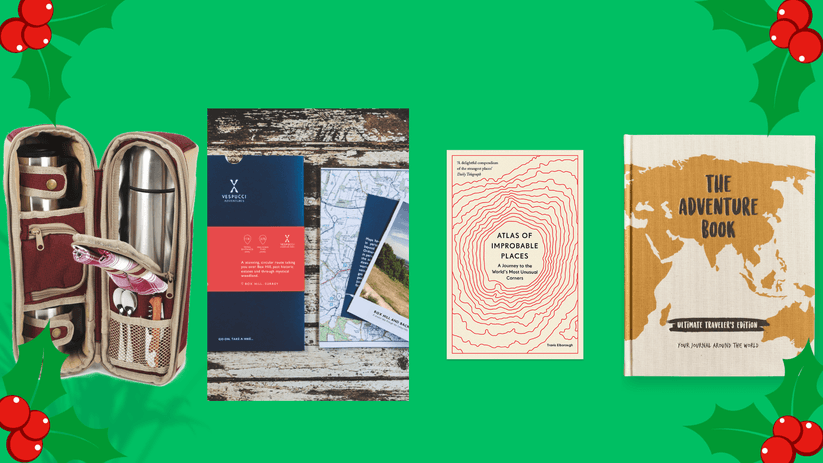 Hikes Close to the Capital                     
*****LONDON FOCUSED*****
Four epic hikes close to the capital: From city to nature, this collection is perfect for any Londoners keen to make a quick escape to the countryside. All the hikes' starting points are just 40 mins from London on the train, all the hikes will lead you to the best pockets of nature within striking distance of the capital.
Luxury Flask Set                                     
*****POSH AND PRICEY***** 
Deluxe flask hamper bag with fitted accessories has all of the essentials for comforting warm beverages for up to two people. This is just one of the many gifts from the Ordnance Survey website, they have lots of gifts to choose from.
Atlas of Improbable Places                   
****OFF THE BEATEN TRACK****
The Atlas goes in search of the obscure and bizarre, the beautiful and estranged places to visit. With beautiful maps and stunning photography, Atlas of Improbable Places is a fascinating voyage to the world's most incredible destinations.
Adventure Journals                               
*****FOR THE WRITERS IN YOUR LIFE*****
All 196 independent countries in the world have a page in the journal to fill. The Journals are a place to collate all your personal travel trophies all in one place! Showcase your highlights and cherish your favourite travel memories.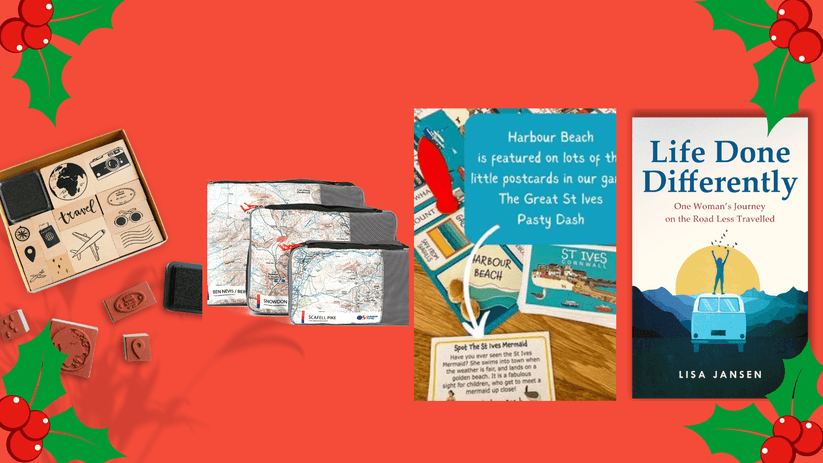 Wooden Stamp Set
*****BRING YOUR JOURNAL TO LIFE*****
The Stamp Set is a perfect match for any Adventure Journal. These travel-inspired wooden stamps are a cute addition to your Adventure Book or journals. The stamps bring your journal to life, you can show your route with location markers, stamp your photos with the postage emblem, or get creative with sparkles, globes, and airplanes.
Ordnance Survey Packing Cube           
*****POSH TRAVEL ACCESSORIES*****Packing for your next adventure will become effortless with these packing cubes. This set of three packing cubes comes with mapping for the highest peaks in Scotland (Ben Nevis), Wales (Snowdon) and England (Scafell Pike), and are made from tough, lightweight polyester with two-way zips and built in grab handles.
The Great St Ives Pasty Dash Game       
****PERFECT FOR A RAINY DAY****
This game brings St Ives to you: the boardgame is fun, frenzied, quirky and filled with everything you know and love about St Ives. From mermaids to lifeboats, beaches to lighthouses. Dash through town, passing all the fabulous landmarks, shops, pubs and cafes.
Book Life Done Differently By Lisa Jansen
*****FOR THE READERS IN YOUR LIFE*****
What do you do when everyone around you is embracing parenthood or focused on their careers, and you're not sure either path is right for you? #3 in "Travel Writing" in the UK Kindle Store (13 August 2023)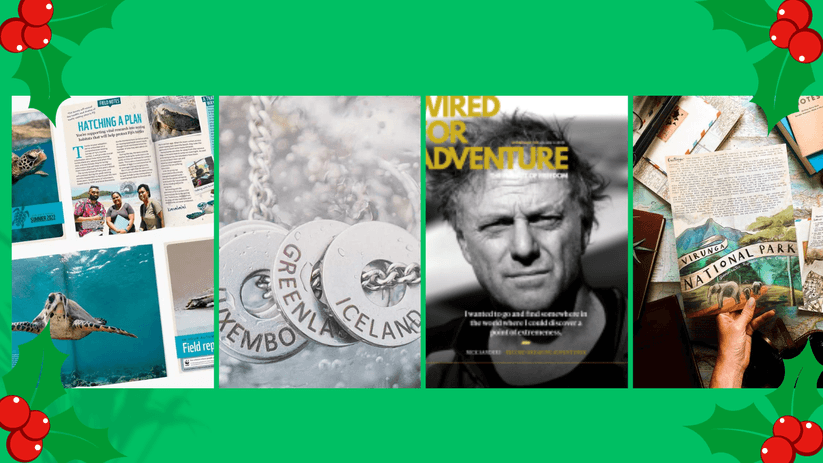 Traveller Collective Jewellery               
****SIMPLE AND ELEGANT*****
Collect Rings for Necklace or Keyring - Build your collection
Adopt A Turtle
****PERFECT FOR ANIMAL LOVERS****
Animal adoptions help fund projects to work with local communities to monitor turtle movements and protect their habitat but also fund our other vital work around the world. It's estimated that only around 1 in 1,000 marine turtle hatchlings make it to adulthood. There are seven species – hawksbill, leatherback, loggerhead, flatback, olive ridley, Kemp's ridley and green turtle - and at least six of the seven species are at risk of extinction.
Wired For Adventure Magazine Subscription
****TO INSPIRE YOUR NEXT TRIP*****
Over the past 25 years Adventure Travel magazine (now retitled Wired For Adventure magazine) has helped change the lives of thousands of readers and is still the most passionate and inspirational magazine when it comes to all things adventure and travel. The founding principles of the Magazine are passion, inspiration, realism in the pursuit of 'freedom'.
Letters From Afar
****FOR THE ENTHUSIASTIC TRAVELLER****
Letters From Afar brings back the charm of receiving a real letter. Designed for the globetrotters at heart, these letters bring a spark of adventure right to your mailbox. Letters From Afar is the ongoing story of an explorer traveling the world. Each month, open your mailbox to find an envelope filled with a vibrantly illustrated letter, field notes, and a map.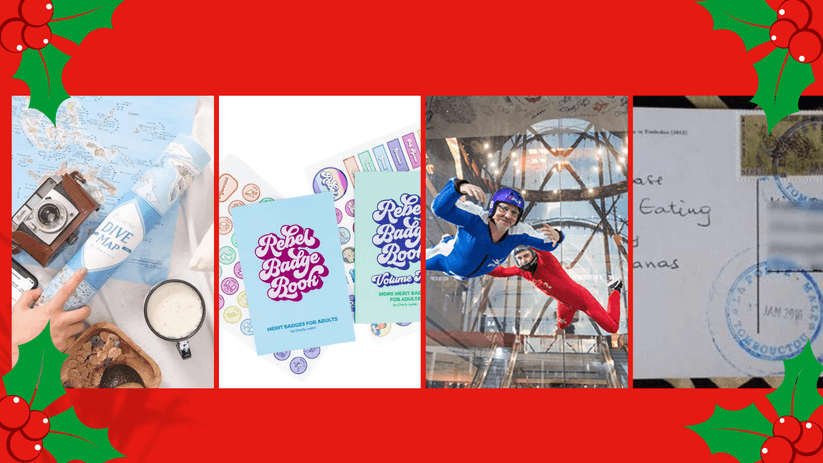 Postcard From Timbuktu
****GENIUS****
You can write your own message and send your postcard from Timbuktu in Mali. This is you chance to send a meaningful postcard from across the World while also providing some work to some unemployed tourist guides.                                                                                                                                
Map Towels
****FUNKY TOWELS****
Huge sand-free microfiber beach towel: Lots of designs to choose from Dive, surf, road trips, bucket list, runner, climber, golfer

Red Letter Day
****ADRENALINE JUNKIES****
You can choose from loads of adventure days including segway, skydiving, watersports, ziplining, Escape rooms, powerboat and paint balling. You buy the voucher and they choose the date and venue.
Rebel Girl Badges
****RELEASE YOUR INNER GIRL GUIDE****
If you love collecting badges then this will put you in touch with your inner Guide and a Scout. Each badge has a corresponding syllabus that you have to complete, to get the badge. You have a whole book full of badge activities! Reclaim your youth, get creative, become a better world citizen, embrace the outdoors, and learn some adult skills along the way 
Bonus Present Idea: Illustrated Map Creation: Reflecting a City's Essence

This pressie will take lots of time and research, so start early and get organised

We hope you have enjoyed our Top 20 Christmas Adventure Gifts for travelers, outdoor lovers, and adventurers, helping them create cherished memories and igniting their wanderlust for new adventures.

Make Christmas a time for adventure and exploration in 2024 and beyond.

ps Please check cut off dates, delivery options and turnaround times to ensure you receive your gifts before Christmas.
#christmasgifts #adventuregifts #personalisedgifts #giftsfortravellers #bespokegifts #supportsmallbusiness

Happy Christmas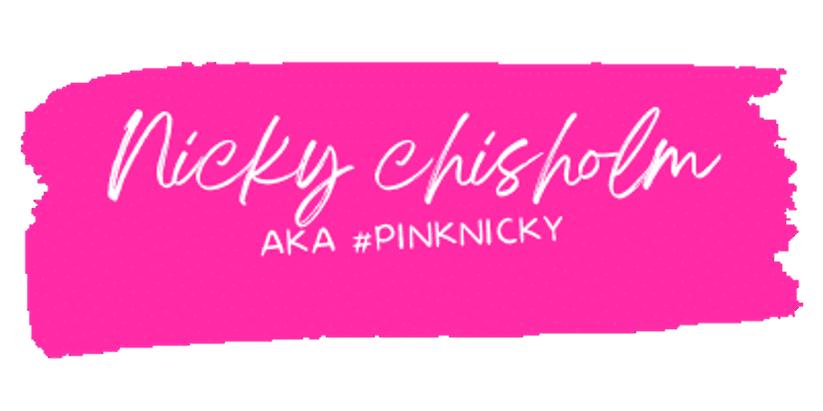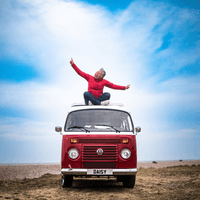 My very first adventure was on a Tall Ship called The Sir Winston Churchill when I had just turned 18.

I have loved adventures ever since. Although I still get seasick 30 years on!
I would describe myself as an everyday adventurer. I try and squeeze adventure into my every day from walks, swims and runs to film, podcasts and books. I am always on the look out for communities to connect with and adventures to be found.
I have just hit 50 and my adventure journey has changed so many times over the years, from a 20-year-old canoeing and sailing instructor, to a Mum with young children teaching them to embrace the outdoors through camping, building dens and cooking on open fires, to a mum of young teens when we surfed, coast steered, climbed Ben Nevis and swam in the North Sea!
My boys are in their late teens now and are slowly flying the nest, it is here I find myself now, ready to embrace the next stage of my adventure journey.
Embracing my new found freedom and loving being outside, I am ready to do some exploring!
My adventure journey has included Moonwalks, marathon walks along Hadrians Wall and the South Coast, firewalks, abseiling down castles, coast steering, a cross country ski marathon in the Arctic Circle, a wing walk and training in an Environmental Cold Chamber at the University of Sussex at minus 20!

I have just come back from running a 1/2 marathon in Greenland - the biggest and most extreme event I have ever taken part in. This Arctic adventure has definitely left me with a fire in soul for more adventures.
This year I am off trekking in Peru, visiting the Amazon Rainforest, hiking around the Isle of Wight and organising a mega sea swim for over 500 "mermaids" to celebrate International Women's Day.


When I am not on an adventure I am working with my beautiful VW Camper Van called Daisy on photo shoots - if you want you or your business to stand out from the crowd then its time to book a branding shoot with Daisy.

See what DaisyVW has been up to
Photo Shoot Dates: Private shoots also available on request
Check out The Big Mermaid Dip for International Women's Day in Brighton - March 11th - Watch out for March 2024 Dates

Happy Adventuring

Nicky Chisholm aka #PinkNicky