We all know how hard it is to pack the right gear and not be burdened down with too much "stuff" when packing your day bag. Read these top tips to pack smart for your spring adventures.
Pack Smart for Spring Adventures
Packing the right kit in your backpack makes a great day of walking even better. Knowing you have everything you need, and nothing that's going to take up unnecessary weight in your bag, will put your mind at ease as you navigate the hills.
So, how do you know what to take and what to leave at home? The kit you'll need in your backpack when you're heading out for a day on the trails is totally different to what you might grab before you step out the door on a dog walk, and generally falls into 6 main categories.
Waterproofs
Food and drink
Layers
First aid
Navigation
Extras
1. Wet weather protection
British weather can be quite temperamental; it's always best to pack with rainfall in mind and carry waterproof layers with you. Clear blue skies can be taken over by grey rainclouds within minutes, making waterproofs a vital addition to your backpack.
A waterproof jacket and trousers will protect you from any downpours and we have some great options, all of which are also windproof which is especially useful in keeping you warm when the wind picks up. Lightweight, breathable and packable waterproof layers will take up hardly any space in your backpack and shield you from the elements at a moment's notice.
It's also worth adding a small, water-resistant dry bag to your packing system, to keep your valuables safe in case of any water seeping into your backpack, or any leaking water bottles!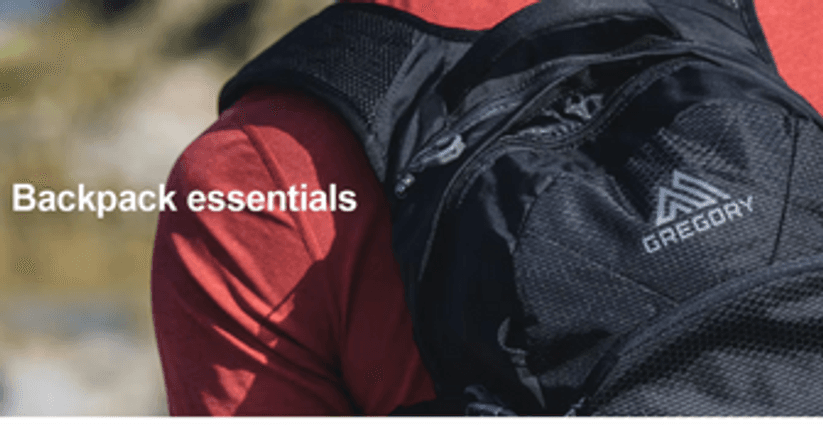 2. Food is fuel
Food and drink should be at the top of your to-pack list. It's recommended that you take at least 2 litres of water for a day of walking, along with some high-energy snacks and slow-release carbohydrates to keep you going. At Rohan, we're big fans of bananas, flapjacks and Jelly Babies. Or you could try the "bag of morale" that photographer Ian Finch and videographer Jamie Barnes brought on our recent photoshoot in Yorkshire – trail mix with M&Ms!
Ian also recommends bringing your coffee press and a compact stove if you have the space, to make sure you don't miss out on a perfect brew in the morning. A hot drink in a flask is also suggested by our partners, HF Holidays, as it's perfect for keeping you warm and hydrated.
3. Layer up
Layering up keeps you warm in the early morning chill, and enables you to easily adjust to fluctuating temperatures as you go about your day.
As well as a waterproof outer layer, packing a lightweight warm layer is always a good idea, just in case the wind picks up or to maintain warmth when you stop for lunch. Plenty of our fleeces pack into their own Packpocket, making them the perfect addition to your backpack.
Spare socks are also a useful addition – they can be an extra layer to keep your feet warm, or a dry replacement for the socks you accidentally soaked when you didn't see that puddle coming.
If you want to read more about how to layer and why it's so important when it comes to keeping warm, check out our 5-Layer System.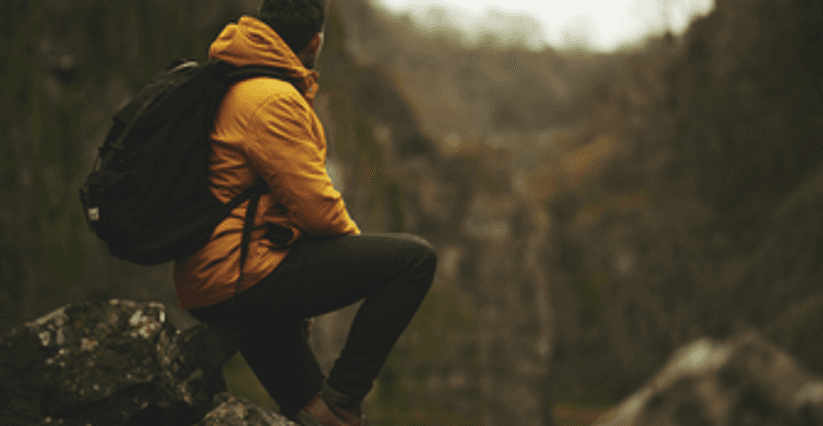 4. Be prepared
Another vital part of your packing list is a first aid kit. It's important to be prepared when you're heading out for the day and even if you never need some of the items in your kit, they should be a permanent feature in your backpack. You can buy pre-made, packable first aid kits, like the Life Systems Pocket First Aid Kit, or build your own.
If you're building your own it's always worth checking what's included in the pre-made versions, just to make sure you pack everything you need, and secure your first aid kit in a sealable pouch, so nothing can make an escape into your backpack.
5. Navigate the way
Even if you know the route you're taking, some way to navigate your journey home should make it into your backpack. Be it a map, compass, handheld GPS or your phone, you never know when it'll come in handy, and when it does you'll be glad you packed it.
If you're not used to map reading, Ordnance Survey have a handy list of top tips to get you started. We're big fans of using the OS app on our phones, too, because it means we can leave the map at home and have all the directions we need right there in our pocket.
6. All the extras
As well as the main essentials, there are a few extras that might prove useful on your walk, and that won't take up too much space or weight in your backpack.
Portable charger
Walking poles
Sit pads
Torch or head torch
Whistle
Content provided by our friends at ROHAN
We hope you find this list of backpack essentials handy and that it helps you out when you're planning your next trip. We love to hear about your adventures, so be sure to let us know where you've been walking on the World Map on their website.
If you want to try your hand at map reading, learn how to read a map with Steve Backshall here.