Cooking around the campfire for the first time this half term? Want some new camping recipes? Read on...
Simple recipes to enjoy around on your next camping trip.
We've put a super simple menu together that you can cook with the whole family on your next camping trip, so you can enjoy the most your campsite has to offer. Top tip? Prepare everything at home and bring along in Tupperware so you can simply heat the meal when your campfire is ready.
Campfire cooking is a great way to enjoy the outdoors and bond with friends and family. There is something special about cooking over an open flame that just can't be replicated indoors and the aroma coming from your campfire hot pot will be hard to beat! Plus, it's a great way to impress your camping companions with your culinary skills. If you're new to campfire cooking, don't worry - it's actually very easy to make a fresh campsite dinner. Here are three easy camping recipes for your first time camping and cooking in the great outdoors.
But first, Build your campfire
Before you can enjoy the warmth of a campfire, there's a bit of work to be done. First, you'll need to gather some wood. Hardwood logs are best, as they burn for a longer period of time than softwoods. Once you have your wood, clear a spot in the campsite for your fire following all local or campsite fire advice (many campsites do not allow you to have open fires or you must use a firepit or barrel). Be sure to remove any leaves or other debris that could catch fire. Then, use a shovel or trowel to dig a small pit for your fire. You'll want the pit to be about a foot wide and a foot deep.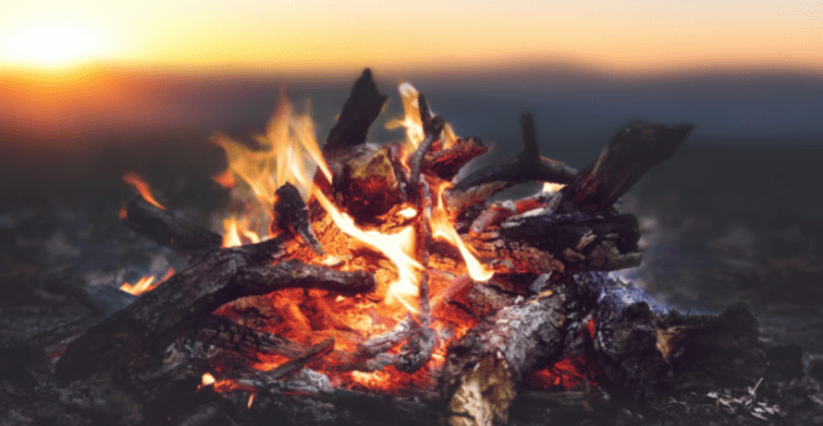 Next, it's time to build your fire. Start by placing some smaller pieces of wood in the bottom of the pit. These will help to catch the larger logs on fire. Then, build a tepee out of the larger logs, leaving an opening in the top for oxygen to flow. Once your tepee is in place, light it with a match or lighter. It may take a few minutes for the fire to really get going, but soon you'll be able to enjoy its warmth. Just be sure to keep an eye on it, and add more wood as needed. For cooking, you want it to burn down so that your logs are medium-hot. Too much fire and you'll quickly burn all of your food!
Be careful about handling food, grills, or anything else near the fire… you don't want to have to rush to hospital from the middle of your campsite field!
Starter – Corn on the Cob
There's something about cooking corn on the cob over a campfire that just screamed " summertime". Maybe it was the fact that it was cooked outdoors, or maybe it was the smoky flavor that the fire imparted to the corn. Whatever the reason, there was something about this method of cooking that just made the corn taste better. Of course, part of the appeal may also have been the fact that it was a bit of a novelty. After all, most people don't get to cook their food over an open flame very often. But whatever the reason, cooking corn on the cob over a campfire is a tradition that many people enjoy.
If you can, find corn with the husks still on as they naturally naturally protect the corn and lock in that delicious flavour when ready to eat.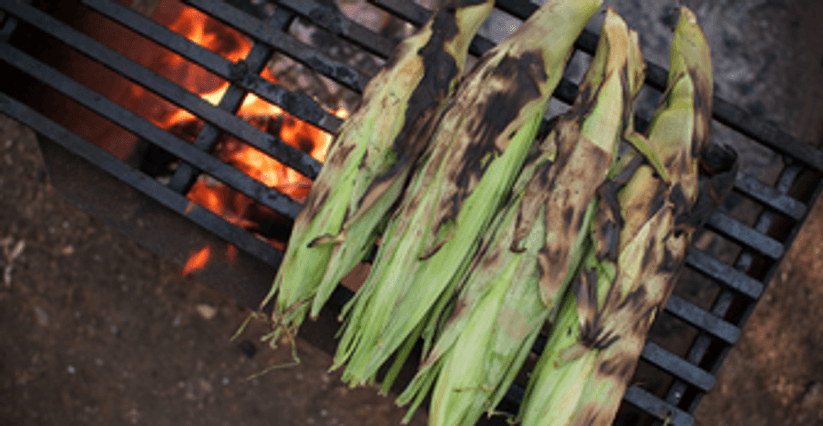 With husks on
Soak the corn (in their husks) in water for about 30 minutes. This will help to avoid burning the outside of the corn while cooking.
Carefully place the soaked corn on the grill or grate over your campfire, making sure not to overcrowd the ears – give them some space to cook. Grill for 10-12 minutes, turning occasionally, or until the husks are charred. Once finished, simply remove from the grill and enjoy!
Without husks
Wrap your corn in foil, super tight, making sure the ends are twisted shut. As you carefully place the corn over the fire, ensure to slowly roll the corn around each side, so they are evenly cooked. About 2 minutes each side is ideal so 8 minutes total.
Whether eaten plain or with butter and salt, corn on the cob cooked over a campfire is a true taste of summer! Share your pictures of your campfire corn with us on Instagram @beoutsidebeactive
The Main Course – Veggie Bean Chili
There's nothing quite like a pot of veggie bean chili simmering over a campfire. The smell of the spices wafting through the air, the sound of the beans hitting the sides of the pot as they cook... It's truly magical. And when it's finally time to eat, there's nothing better than digging into a steaming bowl of chili, surrounded by friends and family. Whether you're camping in the wilderness or just spending a weekend in the backyard, cooking veggie bean chili over a campfire is a great way to enjoy some time outdoors.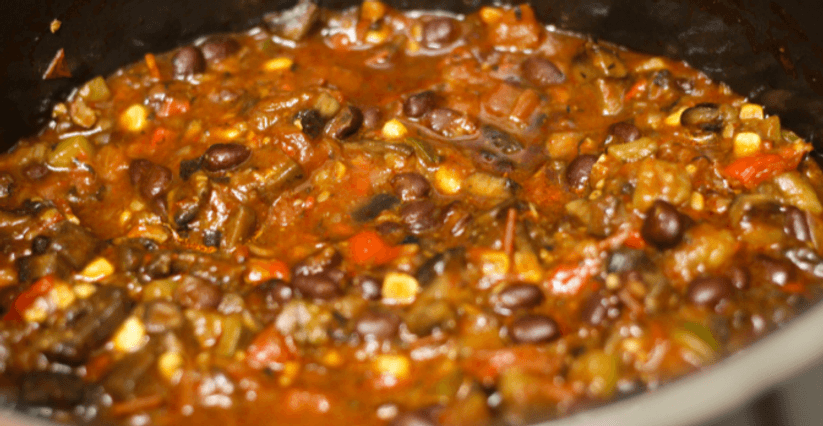 We love how easy it is to make a veggie bean chilli over a campfire - if you've planned ahead, you could prepare all of your ingredients at home, save them in a Tupper wear and then simply add at each step of the process and let simmer until the beans are tender and the vegetables are cooked through. This hearty dish is packed with flavour and nutrients, and it's sure to please even the pickiest of eaters. If you break up a little bit of dark chocolate into the pan and watch it slowly melt away, even the fussiest of eaters will like that sweet addition!
So, whether you're camping with friends or family, make sure to give this veggie bean chilli a try. You won't be disappointed.
Ingredients:
1 tablespoon olive oil
1 onion, diced
3 cloves garlic, minced or finely chopped
1 red pepper, diced
1 green pepper, diced
2 tablespoons chili powder
1 teaspoon cumin
1 tin (400g) black beans, drained and rinsed
1 tin (400g) kidney beans, drained and rinsed
1 tin (400g) chopped tomatoes
2 tablespoons tomato puree
1 cup water
Don't forget the extra chocolate to mix in at the end...if you want a rich and creamy sweet chilli!
Method to make Veggie Bean Chilli
Add your oil to the pan and as it's starting to heat up, add in your diced onions and cook until soft. Then add your garlic shortly followed by your chopped up vegetables. We've made suggestions above, but you can add in pretty much whatever veg you have or your family prefer! We add our spices at this stage as we like to cook them off a little and let the flavour flood through the dish as it cooks.
Cook for about 5-10 minutes (depending on what veg you've added) until the vegetables are cooked then add your black beans, kidney beans and can of chopped tomatoes. Add your tomato puree and stir.
If you're using chocolate - now is the time to add that! Break it up well so it melts more easily through your dish. Stir well and let simmer off of the main heat for about 15 minutes. You want it gently cooking with regular stirring and definitely no boiling.
Stir well and let simmer for 15-20 minutes. Season with salt, pepper, and chili powder to taste. Top it off with a bag of your favourite tortilla chips, which will keep everyone happy dipping into their new favourite chili!
Campfire Pudding - Banana Boats
Banana boats are a fun and easy camping dessert that everyone will love. All you need is a few ingredients and a little bit of patience!
There's something about a campfire that just screams "s'mores." But why limit yourself to the classic chocolate-marshmallow-graham cracker combo when you can have banana boats? Simply put, banana boats are bananas stuffed with your favorite toppings, wrapped in foil, and cooked over the fire. The possibilities are endless, but some popular options include chocolate chips, Nutella, marshmallows, and caramel. The best part about banana boats is that they're easy to make and only require a few simple ingredients and if you're camping with kids...they will love them! So next time you're feeling adventurous, ditch the s'mores and give banana boats a try. You won't be disappointed.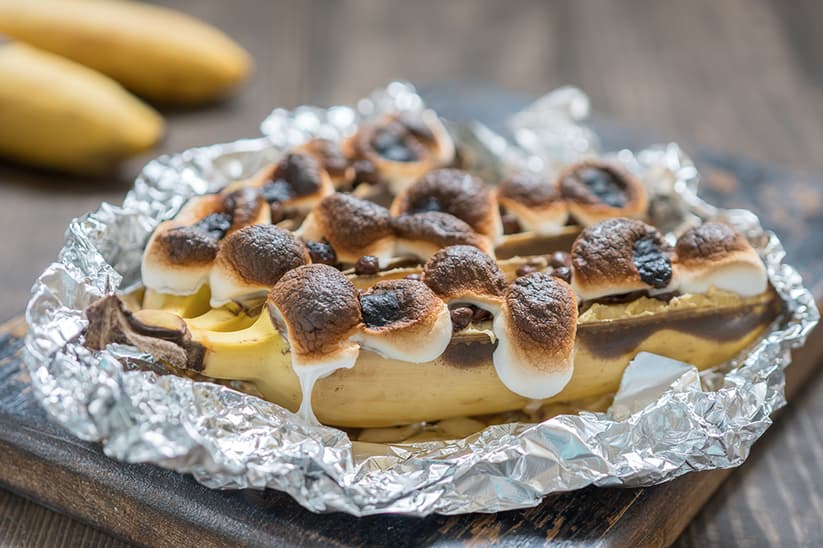 Ingredients
6 bananas
1 package of chocolate chips
1 package of marshmallows
1/2 cup of butter
foil
Check your fire
Before we start cooking, check on the state of your campfire. You don't want to be creating a thermo nuclear device by placing your foiled banana in the middle of a roaring fire. So really you want to let the fire die down a bit, until you have a nice gentle flame and some good warm coals to cook with.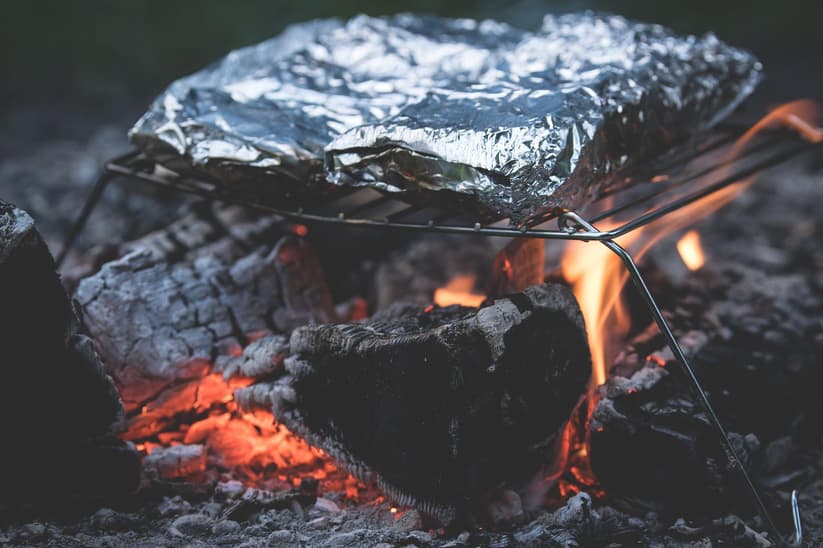 Let's get cooking your banana boat over the campfire
Next, take your foil and tear off six equal pieces. each piece should be big enough to completely wrap around one banana. We sometimes use parchment paper to line the inside of the fool which helps stop the banana and ingredients sticking to the foil!
Now it's time to start prepping your bananas! Start by slicing each banana length-wise (adult supervision required), being careful not to cut all the way through and with a spoon, carefully scoop out a boat shape in your banana. We like to make sure we leave a little banana in each peal as it adds to the flavour.
You should now have six banana boats ready to be filled with your desired toppings.
Finally, wrap the banana in foil (ensure it's completely covered) and place it over the campfire upright so all of your ingredients don't melt out into the fire. Cook for between 10-15 minutes depending on how hot your fire is, or until the toppings are melted and.
Dig out the spoons and enjoy your delicious banana boat! If you really want to indulge the sweet tooth, maybe add in some whipped cream or even... maple syrup!
Closing down your fire
When you're all finished cooking and eating your food around the campfire, don't forget to ensure your campfire is put out completely.
Camping is a great way to get back to nature and enjoy the outdoors, spending time in nature. There's something about cooking over an open flame that just makes food taste better. Plus, it's a great way to bond with your friends or family members. If you're new to camping, don't worry- there are plenty of easy camping meals that you can make over a campfire. Just throw some hot dogs or burgers on the grill, or heat up some canned soup or chili in a pot. If you want something more substantial, you can always bring along a camp stove and cook up a more elaborate meal. Whatever you choose, cooking outdoors over a campfire is sure to be a memorable experience.