This is a beautiful hike if you're holidaying in North Devon this summer.
A moderate walk if you're not used to varying ascents and descents, this is a truly beautiful walk along the South West Coastal Path starting and finishing in Mortehoe, taking in the Bull Point Lighthouse before returning to the village for some fresh out of the oven pasty's and a little ice cream to finish.
A great walk if you're staying in or near Woolacombe
Only about a 5 minute drive from Woolacombe, Devon, the walk starts from the car park opposite the post office in the picturesque village of Motehoe. You'll initially follow the South West Coast path signs heading west from the car park, away from the village. 
I walked this route with my baby gurl. She's only three, but managed a huge chunk of it herself. We opted for no buggy (it would be pretty impossible on some of the steps, styles and hills) and I prepared my shoulders for the inevitable carry at some point. I also packed plenty of snacks, a picnic and drinks to help keep her going.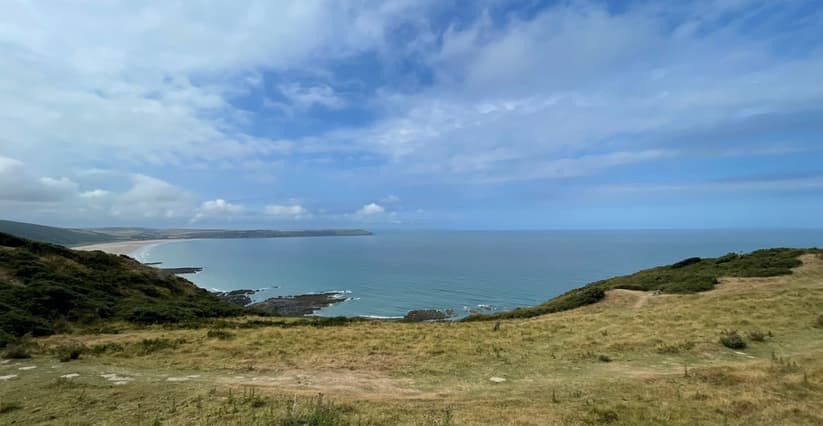 The first section of this walk is relatively speaking flat and easy going as you follow the road south west out of the village, past the church on your right hand then past the old graveyard. This is worthy of a visit itself just to read some of the old headstones and get a feel for how long people have been living in this quaint village. If you wanted a coffee stop, this is a great spot to open your thermos and take in the vistas (though you wouldn't have walked far to get here)

Carrying on down the track, you'll head down a grassy path where you should then get site of Morte Point. There's many footpaths to choose from here, so watch your footing and pick your preferred route.

Through the hike, some of the path is slightly overgrown - totally walkable, but for the little ones a "hands up" game helps make sure their arms don't get caught in any brambles!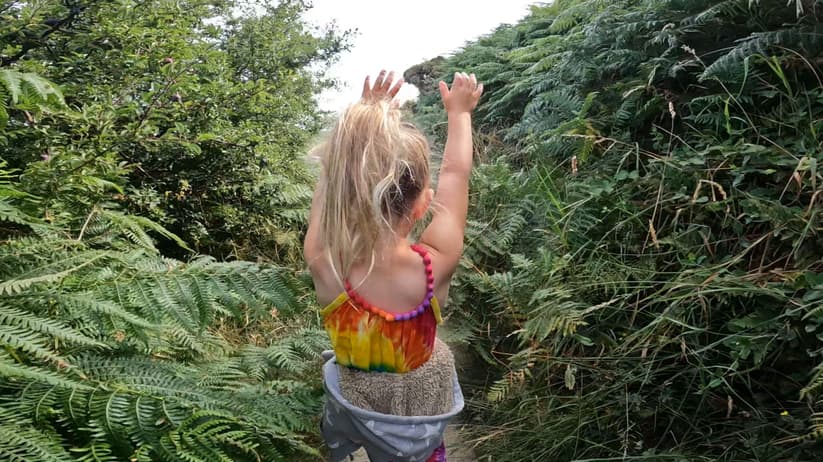 Walk around Rockham Bay
Heading north back onto the coastal path, you'll be walking accompanied by breath-taking scenery around Rockham Bay. Keep your eyes peeled for any marine life down on the rocks and beaches below - we spotted a couple of dolphins gliding past in the distance!
You used to be able to climb down some steep steps to Rockham Beach, but it appears the weather and erosion has got the better of this part of the coastal path as the steps are inaccessible now. It is another great spot to stop for a snack and refuel before carrying on your hike.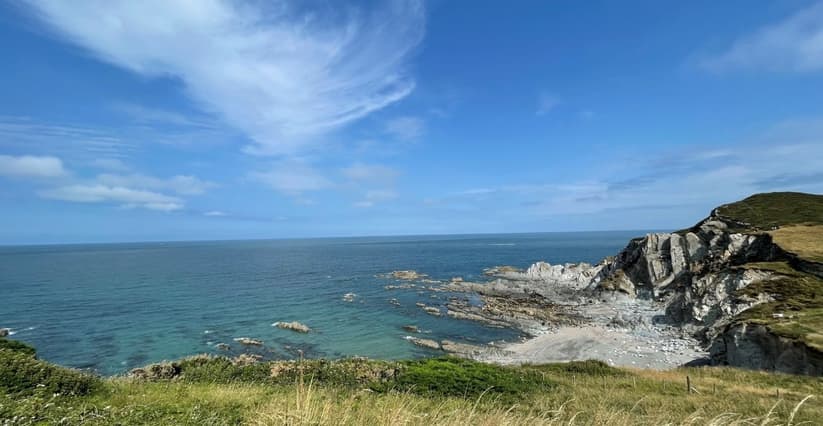 Tired Legs
My babygurl is quite used to long walks, but the ups and downs were getting the better of her and tired legs started to appear. We agreed for a shoulder ride at the bottom of each hill up, if she could then walk the downs - which she started to run (when safe to do so) as she knew she'd get a carry further up the other side!
Hiking to Bull Point Lighthouse
There are a few ups and downs (mostly ups) as you climb towards Bull Point Lighthouse. Just before you make the final descent and ascent up to the lighthouse, about 4.5km in, there's a little bench, sheltered slightly from the wind that offers truly magnificient views of the lighthouse and beyond. We sat there for a while watching the boats sail past wondering where they were going on their sea voyage.
Bull Point Lighthouse
Approximately one mile north of Mortehoe, the lighthouse was originally built in 1879 and updated 100 years later and now offers holiday cottage rentals. We had our picnic near the clifftops of the lighthouse making up stories of all of the ships that must have sailed past or the pirates that plundered treasures! Kiddo was excited that we might see a pirate on the return journey!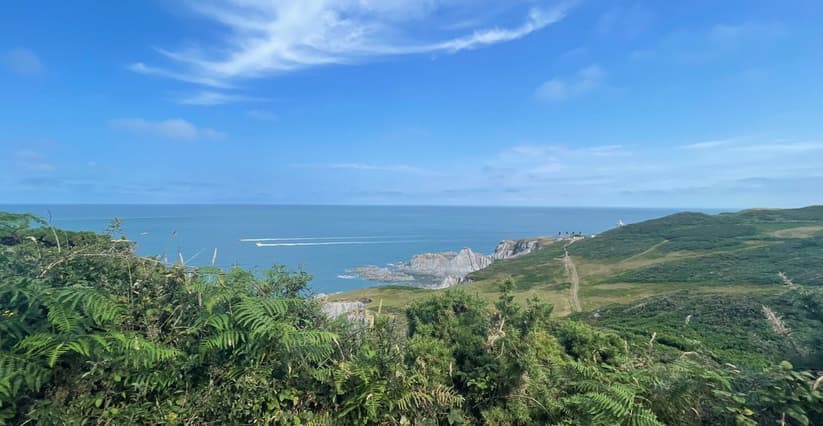 Back to Mortehoe
There are multiple routes back from here to Mortehoe and you can make a circular walk if you'd prefer but with kiddo in tow, we decided the coastal path would be more visually interesting than some of the paths heading inland.
Following our trail back to almost directly below Mortehoe village, we made the slow ascent up to the back of the village. We counted endless numbers of sheep and were pretty impressed with how they could stand on such steep cliffs, chewing the grass and not sliding down the slopes!
Pasty's and Ice Cream
The real reward after any long hike with the kiddo is of course the treats at the end. You can't visit Devon without enjoying one of their infamous pasty's , so we popped into the bakery in Mortehoe and picked up a couple of fresh out of the oven pasty's and a little ice cream to finish.
In summary, this is a fantastic walk to do with the family, friends or if you want a stunning quiet solo hike, this is for you too. Take plenty of snacks and your preferred hydration as there's not really anywhere on route to refill!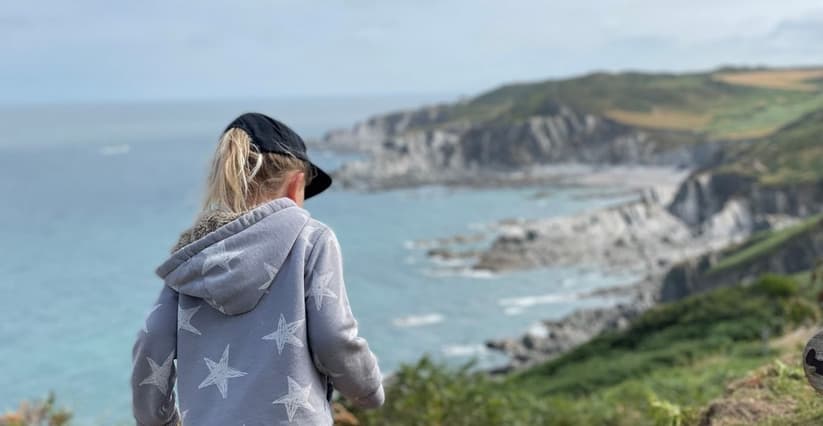 Walk Details

The walk is approximately 6.7km long and offers around 400m of total ascent.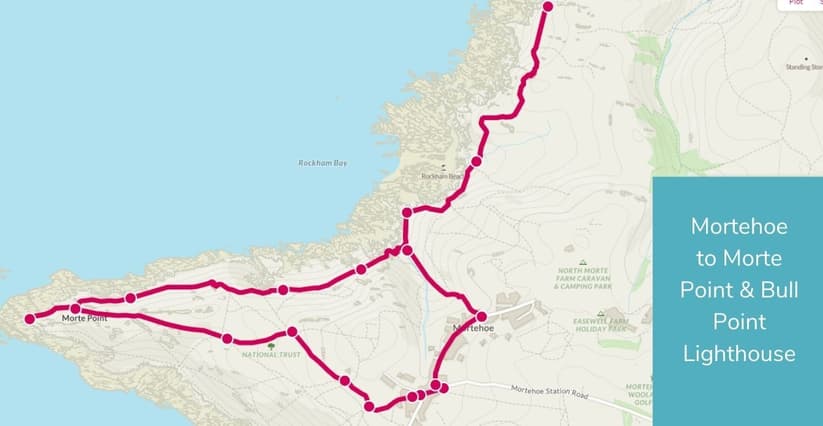 Staying near Mortehoe
We stayed for the week about a 5 minute drive from Mortehoe in some very quiet and peaceful camping pods set on a hill overlooking a farm and with beautiful vistas to the sandy beach of Woolacombe below. 
Perfectly set up for myself and babygurl with all you need for a few days away. 
Check them out here.