It'll be fun they said... This is contributor Jenny-Anne's account of her first bikepacking adventure. It's funny, honest and you can learn from her triumphs and mistakes for your next bikepacking adventure.
My first time Bikepacking
By regular contributor Jenny-Anne Dexter
To be fair, they didn't say it would be dry.
Bikepacking can be a perfect fix for a short adventure. You don't have to be a cycling enthusiast to stick a few overnight things in a bag and head off towards the sunset offering the best of both worlds – you're outside, you're active, but you're never far from an emergency Uber if you need one. Still, it pays to be prepared.
For a long, long time, I've been possessed by an unnatural compulsion to cycle to Bristol. My parents live on the Kennet and Avon Canal in Devizes, beyond which the famous Caen Hill Locks give way to a 35-mile unbroken stretch of waterside towpath that leads all the way to Bristol Docks. It's a scenic route that takes in glorious Wiltshire countryside, the stunning backdrop of Bath's magnificent crescents and the historic industrial riverside from Keynsham to Temple Meads. And because it's a waterway, the route is entirely flat. Winner, because a cyclist I am not.
My cycling experience consists of three sprint triathlons and the odd Sunday cycle brunch across the South Downs. I don't own panniers and my bike has had the same chain since it was bought 15 years ago. But this is a short trip, and each way should take a leisurely 3-4 hours including rest stops with at least 13 hours of March daylight to take advantage of.
An overnight bike trip makes this a real adventure. And Bristol has been a welcoming destination since the very first days of merchant shipping, so there is no shortage of hostelries for weary travellers. I've always loved Bristol, and the main reason that I love it so much is that we have a shared enthusiasm for the strange and quirky. So, skipping Travelodge, I'm staying in a 1970s caravan parked in a warehouse in an area that only crack dealers might be familiar with after dark. It has an honesty bar, games room and each caravan has a little picnic table for the truly dedicated camper.
Departure day arrived
I'd spent the night in my childhood bedroom and enjoyed a full lunch before I left. Bag packed, parents waving off, it felt like school all over again, this time, my adventure began. I had fresh legs, a pack full of snacks and a head full of dreams.
For the first hour or so I was passing through familiar sights from childhood walks, pubs where we'd lunched and bridges I recognised from local car trips. It was a cool but sunny day and the towpath was relatively quiet. Before arriving in Bath, there were some fantastic sights; Avoncliff and Dundas Aquaducts offered scenic stops and I chanced on an urban farm where I enjoyed an audience while I made my pack considerably lighter by troughing through the whole trip's intended calorie overload.
Bath was there and gone in less than ten minutes and soon my path deviated onto the old Bristol Bath Railway Path. Stunning and most importantly, well paved!
Unfortunately, I wasn't supposed to have been on it – I was having such a lovely time that I'd ignored my GPS tracker and overshot my turning, not noticing until I was a full five miles off-course! Part of the reason was that as I passed my intended turning, I had been cycling alongside the dude of dudes, being pulled along on his skateboard by his two bull mastiffs. Now that's travelling in style!
It was particularly disastrous as between me and my retro accommodation were the precipitous hills of Kingswood. Bugger, bugger, bugger. The next hour was avoidance and the less said about my mood the better. Even my Garmin gave up and I didn't even get to show off the extra miles on Strava. Massive fail in my preparation here.
Eventually I found the river again and cycled the final dull mile through the warehouse district and past several tyre fitters to my warehouse idyll. The lost hour and the legs that didn't quite straighten any more were forgotten in the joy of reaching my destination. My caravan – Lily – offered a full kingsize bed with the softest mattress and thickest duvet I could dream of. Sinking into its soft depths, the excitement and trauma was forgotten until morning.
Morning came and… what's that noise? That would be the sound of rain pounding the warehouse roof. My stiff knees wouldn't fully extend and my undercarriage was dreading the inevitable off. After three cups of tea and a quick bike check there was no avoiding the inevitable, and I reluctantly dragged my trusty steed to the road home.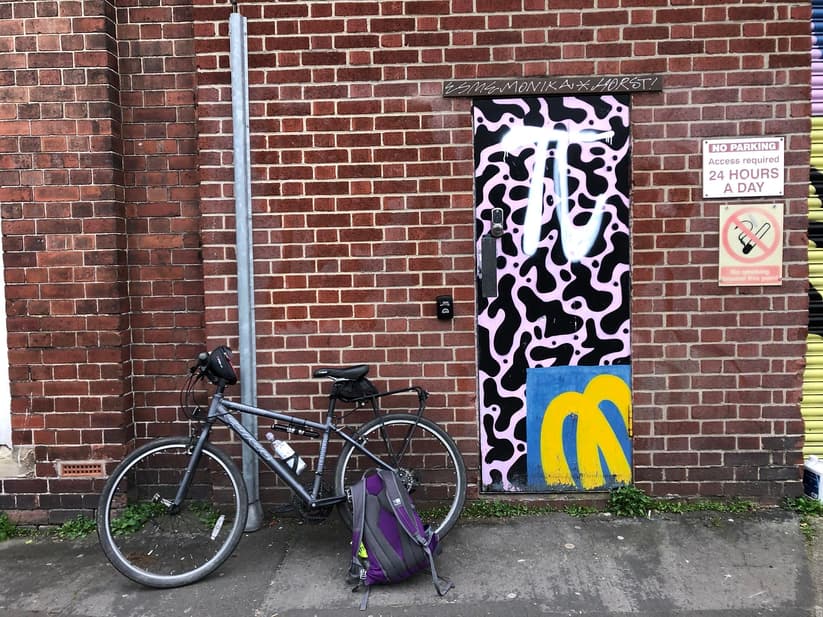 Maps and Technology whilst Bikepacking
I was determined to follow the correct path today and see the river that I had missed from Keynsham. However, it seems my clever app wasn't so clever after all. Steps up to a dual carriageway led to a path that wasn't even suitable for walkers. Flooded and narrow, it forced a whole mile of trudging before it became a series of fields which were just about solid enough to cycle over, though technically I shouldn't have.
By the time I'd reached Bath I'd had enough. After the disappointment of a few closed cafes along the way, I was relieved to see a sign inviting me to coffee up. And I'm so glad I did. Not a believer in fate, but Dexter's was surely meant to be! I'm not saying I received any special treatment from my namesake, but I did get a fantastic welcome and a rocky road that would make Mary Berry weep.
The final 20 miles was through gritted teeth and rigid fingers. My rear tyre was evidently slowly deflating but my cold, wet fingers were incapable of doing anything about it, so on I slogged, slower and slower. Every lock was a pyrrhic victory.
I wasn't welcome in the house in the state I arrived, so I endured two ice bucket challenges before trudging, dripping, up to my hot bath. Later I surveyed the remains of my steed. I need a new chain, possibly a derailleur too. The tyre is a goner and it ultimately took an hour to completely clean the mud from every tiny crevasse. I couldn't completely straighten my right leg for two days.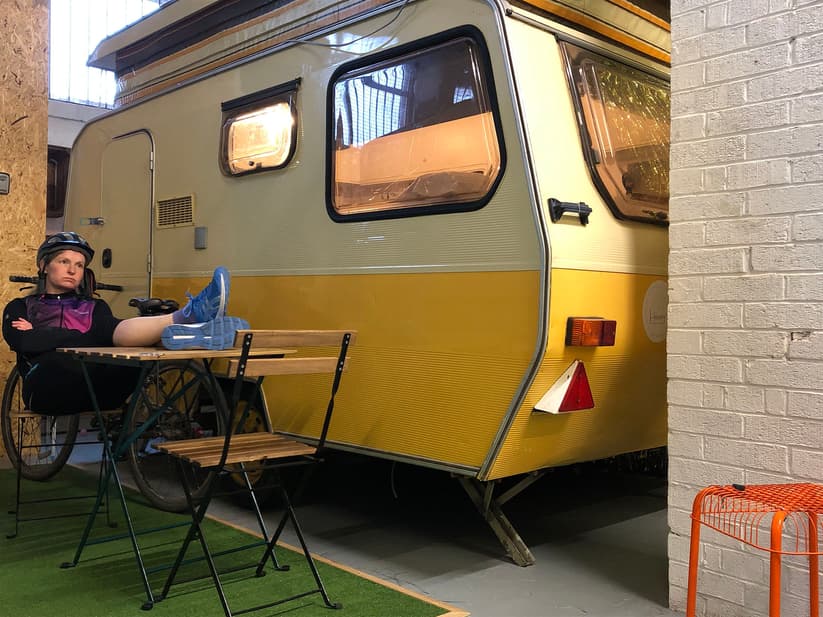 Would I do another bikepacking adventure?
I'd do it again in an instant. In fact, I've just booked a cycling holiday along the Danube of which we'll share the story on Outside & Active soon.
What did I learn about bikepacking?
Be prepared to sacrifice a toothbrush to keep your chain from getting clogged. Even a short shower can quickly turn a towpath into a mudbath, slowing you down and making every mile seem like three as mud clogs tyres, brakes and your chain. Despite the deep cleanse, my chain needs replacing!
Double bag everything! On the return leg, knowing it would be a wet one, I put all my items in a bin bag inside my backpack. And behold, while I was soaked to the skin and beyond, it was all dry at the other end.
Have something to look forward to. Rewards are everything, whether it's a medal or the calorie cram afterwards. I was desperate to meet my caravan and have a cup of tea in bed. I'm still amazed at how incredible a simple cup of tea can taste when you've waited so long.
The mental challenge is harder than the physical one. There were times when I nearly went crazy from the headwind and the driving rain. Eventually I sheltered under a bridge and changed my top half of clothing for a dry windcheater. It was transformative. Just to be dry and warm gave me a real boost through the final ten miles to home.
Which brings me to my last and best piece of advice. Always remember – you can only get so wet (skin is waterproof right?), but you can always get colder. Once home I put my feet into warm water and had a cup of tea before running a hot bath – be careful not to warm up too quickly – my chilblains and Renauld's are quick to pop up if I'm not careful, leading to weeks of painful fingers and toes.
So, will I be bikepacking again?
Well I have a cycling holiday booked for May, but I'm not dumb. It's a flat route and hotels all the way! I'm going to ease myself in slowly. After all, I hate camping… more on that in a future article on Outside & Active. Subscribe to our Stolen Moments newsletter to not miss a story here.
What about you? Have you been bikepacking? Share your experience with us on Instagram @beoutsidebeactive
About the Author
Jenny-Anne Dexter is a full-time life enthusiast, who likes to say yes to the abstract, the sublime and the ridiculous. A bog snorkeller, trail runner, year-round dipper and sometime cage fighter, she's currently deciding on which will be her next challenge...
Useful Llinks
Dotted through the article are a few links to places Jenny-Anne stayed or visited on route. We've listed them out for you below.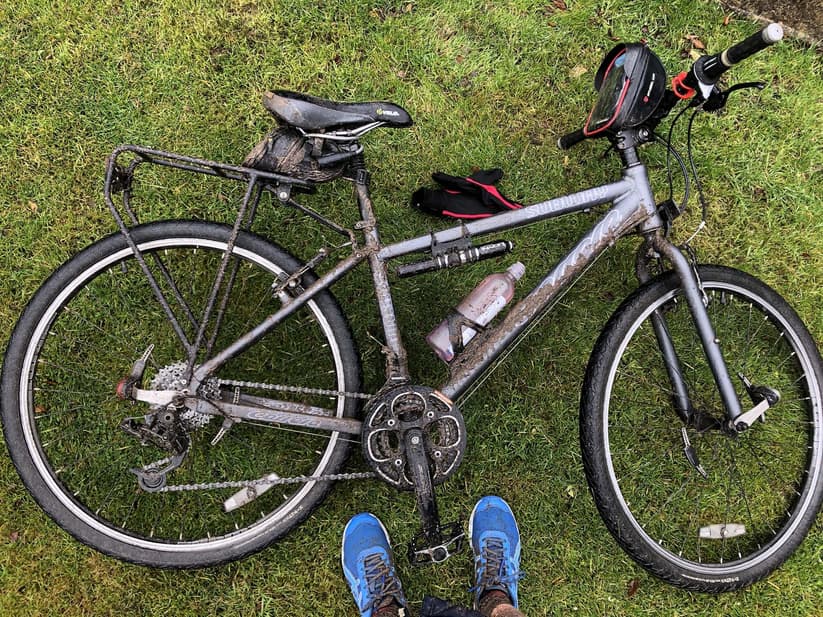 Read Jenny-Anne's other Articles