RunInHi talks to Run777 participant Grant Sidwell about the challenge - and you could win a spot on the 2023 adventure of a lifetime!
Run777 Adventure Challenge
Our partners RunInHi caught up with Grant Sidwell, a participant on the 2018 Run777 challenge which is running 7 marathons in 7 countries in 7 days.
Find out more about the challenge and enter for your chance to win a spot on the 2023 event here. 
So Grant, tell us about yourself, where do you live, what do you do?
I live just outside London, down South, am a co-founder of a startup in payment technology, I have a wife (who isn't into running but is awesome) and 2 young kids, a boy and a girl.
Running experience, limited to say the least, especially when we are talking about multi-day events, but I did run 3 marathons, on 3 separate occasions and never more than 1 a year.
Which event did you do?
run777 Scandi & Western Europe Tour 2018
What got you to run777?
Got a message on my Whatsapp running group one night asking if I wanted to run 7 marathons in 7 countries in 7 days…
I obviously, immediately put my phone to one side, but then as the messages came in, confirming the idea was somewhat absurd but interesting, we all started leaning toward it, thinking that maybe this absurd idea could (just maybe) be done.
The seed was planted and we all went for it.
Ok, so you weren't in top shape or peak performance, what got you to commit?
Might be a bit of an ego driven thing (if ego is even the right word here) but I wanted to prove something, to myself, my friends, my family.
I needed to know that I was capable of more, of really pushing myself in areas that I had never done before.
I wanted to know I was stronger than I thought I was.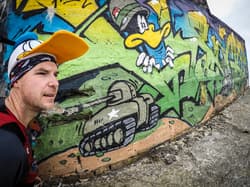 WOW, so now you committed, how did you prep?
Funny we get to talk about the prep, the whole journey and experience, for me, has actually been about the prep.
The event was incredible, don't get me wrong but it was in the prep that I found my strength.
The RUNINHI guys had a plan, which I followed, I even got the 1−2−1 coaching with AlpasFit and I stuck to the plan for 5 months.
I trained harder than I had ever trained in my life and over the course of the training months, I lost over 20kgs.
This exercise for me was not about losing weight, it was so much more, but not being in the best shape of my life and then seeing incredible results and feeling stronger, made me want it even more.
So every day, pretty much, I trained and I loved it.
Epic story dude, there are just so many of us here that want to be better versions of ourselves, push ourselves, redefine ourselves, and you did it, awesome!
So if we talk about the actual event, what are some of your highlights?
Finishing marathon 3.
After day 2 I nearly quit.
I didn't tell anyone but I promised myself I would at least start day 3 and see how it went.
Instead of thinking "5 more to go" it was simply 5 more km's, then maybe 5km's more. After day 3, it was physically a breeze.
Are you planning on doing something like this again, next running goal?
Took a break out from running for a bit after the birth of my daughter but not for long, signed up to the run777 Central & Eastern Europe Tour but as this has been cancelled, I signed myself up for the recce of run333 Best of Britain Tour.
I have no doubt a run777 will cross my path again.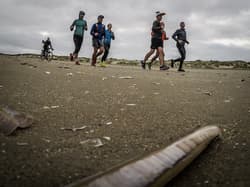 What can you share with others who are potentially thinking of doing this?
It's such a personal thing and something that when you are not an ultra runner, we all have our own reasons for doing.
For me, I just knew I had to prove to myself that my body could do anything my mind decided to do.
So for those that think something like this is just way out of their reach, it's not, it's definitely achievable with the right mindset and training framework.
And finally, top memory?
Asking a Swedish dude if we can have some water and him saying "help yourself to the snake" (he meant the hosepipe clearly).
Various images from the Run777 Challenge