Ocean Advocate and dryrobe® Ambassador Cal Major shares her tips for hitting the road and heading to Europe in your camper van.
After an incredible year accomplishing a record-breaking 1200km stand up paddle (SUP) journey around Scotland in 2021, Cal Major was in need of an escape and set off on a road trip around Europe.
With a van packed with her surfboards, Cal travelled around Portugal and Spain, rediscovering the importance of exercise, outdoor time and doing what makes you feel happiest. All made possible by living in her van, without a plan.
Cal shares her experience on her epic trip and provides unmissable top tips for European winter van life!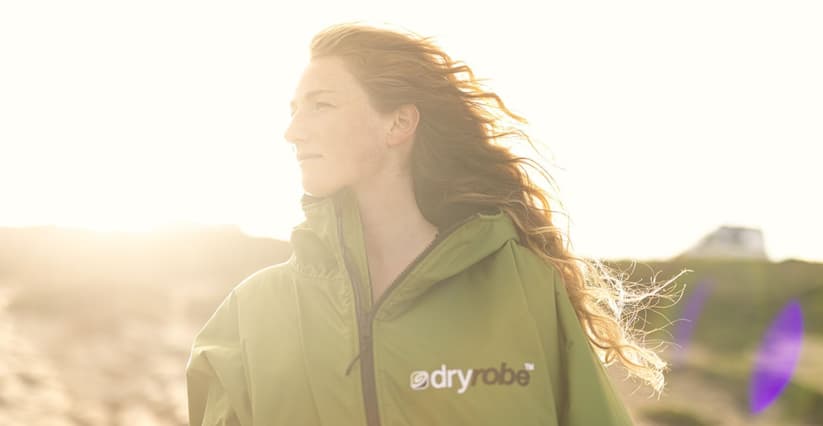 In winter 2021 I took my beloved van on a road trip to Portugal and Spain, for sun, surf and pastel de nata. After a brilliant but ridiculously busy and fairly exhausting 2021, I felt the need to escape to warmer climes over winter. For me, Van Life represents the ultimate freedom, and a great opportunity to live simply, live outside and to reconnect with nature, and with myself.
I spent just over 2 months in my van in Europe, and it was one of the best surf trips I've ever had. Having my own boards and wetsuits with me, and the ability to take myself to different places, offered enormous freedom and possibility. I also took the much needed opportunity to slow down, and not to put too much pressure on always finding the best beach with the best conditions.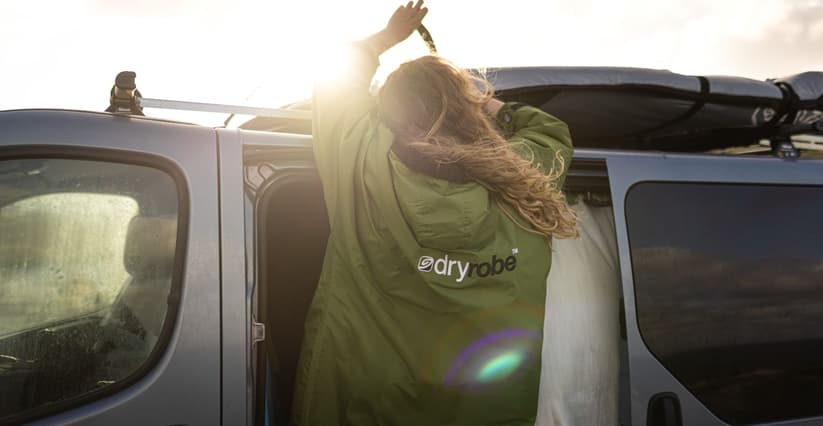 My first stop was on the West coast of France. I arrived at the coast as it was getting dark. There was something so peaceful about having nothing to do all evening except cook my dinner, read a book and go to sleep. I woke up early the next morning, threw my dryrobe® on and went for a stroll on the beach. I walked and walked and walked. I felt elated, peaceful, free! I was the only person on the beach for miles - I picked up as much litter as I could stuff into my pockets. I stretched on the sand. It was cold, the sea full of energy; the waves were 15 foot and completely unsurfable, but being there felt perfect nonetheless. I had nobody to answer to, nowhere to be.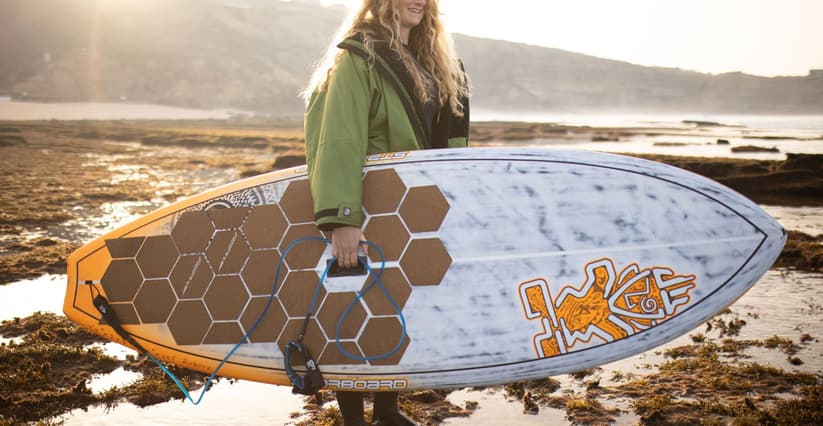 As I walked up the sand dunes back to my van, I bumped into another human. A French man, called Emmanuel, also living in his van. We got chatting and he explained to me that the had lived in his van for over a year, mostly in France. Today he would either go North to Brittany, or South again. He seemed completely unfazed by this upcoming decision. I asked him if it was hard deciding where to go each day. His response stayed with me throughout my trip: "Only if you think about it."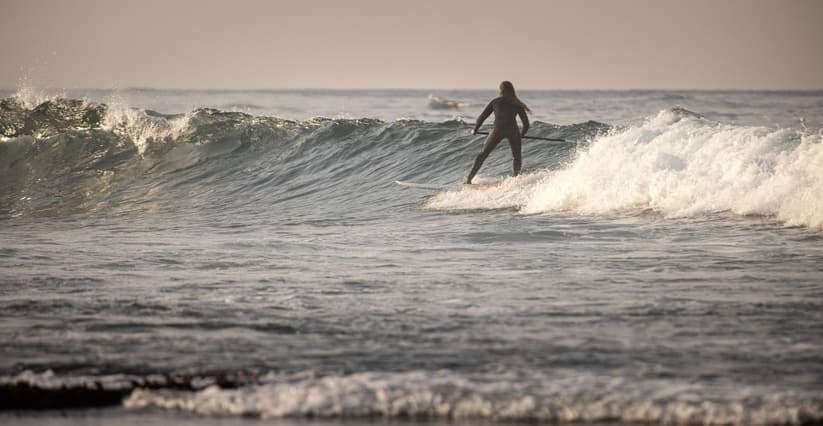 So from this moment on I tried not to overthink where I went every day, and instead to listen to what I needed in that moment. It can feel overwhelming when you have the whole of Europe to discover to decide where's going to have the best surf, or be sunniest, or have the best atmosphere, but deciding to let go of that need for it to always be "perfect", and instead to enjoy where I was each day, was utterly liberating.
I didn't realise until I got to Europe how burnt out I had become. I was exhausted and stressed, and it took me the first month just to start to relax. Living outside was just the tonic I needed. Everything began to slow down. I was in the sea every day, whether to surf, swim or just a dip. I surfed more in those 2 months than I had in the previous year, and the endorphins and tired muscles felt amazing.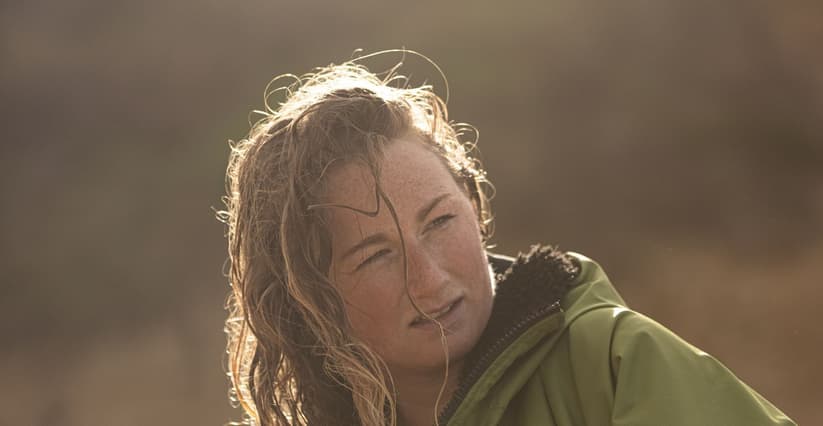 Anyone who's spent any time living in a van will understand the need to be as minimal as possible, and for any items you do pack to have multiple uses where possible. Clutter, constantly having to move things about, can make living in a small space so frustrating, and detract from the sense of freedom.
My dryrobe® was an essential piece of kit for van life; I used it every day for multiple purposes. It was incredibly useful for getting changed at the beach or outside the van after a surf or a swim! But also for wearing to campsite showers (so helpful!), wrapping up in on cold evenings to sit on the beach and watch the sunset, and throwing on in the chilly mornings to walk along the beach or check the surf.
It occasionally rained, and my dryrobe® became my coat for chucking on to get to and from the van. I beach cleaned in it (the massive pockets were very handy!), napped on the beach in it and put it on over a wet wetsuit in between surfs while I stuffed my face with pastel de nata.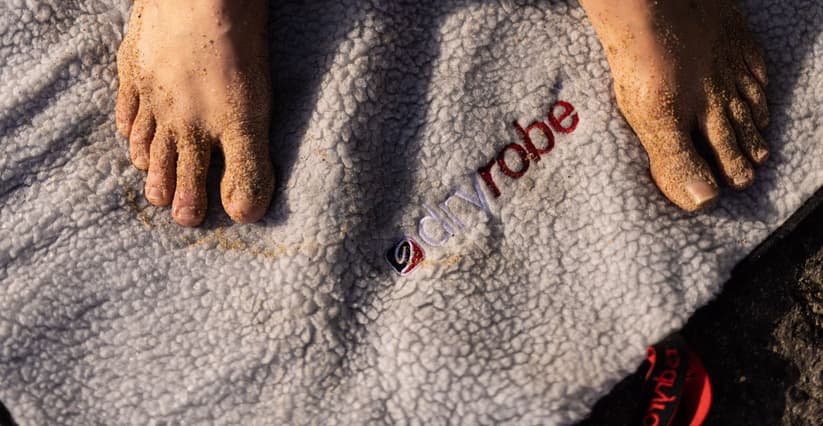 More surprisingly for me was how much I used my dryrobe® Changing Mat. It seems like such a simple piece of kit, but I wouldn't be without it in my van now.
I suffer with poor circulation, and am very prone to chilblains (horrifically painful blisters on my toes which plague my winters and are one of the main reasons I seek warmer climes!) Having this lovely, fluffy, insulated mat to change on meant my feet weren't exposed to cold concrete outside my van.
The bonus was my wetsuit didn't get covered in whatever was on the floor when I took it off too. It also functioned as a wee doormat to have outside the van when I was parked up somewhere for the day, somewhere I could wipe my feet or change into or out of shoes, and kept the inside of my van SO much cleaner. It really did earn its small amount of space in my van many times over.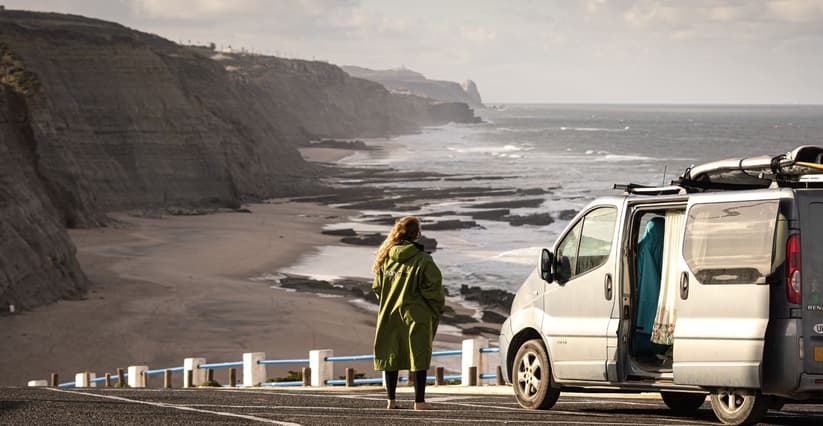 Lastly, my dryrobe® seat covers were hugely useful. After over 2 months of living outside, they came back filthy. Sand, mud, SO many spilt cups of tea, dodgy-looking chocolate stains, food... I took them off and cleaned them, revealing perfectly clean seats underneath. They have definitely saved my van's upholstery from getting a battering, they're cosy, and I don't mind sitting in them in a wetsuit on the occasions it becomes necessary!
My top tips for European van life:
Take less stuff, and take things with multiple uses. The less stuff cramping your space, the easier van life is.
Many countries, including Portugal, are really clamping down on wild camping in vans, especially within national parks, and the fines can be hefty. These rules are there to protect fragile ecosystems, and make life more pleasant for campers and residents alike. Make sure you know the local rules. There are so many decent campsites and aires around Europe with toilets and water, some of which are in stunning places.
Toilets. PLEASE make sure your van is properly equipped. I was surprised at the lack of public toilets in Portugal and Spain. I use a bivvy loo and a SheWee and a bottle, which I emptied when I found a proper toilet. Please treat a place as you'd like to find it, and leave no trace. There's no excuse for pooing in public places, and nobody likes the smell of stale urine in a sunny car park.
Slow down. Be mindful of where you are, not always trying to find the next thing. Drive slowly. Stop regularly, stay a while. Driving slowly uses less diesel. It is generally less stressful, and less dangerous. There's no need, or option, to fit everything in, and I found that letting go of that expectation allowed me to really enjoy the places that I did go to. Spending a bit of time in one place allows you to meet people, find the best local cafes or bakeries, support the local economy, and really get to know its treasures. Take the slow road and soak it all in.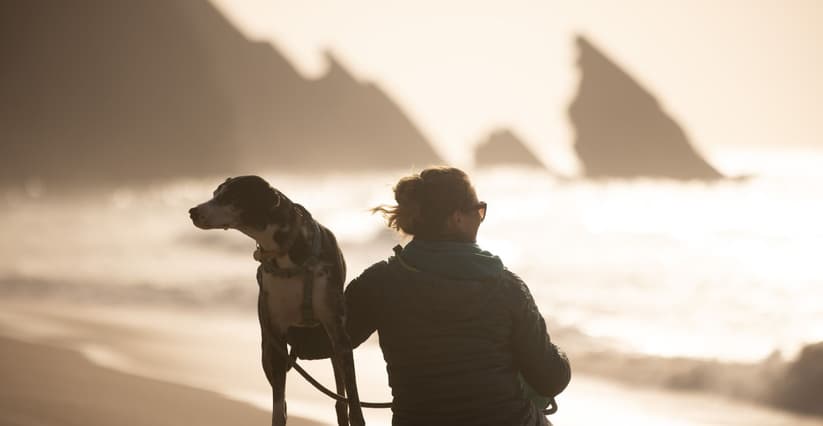 Content powered by dryrobe®
dryrobe® is the original outdoor change robe and an after swim essential. The waterproof and windproof outer shell of the dryrobe® Advance will ensure you are protected in even the most extreme of weather, making it the most reliable swim changing robe for both adults and kids. The unique composition of dryrobe® inner fleece enables it to perfectly balance insulation with the ability to wick water away from the skin. The moisture evaporates quickly due to venting in the design of the garment, without compromising its warmth and waterproof qualities. Find out more at dryrobe.com