It's a big question... in this podcast episode we talk to Steve Cram about, well, everything to do with running and how it's shaped his life and career.
Steve Cram Podcast
Welcome to season four of the Outside & Active Podcast.
On this week's episode we talk to Steve Cram and how running has affected and changed Steve both mentally and physically throughout his career as a runner, presenter and coach.
We also talk to Steve about the evolution of club running and races and traditional athletics clubs.
When Steve started club running there were no half marathons or marathons like we know today. Running wasn't "casual" as it is now with the growth of mass participation events like parkrun or how there are more open and accessible running clubs around the country and world.
Switching things up slightly we then discuss the "I can" mentality and how your mind can make you do things that you physically thought may be impossible to ever achieve. Whether it's your first five kilometre run or first 100 miler – there is something we could all learn from listening to Steve's lived experiences.
Monty Python makes an appearance too - what did running ever do for us? Actually, an awful lot!
Thank you to our Podcast season partner, dryrobe®  
Enhance your outdoor experience with dryrobe®

Designed to let you get changed anywhere, the dryrobe® Advance is an essential piece of kit for outdoor adventurers who need to stay protected from the elements.

The dryrobe® Advance is like having your own portable changing room, where the oversized design gives you plenty of space to get changed in and out of your sports gear. Versatile enough to be worn as a jacket on those chilly race mornings, or sitting by the campfire in the evening.

Made from 100% recycled fabrics, the waterproof and windproof outer protects you from the elements, whilst the super warm lining will keep you toasty pre or post run.
From surfing, wild swimming to triathlon, paddleboarding or even walking your dog in torrential rain, the dryrobe® Advanced is for everyone.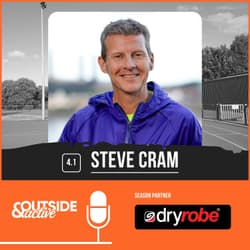 More about Steve Cram
Steve is one of the UK's most well known sporting individuals.
As an athlete his career was forged alongside Coe and Ovett to form a period of unprecedented success in British athletics and since retiring has become one of the BBC's most respected Presenters/ Commentators.
In a career spanning over three decades, since appearing as a 17 year old at the Commonwealth Games in 1978, Steve's many achievements include six Gold medals at the Commonwealth Games and the European and World Championships. Following an incredible season in 1983 Steve was voted BBC Sports Personality of the Year, one of the few athletes to have won the award, and in 1986 he was awarded an MBE. At the 1984 Olympic Games held in Los Angeles, Steve returned from injury to take a Silver medal in the 1500m behind Sebastian Coe. The following year he broke World records in the 1500m, 2000m and Mile, all within 19 days; the latter lasting almost 9 years.
Since retiring from competitive athletics Steve has become a very successful television commentator, first with Eurosport, and then with Channel 4 before joining the BBC as the Chief Athletics Commentator. Steve has co-presented both the Summer and Winter Olympics since Sydney 2000. Most recently he provided the soundtrack for a phenomenal London Olympic Games for Team GB's athletes, in particular Mo Farah's stunning 5K and 10K double gold performances.
Steve has also been a regular contributor to BBC Radio 5 Live including hosting popular 606 and Sunday Sport. Away from the track and the commentating, Steve recently stepped down as Chairman of the English Institute of Sport, which is a nationwide network of sport science and sports medical support services, designed to foster the talents of our elite athletes of all sports.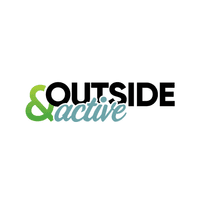 Outside & Active is the home for those who love the outdoors. Our mission is to inspire, inform and educate people about being active outdoors in a fun, safe and sustainable way. We provide inspiration, kit, tech and advice on adventure, camping, climbing, cycling, hiking, running water and winter.