Overwhelmed and sick of lockdowns, ex Olympic snowboarder Alena Zavarzina comes out about mental health and how the snow has helped her.
Overwhelmed, tired, and sick of it all. 
This is how we all felt at the end of the last lockdown. Over the previous 18 months, we have all been through nothing short of a Disney rollercoaster of work-life and mental health balance. Stuck in 4 walls with the ever-present thought of the end of the world. It was hard. I found myself running loops around my neighborhood at different points, thinking about the unattainable mountain escape. Physical activity is mentally rewarding. However, running just didn't do it for me. If only I could go snowboarding now - I thought.
I spent most of my life being a professional snowboarder; finishing my career 3 years ago was not easy. My discipline was slalom. Competing for Russia, the last few years of my career, I had to get involved with many government relations, which took the fun out of it. It is difficult enough to live a high-octane life of an elite athlete, let alone dealing with the power structures. It was a mental challenge that almost broke me. The power struggle between myself and the government and the ever-growing performance anxiety led to inevitable crisis and depression.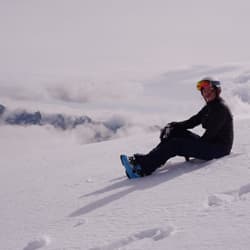 On a hard day, I would take a few laps alone on my snowboard. Repetitive motions of turning left and right, the familiar tension in a snowboard, and that predictable kick out of the turn that you know is a combination of the right plate and board stiffness would drive me back to sanity. After the laps, I would change in an alpine lodge, have a schnitzel with lingonberry sauce, maybe a cappuccino. Get warm.
And it would all get better.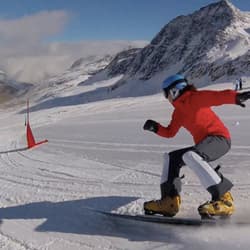 Snowboarding, skiing, hiking, and surfing are silent sports because one can perform them alone and without motorized vehicles. The main reason I stuck around snowboarding was freedom. Like learning to ride a bike, snowboarding was my first way of escapism. Something that adults are really into, as I learned later.
I could ride to my favorite tunes, ride quietly dwelling on new problems to solve or ride the pain away with tears pooling in my goggles. The slope was my safe space. Later, when I quit sports, I would read how my ex-colleagues would boast about 'another beautiful day in the office' under a photo of a pristine velvety white slope. I cringed as I knew that being that close to nature in my everyday life and calling the glaciers my office was a privilege. A privilege I took for granted.
Why does snowboarding work so well for our mental health? I think the key is silence and isolation in parallel with physical fatigue. This combo calms the mind and untangles the overflowing thought process. It's a sport where one can be outdoors for extended periods without wasting too much energy. In my experience, it is absolutely impossible to feel sad while being on a snowboard, especially on a powder day. This might sound like a cliche, but powder days make life worth living.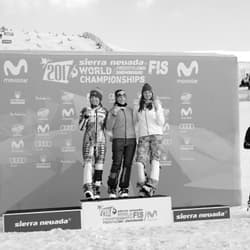 I remember this once we had a 3-day snowfall in Sochi, and the mountain top was closed for the public. We had some connections with the local avalanche patrol, and they took us to the top and outback, where we took the first line right next to the avalanche guns and down the steep couloir. Whoa, I thought, this is life. This is real snowboarding. That feeling when you forget that your phone exists. When you don't want to be anywhere else in the world. This is what real snowboarding does to you.
In any weird situation - go snowboarding.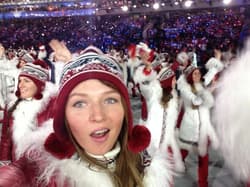 Words by Alena Zavarzina
Alena Igorevna Zavarzina is a Russian former snowboarder specializing in parallel slalom and parallel giant slalom disciplines. She is the 2011 World champion and bronze medalist from the 2014 Winter Olympics in parallel giant slalom. She won the parallel giant slalom crystal globe in 2016/17 World Cup season.
If you want to follow Alena, check out here Instagram/superzina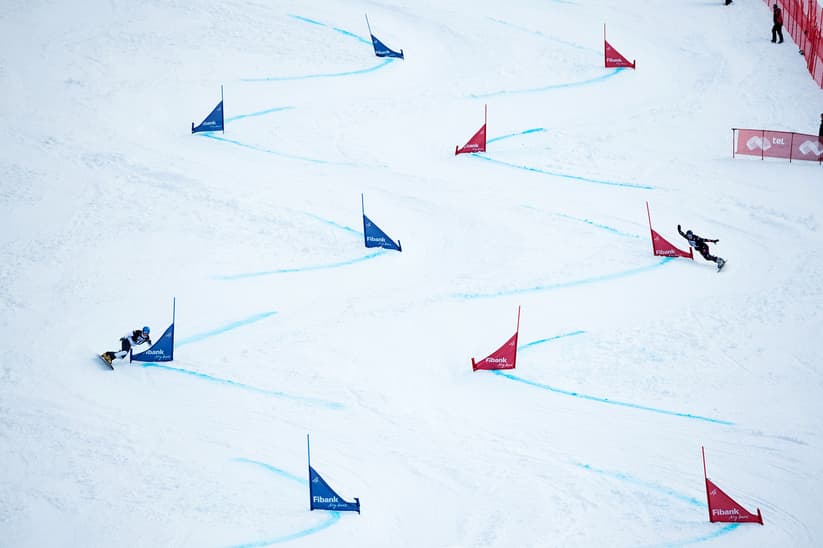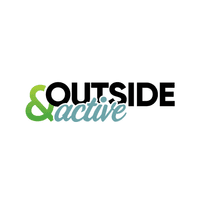 Outside & Active is the home for those who love the outdoors. Our mission is to inspire, inform and educate people about being active outdoors in a fun, safe and sustainable way. We provide inspiration, kit, tech and advice on adventure, camping, climbing, cycling, hiking, running water and winter.