Everyday runner Laura Briggs is taking on the challenge of a lifetime, running 290km and aiming to set a fastest known time too! Read how she balances training with family and work life for this epic challenge
Running the Macmillan Way 
"I'm not fast, I'm not an elite" were the words that struck a chord with me as I started to read Laura Briggs' "announcement" of her latest running challenge. And it's no mean feat.
Laura is taking on the Macmillan way, a 290 mile trail run which runs from Boston in Lincolnshire to Abbotsbury in Dorset in support of Macmillan Cancer Support and her good friend Mo, who was diagnosed with cancer at the age of 40.
With a heartfelt reason to run that far and raise as much money as she can, we can understand what will be pushing Laura as she takes on this running challenge, but for the average runner, 290 miles in one go could seem a step too far. Not one to say no to pushing herself, Laura is also aiming for an FKT (fastest known time) along the route too.
So, saying "I'm not fast" or "I'm not an elite" made me think… what is it that goes into the mindset of someone who is holding down regular work, managing family life and then training for an incredible run challenge like this. You might think a challenge like this is for someone who is "elite" or rather that running is there profession. Nope, not Laura.
We caught up with her to find out about this latest challenge.
Laura's journey to running 290 Kilometres
Tell us a little bit about the run.
The Macmillan way is 290 miles long, from Boston in Lincolnshire to Abbotsbury in Dorset, and it follows existing footpaths, occassionaly joining short lengths of national paths like the Leistershire Round, Jurassic Way, and Leland Trial.
Farmland, woodlands, tracks and through towns, the route takes in the Fens, the Cotswolds, the start of the Thames Path, and the Frome Valley, and ends on the South West Coastal Path.
The route was devised to raise awareness for Macmillan Cancer Support, and although many people have walked it, nobody has officially logged it as a run yet.
Setting a Fastest Known Time 

You're attempting a fastest known (or currently only known) time for the route – was this important when you set out to do this challenge? Or is that a nice to have?
I think I'd always had in the back of my head that I wanted to do something that people would take notice of. Because I spend a lot of my time running, it needed to be something a bit extra.
I'm not fast by any means, so trying for a FKT on a well-run trail wasn't really an option, so I figured why not set my own?
The charity fundraising was definitely the driving force behind this attempt, but it's always nice to say you did something first, right!
How did you go about selecting this sort of distance for a run challenge? Is it something you've done before?
I think because I'm a bit of a plodder, long distance suits me better. If you want to endure, you have to be steady, not go at full pelt. It's more a stamina thing. I love to stop and take photos, eat plenty, and enjoy the views. The long distance works for me as I'm not great at short and fast!
Why are you taking on this huge running challenge?
I've known for a long time that I wanted to do a charity run, because it's not something I've really pushed for before. I tend to run for me, and I run a lot on my own, but always thought there was a bigger reason for doing what I do.
A dear friend of ours, Mo Laughton, has been going through a difficult journey with cancer and I'd be talking to her about wanting to run for a cancer charity. She told me how much Macmillan had supported her, and that their support has been invaluable to her and her husband Ben. It all just fell into place really. I decided on Macmillan well over a year ago and started to think about what I could do to raise money. The Macmillan Way really was just an obvious choice.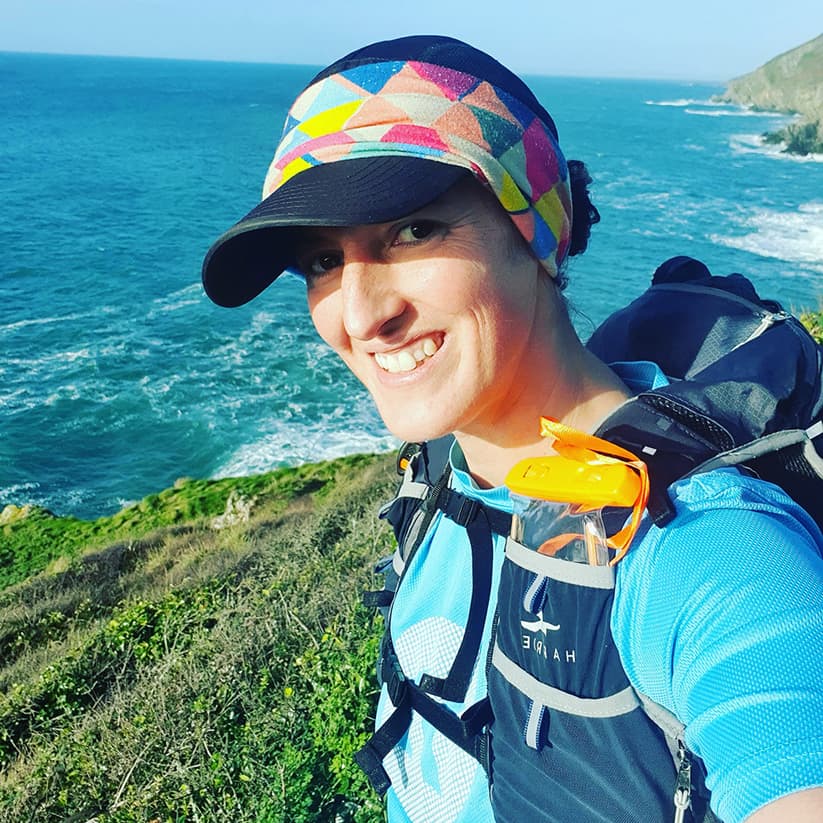 Onto that "elite" and "fast" comment – can you give us a bit of a background to your running story?
I suppose I've always enjoyed running. I started in my 20s as what you'd call a club runner. I'd go once a week, and run maybe 10K, possibly push myself for a challenge and do a half marathon once a year. When I had children it became much harder to juggle work and fitting in a regular weekly session, so it dropped by the wayside.
Then I started working alongside a running brand (FLANCI), and my joy for running was reignited. Through them I found out about other running groups, and I discovered The National Running Show. Over lockdown the NRS held an Indoor Relay, which I ended up captaining for, and then last year I thought I'd do my own challenge to run an accumulator in March (where you run the number of miles that correlates with the date – so 1st, run 1 mile, 30th, run 30 miles). That gave me 500 miles in a month, and the feeling that I could do something bigger.
I really thrive when I'm out there trying to find new paths, out on my own with a load of snacks and a lot of time – though obviously that's not always possible. I've run lots of ultras, but not necessarily in a race format, I kind of just go out and run and see where it takes me!
I'm lucky that my husband is also a runner, so he understands the drive to get out there, and often we'll alternate weekends where one of us might have a day of doing a long run. It's important for me that I don't miss out on spending time with the children too though, so I have a treadmill, and I might run while my son cycles, and the running only happens if it's not at the detriment of anyone else.
How long have you been training for this specific challenge and what does your average week look like when training?
I suppose I decided about a year ago that this was going to happen. I'm a bit all or nothing. If I say I'll do something then I do it. It takes a bit of time for reality to kick in, when I realise that actually it's not just about saying I'll do it, but actually putting in a lot of work!
I've been making sure I get a long run in most weekends – I've reccied the start of the trail, so I ran from Boston and got 40 miles under my belt on a Saturday, then got up the next morning and ran another 20. I'll try and get a 30-miler in every couple of weeks or so too. Really, it's training myself to be able to run when my legs are fatigued – to get up and do the same thing over again. The accumulator set me up really well for that, but this time around it'll be 50 miles a day, so the fuelling has to bang on too.
I do a HIIT session every week, paired with shorter "speedier" runs, and a treadmill session. Mixing up pace helps immensely.
I've practised with nutrition a lot too, so I have an idea what works for me and what gets me through mentally, but on the flip side of all the training I really have to make sure I don't break myself too soon. I think ultra training looks very different for everyone. I've a tendency to get stress fractures in my toes (I've had three in the past two years), so it's very much about management. Making sure I'm fit enough for the job in hand, but not overdoing it too soon.
Being a mom, having a dog, work... how do you fit your running into everyday life?
Great question! I've no idea! Honestly, if you want to run then you make time for it. It isn't a second thought for me, it's a part of my life. If I know I have a mega day, then I'll get up at 5am and run first. Or I'll be running after the kids have gone to bed. Or it's a lunchtime speed session. The whole "I haven't got time" phrase, for me, was an excuse before. The fact is, we've all got time. It might be when you're normally sleeping, or watching telly, but that's time right there – and that's how I'd rather spend it.
Apart from eating like a horse, what does your daily food intake look like? How are you keeping yourself going?
As everyone who knows me will tell you, I'm rarely seen not eating!
I'm a vegan so I'm really conscientious about what I eat because I have to work extra hard to get the right balance. I eat a lot of protein by way of tofu, beans and nuts, and I snack a lot on hummus and crackers, banana smoothies, pickles, that kind of thing. Before a run, two night's before I'll eat a mega carb meal, and then another good protein carb mix the day before so I have enough energy.
On the trails, my go-tos are fizzy sweets (that's the naughty bit!) and I drink Active Root sports drink and electrolytes. I have a hummus sandwich that makes an appearance at about 25 miles, and a bag of crisps for later. A bag of peanuts, malt loaf, and dates are all great things to snack on during the run too.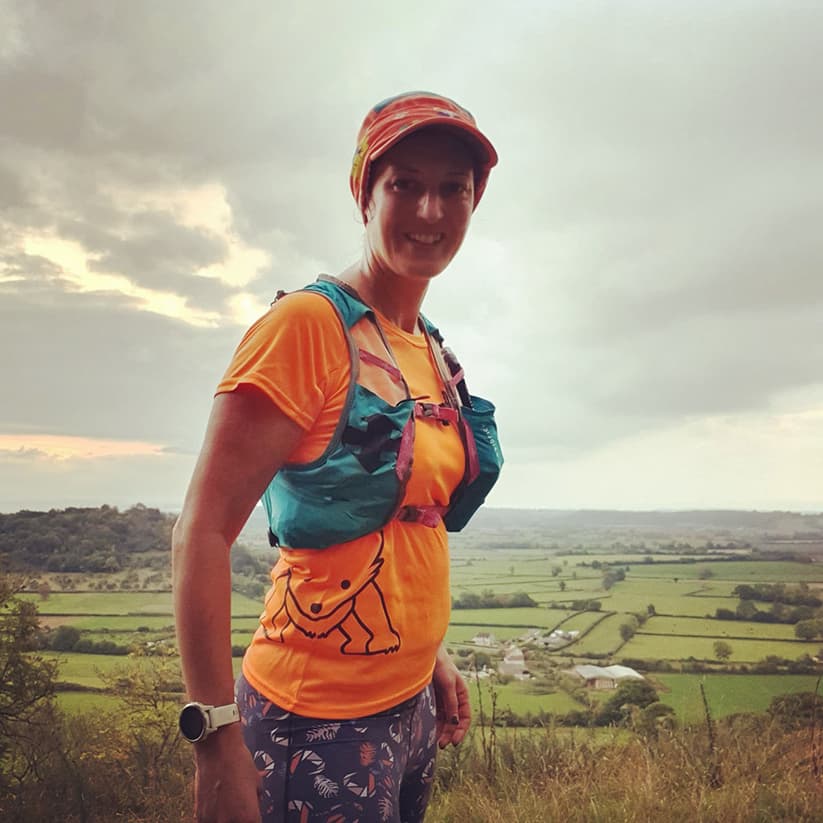 What kit are you taking on this adventure? Shoes, bags, what's your essentials?
I run in Vibram Fivefingers – which are essentially barefoot shoes with zero drop and no cushioning. I find them the most comfy things because my toes can spread, and the guys at Barefoot Junkie – where I get them from - are brilliant for advice on barefoot running.
I also favour a skort, and because my running has been inspired so heavily by Flanci, I wear their skorts because I can keep stuff in the thigh pockets while I run and I've never found any chafing. They are brilliant.
I've worn a lot of hydration packs in my time, but currently I'm favouring a Decathlon pack, which does everything I need it to and fits me like a glove.
I always carry my Rolls Royce of waterproofs, a Montane Goretex jacket with taped seams, which is a lifesaver if my core body temperature drops and I just want to be protected from wind and rain.
I've also got a GPS handheld navigation device which has been loaned to me by the awesome staff at GPS Training. This helps me navigate some very sketchy parts of the trail – believe me there are plenty of places where you can completely lose your way. It's my safety net.
Finally… a lot of people ask about what challenges you're expecting on the way. There's always going to be something that comes up, but maybe you could tell us about some of the highlights you're looking forward to en route. It could be seeing family/friends – maybe it's particular location you're looking forward to running through – something positive that will help you focus on the goal of finishing.
I'm really looking forward to running through the most beautiful countryside and taking in some stunning views. I'll pass through the National Arboretum at Westonbirt, which I'm really excited about, and then when I hit Beckington, I've got friends from there down who I know will be out on the trail waving and cheering, and even running sections with me, so that really drives me on.
The idea of an adventure just really enthuses me. Living in a campervan for a week, and logging off from reality! We've been lucky enough to have a campervan donated for the event by a wonderful company in Somerton, where I live, called West Country Camper Hire
The knowledge that Macmillan Cancer Support is such a massively important charity to so many people will obviously push me on, and of course I'll be thinking of Mo and other people who've been affected by cancer. I just think to myself, aren't I so lucky that I can do this at all.
About Laura Briggs
I'm a journalist, PR, mum of two, and a barefoot, vegan runner, who spends most of her time eating!
I write regularly for Women's Running Magazine and documenting my barefoot running life on Instagram for anyone that's interested.
I've got two Spanish Water Dogs who are regularly confused with Cockerpoos and one is just a pup who is spending most of her time trying to eat my shoes!
JustGiving Page - www.justgiving.com/briggsy1
Follow on Instagram - Briggsy1
Follow on Facebook - Briggsy's 290-mile Macmillan Way fastest time attempt