If you think of skiing, what is the first thing that comes to mind? Is it the massive mountain ranges of Europe or North America? We catch up with Andrew Goodwin from RAF Nordic Ski team to find out what it's all about.
If you think of skiing, what is the first thing that comes to mind? 
Is it the massive mountain ranges of Europe or North America? Is it the groomed pistes, is it sitting in the chair lift, skis hanging in the air as you imagine yourself swishing downhill at great speeds or is it the thought of being that first person out on those back-country slopes and calving elegant S-turns in virgin snow? And then, when the day is done, retreating to that wooden cabin to warm yourself by a crackling fire and the mandatory Apres-Ski?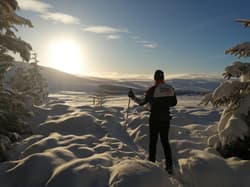 Am I right?
Maybe....but for some of us, that isn't necessarily the case. For some us, the thought of skiing downhill indicates it's time to recover, time to take in great lung fulls of air, time to give the heart an opportunity to take it easy, for a moment at least. For some us, the thought of riding a chair lift to the top of a hill is...well, not even a thought! For some of us, the thought of skiing up a hill is just as exhilarating as skiing down one.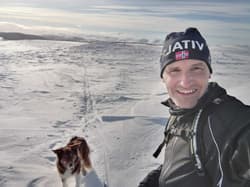 So what winter sport am I talking about? It is, of course, cross-country (XC) skiing!! XC skiing, in some form or another, has been around for thousands of years and it has its origins in Scandinavia and ancient China and was primarily used as a form of transport to get from A to B. Nowadays, it's both a competitive winter sport and form of recreation beloved by skiers of all ages and all over the world. The other thing about XC skiing is that it's low impact, so the old joints don't get a hammering like they do in running or alpine skiing. It's also pretty much guaranteed to get you fit. There is no denying that XC skiing is hard....really hard....it's a tough sport for tough people, after all! But, XC skiing is also fun.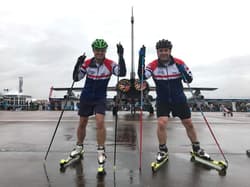 It provides opportunities to ski in some amazing parts of the world and all at your own speed. And yes, if you want to, you too can end the day in front of that cosy fire, you'll certainly have earned it.
In the UK, XC skiing is just as beloved. OK, now you're thinking....well, sure, in the Highlands of Scotland, where there's a chance of winter snow...that makes sense and you'd be right....well, almost. XC skiing actually doesn't need snow. which for us in the UK is actually good to hear. It also doesn't need a dry ski slope or a purpose built building. All you need is some tarmac, a pair of roller skis, a pair of XC boots, poles (both of which can then be used on snow) and a helmet and you're good to go.
You see....XC skiing is a 365 day sport. It's also a sport that continues to grow in the UK and there are a number of established clubs now roller skiing regularly throughout the year. Take a look at this link to find out more and see if there's a club close to you. In fact, I'd recommend visiting one of these clubs and having a roller ski lesson, you'll be bitten by the XC ski bug. A club will offer encouragement, will give you advice on where best to look to purchase your own equipment and advice on some of the best places to go for that next winter holiday. You'll also be enthused by the people around you.
Of course, you could also come to the National Snow Show taking place at the NEC over the weekend of 23 October and come and visit Stands L22 and K20. There you'll meet some people who are besotted with XC skiing, take a look at the different types equipment available and find out just what makes a XC skier tick! You won't leave disappointed.
This content is by Contributing Editor - Andrew Goodwin from RAF Nordic Ski. 
To find out more about Nordic Skiing, follow them on Instagram here @rafnordic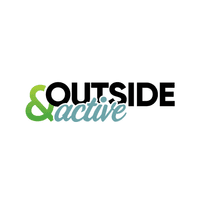 Outside & Active is the home for those who love the outdoors. Our mission is to inspire, inform and educate people about being active outdoors in a fun, safe and sustainable way. We provide inspiration, kit, tech and advice on adventure, camping, climbing, cycling, hiking, running water and winter.