It's time to hit the trails. Here resident running shoe expert, Paul Freary, tries a selection of the latest trail running shoes that should prove perfect for your off-road adventures.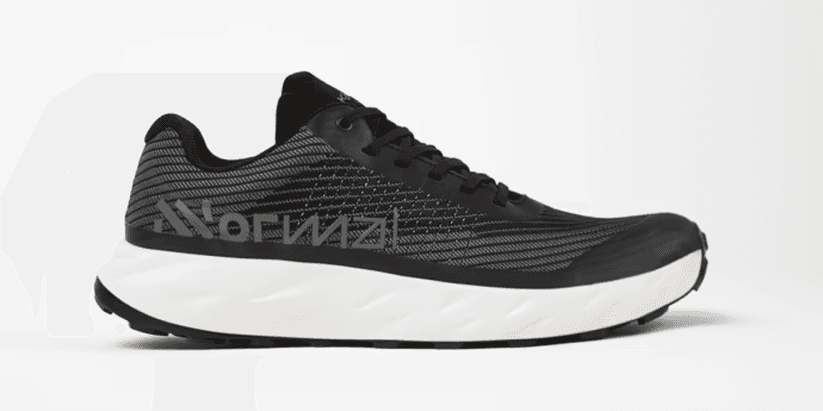 A shoe that took place in the 2022 UTMB race, this is the eagerly awaited Kjerag from NNormal.
It's Kilian Journet's brand and rather fittingly he won the UTMB event not only in the shoes he had created, but they had around 1500km on the clock at the time.
The Kjerag had sustainability in mind when it was created and the EExpure foam midsole contributes to that long-term durability. It is a shoe aimed at fast-moving runners on the trails and has a 24mm stack of cushioning in the heel with a 6mm drop.
The midsole foam has a rather familiar feel to it, being similar to many Pebax-based road racing shoes. It's pretty soft on impact yet has a good 'energy-return' feel, albeit from a relatively low-profile design.
The sole is a Vibram Metagrip Litebase sole and has 3.5mm deep lugs. These aren't the most aggressive you'll find on an off-road model but they work well on the type of surface the shoe was primarily designed for, firm tracks, gravel trails and tracks.
A Kevlar-reinforced Matryx fabric forms the upper and is both light and super-strong. There's no excess padding here, it's built for speed, but the fit is good.
The Kjerag is a light shoe for moving quickly, so perhaps not an everyday shoe, but in the right conditions, when you're feeling quick, it's a great option.
---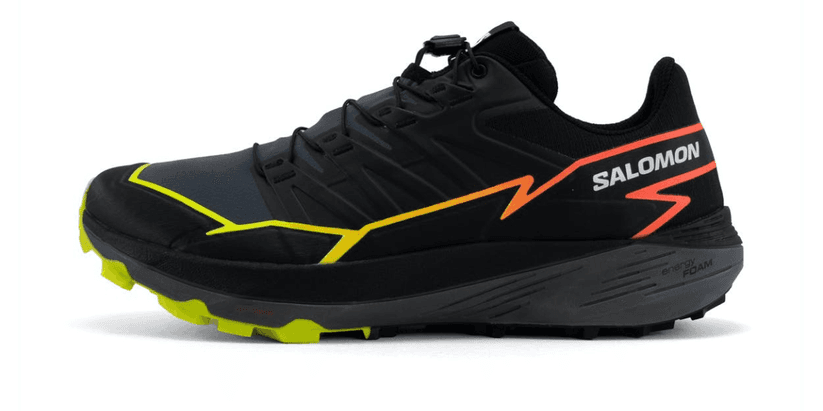 Taking a slightly different approach to trail running shoes this season, Salomon has a range of models that seems to be based a little more on road-going shoes with a trail-capable outsole.
This is no bad thing and it gives this shoe, the Thundercross a slightly broader appeal. It features a high level of cushioning and great outsole lugs for a ride that soaks up the trail but keeps you on your feet.
The 5mm deep outsole lugs are pretty aggressive and the design gives you confidence when descending. The deep chevron pattern bites into the ground and proves just the job on soft or wet ground.
The cushioning is the brand's energy foam, a softer and more responsive material and with a 30mm stack in the heel any trails can be taken in your stride.
The upper is typical of Salomon, a strong, well-made and durable design with a reinforced toe bumper and the usual quicklace for an easy-to-adjust fit.
This is a very capable trail shoe with plenty of cushioning that allows it to be used as an everyday training shoe on the trails.
---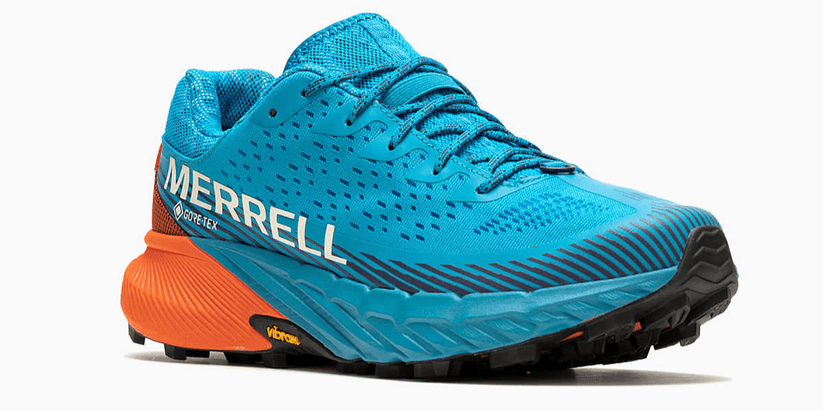 Always one of my favourite off-road shoes, the Agility Peak slides under the radar of many trail runners.
In this Gore-Tex edition, the shoe is even better. While Gore-Tex can be a take-it-or-leave-it type of material in off-road shoes, I am certainly a fan and for the trails and paths I often take, the water-proof upper construction is a brilliant addition to a shoe.
The latest version of the Agility Peak features a softer, more cushioned midsole which improves the feel and with an aggressive Vibram outsole, the grip is great for a variety of surfaces.
For me, this is a real workhorse of a trail shoe. The cushioning is great and I find it very durable, with my current pair having around 300 miles on the clock, they feel as good as new and thanks to the Gore-Tex upper they dry very quickly and are ready to go for back-to-back off-road runs.
It's a shoe that's certainly worth checking out this winter.
---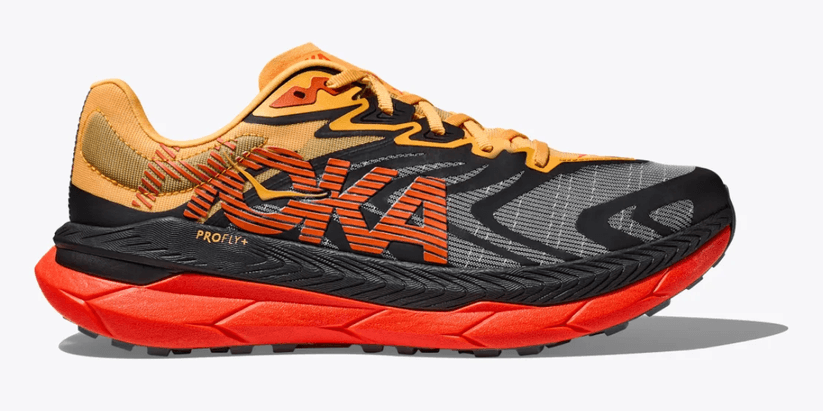 One of two HOKA models in this selection, both shoes are designed for faster-paced off-road running.
This is the second generation Tecton and it retains the twin parallel carbon plates. The twin plate design allows you to enjoy the benefit of more energy return whilst at the same time being able to tackle steep gradients and contours.
The PROFLY-X midsole cushioning is light, even with a deep stack under the foot and this helps keep the weight of the shoe to just 252g.
The 'Matryx' upper is a durable and hydrophobic material which allows it to shed water or mud easily.
The Vibram outsole provides the traction and here its pattern is designed for a variety of terrains in a non-clog pattern for a fast-moving and responsive feel.
---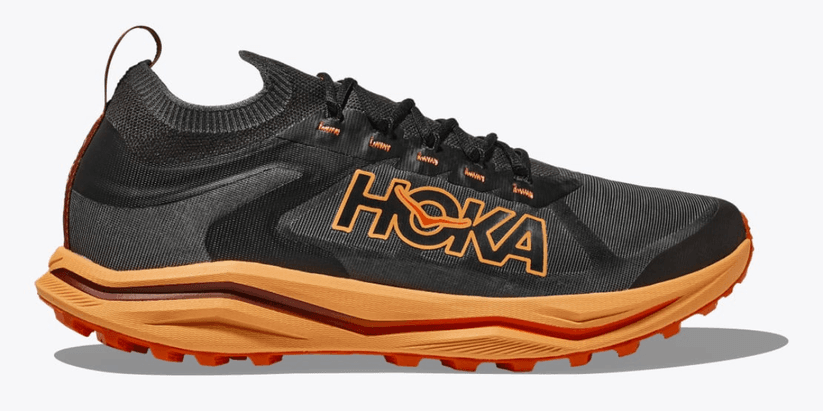 Another off-road model from HOKA, the Zinal 2 is probably the fastest shoe here and has the most minimal design. Reminiscent of fell racing shoes, this model instantly gives the impression of speed.
In this second-generation model, the overall stack height has been reduced by 2mm while the outsole lugs have been increased to a depth of 5mm. These changes make the shoe lighter, more flexible and more aggressive, capable of handling even the roughest terrain.
A stretch-fit ankle collar keeps debris out, which is as good for dry, dusty paths as it is for wet muddy routes.
The shoe instantly provides a confidence-inspiring feel that allows you to attack the trails.
The Vibram Metagrip Lightbase is excellent, as you'd expect and at the same time, it keeps the weight down to a minimum.
This is an off-road shoe that's clearly built for speed and grip and with that in mind it excels. It provides a sure-footed feel in a lightweight package.
---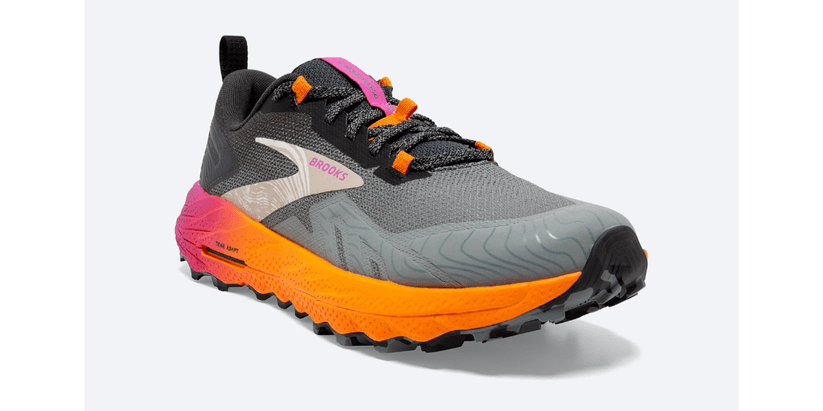 The Brooks Cascadia is a trail shoe that just keeps going and going. One of the longest-running off-road models, it's now in its 17th generation and manages to keep itself as fresh and capable as ever.
I guess the secret to the Cascadia's success it's its all-around combination of grip, cushioning and comfort, making it a go-anywhere trail shoe.
Here the shoe uses the same DNA Loft v2 midsole that you'll find on the popular road shoes, the Ghost and Adrenaline GTS meaning you a getting very capable cushioning.
That cushioning features grooves running both the length and width to allow the shoe to flex in any direction and both keep contact with the ground and adapt to the terrain. It also means that any mud is shed from the sole easily.
The grip is good for anything but the deepest mud, so parks, paths, tracks and trails are all taken in its stride.
As it's a Brooks, the upper is very well made and provides a soft, road shoe-like fit and feel with reinforced sections in key areas to provide both protection and added durability.
For fans of the brand, it's a given as a trail running option and for those who haven't tried the shoe before, it should be on your list if seeking a versatile and well-made trail model.
---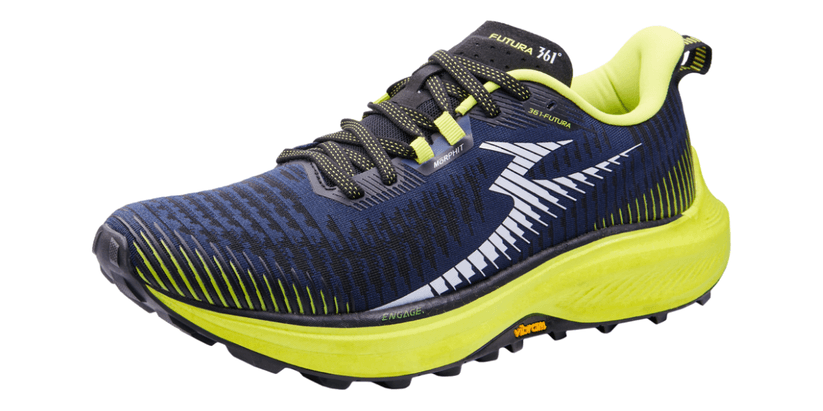 With the brand's 'Engage' midsole cushioning as used in their Centauri road shoe, this trail shoe is both exceptionally well cushioned and has a great feel of energy return not usually found on trail models.
The super-critical foam midsole has a noticeable 'bounce' on firmer trails which gives the shoe a very enjoyable ride.
The Vibram Metagrip outsole is suitable for gravel tracks and fire roads and is actually pretty runnable on short road sections of your run.
The shoe does feel very much like a road-specific model that's been given an off-road makeover, but that's fine when it performs like this.
Rubberised sections of the upper provide protection and durability in areas of possible friction, but otherwise the upper is an engineered mesh construction that provides a road shoe-like fit.
361 is a brand some runners may not be too familiar with, but this good value trail model could be just the thing to try for a winter off-road capable shoe.
---