If you're into cycling, then you won't want to miss the National Cycling Show at the NEC Birmingham from 18-19 June. We've got a free ticket code for you as well as giving you a running down of some of our favourite bits at the show. Body
The National Cycling Show
Cycling is becoming more and more popular each year, and for good reason! It's a great way to get some exercise, have fun, and explore your surroundings. The National Cycling Show is the perfect place to find the perfect bike and all of the accessories you need to get started as well as getting inspired by an amazing line up of speakers.
What's the Cycling Show about?
Whether you're a road biker, mountain biker or just looking for a new way to commute, we have something for everyone at this year's show. With over lots of exhibitors to explore, you're sure to find what you need.
The event allows you to try and buy a variety of bikes including road, mountain, commuter, family and gravel at the show - so that you can be confident in your purchase and hit the ground cycling with the right equipment.
Want free tickets to the show?
Scroll to the bottom of the page for the code.
New to cycling?
We know that it can be tough to find the time or money to invest in a new hobby and sometimes it's hard to know where to start! That's why we love the look of the National Cycling Show at the NEC in Birmingham on 18-19 June. There will be lots of bikes and accessories available at the show, so we're sure you're going to be taking some inspiration and maybe even a new bike home with you.
Speakers at the National Cycling Show

Over two days there will be a range of speakers and celebrities as part of an unmissable programme of live events to engage and inspire you whether a complete newbie to an elite level cyclist. Some of the speakers we're looking forward to watching: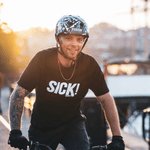 Matty Turner
Matty Turner is a creative genius and one of the best up-and coming talents in UK mountain bike street trials scene today. With over 40 million views on his TikTok channel, he's already established himself as an exceptional cyclist with tricks that will leave you speechless!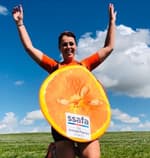 Sally Orange
Sally Orange is a military veteran who has won multiple Guinness world records and an Invictus Games medallist. She's also the only person on Earth to have run marathons in every continent while dressed as different pieces of fruit! Her personality shines through with this one: she really does love life too much for anything less than fancy dress strutting around town celebrating all her successes - be they sporting or culinary (or both!).
Inspired by her surname, Sally completed her first marathon dressed as an orange in a bid to show that sport and exercise doesn't have to be about being the fastest or the fittest. We're sure this will be a great talk to not miss!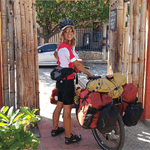 Kate Rawles
Kate Rawles is passionate about using adventurous journeys – usually by bike – to help raise awareness and inspire action on our most urgent environmental challenges. In 2017/18 she rode The Life Cycle, an 8288 mile largely solo journey the length of South America on a bamboo bike she built herself. En route she explored biodiversity: what it is, why it matters and what can be done to protect it. Look out for The Life Cycle book, coming out with Icon Books in Spring '23.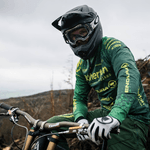 Dan Atherton
Dan Atherton is "an inspiration to a generation of bikers" One of the world's greatest bike handlers he's renowned as a trail-building "creative genius", who created Dyfi Bike Park and Red Bull Hardline. He built his first bike when he was 10 years old.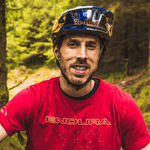 Gee Atherton
In 2004, at the age of 19, Gee won his first Downhill World Cup on the technically challenging track in the Austrian resort of Schladming. A win at this level may have seemed inevitable after his results in the junior categories, including two World Championship medals, but to gain it at such a young age was outstanding.

The 2019 season saw Gee embark on a new venture with his very own Atherton Bikes brand alongside his sister, Rachel, where he raced and developed their new DH bike on the World Cup circuit, ending the year with another podium performance at the world's toughest downhill race, Red Bull Hardline, with a strong second place.
See the full line up of speakers and programme for the National Cycling Show here. 

Features at the National Cycling Show
Graystone Freestyle Zone
Graystone is the Home of Action Sports and we're stoked to see them bringing a little piece of their park to the National Cycling Show for the first time. Their super-talented bike and BMX coaches will be offering free 'Intro to Freestyle Biking' sessions for total newbies or those who want to brush up on their freestyle skills, led by their Head Coach, Rob Sidlow. Visit their stand to sign up for the skills sessions or just to say 'hi' and learn more about why we are known as 'The Home of Action Sports'. Click here for details. 
The Bike Clinic
Lots of us could use a little extra help when it comes to repairs, tools and equipment when fixing or upgrading our bikes. We're looking forward to getting some advice from the experts at Spokes People, the Cytech training providers will be on hand to answer your questions and give bike advice! Click here for details.
Black Champions in Cycling

Dr Marlon Moncrieffe is a former road and track cyclist, now an academic and world leading expert on the history and lives of Black cycling champions.
His original research and exhibitions entitled Made in Britain: Uncovering the life-histories of Black-British Champions in Cycling has won wide international acclaim for its anti-racist messaging for supporting diversity and inclusion in cycling. Click here for details.
The Static Bike zone

Visitors to the Static Bike Zone will have a blast testing their skills against other cyclists in interactive sessions throughout both days. The opportunity for some friendly competition never gets old, and who doesn't love pushing themselves harder than they thought possible? Click here for details. 
Free tickets to the National Cycling Show
Get your free tickets by using the code OUTSIDE at the checkout here.