This article is provided by our friends at Mounts. 
Mounts – Expectation vs Reality – Our mission and development guide
A major part of starting our journey with mounts was not only to create the tools an outdoor parent needs to get back on the trail as soon as possible, but to also help guide the new parent with practical advice and resources … so they won't make the same mistakes we made!
One of the most common pieces of advice that we give is that reality often doesn't match expectations. Most parents that we meet have grand ambitions of being an outdoor family, potentially to relive fond childhood memories, or to create new memories involving their children in the activities they loved to do before parenthood. We were exactly the same…
During our first bleary and sleep-deprived year as parents, our capabilities to organise and get out of the house were severely impacted by our overriding desire to sleep! Our warm memories of childhood family expeditions were a memory that we mistakenly applied to our baby/toddler. The buying spree of bikes, scooters, balls, and equipment at the wrong age was ambitious and wasteful. Wasteful not only in space they took up sitting unused in our house but also wasteful in the additional toys that we needed to plug the gap until they were ready to use them! Our expectations simply did not meet reality. Some memorable examples are buying my daughter a scooter shortly after her first birthday, and then a 10lb balance bike for her second Christmas. Both items sat in the closet for anywhere between six months to a year.
To help others, we created the below graphic as a guide for the ambitious outdoor parent. This chart shows the recommended age for sports and activities, or around when most children are ready to start learning and participating in that activity. It has been invaluable to our family to have these correct milestones in our minds, and we hope it will be a valuable resource for your family too. It should be an accurate reflection for most children, but of course your child is the next Alex Honnold, Emma Raducanu, Travis Rice or Simon Biles – then this chart doesn't apply! Just remember: expectations versus reality!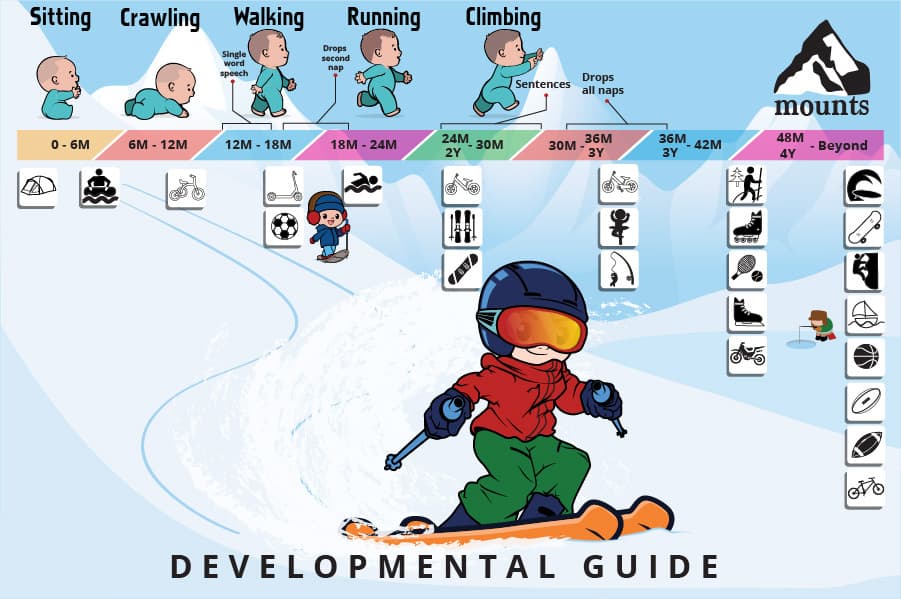 Outdoor Activities with Kids
We are always amazed that one of the first outdoor activities your child can actively participate in is the summer-time camping excursion. When camping, your young child is not just an observer strapped into the baby carrier. Instead, they will go through many of the same experiences that a camping expedition offers. They need to eat what can be stored, sourced, or travelled; they need to sleep amid lots of new night-time noises, and they are exposed to all the variations that the elements throw at you. They are camping!
We are equally amazed at the significant activity gap between birth and age two-three, which when your child can finally participate in many outdoor activities and sports that you had dreamt of. What this effectively means is that there is two-to-three year gap where you may have to give up regularly doing the outdoor activities that you loved pre-parenthood while you commit to fulfilling your duties as a parent. Add a second or third child into the rotation, and you could quickly be missing out on a decade of your favourite outdoor activities. If you're a new or expecting parent … let that sink in for a second! This is why we conceived mounts. We truly want to build the tools and gear to help you get back out on the trail safer, sooner and with more ease.
For more help and advice – please click here.