About Anna
Anna is an adventurer, speaker, author and mischief maker. Named by the Guardian as one of the top female adventurers of our time, Condé Nast Traveller included her in a list of the 50 most influential travellers in the world. She is the UK ambassador for Girl Guiding, and has cycled over 20,000 miles in Europe and the Americas, including through all 50 states of the USA. She has also run the length of New Zealand, and has a penchant for rollerblading.
In the summer of 2019 she set off on her most ambitious adventure yet – an attempt to run 2,620 miles (100 marathons) through Britain… in her bare feet.
Step into an adventure that set the country alight
Anna McNuff had never run a mile without shoes on before. And yet, one British summer, she set off to run a (very) wiggly route from the Shetland Islands to London – on a mission to cover the distance of 100 marathons… in bare feet.
Fuelled by a desire to push mind and body to the limit (and to drink tea, and eat biscuits), she zigzagged over rugged coastlines, through small villages, across windswept moors, along golden sandy beaches and even down the odd picturesque A-road. As the journey gathered pace, she was joined by thousands of other runners and soon learned that, even though she was (usually) the only one in bare feet, this was far from a solo journey.
Barefoot Britain is warm-hearted, funny and painfully honest – featuring remote islands, big cities, kind strangers and setbacks-a-plenty. It's a story which reveals the messy reality of taking on a crazy idea and, above all, shows how one person's will to dig deep and carry on can encourage others to do the same.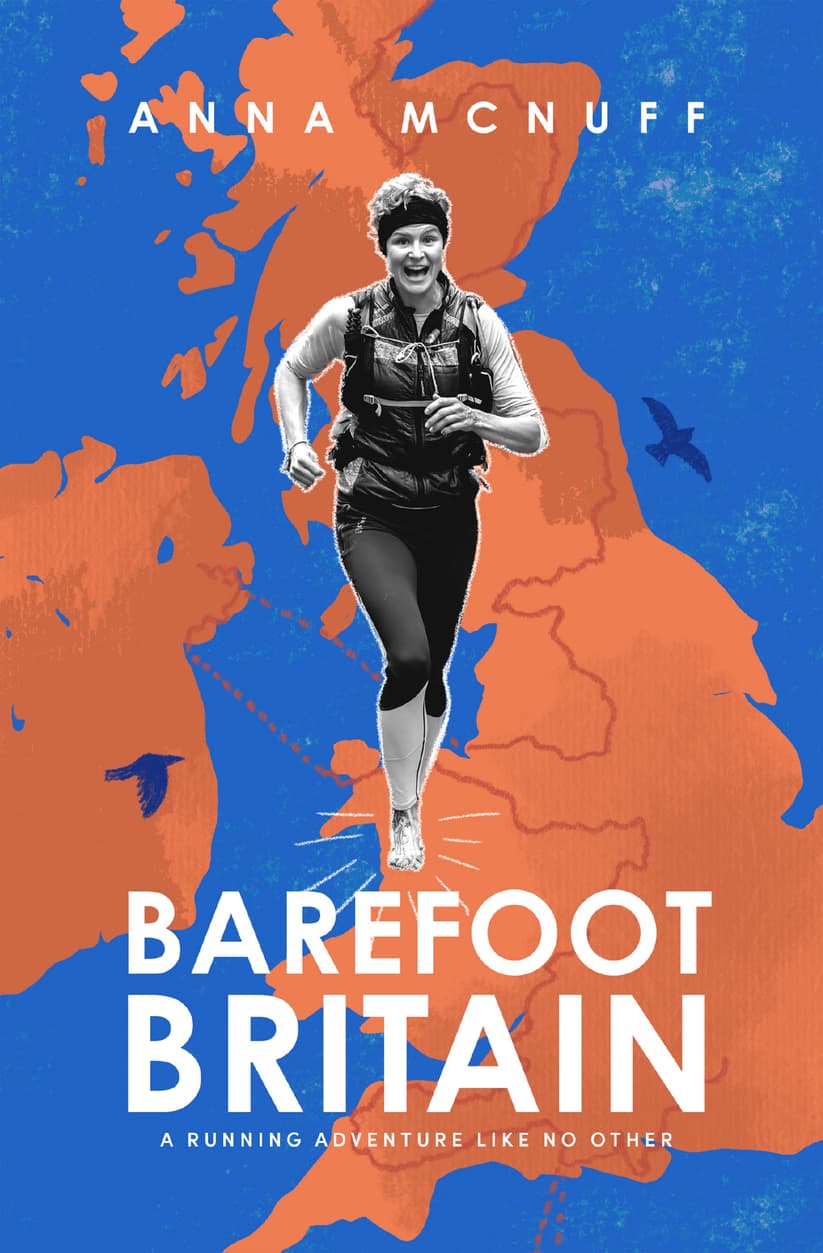 Previous big adventures
2017: Part of a two-woman team who cycled 5,500 miles through South America's Andean mountains, ascending over 100,000 metres on a bike - more than 11 times the height of Everest.
2015: Set out on a 2,000 mile run along New Zealand's Te Araroa trail. Running up to 32 miles in a day, she carried all of her belongings in a backpack that was often as heavy at 20kgs.
2013: Cycled 11,000 miles through each and every state of the USA, from Alaska to Hawaii, solo and unsupported.
You can find out more about these adventures over on Anna's website.
About the run
In the summer of 2019, Anna McNuff set off to attempt to run the distance of 100 marathons through Britain – completely barefoot.
Starting in the Shetland Islands and ending five months later in London - she took a winding route taking in lots of the mainland but also The Isle of Man, Northern Ireland, The Channel Islands and the Isle of Wight.
There were many mishaps and disasters along the way, but helping to keep her going through the tough times was a mission to deliver talks to over 1,700 young women in Girl-guiding units. In these talks she encouraged the young women of Britain to be bold, be brave and believe that they are capable of more. Anna was also was joined by over 2,500 local runners during 148 days on the road
There was no support crew but somehow the kind British public and passed her kit bag along between them, from one town to the next, like a giant baton while she ran.
It was a story that reached over 100 million people through international media and without a doubt the toughest and yet most amazing journey of her life.
How can I get the book!?
The book is available as an audiobook, paperback and eBook. Either at annamcnuffbooks.com or via Amazon.
You can also follow Anna's journeys and adventures over on her Instagram account which you can access by clicking here.