Heard the term bikepacking before and not sure what it's all about? Read on to get clued up on all things panier travel.
Heard the term bikepacking and not too sure what it's all about? Or maybe it sounds like something you're interested in it but don't know where to start? On Saturday, June 18, three leading experts will be hosting at talk at the show, discussing everything from the kit and the bike through to where to go and what not to bring. The panel, made up of Vedangi Kulkarni (the youngest woman to cycle solo around the globe), Mildred Locke (cycling journalist and ride leader) and Rachael Walker (Cycling UK engagement officer) will also be taking questions at the end but in the meantime, they've helped us pull together this handy guide to get things started.
What is bikepacking?
Bikepacking is a relatively recent phenomenon. That's not to say people haven't explored remote places with lightweight set-ups before but what differentiates this new wave of bikepacking is the specialised gear that's emerged and the popularisation of long-distance off-grid routes. Today, bikepacking is perhaps best described as lightweight, multi-day bike touring, largely on dirt roads.
The real appeal in bikepacking is its ability to offer the best of all worlds: the sense of remoteness that comes with mountain biking, the sense of self-sufficiency on a longer tour and the thrill of exploration on a bike that's light enough to really enjoy the riding. Plus you can often cover greater distances with less effort.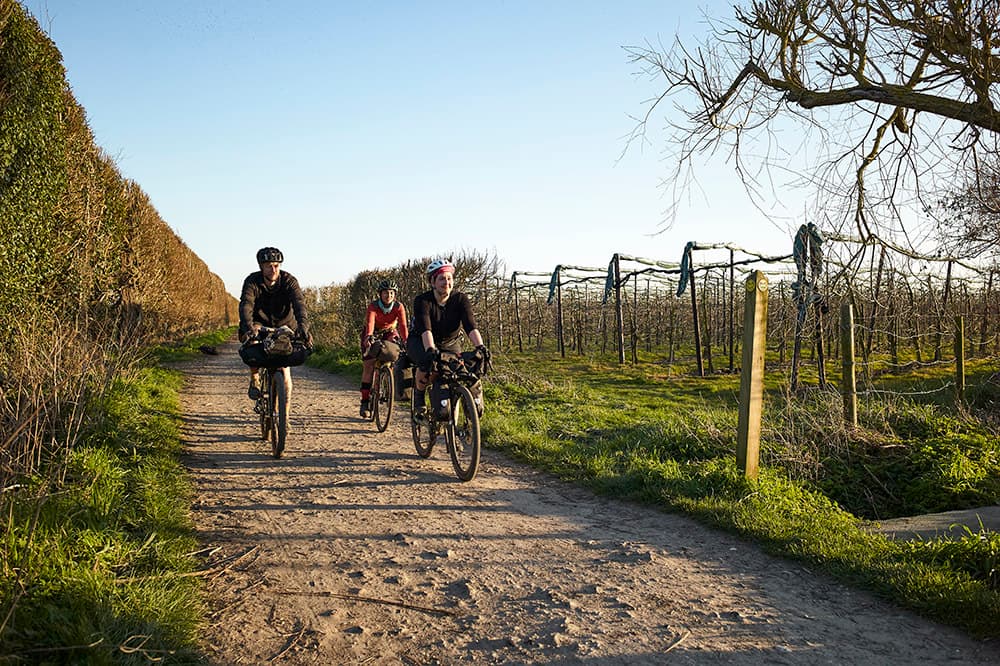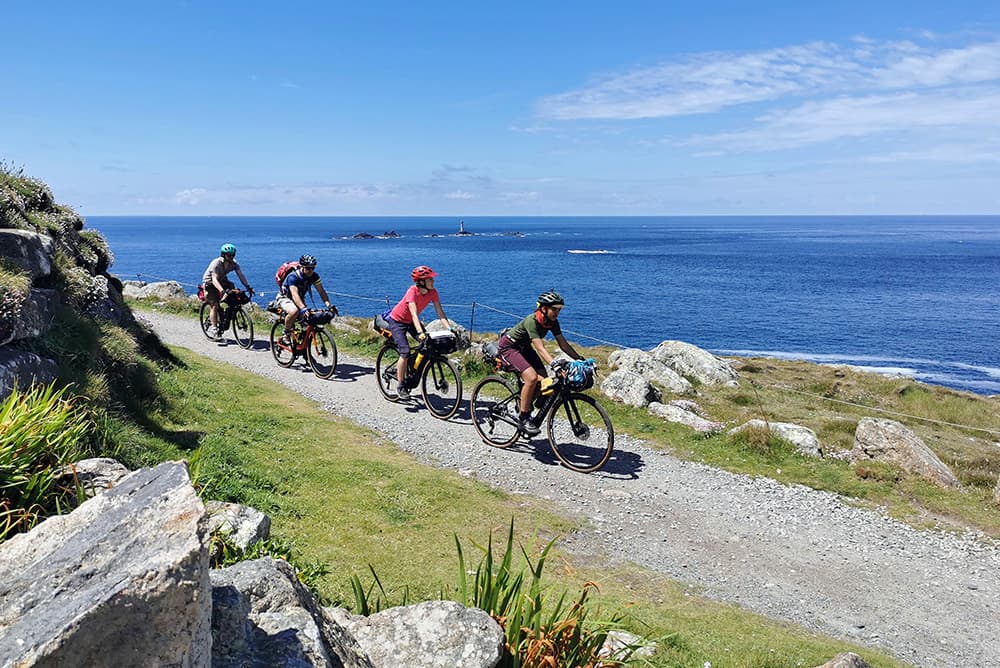 Bikepacking bags
What tends to make bikepacking bikepacking rather than touring, is the use of smaller soft bags that affix straight to the bike rather than to a separate rack. Bikepacking set ups tend to be lighter than traditional panniers and their flexibility makes them more suitable to exploring off the beaten path.
Typical bikepacking set ups consist of a handlebar roll, accessory pouch, framebag and seatpack. As a rule of thumb, the bulkier items that are required less often, such as sleeping kit and a change of clothes, are kept in the handlebar roll and the seatpack while food, phones, wallets, windproofs etc. are kept in the accessory pouches and framebag. The list of brands that produce bikepacking bags grows almost weekly but some of the more popular brands including Alpkit, Apidura, Brooks, Ortlieb and Restrap.
The downside to bikepacking set ups is that storage is limited; a typical two pannier and bar bag outfit will give you around 47l storage, while bikepacking bags will deliver around 30l. This is brought into sharper focus for riders who use smaller frames; a problem Mildred Locke is familiar with.
"Once frames are under 52cm, finding room to store all your stuff becomes really difficult," says Mildred. "I've started using Tailfin bags, which are halfway between bikepacking bags and traditional panniers. They allow me to carry everything I need on a smaller frame."
Mildred's other trick is to double up uses of items where possible, such as using a microfibre towel as an extra blanket at night.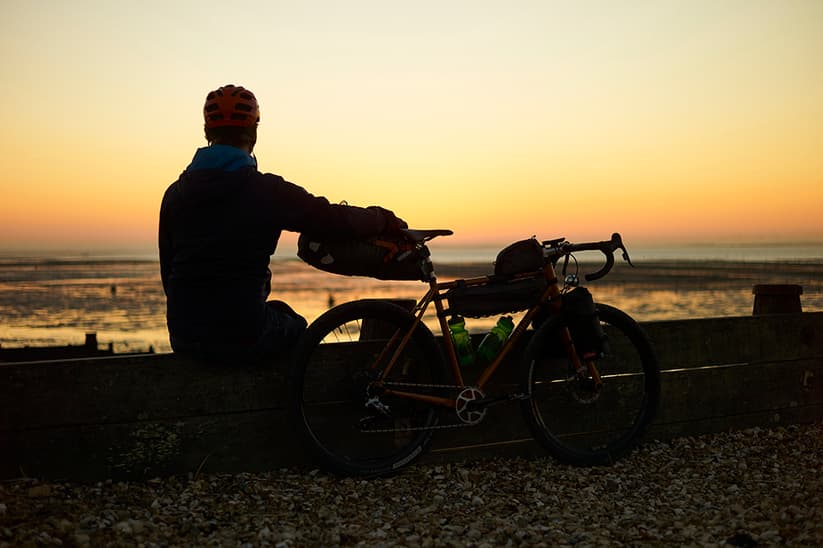 Bikepacking Bike
The beauty of bikepacking is that there isn't really a right bike. Bikepacking can be done on a road bike, a mountain bike, a hybrid bike, a gravel bike – anything with wheels really. Instead, it's more about choosing a bike that will be comfortable for the terrain and distance intended. That said, gravel bikes are some of the most popular options for bikepackers, as they strike a happy medium for riding most types of terrain.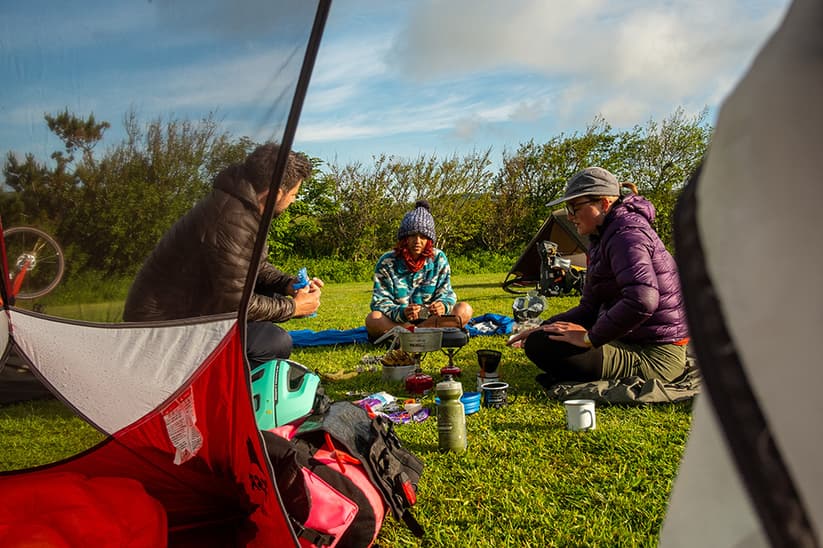 Camping out
Because of the restricted space, and desire for as lightweight a set up as possible, many bikepackers opt for a bivvi bag over a tent. If space allows, the addition of a tarp can add extra shelter if the weather turns particularly nasty. If you are tarping, it's easy enough to use the bike to help create a more structured shelter, as explained in this handy video: https://www.cyclinguk.org/arti...
If the plan is to camp out solo or wild camp where it's permitted, such as in Scotland or on Dartmoor, then there are a few golden rules, which Vedangi Kulkarni recommends.
"I always look for somewhere that's flat, isn't too close to a river and is a little bit of distance from a trail for privacy," says Vedangi. "I try to stay away from trees because falling branches can be a hazard and birds can be very loud first thing in the morning. I don't worry too much about my bike – I've never heard of one being stolen while asleep – but even so I tend to position myself between the bike and the access route. If you're wild camping in Scotland and you're using a bivvi, a midge net is essential. Last, but maybe most importantly, is that when wild camping you should arrive late, head off early and leave no trace."
There's a more in-depth guide, with video from Vedangi, on how to wild camp responsibly here: https://www.cyclinguk.org/blog...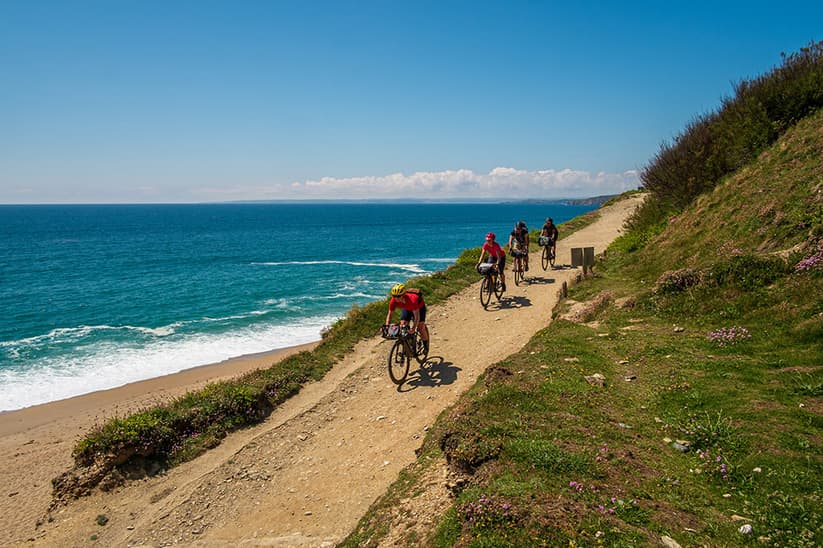 Want to know more?
If reading this has got your creative juice flowing, or left you with even more questions, then pop along to the bikepacking talk at 3pm on Saturday June 18, on the Inspiration stage. There's also much more information on the Cycling UK bikepacking knowledge hub, which can be found here.
Want some inspiration for your next cycling adventure? Have a look at these epic cycle routes around the UK here. 
This article was provided by our friends at Cycling UK. Catch them this weekend at the National Cycling Show in Birmingham where they are talking about Bikepacking on stage at 15.00 with Vedangi Kulkarni, Katherine Moore and Mildred Locke.  To get tickets or view the full schedule, click here.