If you're looking for an adventure, consider climbing Mount Toubkal in Morocco.
This mountain is the highest peak in North Africa, and it offers a challenging but rewarding experience. Before you set out on your journey, make sure you know what to expect. In this article, we will discuss 10 things you should know before climbing mount toubkal!
ADVENTURE TRAVEL: CLIMBING MOUNT TOUBKAL, NORTH AFRICA'S HIGHEST PEAK
Mount Toubkal is located in the High Atlas mountain range in Morocco. At 4,167 meters (13,671 feet) above sea level, it is the highest peak in North Africa. The climb to the summit is challenging but rewarding, and offers stunning views of the surrounding landscape.
This is not a mountaineering expedition, but you do need to be physically fit to climb Mount Toubkal. If you want to enjoy the Berber culture with trekking in the stunning High Atlas scenery, you should consider Mount Toubkal.
Before you attempt to climb Mount Toubkal, there are a few things you should know.
It's remote
Mount Toubkal is remote and it takes some effort to get there but isn't out of reach of reasonably fit trekkers. The nearest town is Imlil, which is about a two-hour drive from Marrakech. From Imlil, it's a three- to four-hour hike to the mount Toubkal base camp (Refuge de Toubkal).
Morocco's highest peak has captivated mountaineers for centuries. The ascent up the rocky giant of North Africa — the tallest in the region — is no picnic, but is accessible to anyone in good shape and hungry for a thrilling high-altitude adventure.
Traditional Amazigh (Berber) communities line the route on this trip and you'll have plenty of time to learn their customs through village visits and overnight camping with hearty home-cooked meals.
The Tizi n Tichka Pass
Located at an altitude of 2,905 meters (9,521 feet), the Tizi n Tacht Pass is a steep and narrow mountain trail that leads from the Imlil Valley to the mount Toubkal base camp. It's a challenging but rewarding hike, and offers stunning views of the surrounding landscape.
The hike takes three to four hours, and it's recommended that you start early in the morning to avoid the heat. Whilst on the pass, you'll see some amazing views of Mount Toubkal, as well as the valley below.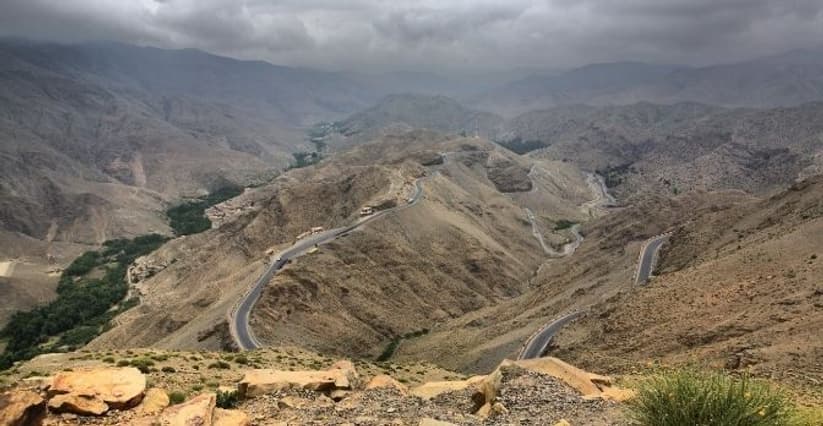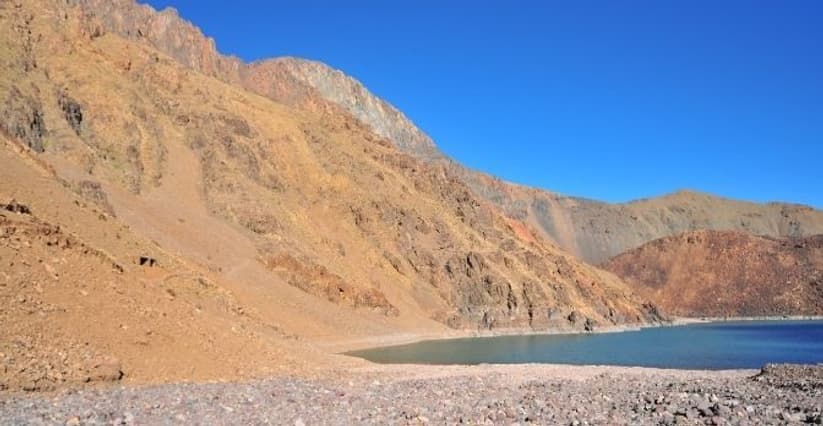 Lake Ifni
It's likely you'll pass through Lake Ifni, a small lake located at an altitude of approximately 2295meters (7,530 feet). The lake is a popular spot for mountaineers, and it's a great place to take a break and enjoy the views.
The water here is precious to the local communities as it's the only source of water for miles around. As a result, please be respectful and do not swim in the lake.
Refuge du Toubkal
Often referred to as basecamp Toubkal, Refuge du Toubkal is the highest mountain hut in North Africa. It's situated at an altitude of 3,207 meters (11,530 feet). It's a great place to recharge your batteries before making the final push to the summit with a traditional Berber mint tea before the final morning summit.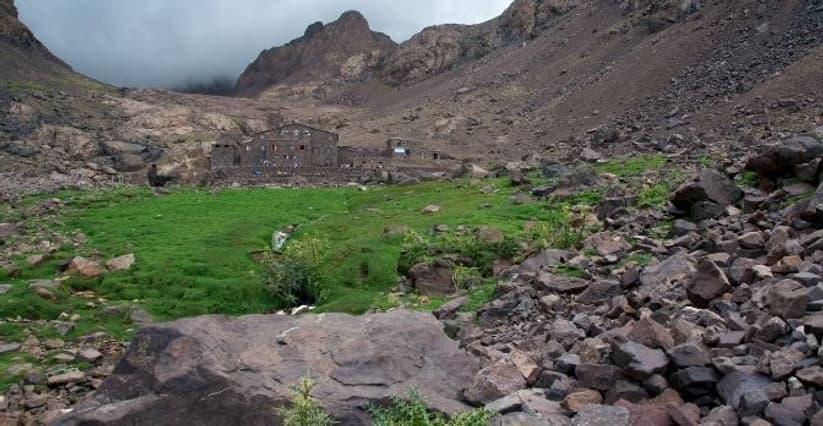 The Views at Mount Toubkal
The views on the way up are spectacular, but nothing compares to what you'll see (and feel) at the top of North Africa's highest peak.
Some of the greatest views you'll see on the trip are from the mount Toubkal summit. The mount Toubkal massif is visible for miles in every direction and you won't be disappointed by the views from the top.
Reaching the summit is no easy feat, but it's worth it for the incredible views.
The feeling of accomplishment that comes with summiting mount Toubkal is unmatched. Not to mention, the bragging rights you'll have for the rest of your life!
You might be wondering what to expect when you reach the mount Toubkal summit.
Top Tips for The Summit of Mount Toubkal
First, the air is thin at such high altitude, so take your time to catch your breath and enjoy the view. Second, it's cold at the top, even in summer, so make sure you're prepared with the proper clothing so you can soak up the views.
And lastly, the mount Toubkal summit is a great place to reflect on your journey and enjoy the sense of accomplishment that comes with reaching the top of North Africa's highest peak.
Climbing mount Toubkal is an adventure and one that should be on everyone's bucket list of adventures. With proper preparation, you're sure to have an amazing and memorable experience.
What to wear on your trek
The mount Toubkal region has a Mediterranean climate, which means that it's warm during the day and cool at night.
During the summer months (June to September), daytime temperatures can reach up to 30 degrees Celsius (86 degrees Fahrenheit).
At night, the temperature can drop below freezing, so it's important to pack accordingly.
We recommend packing layered clothing that you can easily take on and off as the temperature changes throughout the day.
A good pair of hiking boots is also essential, as the terrain can be rocky and uneven.
Finally, don't forget to pack sunscreen, a hat, and sunglasses to protect you from the strong Mount Toubkal sun.
When to go
The best time to climb Mount Toubkal is during the spring or autumn months, although with the warm weather almost year round, there's never a bad time to go - just be prepared with the appropriate clothing and gear! You are just more likely to avoid the extremes of hot or cold outside of these times.
It's also worth noting that mount Toubkal is one of the busiest times of year, so if you're looking for a more solitary experience, we recommend avoiding the peak season.



The Berber People
The mount Toubkal region is home to the Berber people - an ethnic group native to North Africa. Also known as the Imazighen, the Berber people have a rich culture and history.
The Berbers are known for their hospitality and you're sure to receive a warm welcome if you find yourself in one of their villages, though do bear in mind the amount of tourism that comes through the region. Always be respectful of their time.
One of the best ways to experience the Atlas mountain region and the Berber culture is to trek with a local guide.
Not only will they be able to show you the best trails, but they'll also be able to share their knowledge of the mountainous region and its history.
Guided Tours of Mount Toubkal
Whilst you won't necessarily need technical climbing skills, you do need to be fit to get the most out of this epic adventure and a guided tour, such as that provided by Whereabouts Holidays (click here), will help ensure you enjoy this adventurous trek. Tour companies will also be able to help with equipment rental and organizing permits.
In short, mount Toubkal is an amazing adventure that should be on everyone's bucket list. With proper preparation, you're sure to have an unforgettable experience. So what are you waiting for? Start planning your trip today.
Have you ever climbed mount Toubkal? What tips would you add to this list? Let us know in the comments below!