With the advent of Spring and daylight savings time we can finally begin to hit the trails while enjoying some decent weather. Well…at least better weather than the winter.
We can now look forward to a slightly unpredictable mix of showers, cool temperatures and the odd heatwave thrown in. In other words, you just have to be prepared for anything. Which means that it is the perfect time to give your running kit a good re-gig. In effect, making the transition to running and exploring the great outdoors this Spring.
Although the welcome arrival of daylight savings time means that the sun may be out for longer, the temperatures most mornings still remain stubbornly in the single digits. So you may not yet be able to completely abandon your gloves and snood. Despite this, some brave people transition straight to their summer running kit at the first sign of Spring, almost as a challenge to the elements. And if you are not out for long and are truly comfortable wearing very little then by all means dive headfirst into your wardrobe of many singlets. But for everyone else and especially if you are going to be heading out for more than an hour, it still pays to stick to layers. Because whether you are parkrun-ing, training for an event or trekking up mountain trails, the changing temperatures can take you by surprise.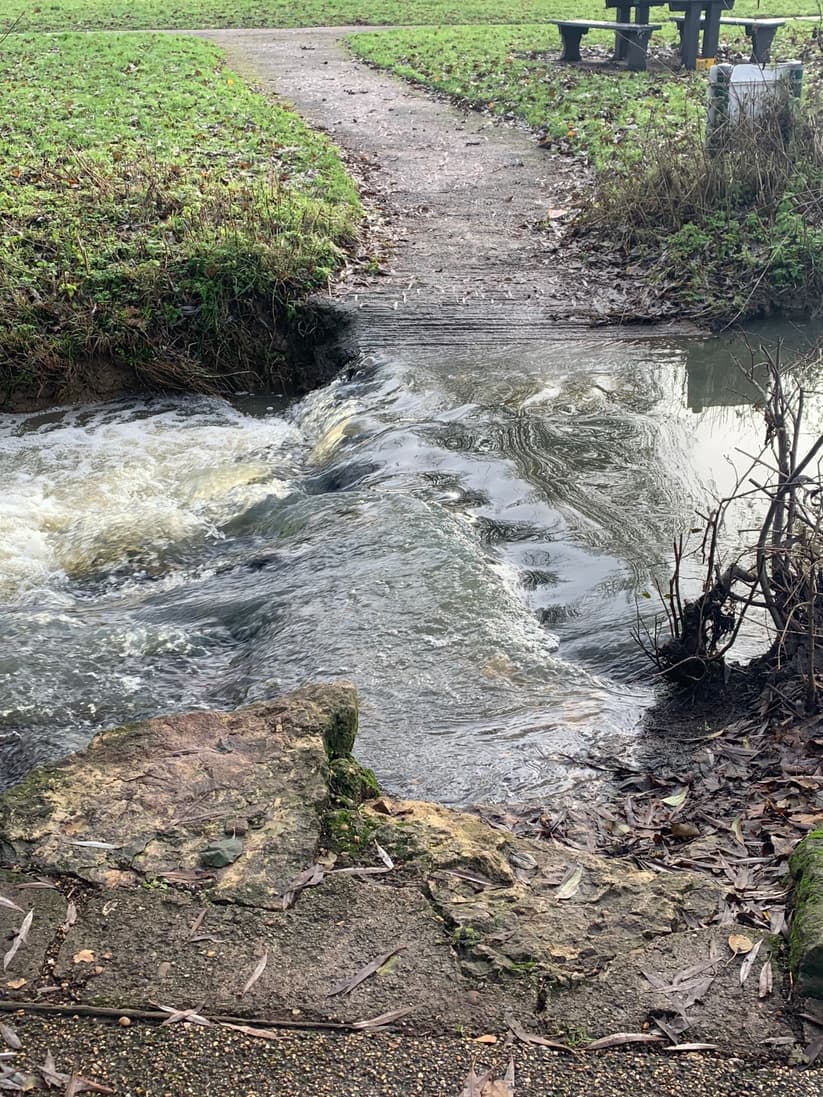 You may have already been layering up while running throughout the last cold months. But now is the time to transition this kit to Spring temperatures. It may feel counter-intuitive at first to pack away your thick woollies and wear less when there's a definite chill in the air. However, you are more likely to overheat and feel uncomfortable by wearing winter kit. Instead double up with thinner tops to keep you insulated as you become acclimatised and warm up through exercise. 
The key thing to remember here is to choose t-shirts and long-sleeved tops that are breathable and sweat-wicking to keep you dry, comfortable and to prevent any chafing. Layering with thinner tops also allows you to peel them off if you get too hot or pop them on again if the weather changes. So don't forget to only wear tops that you can easily remove on the go and are willing to carry or tie around your waist for the rest of a workout.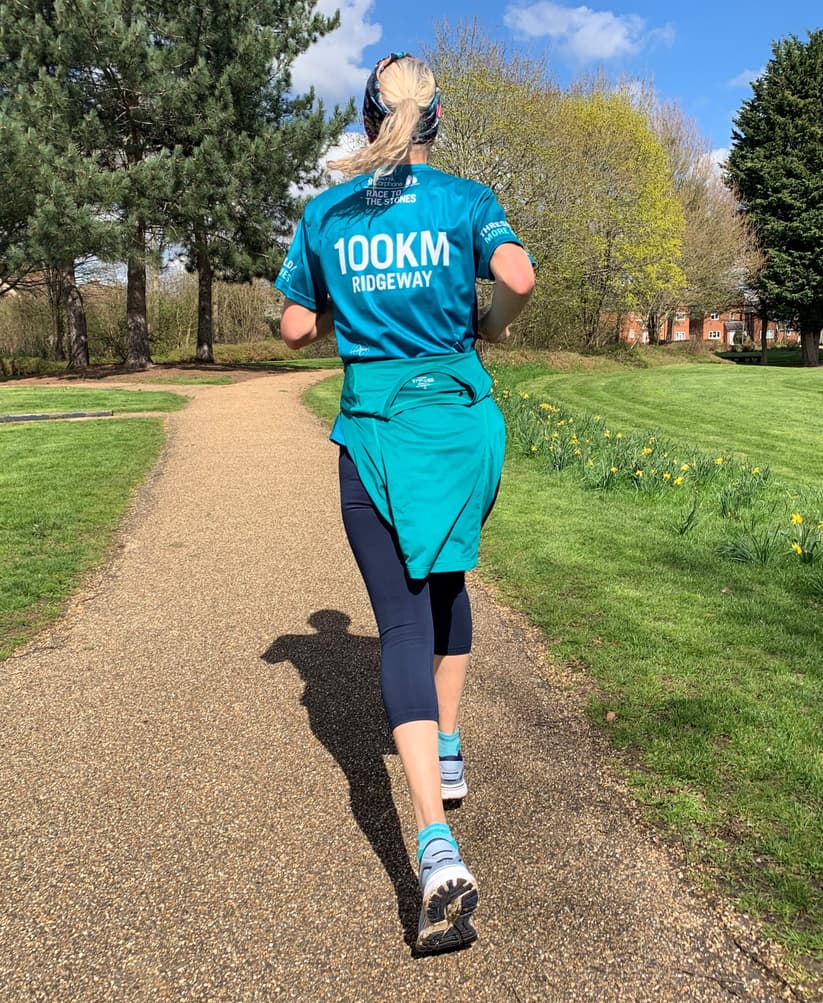 When it comes to your feet, transitioning to running in the Spring means having to face up to your sock drawer in order to root out those long past their use by date. If you're like most runners, the worst offenders will be the same pairs that you have religiously stuck to wearing for every single workout. You will probably have plenty of other socks that look practically new yet are rarely worn. 
They fill up the bulk of your sock drawer but they either rub your toes, disappear down your heel or you simply don't like them. Whatever the reason, transition to running in Spring by replacing the worn socks with the same new because they clearly work for your feet. Additionally, try slightly thinner versions of the same that are more breathable to cope with the rising temperatures. Keeping your feet comfortable and cool will help to stop them from swelling, rubbing and will ultimately, prevent the enemy of all runners from appearing, blisters.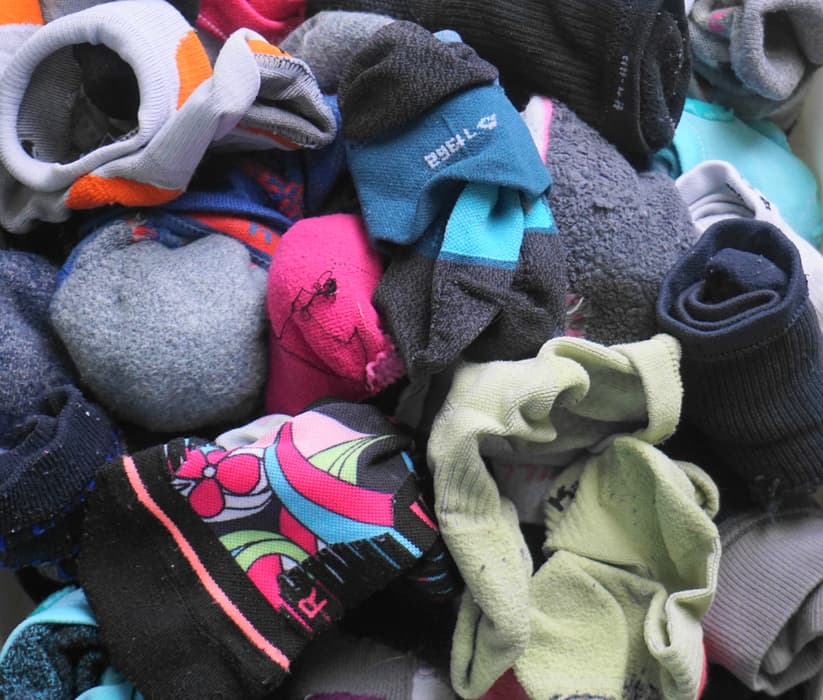 Transitioning to running in Spring also means that you can finally leave your bobble hat behind. But with the mix of rain and sun you might not want to forget about your headwear. Wearing a hat or cap to protect yourself from the sun will also shield you from the rain. Not to mention, even a light hat can provide a bit of warmth on a windy day. On cloudier days a snood worn as a headband can keep the morning chills at bay without letting you overheat. 
It's also sensible to think about protecting your skin from UVA/UVB rays by wearing a sun factor even on cloudy days. Especially if you know that you are going to be out for hours or are heading up to a much higher elevation. It may be Spring but if the temperatures rise and you are not mindful you can still get a sunburn and even sunstroke.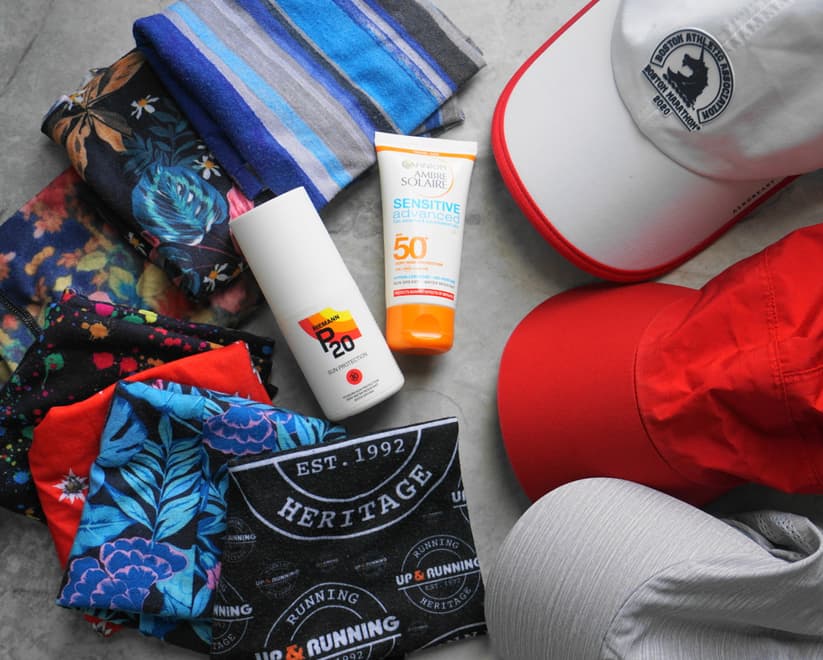 Lastly, one of the biggest additions to your kit when you are transitioning to running in the Spring is to start bringing a drink. Water is always the best choice because it hydrates, is freely available, doesn't cause gastrointestinal issues and is kind to your teeth. And unless it is absolutely sweltering outside or you are losing excessive amounts of sweat, water will do the job of hydrating if you are running for up to 90min in duration. Once you start getting past the 90min mark it can really help to use a sports drink that contains electrolytes. These drinks can help replace the fluids lost in sweat and also provide a source of energy to keep you going.
Depending on your running route and the type of workout you are doing you can either leave a drink somewhere safe where you will be passing once again or you can simply carry a water bottle in your hand as you run. If you are running for longer distances it may make more sense to invest in a hydration vest with a bladder and/or water bottles. If you opt for a vest then do some online research and speak to other runners first. They are not all the same and it is a matter of finding the one that suits you best. Wearing a bad fitting vest will make it more difficult to run and drink and may cause chaffing. If possible, try one out before buying because just like any piece of kit, if you wear something uncomfortable it can ruin what might otherwise have been a glorious Spring run.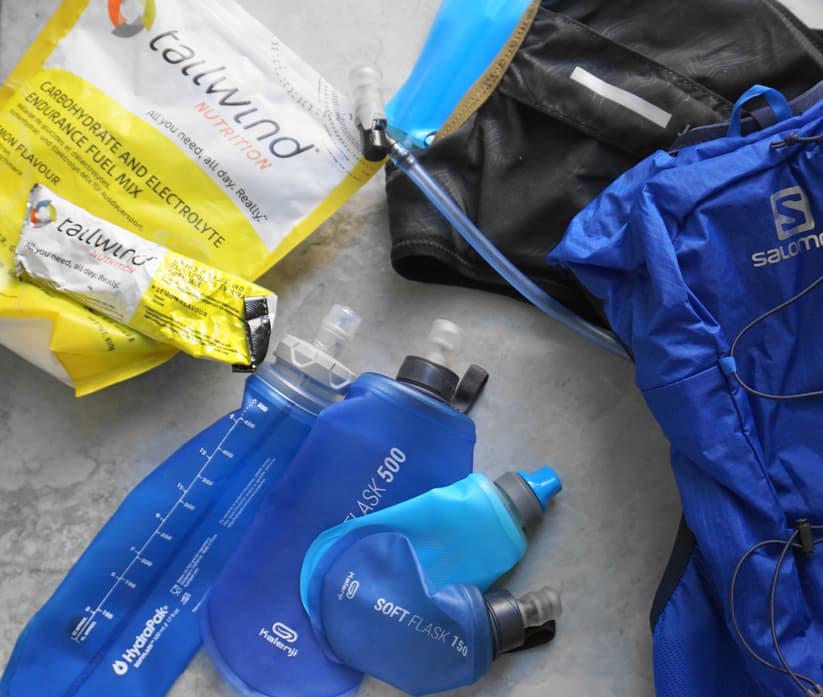 Hopefully these seasonal tips will help you make a seamless transition to running in the Spring. As more running events begin to take place, we have to hope that we have finally left the frost behind us and the weather will continue to improve. But in the meantime, I may just wait a little longer to pack away my gloves…
Another nice change to make as you transition to running in the Spring is in your breakfast. With the availability of more berries around why not try some on top of some Healthy PB granola? This recipe will help fuel you to run in any weather.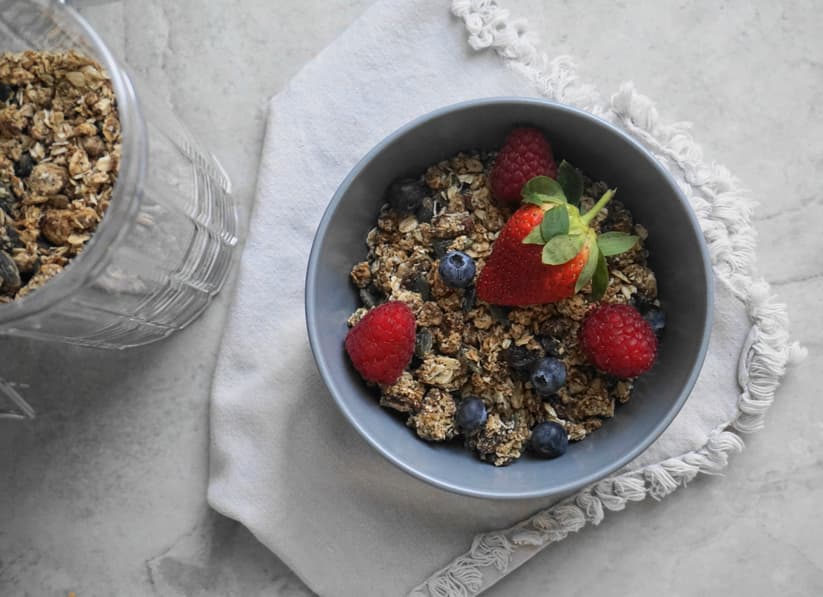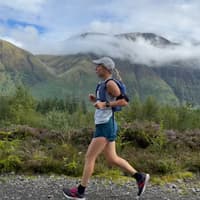 I am originally from Canada but I settled in the UK after studying at university. Sports have always been a part of my life and I have participated and competed in several throughout my childhood. But today I would describe myself as mostly a runner, a mother of 3 grown-ups and a keen cook. As a teenager I was a sprinter and a slightly reluctant cross-country runner but while my children grew up I started to run further and further distances. I never thought that I could ever run anything longer than a half marathon but when my runner husband decided to do a marathon for his 50th in 2019 I found that I had a serious case of FOMO. My children encouraged me to sign up for my first marathon and I ran it just to see if I could finish. Somehow my time was good enough to qualify for the Boston 2020 Marathon. However, due to Covid it was postponed several times.
Like many other runners, I spent much of my time in the Covid lockdown keeping up my fitness by participating in virtual races while waiting for the real events to start up again. As time went on I found myself becoming fully immersed in the world of endurance running and ran the Threshold Trail Series ultra, Race to the Stones. Unfortunately, by the time the Boston Marathon was finally held in late 2021, I could not go because US travel restrictions were still in place. Although I missed my chance to run it and will now have to requalify again at least my time spent keeping in good shape wasn't wasted. These days I participate in everything from half marathons up to ultras and have also run the Great Glen Way and West Highland Way in the Scottish Highlands.
I also work as a Registered Nutritionist with children and families and founded the consultancy Just add water® in 2019. I write a blog at https://justaddwaterblog.com/ to give free information and advice about nutrition and running whilst also sharing some of my favourite healthy recipes. The website is mainly aimed at busy families who want to make easy to prepare meals that are both healthy and really tasty, and for active families who want to know what they should be eating before, during and after playing sport.
I have always enjoyed cooking and previously cooked as a profession and I like to share my passion for good food. I have been involved in teaching cookery in schools, children's centres and for the NHS. I also enjoy entering the odd competition to push myself out of my comfort zone. I was awarded Highly Commended at the Teflon™ Diamond Standard Awards 2020 national culinary competition in the category of Keen Home Cook and was a National Finalist in 2022 & 2019. I have also had my recipes published in The Guardian's supplement, Cook; and featured in the 2012 Waitrose LOVE life calendar (July); and selected for inclusion in the 2020 #AnyWhichWayaBix Weetabix recipe book.