Already need some motivation as you start 2023? Look no further for some sensible advice and a healthy recipe, too.
It's all too easy to begin the New Year full of good intentions and fitness plans. Especially when you have spent the last days of your holidays getting through the cheese board and polishing off the last of the 'sharing' tins of chocolates. But we all know how quickly the same resolutions can be forgotten once the reality of daily life sets in. It can feel impossible to be motivated when you are faced with a couple of months of inevitably cold, wet and windy weather ahead of you. However, there are plenty of simple things you can do that will help you get back on track with whatever fitness or nutrition goals you are aiming for in 2023.
In terms of fitness, there will be many runners out there who have woken up in January feeling slightly daunted as they realise that they have signed up for a new gym membership, joined a running club or even entered a spring event. And for the first 2 weeks as you wear some of your newly gifted kit, the thought of becoming a fitter, healthier version of you is enough to keep you going strong. However, once the novelty begins to wear off you need something extra to help you lace up your trainers and leave the warmth of indoors.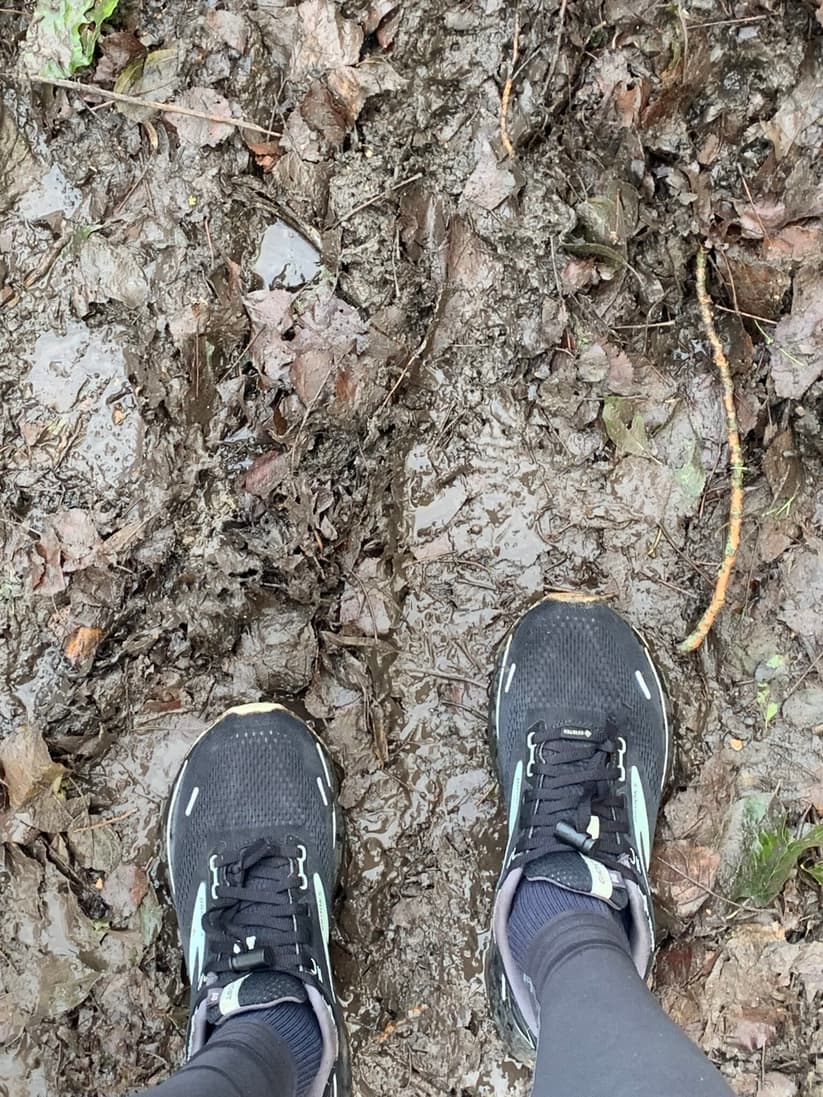 Fortunately, some of the easiest things you can do to keep your runs rewarding enough to want to do it again also happen to be the most effective. The key is to keep things interesting by changing up your workouts regularly so they don't turn into another boring obligation. Here are some slight tweaks to try that will help you avoid getting into a running rut.
Although it's nice when you have some running routes that you can rely on where you've already established their distances, running the same course for the hundredth time is not exactly inspiring. The obvious solution is to find a new route or two to completely change the scenery. But what if you've exhausted all of your local routes and don't have the time to travel to somewhere different before a run? If your options are limited to the usual ones then the answer is to change how you run it.
For example, if you normally follow a looped course in the same direction then why not try doing it in reverse? It may seem absolutely pointless when you are essentially running down the very same streets but it works amazingly well. You will be surprised by how much you were missing out on just by looking the wrong way. Even if running your usual route in reverse means it will be more challenging because you will then have to climb the hills that you normally power down, you will still benefit from the change of view. Just remember that if the route is truly undulating then do not bother to compare your running time to doing it in the opposite direction because it will not be like-for-like.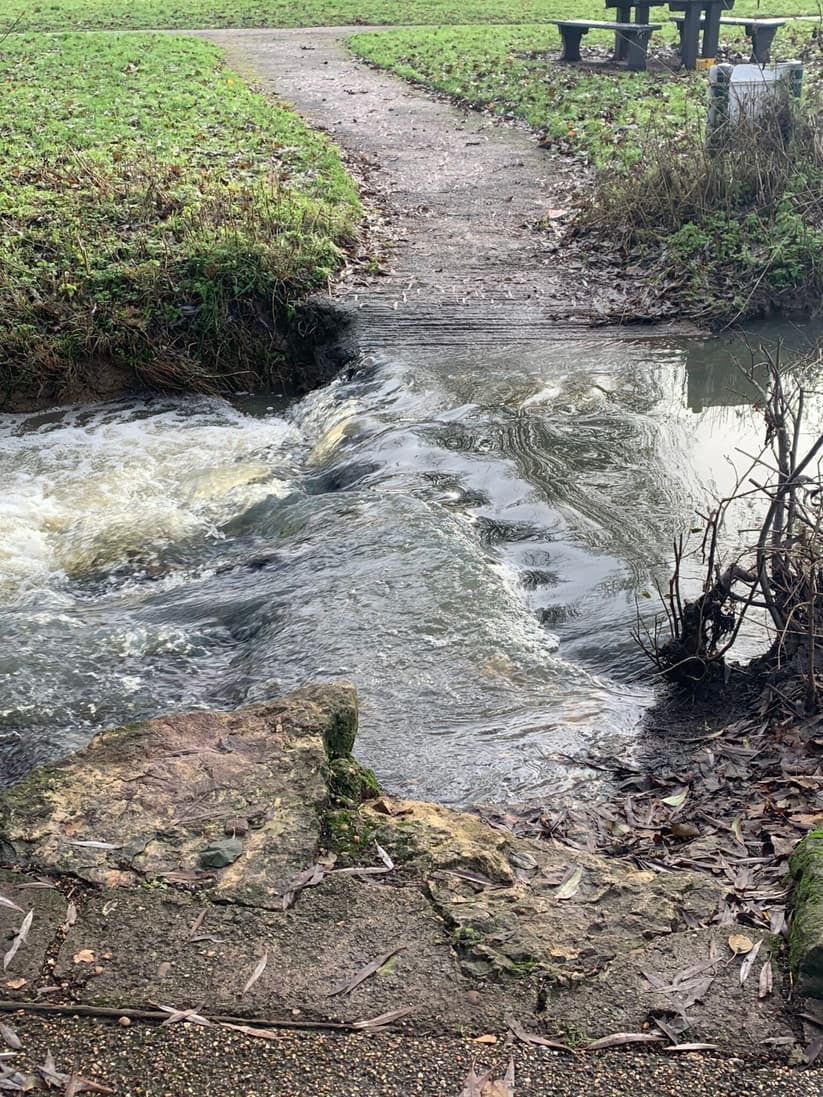 But what if your normal running routes are not looped courses and can only be run as out-and-backs? How are you supposed to run it in the opposite direction…unless you literally run backwards? Oddly, there is some research out there to say that backwards running can aid recovery from some injuries and improve muscular balance and performance. However, this is not something I will be recommending anytime soon. As a runner who has enough trouble trying not to fall while attempting to run forwards I don't think the inherent risks of backward running are worth taking just to make things interesting.
So since you can't (safely) change the direction of an out-and-back route the next best thing you can do is to change the pace at how you do it. However, you don't have to follow anything too prescriptive or demanding. Instead do a fartlek session and play around with your speed by alternating periods of running at faster and slower paces during your workout. Some runners find it helpful to use time or distance as a measurement of each interval but using landmarks can work just as well. It really doesn't matter how structured you make it or whether you do it at random moments. It's just a matter of breaking up the workout a bit to add some variety and make it less routine. But as an added bonus, including some fartlek sessions in your workouts has been shown to improve your overall speed over time. However, if the idea of doing intervals of any kind completely puts you off running and you prefer to run at the same steady pace then there are still ways to liven things up.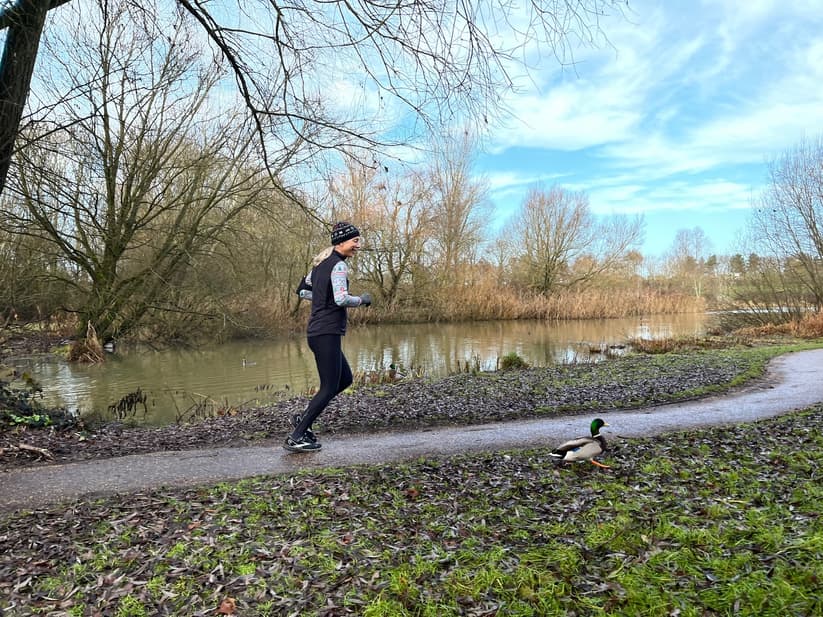 Never underestimate the power of listening to a good soundtrack, podcast or audiobook to keep you running when you need some motivation. The choices are endless so it's just a matter of finding out what you like to listen to. I know that when the weather outside is truly horrendous sometimes the only thing that pushes me out the door is knowing that I will get to listen to another episode of something gripping. But if running with headphones isn't your thing or it isn't safe to wear them then why not drag someone else along for a workout and a catch-up? Afterall, misery loves company…and maybe also a coffee afterwards.
Speaking of which, when it comes to your diet and intentions to eating healthier in the New Year it can be easy to throw in the towel if your goals aren't realistic. Although you may have already publicly declared that you have signed up to Veganuary, dry January or have committed yourself to losing a shedload of weight what most people really want to achieve is good health. Afterall, strictly following a vegan diet, giving up booze for a month or hitting some magic number on a scale doesn't mean you will be any healthier, fitter or will live a longer life. But even if you still intend to try to stick to a strict plan then my top tip to help you stay the course and keep motivated will sound rather counterintuitive. I suggest you pause first and take a step back…then be realistic.
Spend some time to honestly look at what you are currently eating and drinking. Is it really healthy and balanced or are your portions out of whack? In reality, you probably already know where you're going wrong and why you need to make a change. But is it the same one you signed up for in a tipsy New Year's resolution? If your reality doesn't match with whatever goal you thought you should achieve then it's not too late to stop.
Make your own healthy plan rather than following someone else's trend because you will always be more likely to stick to it. Identify where and how you can realistically make changes to your diet that are personal to you. The key to success is in making small adjustments to your diet over time and adding more healthy changes when you can. This will help you to adopt healthy habits that will become a life-long way of eating rather than trying to follow a more radical, albeit temporary eating plan. As a result you will achieve long-lasting good health rather than only reaching a number on a scale.
Hopefully, these top tips will give you food for thought and a good start to 2023. Here's to another great year of outdoor running adventures and enjoying and sharing some good food with friends. And on that note, another healthy recipe for an incredibly easy Mushroom soup to warm you up, whatever the weather.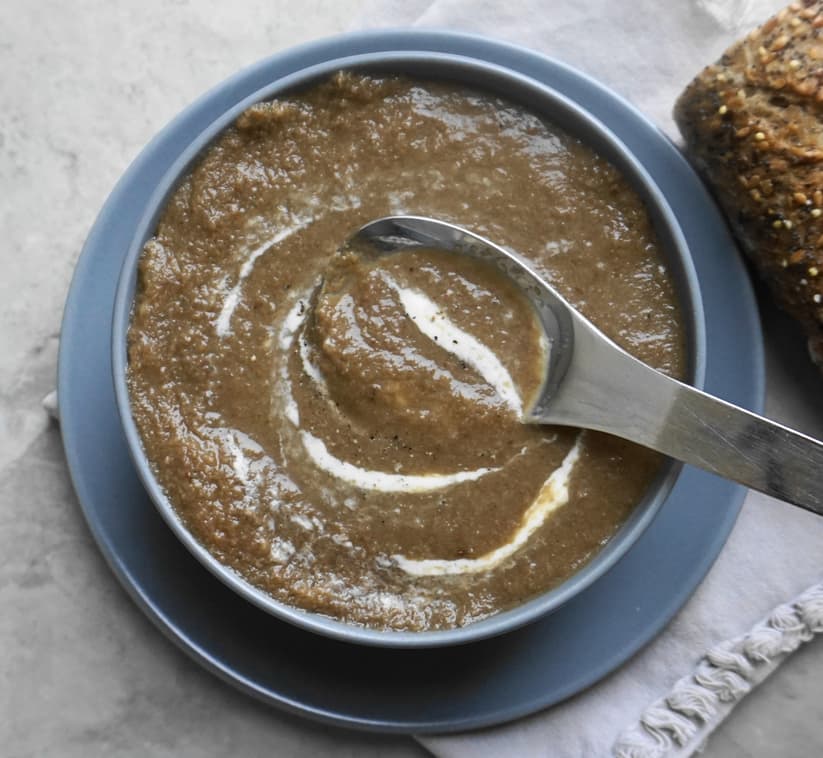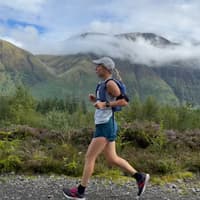 I am originally from Canada but I settled in the UK after studying at university. Sports have always been a part of my life and I have participated and competed in several throughout my childhood. But today I would describe myself as mostly a runner, a mother of 3 grown-ups and a keen cook. As a teenager I was a sprinter and a slightly reluctant cross-country runner but while my children grew up I started to run further and further distances. I never thought that I could ever run anything longer than a half marathon but when my runner husband decided to do a marathon for his 50th in 2019 I found that I had a serious case of FOMO. My children encouraged me to sign up for my first marathon and I ran it just to see if I could finish. Somehow my time was good enough to qualify for the Boston 2020 Marathon. However, due to Covid it was postponed several times.
Like many other runners, I spent much of my time in the Covid lockdown keeping up my fitness by participating in virtual races while waiting for the real events to start up again. As time went on I found myself becoming fully immersed in the world of endurance running and ran the Threshold Trail Series ultra, Race to the Stones. Unfortunately, by the time the Boston Marathon was finally held in late 2021, I could not go because US travel restrictions were still in place. Although I missed my chance to run it and will now have to requalify again at least my time spent keeping in good shape wasn't wasted. These days I participate in everything from half marathons up to ultras and have also run the Great Glen Way and West Highland Way in the Scottish Highlands.
I also work as a Registered Nutritionist with children and families and founded the consultancy Just add water® in 2019. I write a blog at https://justaddwaterblog.com/ to give free information and advice about nutrition and running whilst also sharing some of my favourite healthy recipes. The website is mainly aimed at busy families who want to make easy to prepare meals that are both healthy and really tasty, and for active families who want to know what they should be eating before, during and after playing sport.
I have always enjoyed cooking and previously cooked as a profession and I like to share my passion for good food. I have been involved in teaching cookery in schools, children's centres and for the NHS. I also enjoy entering the odd competition to push myself out of my comfort zone. I was awarded Highly Commended at the Teflon™ Diamond Standard Awards 2020 national culinary competition in the category of Keen Home Cook and was a National Finalist in 2022 & 2019. I have also had my recipes published in The Guardian's supplement, Cook; and featured in the 2012 Waitrose LOVE life calendar (July); and selected for inclusion in the 2020 #AnyWhichWayaBix Weetabix recipe book.