I am an Ambassador for the National Outdoor Expo and on 18th March 2023 I attended the second show at the NEC in Birmingham, having also been to the first one in 2022.
I love this show. The National Outdoor Expo is for anyone who is into outdoor activities, including walking, climbing, running, water, camping, eating outdoors and travelling excursions. The Expo has all the inspiration, kit, tech, nutrition and advice for you to get outside and active.
Saturday
I drove to Birmingham the night before with two friends and we stayed at a nearby hotel the night before. We got to the show for 8am and, as with the first year, the crowds were lined up waiting. It was really fun as an Ambassador to walk up and down the people giving out free goodies such as samples and magazines.
When the ribbon was cut everyone flooded in to see all the stalls and features the show had to offer. First up was the Welcome by Danny Bent and Lucy Mills on the Inspiration Stage. Ben Fogle gave the first talk of the day and was really well received. After each talk the speakers go to the meet and greet area to have selfies taken with fans. Part of our Ambassador role is to help manage the queues for these sessions.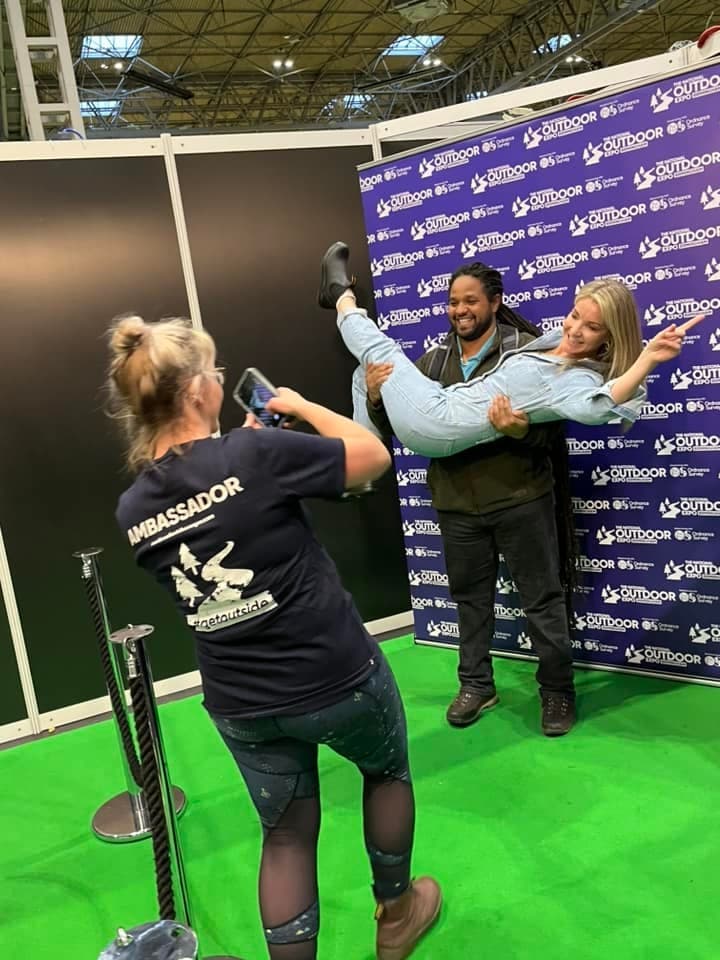 Other speakers of the day included Kate Appleby, Frit Tam, Jo Moseley, Mya-Rose Craig (Bird Girl), Bex Band, Preet Chandi, Alastair Humphreys and Helen Skelton. Topics included diversification of the outdoors, women in adventure and more. Some of my favourite speakers were Polar Preet, Helen Skelton, Ben Fogle and Caroline (Sup Lass).

As well as the Inspiration Stage at the show there is also the Outdoor Skills Theatre, a stage offering practical workshop sessions for outdoor enthusiasts from skills to nutrition to advice. I visited this stage several times to hear different speakers.

All aboard for a paddling adventure! was a talk by British Canoeing, mainly discussing paddling ideas with children. Another talk was about how the mountains saved his life, by Harrison Ward AKA Fell Foodie. How to prepare for an outdoor adventure was the talk by Laura Kennington, whilst Georgie Duckworth discussed adventuring with a family.

There was also the positive impact of the outdoors on mental wellbeing by Belinda Kirk, Kate Appleby, Jo Moseley, Alex Staniforth and Dan Stanley.

I really enjoyed the talk by Caroline Dawson (Sup Lass) about You've bought a SUP board, you've got the skills, so what's next? And being a Bluetits flock leader, I couldn't miss the session about how outdoor swimming can change your life by Sian Richardson, Simon Griffiths, Ella Foote, Michelle Walker and Outdoor Swimmer. Lastly was OS Maps: Your adventure, your way by Ross Fitzgerald, Simon Grice and Ordnance Survey.
Sunday

On the Sunday the speakers were just as engaging and included Hamza Yassin, Julia Bradbury, Pete Whittaker, Darren Edwards, Huw James, Laura Lou Crane, Claire Lomas MBE and Ray Mears among them.

The topics ranged from life-changing injury to the World Marathon Challenge and what the outdoor community can and can't do to help limit the climate crisis.

What else to do
There is also open water swimming to try at the show, in Pendigo Lake. Plus paddleboarding and kayaking, Harrier Trail Running Zone, the Bushcraft Zone, the Climbing Wall, Her Spirit Strength and Wellness Zone, Mountain Safety and First Aid Hub, Campsite Cooking, Ice Bath Challenge, Gemma Hunt Book Readings, Orienteering Challenge, British Gliding Association Flight Simulator, The Wildlife Watching Pavilion and Zip Line.
There was so much to do it was really hard to fit it all into just two days! The show has definitely grown from the first year and included a whole host of new exciting things to try. I really wanted to try the Ice Bath but I didn't get time to get to it, although a friend did and said it was lovely.
Next year's show is 16–17 Mar 2024. Will you be going? If you went this year, how did you find it? Send a message on social media to let us know!