TCS London Marathon 2022
The TCS London Marathon is one of the World Marathon Majors and is arguably the most iconic marathon in the world. Running and training for any marathon is quite a feat but running the TCS London Marathon adds that extra element of pressure to make it to the finish line.
Training for a marathon is not a one-size-fits-all method and to show this, we will be following three of the Raccoon Events team, who will be running in this year's London Marathon, raising money for Birmingham Children's Hospital. Today marks 3 months to go until the marathon, which this year takes place on Sunday 2nd October. We will be checking in each month to see how their training and fundraising is going, you might even pick up some advice and tips along the way.
Without further ado, lets meet the three Raccoons!
Nathalie
"Before working at The National Running Show, I hadn't ever run before, now 3 years on I have completed 3 half marathons and run 5-10km regularly. But the thought of a full marathon is a little daunting. I absolutely love working with the Birmingham Children's Hospital Charity and when I was giving the chance to run the marathon to raise money for them, I jumped at the chance, the work they do is so invaluable, and funding is vital for them. Anyone who knows me, knows I am super organised and love a plan. So I have, of course, put together a training plan on a spreadsheet, printed it off and stuck it to my fridge, giving myself a gold star every time I complete a run, if my kids have a sticker chart why can't I!"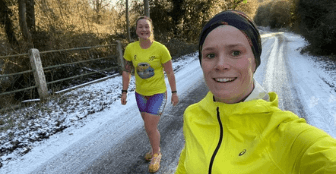 Rachel

"I'm Rach and the reason why I run is because of events. Back in 2016 I was signed up to a half marathon without knowing, I barely trained but went on to run my first ever half marathon. Since then, I have been hooked. I'm now 14 (official) half marathon and 3 Marathon down. It's been my DREAM to run the London marathon. I have entered the London Marathon ballet 8 years in a row, so naturally when Birmingham Children's Hospital told me I got a place I screamed and then cried. Running a marathon is something that doesn't come easily for me, but I'm determined to raise money and smash it 😊. The overwhelming feeling of running 26.2 miles is something I will never get used to and can't wait to feel again."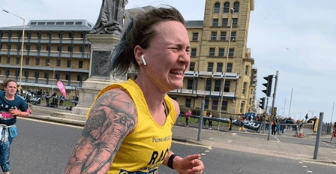 Mike
"I'm Mike and I've run quite a few marathons and ultras in the past including the London marathon twice before. I run for fun, not times really, but my fastest marathon time is 3:47 (in an elephant costume). The first time I ran London I was as a giant bottle of Lucozade, and it rained so the costume got really heavy – I did not enjoy my day! 😊. The second attempt was the last of 7 marathons in 7 days and I pretty much limped the whole way round – a real suffer fest! This year I'd like to just complete it and enjoy the experience. I run quite a lot already, so I know I can mange the distance. I'd ideally like to get under 4 hours, but my main priority is to take it all in. I've also said that I'll run dressed as a fairy if we hit our sponsorship target (my 9 year old daughter thinks this is hilarious and has offered to do my make-up!) Training for me is a bit sporadic – I run 3 or 4 times a week and do strength training and stretching quite regularly so I probably wont do much more than that."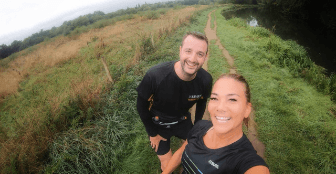 You can follow all their journeys by heading to the National Running Show Instagram, or by heading to their personal pages where they will be documenting their training and progression.